RECOMMENDED
Date Published:
09-04-2016
Cellucor C4 Extreme Overview
As you probably know, Cellucor is a pretty big name in the world of bodybuilding supplements and sports nutrition.
And most of its popularity has come through word of mouth.
We did a little looking into the company and found they have an interesting perspective on why they've grown as big as they have.
They see their potential customers as some of the most informed consumers there are.
They know that guys like you come to sites like this, talk to your buddies at the gym, and do your own research to find the supps that you believe will work best for you.
And if you try something and you don't like it, you'll start the process all over again.
So Cellucor makes sure to perform, so that when your path crosses their supplements, you hear and read only good things.
Cellucor C4 Extreme is their pre workout supplement.
It sets you up with energy , stamina, and focus for pumps, reps, and more effective workouts.
It comes in several different flavors, and by all accounts, they're delicious.
Of course, pre-workouts are about more than just taste, so let's take a look at what's in this stuff.
Watch My Video Review Or Read More Below
Cellucor C4 Extreme Ingredients and How They Work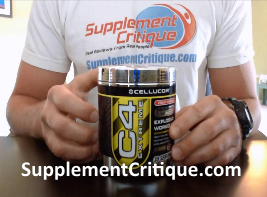 The ingredient list for Cellucor C4 Extreme is pretty long, but there are a few key players that we'll get into a little bit of depth with:
Creatine Nitrate is ten times more soluble that Creatine Monohydrate.

It opens up blood vessels to deliver more oxygen and nutrients to your muscles for better pumps.

And because of the better absorption, you don't have to worry about the intestinal distress that often occurs with Creatine.

Beta Alanine prevents lactic acid buildup in the muscles so you can perform better with less fatigue.
Arginine AKG promotes vascularity and increases the secretion of growth hormone an insulin.

It's also a precursor to nitric oxide so it improves blood flow.

Caffeine provides energy and focus.
B-Vitamins support overall health and increase energy.
Vitamin C to support your immune system.
Mucuna Pruriens to increase the secretion of dopamine for a bit of a "feel good" feeling.
The recommended dose is 1 to 2 scoops of Cellucor C4 Extreme with 4 to 6 ounces of water about half an hour before your workout.
They say you should start out with 1 scoop and adjust it to your needs and tolerance as you go. Bigger guys will need 2 scoops.
Cellucor C4 Extreme comes in several flavors, all of which seem pretty well-liked by guys who use it, with particular props for Green Apple it seems.
Cellucor C4 Extreme Pros and Cons
Advantages of Cellucor C4 Extreme
Cellucor C4 Extreme reviews are overwhelmingly positive.
It comes in a bunch of flavors so anyone will be able to find one they like.
It comes with a 30 day money back guarantee.
You can buy Cellucor C4 Extreme at GNC
Disadvantages of Cellucor C4 Extreme
It's a bit on the expensive side, especially for bigger guys who take 2 or 3 servings at a time.
Where to Buy
You can purchase Cellucor C4 Extremelocally at your GNC store.
You can also get it online through a bunch of different retailers.
Cellucor will honor the money back guarantee no matter where you make your purchase as long as you submit your receipt to them.
The retail price is about $47 for a 60 serving tub.

Conclusion
We tried but couldn't find anyone who didn't think Cellucor C4 Extreme was at least okay. And most guys just rave about it. This recommendation is easy.
If you need a pre workout supplement, try Cellucor C4 Extreme.

Have You Used Cellucor C4 Extreme? Leave Your Review Below!
Check Out One Of My Top Pre / Post Workout Supplements – Crazy Mass
I've been researching pre and post workout products for years now, and recently came across a great combo of supplements called the Crazy Mass Cutting Stack.
This stack combines 4 different supplements that are used in conjunction to provide great results.
I recently got a chance to test it out and post my feedback, click here to read my official review.
How People Found This Review:
and protien c4 advantage and dis advantages, and tcombining testosterone boosters and c4 preworkout
User Questions and Answers
User Questions and Answers
---
I work out with my husband and he buys the C4 pre work out supplement, and we are trying to see if that was safe for women to use or is there another one that you would recommend for me to use? -SHERRIE
C4 is completely fine for women, and it's a great pre workout.- Rob
Was this question helpful to you?
3

out of 3 people found this question helpful.
---
Is this product only for body building men and women or is it OK to use for only cardio workout ? -Mayra
Most people choose not to use pre workouts for cardio, but some do. It's really a matter of preference. If you decide to try it, start with half a dose to assess your tolerance- Rob
Was this question helpful to you?
3

out of 3 people found this question helpful.
---
Hi Rob, I have been using nitrocut for the past month, but I am using also some fat burner pills (Liporush and Censor form GNC) and I think this too much pills to take a day, so I was thinking about switching to C4. would it be okay to combine C4 with Iso 100 protein shake? Thanks. -Mouhamad
That would be fine.  Just make sure that when you're taking C4, you don't take other supplements with stimulants, like most fat burners.- Rob
Was this question helpful to you?
2

out of 2 people found this question helpful.
---
CAN I STACK C4 WITH VOLCANO FORCE FACTOR OR I DON'T NEED TO -VIC
There are no stimulants in Volcano so you can stack them. But you shouldn't need to. They provide similar benefits. You may be better off stacking one with a testosterone booster or creatine, depending on your needs and goals.- Rob
Was this question helpful to you?
0

out of 1 people found this question helpful.
---
Want To Really Get Ripped?

Click Here To Download My FREE
Sign Up For Our FREE 41 Page Ebook
"How To Get Lean, Ripped, and Strong Quickly"
Includes Three
Free

Bonuses ($23 Value):
Free

"Big List Of Foods You Can Eat" Quick Reference Sheet

Free

Get Ripped Workout Log

Free

Sample Meal Plans

X

Sign Up For Our FREE 41 Page Ebook
"How To Get Lean, Ripped, and Strong Quickly"