RECOMMENDED
Date Published:
01-24-2015
For some guys, the problem is just simply not being able to get it up in the bedroom.
For others, it's the other way around…they simply orgasm too fast.
This is called premature ejaculation and can be summed up in one word…embarrassing.
There's no shortage of companies that tout numerous pills, sprays, and ointments out there, and one such product we recently had a chance to test out personally is called Promescent.
What is Promescent?
Unlike pills, Promescent is a topical spray that is designed to be applied just before sexual intercourse.
The idea behind how this spray works lies in its primary (and only) ingredient, Lidocaine.
Lidocaine is quite simply a local anesthetic designed to block the nerve conductuances that transmit the feeling of pain (or really any sensation) from the point of administration to the brain.
It's the same stuff dentists use when they numb you before performing a root canal or other dental surgery.
The theory behind the spray is that it should numb you to the point where you can control your orgasms.
Or, it could numb you to the point where sex is just less pleasurable…I was about to find out in my own little experiment. But first, a few facts about Promescent.
(Click Here to skip ahead to my results)
Promescent FAQ
Can you buy Promescent in stores?
As of this review, you CAN actually find this spray in nearby pharmacys.
From the research I gathered, it's only available in Mom and Pop pharmacies, and none of the major ones like CVS, Walgreens, Walmart, Target, or others seem to carry it.
My guess is that as the company expands you'll be able to find it more conveniently.
How much is it?
Since this is a take as needed product, there's really no such thing as a 1 month supply.
A standard bottle runs about $79.95 on their website, and pharmacies sell it around the same price range.
There's also no "free trial" available from what I can tell, but their official website sells a trial bottle for $20 which is a pretty modest investment considering the potential benefit.
Who makes it?
Promescent is marketed and distributed by a company called Absorption Pharmaceuticals, LLC.
Is it FDA approved?
Yes.
As a matter of fact, Promescent is the only over the counter premature ejaculation treatment that actually has been approved by the FDA.
How long does it last?
From my own personal experience, It seemed to be working for a couple of hours before the effects started to wear off.
The directions on the label state that you should wash it off after intercourse, and it's probably a good idea to follow that recommendation because it will annoy the hell out of you after awhile.
How do I use it?
There's actually a really good video demonstration by a gentleman from the Central Texas Urology group who explains 3 different ways you can apply Promescent, check it out below:
What are the reviews saying about it?
All in all, the reviews and testimonials I came across on various sites like Amazon, Ebay, and others were very positive.
There were a few unsatisfied customers, but that's to be expected for any product.
Some guys reported using as many as 8 sprays and said they didn't feel a thing.
My Results With Promescent
I don't typically suffer from premature ejaculation, so I might not be the best candidate for testing.
However, I figured if it indeed did work that I would at least be able to notice a difference.
I've been in a long-term relationship for the last 5 years now, so bringing up the topic of spraying my penis with a numbing cream to my girlfriend of 5 years was not very difficult.
After much reassurance that her vagina would not incinerate itself from this stuff, we decided to run an experiment.
First, we had sex with no Promescent at all…this was the "control" group.
It took me 10 min to climax, hardly an indication of premature ejaculation. Two days later we decided to go for it.
I followed the directions and applied about 3 – 4 sprays to the penis and got it all rubbed in. Then, I waited.
After about 2 minutes (maybe even less) I could feel like a tingling sensation, and the numbing effect started to take effect.
We started on our "experiment" and we did it…for close to 25 minutes.
The whole time it felt as though my penis had been removed and i was simply performing "horizontal hip thrusts" continuously.
Warped from exhaustion and with no end in sight, I decided to call it quits. I just could NOT orgasm, at all.
Mind you, I only used 3 sprays, which is the BARE minimum.
I can't even imagine if I used 10 sprays…
For all intents and purposes, Promescent definitely works, almost too well.
From my experience, It seemed to numb me very well, but at the same time seemed to almost completely eliminate ALL sensation, making it feel like I wasn't even having sex.
Recommendation
This is a great product for a guy who is in a long term relationship.
Being with a woman for the very first time, it might be kind of hard to say "hang on a second while I put this lotion on my penis".
It might quell the mood a bit, and has the potential to freak out a one-night stand.
I guess you could sneak into the bathroom real quick to claim an "emergency" so you could quickly dab some spray on, but again, would probably quell the mood.
And god forbid if she wants to go down on you, you may have some explaining to do.
If you're someone who's been suffering from premature ejaculation for sometime, I would highly recommend giving their sample size a shot.
But i definitely recommend you start with just a couple of sprays and see how you respond.
Have You Used Promescent? Leave Your Review Below!
My #1 Choice For Premature Ejac – Prosolution Plus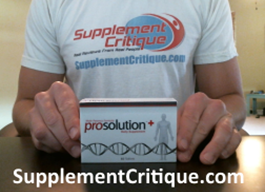 Prosolution Plus is quite literally the only supplement I've ever come across that had a clinical study conducted, PROVING it helps guys with premature ejaculation problems.
Not only that, but it can help dramatically with erection quality, function, and control.
It's also Doctor recommended, backed by a 67 day money back guarantee, and I've personally used it with GREAT results.
Click Here to read my review of Prosolution Plus.
How People Found This Review:
and promescent reviews, and promescent cvs, and promescent review, and promescent, and promescent reviews 2015, and how long does the effect of promescent last
User Questions and Answers
User Questions and Answers
---
If it numbs the male sensation does it not do the same to the female once penetration begins? -gareth
If you wipe it off after rubbing it in, it won't transfer to your partner.- Rob
Was this question helpful to you?
8

out of 8 people found this question helpful.
---
Its ok to have oral sex -Nowa
If it tastes as bad as it smells, then I would highly recommend against it!- Rob
Was this question helpful to you?
4

out of 4 people found this question helpful.
---
Is it safe to use on a pregnant woman ? -mike
According to the Promescent website: "The active ingredient in Promescent - lidocaine, is a category B compound per the FDA. This means that lidocaine has not been proven to be safe to use in pregnancy. While there is no data that we are aware of that suggests that lidocaine is dangerous in pregnancy, we are still unable to recommend it in couples who are or may become pregnant." To be on the safe side, I'd recommend against it.- Rob
Was this question helpful to you?
1

out of 1 people found this question helpful.
---
Sign Up For Our FREE 41 Page Ebook
"How To Get Lean, Ripped, and Strong Quickly"
Includes Three
Free

Bonuses ($23 Value):
Free

"Big List Of Foods You Can Eat" Quick Reference Sheet

Free

Get Ripped Workout Log

Free

Sample Meal Plans

X

Sign Up For Our FREE 41 Page Ebook
"How To Get Lean, Ripped, and Strong Quickly"