Peak Life Somnapure
Reviewed By:
Rob Miller
3.0 OUT OF 5.0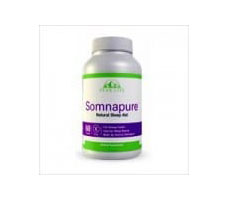 It has been published by several reputable medical journals that the average American does not get the recommended 7 – 8 hours of quality sleep a night.  Somnapure, which is manufactured by Peak Life,  promises to give you a restful nights sleep, without the side effects of traditional sleep medications.   But does this insomnia remedy really work?  We decided to review this product for its effectiveness, to give you an insight as to what it does.  We explore the ingredients behind these pills, poured through countless customer testimonials, and examined exactly how it works.
What is Somnapure?
Somnapure is a natural sleep aid designed to help you fall asleep faster, improve the quality of your sleep, helping you wake up feeling refreshed.  Made up of all natural herbs and extracts, it is available over the counter without a prescription, and promises no side effects and is not habit forming.
The basis behind this product is the ingredients.  Somnapure includes a potent variety of ingredients that have been used for centuries to promote healthy, natural sleep.  The ingredients are as follows:
Melatonin -A naturally occurring compound that is secreted in the brain, melatonin has long been used to treat a number of ailments, including circadian rhythm disorders, headaches, mood disorder, and even cancer.
L-Theanine -Commonly found in green tea, Theanine has been shown to help reduce stress levels as well as produce a calm and soothing effect.  However, there has been no research to confirm these findings.
Valerian Root Extract -Valerian root has long been used to treat insomnia, and some have claimed it is a miracle drug.  You can find valerian root in many different forms, including sprays, elixirs, even brownies.  This is the primary ingredient in Somnapure.
Hops -Hops are actually the primary stabilizing agent in beer, but have also been shown to have the same effects as Valerian root.
Somnapure also includes Passion flower, Lemon Balm, and Chamomile Flower.
Their have been no clinical studies pertaining to the effectiveness of Somnapure alone, but there have been several concerning the ingredients.
Watch our Video Review of Somnapure
Reviews of Somnapure
We searched through a number of websites to find reviews of Somnapure, and the results we found were mixed.  It seems to have literally worked for about 50% of the people who took it, and the other 50% got little or no effects from it.  This is to be expected form herbal supplements, including sleep aids.
Unfair Billing / Free Trial Offer
We noticed many people complaining about the Somnapure free trial, so we decided to investigate it.  It turns out that you can order the trial for $2.99, but then 18 days after you order your trial package, you are charged $75!  This marketing ploy has been used in countless other industries, and is quite unfair to consumers because many people do not bother reading the terms and conditions.  The bottom line is to protect yourself when ordering this product! Make sure you write down the cancellation number and to cancel your order of Somnapure before the trial period is up!
Where To Buy Somnapure
A safer bet you can take is to just order the product from a reputable retailer such as Amazon or Ebay.  Somnapure is also available in GNC nutrition stores for a very reasonable price of $32.99.  The price difference between Amazon and GNC was HUGE, with Amazons price being almost $70 for a 2 weeks supply
Recommendation
While we are not sure this product works effectively, it is clear that you should exercise extreme caution if you choose to order a free trial of it.  Somnapure does contain a number of very potent ingredients that are used in traditional sleep remedies, however.  We have ordered a sample package of Somnapure and will be placing a follow up review within a week, so be sure to bookmark this page.
Be Sure To Leave Your Review of Somnapure below!
How People Found This Review:
and somnapure side effects, and somnapure reviews, and somnapure, and somnapure pm, and side effects of somnapure, and yhs-ifm1
Click here to submit your review.
---
---
Peak Life Somnapure Reviews, Ingredients, Side Effects, and More SKU UPC Model
Peak Life Somnapure Reviews, Ingredients, Side Effects, and More
4 out of 5 Stars
Aug 13, 2013 by Corrie
I was taking Valerian root almost every night but when i couldn't find it i tried somnapure. It works great for me and my boyfriend. I found it very effective!
product 0.3
---
Peak Life Somnapure Reviews, Ingredients, Side Effects, and More
5 out of 5 Stars
Oct 02, 2012 by Marcia
I have been using Somnapure for about 2 weeks now. I have to say it is working great for me! Finally after 10 years of sleep disorders, I actually sleep through the night and wake up feeling refreshed (not drugged with medications). I ONLY take 1 pill (not 2, the recommended dose) before bedtime. It keeps me calm and rested through the night. I used to pass out around 10:30 and wake up religiously around 2:30 or so WIDE awake, brain racing, unable to fall back asleep. After years of this, I just got into the habit of doing other things in the middle of the night since my brain was racing and my house was quiet. However, its NOT healthy and I felt terrible in the morning after going back to sleep around 5:30 and getting a couple more hours of sleep.
Somnapure helps me sleep all the way through the night and I'm really energized. I feel like I can tackle other health issues now (like being overweight) now that I know my body can respond correctly. Thank you, God, and thank you Somnapure!!
product 0.3
---
Peak Life Somnapure Reviews, Ingredients, Side Effects, and More
3 out of 5 Stars
Jul 25, 2012 by Stephen
I have used somnopure for about 2 months effectively after being addicted to various phamaceutical sleep aids. At one time I was actually taking a cocktail of three different sleeping pills. When I got Somnopure I followed the directions and took two at bedtime, but felt really hung over the next morning, so I started decreasing it. I now only take a half a night after supper whinch helps me settle down, then I take a half of a 1mg lorazepam(1/2 a mg) before I lay down. I have tried dozens of natural sleep aids, but for me I think the combination of herbs in this has helped me to sleep & cut way down on the prescription drugs.
product 0.3
---
4.0 5.0 3 3 I was taking Valerian root almost every night but when i couldn't find it i tried somnapure. It works great for me and my boyfriend. I found it very effective! Peak Life Somnapure Reviews, Ingredients, Side Effects, and More