Bullet Proof Male Enhancement Pills Review
By:
Rob Miller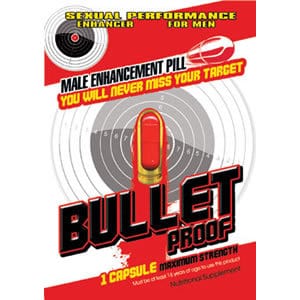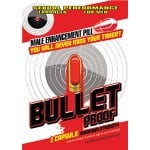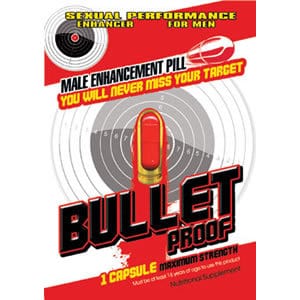 We heard about the Bullet Proof Male Enhancement Pill and decided that it warranted our attention.

This is because it took an entirely unique approach to improving sexual function by looking at complete sexual health. For instance, it says it will boost sexual desire, address instances of ED (erectile dysfunction), and even treat PE (premature ejaculation) too.

We were not so sure that a single pill could provide such a comprehensive array of "cures" for issues as complex as this and determined that a closer scrutiny of the ingredients, the customer response, and the pricing for the pills was necessary.
How It Works and Ingredients
We learned straight away that the Bullet Proof Male Enhancement Pill is an herbal formula that uses some of the ancient treatments for male sexual health. The manufacturer's logic is that a completely healthy system is going to encourage sexual health and well being.

So, the use of Ginseng, Fennel Seed, Fo-ti, Ginger, Licorice, Magnesium, Saw Palmetto and Astralagus Root are all geared at creating optimal health to resolve any related sexual problems.
The big question then is "do these things really work AND will they work together?" We learned that only two of the ingredients listed were well known to provide cures for underlying conditions relating directly to sexual function.

The Ginseng is something that is used in a lot of penis enlargement and sexual enhancement formulations because of its abilities in improving blood flow.

This is something that has been proven to help support increased circulation directly in the erectile chambers.
The Saw Palmetto is the other proven ingredient and this is known for its use in creating a healthy prostate, though there are some claims that it is a natural aphrodisiac too.

We believe that this second claim is due to the fact that a man with a healthier prostate is likely to have fewer issues with sexual dysfunction and that the results of using Saw Palmetto to treat a prostate condition just lead to a revitalized sex life.

We were glad to see nothing that could produce bad side effects or long term problems, but we did instantly recognize that the Bullet Proof Male Enhancement Pill would require long term and constant use to keep the results.
User Reviews and Feedback
What did consumers and industry professionals have to say about the Bullet Proof Male Enhancement Pill?

We found a few professional reviews that really appreciated the product, but most indicated that it was unrealistic to suggest that the product would work in an hour and last for almost two days afterward.

This, however, was contradicted by consumer reviews.
One person stated that they believed their use of the Bullet Proof Male Enhancement Pill was better than their use of Viagra and that the effects lingered for three days afterward – meaning that they could sustain a strong erection in the 72 hours following use of the pill.

Clearly, this means that the compound is viewed as valid, but that the potency and general effectiveness of the product is what is questionable.

Either way, both groups are saying that it works.
Where To Buy
The final factor we considered was the price of the Bullet Proof Male Enhancement Pill, and we found that the average "per dose" price varied substantially.

Some Amazon.com vendors offered 24 pills for $44 while some eBay sellers made the same number available for $55 instead.There were no money back guarantees available.
Recommendation
We would recommend this product due to the fact that it has received such favorable feedback and consumer response.

We understand that the ingredients are totally safe and yet proven to be effective by clinical, scientific and consumer studies.

This is certainly a reasonable product to try.
Even so, it is always worth double checking to make sure that you are not allergic to any of the ingredients as well as that Bullet Proof Male Enhancement Pill does not have any potential for dangerous interactions with any medications that you may currently be taking.
Give it a try for yourself and hopefully it will give you the same positive effects that by most accounts it seems to produce.
Top 3 Male EnhancementAffiliate Disclosure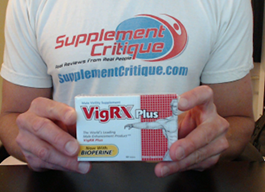 Out of the 100+ male enhancement products Ive tried, Vigrx Plus was the best.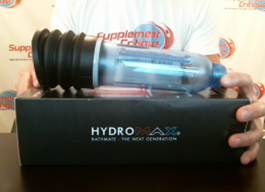 The Bathmate is a proven water-based vacuum pump that can help dramatically increase your size.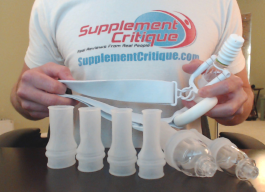 Phallosan Forte is a GREAT option for those looking to grow both length AND girth, permanently.
Honorable Mention/Inexpensive Alternative:Magnum Rings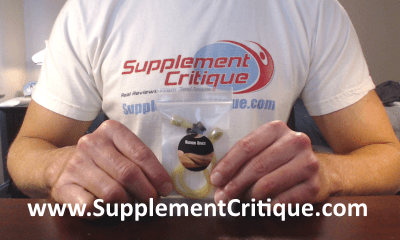 Magnum Rings are a VERY affordable option to getting both girth and length gains, at a fraction of the price of the Bathmate or Phallosan Forte.
Click Here to see our full Magnum Rings review.
User Reviews

1.0 out of 5 Stars (1 Reviews)
Have you used this supplement?
Miguel's Review
Tried silver billet red pill didn't work as a matter of fact it was hard to get an rrection eat happened

Was this review helpful to you?

---
Want To REALLY Get Bigger?

Click Here To See Products That WORK!
Ask A Question
User Questions and Answers
---

Istarting to get disappointed. Any advice? -Kevin

Hey Kevin, Are you looking for size help or erection help?- Rob
Was this question helpful to you?

ASK A NEW QUESTION
---

How long does target bullet pill take before becoming effective? -kenneth

I'm not sure it's effective at all, but if it is, you'll probably begin to feel the effects within a couple weeks.- Rob
Was this question helpful to you?
0 out of 2 people found this question helpful.
ASK A NEW QUESTION