Gold Max Pink Review- 1 Reason Not To Buy It
Rob Miller | May 3, 2018
---
Product Reviewed:
Gold Max Pink
|
OUT OF 5 | Review by:
Rob Miller
|
---
REVIEWS
QUESTIONS
COMMENTS
---
Home » me-no-ads » Gold Max Pink Review- 1 Reason Not To Buy It


We talk a LOT about male enhancement supplements.


At last count, we have approximately 882 reviews of male enhancement pills, creams, extenders, pumps, and even oils.


About 100+ of them we've actually personally tested, with varying degrees of success.


When I came across Gold Max Pink, I immediately realized that this was NOT geared towards men (what gave that away, Rob? ).


We've only reviewed a handful of female enhancement products, including Forta For Women, Libido Max For Women, and Zilex.


Unfortunately, since we're a group of dudes here over at Supplement Critique, we haven't tested any personally.

With that being said, we did our best to let you know what Gold Max Pink is, and our opinion as to whether or not it could be beneficial.
What is Gold Max Pink?


According to the official website, Gold Max Pink is a supplement designed for women of all ages.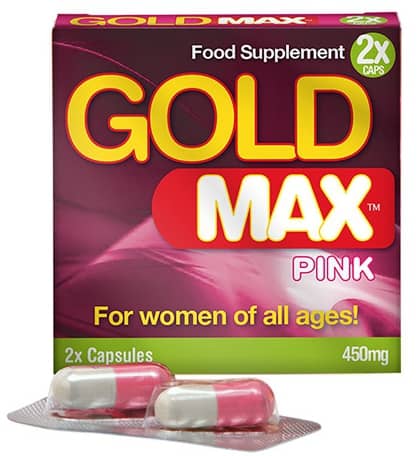 A libido booster for women can be tough to find, so how does it work and what are the active ingredients?


The objective of Gold Max Pink is to increase female libido, but it works differently than most male supplements because it targets not only the physical but also the mental aspects of sexual desire.


Increase orgasm strength
Improve sexual stamina
Make sex more pleasurable
The full ingredients list in Gold Max Pink includes:
The main ingredient in Gold Max Pink is ginseng.

This is one that's used in a lot of the male supplements we review, and it tends to be a pretty popular supplement overall.

Some users specifically say ginseng helps with sexual dysfunction in men, but how is it helpful for women?

Women's sexuality is different from us guys (shocking, I know) so it can be tougher to measure how well ginseng works in this area, but it does boost energy and promote relaxation.

That has to be helpful in the overall equation, right?


You probably haven't heard of this next ingredient, and if so, you're not alone—we hadn't either.

Cistance Deserticola is an herb that comes from traditional Chinese medicine.

It's sometimes called a natural Viagra, so when you hear that you're probably thinking okay, another herb for men. Not necessarily.

Some research shows that it's an invigorating herb.

While women may not be concerned with the quality of their erection, Cistance Desrticola might help improve sexual desire and orgasm intensity.


There's goji berry in this as well.

Is there anything that doesn't have goji berries?

While they're mostly touted as being the fountain of youth, goji berries may have aphrodisiac power as well.

Apparently, goji berries are so powerful that an ancient Chinese proverb advised men shouldn't eat them when they're far from home and their wives. Great advice.

Goji berries are pretty good overall, and they're packed with vitamins and minerals. They also have antioxidant properties.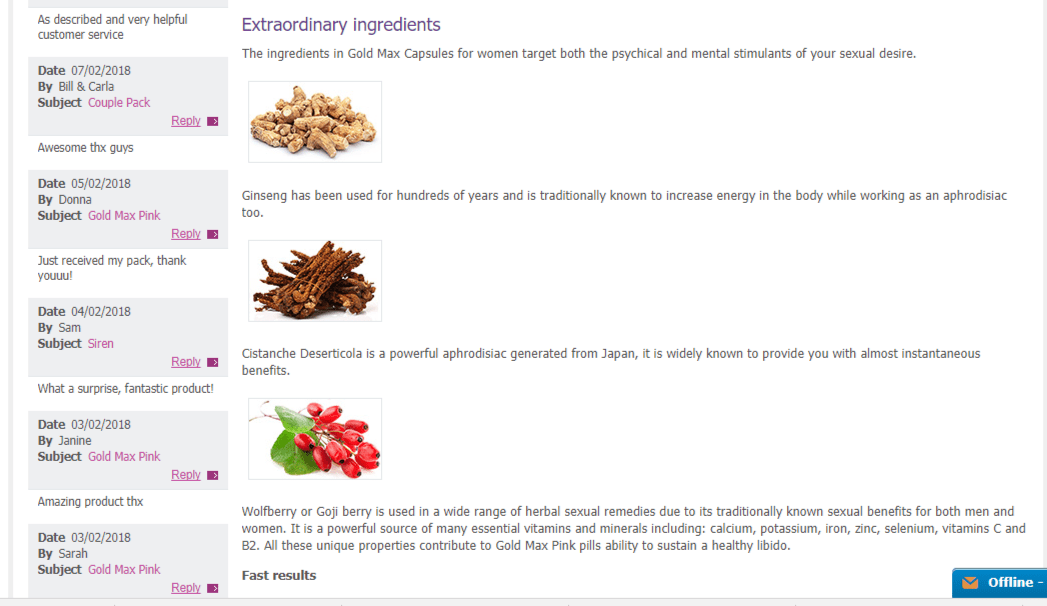 How To Use Gold Max Pink
So, the thing about Gold Max Pink is that it's promoted as being similar to Viagra at least as far as how it's used.

The original formulation isn't a daily supplement—you take it as-needed.


Pop a capsule 45 minutes before you plan to participate in sexual activities.

Then, voila, like magic you're ready to go.

The main idea is that you take Gold Max Pink, and your brain is screaming with sexual desire, and thanks to increased blood flow to your sexual organs, you feel more physically stimulated as well.


Who Manufactures Gold Max Pink?


Gold Max Pink is available from the GMP Health Company.

According to the company, they've been in the sexual supplement business since 2010, and their focus is on providing natural products for both men and women who want extra sexual support.


The GMP Health brand also manufactures the aptly named Gold Max Blue which is for, you guessed it—men. They also offer some other really creatively named sexual supplements like Hard Man.


Side Effects of Gold Max Pink
According to the manufacturers, there shouldn't be any serious side effects of Gold Max Pink unless you're allergic to one of the ingredients.

For the most part, the ingredients should be safe, although we couldn't find any real testing when they're used in a combination supplement like Gold Max Pink.


You have to just look at the individual ingredients and see what the side effects are for those.


For example, ginseng is pretty safe for the most part, but a common side effect is insomnia.

With Cistanche, a common side effect is increased body temperature.

Some people say they have blurry vision as well.


Goji berries again are pretty safe on their own, but if you take a blood thinner, you should avoid them or at least talk to your doctor about possible interactions.

There is some evidence that people with pollen allergies might need to skip the goji berries as well.


Where Do You Buy Gold Max Pink?


The best place to buy Gold Max Pink is right on their website.

The company site has some different variations of this formulation, and you'll see the options on the site.

There's the standard Gold Max Pink, meant to be taken on an as-needed basis.

The packs of Gold Max Pink are small, and pretty expensive so that's something to think about.


There is a 2-pack which would be a one-time use, and it's $9.95. There are six capsules for $22.95, ten capsules for $29.95, and 20 tablets for $49.95. You can even buy a combo pack of Gold Max Blue and Gold Max Pink if you really want to get maximal benefits from it.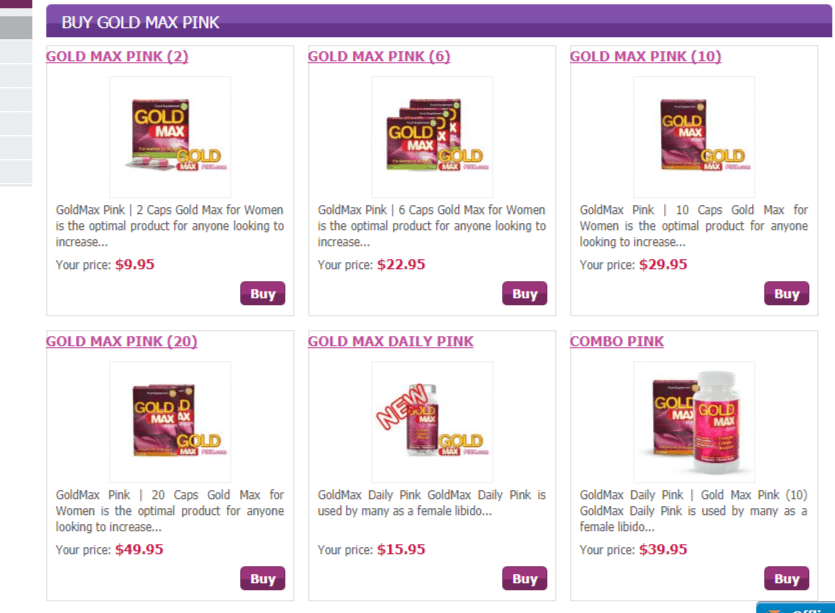 If you make a purchase over $75, you get free delivery, and otherwise, it's $5.95. When you place an order, you should get a tracking number, and according to the company, most orders ship out pretty quickly.
If you're concerned your mail carrier is going to know you're buying Gold Max Pink, no worries. It comes in discrete packaging.


By the way, when it comes to reviews, there aren't a ton available, and since I couldn't find Gold Max Pink on Amazon.

The only reviews I could spot were directly on the manufacturer's website.

Of course they were favorable, and there were more than 500 of them.

Most all of the onsite reviews were 5-star or 4-star, with only a few one-, two- and three stars.


The Gold Max product brand does have an Instagram profile more than 1,700 followers, so you may want to check that out as well.


Does Gold Max Pink Work?


So here's what it all comes down to—does Gold Max Pink work?

As I said, our team didn't exactly personally test it, but there are some benefits that users might see with this product.

The herbal ingredients can be helpful for boosting energy and mood, and it might also improve blood circulation especially in key places.


With that being said, taking an on-demand herbal supplement probably isn't going to do a lot for sexual desire.

First, think about something like Viagra.

It's an as-needed sexual drug that can help with erectile dysfunction, but it's not going to make a man feel sexual desire if it wasn't there previously.


What the herbs in Gold Max Pink could do over time is improve things like energy levels and mood, and that can make for more sexual desire and probably a better overall experience.

The ingredients could also lower stress, and stress is a big sexual inhibitor.


Taking herbs to achieve these goals probably isn't going to happen if you're taking them occasionally, though.

You would likely need to use supplements daily to see some noticeable differences in mood related to desire and libido.


Take Her Solution for instance.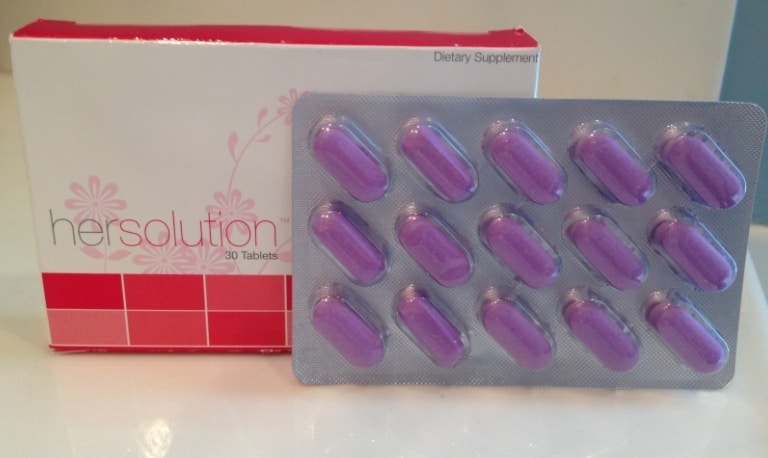 My wife has used it on numerous occasions, and each time it would take several weeks for it to fully kick in.


Once it did, though, the effects on her mood, desire, and sensitivity EXPLODED.


But Her Solution is a supplement you need to take everyday, not just whenever you think you'll be having sex.


You can visit their site here:  www.HerSolution.com
Gold Max Pink does have a daily option available, with 60 capsules per bottle, so if your biggest problem seems to be mental as opposed to physical, this might be worth considering.


So what does it all come down to? Could Gold Max Pink have benefits?

Yes—but would you be better off taking a daily supplement? Maybe.
Have you tried Gold Max Pink?

Let us know your thoughts below.
User Reviews
Chris's Review
Friends bet me some money to take them had a mild rager for 2.5hrs at work no headache lol

Was this review helpful to you?

---
Holy crap
I'm a believer.I was skeptical at first but after about 45 minutes even squeezing felt erotic.

Every touch was sending tingles down (there).Made me kinda giddy like a school girl.

Even just looking at my husband made me want to...you know.Anyway, you should def try this product.

Great for taking on an as needed basis.

Was this review helpful to you?

---
No Go Gold
Took 1 cap, 1 hour later nothing.Took another, nothing.

Next day took 2, nothing happened.After feelling low about things already, the expectation verses result was a bigger let down and left me more disheartened.

Was this review helpful to you?

---
Ask A Question
User Questions and Answers
No Questions Have Been Answered For This Article.