Jetfuse NOX Review
By:
Rob Miller
Fact Checked On: 4-27-2013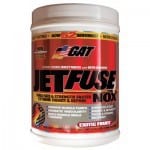 Do you agree that a good workout would come from the use of the mind, muscles and the blood vessels?

Of course, but it isn't always that easy to "sync" everything up.

Many bodybuilders and athletes have started to discover the benefits of nitric oxide enhancement since this is a safe and natural way to get tons of blood and oxygen into the muscles and the mind.
The three things mentioned – mind, muscles and blood vessels – also happen to be the three regions focused on by GAT when they created their Jetfuse NOX pre-workout drink.

We were intrigued by its claims that bodybuilders and athletes begin to feel the formula working within minutes of drinking it, and also begin enjoying the benefits in their first set.

We looked closely at the list of ingredients, consumer reports, and even pricing to determine if this was something we would recommend.
How It Works and Ingredients
The Jetfuse NOX is clearly one of the major NO enhancers.

You can understand this the very moment you begin assessing the list of ingredients.

Most of the proprietary formulations contain one or more of the nutrients or minerals needed to increase NO production in the body.

The GAT JetFUSE for Size & Optimized Pump uses a range of Arginine mixtures along with Citruline too.

The GAT JetFUSE for Focus & Intensity relies on the NO boosting properties of Beta Alanine and Tyrosine as well.
The JetFUSE for Muscle Repair, Growth, Stamina, Speed, & Endurance turns to Valine and a range of all natural extracts to create its results, and the GAT JetFUSE Electrolytes for Replenishment is phosphate rich.

There are few fillers that we could find, and the mixture seems to be a good "clean" blend of complementary compounds.

We also appreciated the availability of many antioxidants that will capture the free radicals that can appear whenever NO levels exceed their natural amounts.
User Reviews and Feedback
Once we had a thorough understanding of the quality of the ingredients in the Jetfuse NOX we turned our attention to the reviews posted by those who used or were using the drink.

What we found was that most of the users enjoyed their experience and felt that it was appropriate for bodybuilders and those doing tons of cardio work.

In fact, a lot of those posting their replies about Jetfuse NOX indicated that the increased energy was one of their favorite effects.
This was because it was consistent and did not come with the usual shakes or "jitters" that other heavily caffeinated supplements deliver.

Some of the reviews indicated that they used the product in a "stack" and partnered it with a post workout protein shake.

Many people also gave the taste a "thumbs up" or high approval level as well, which shouldn't be overlooked since taste is often a serious deal breaker in the world of supplements.
Where To Buy
Jetfuse NOX can be found in blue raspberry, exotic fruit, and grape.

Each tub weighs in at 2.35 pounds and contains roughly 52 servings.

Recommended usage states that one to three scoops should be used 30 minutes before training.

The directions also say that one to three scoops should be consumed on the "non-training days" too.

This means that a single container is not a 52 day supply.

This makes the $30 to $38 price tag a bit steep for some, but AllStarHealth.com has flat shipping fees, and IllPumpYouUp.com has a 5% discount code.
Recommendation
We would recommend the Jetfuse NOX product to those interested in developing an NO enhancement program for themselves.This is certainly an effective, safe, and reliable formulation that puts a huge emphasis on mental clarity in addition to energy and massive "pumps" during every training session.
Top 3 Pre WorkoutAffiliate Disclosure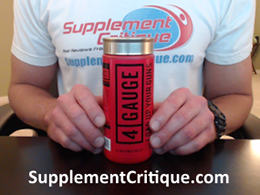 4 Gauge is a brand new pre workout that kicks in FAST and will rev up your workouts.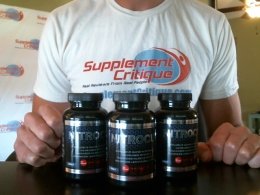 Nitrocut is a VERY effective pre workout supplement for a variety of reasons, see why here.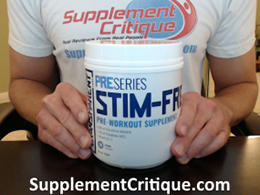 If you're looking for a stim-free pre workout, add Transparent stim-free to your list!
Want To Really Get Ripped?

Click Here To Download My FREE "Get Ripped" Ebook!
Ask A Question
User Questions and Answers
No Questions Have Been Answered For This Article.