MaxGenics Overview
As a young guy, the only supplements you had to worry about were for energy and muscle building.

When men hit the age of 30, something they took for granted plateaus then begins its decline.

I'm talking, of course, about testosterone. Testosterone is a key hormone that plays a very important role in guys building muscle, having confidence in the bedroom, and feeling happy.Diminished testosterone levels can cause all sorts of problems:
Lose your libido
Problems with erections
Start feeling lethargic
Difficulty concentrating
Start gaining fat around your middle
Lose lean muscle mass
Become irritable or feel depressed
What may seem like a horror movie is actually relatively easy to avoid.

Proper diet and exercise does wonders to combat reduced testosterone levels and one extremely convenient and helpful advantage is the supplement industry. Supplementing with testosterone boosters is becoming the norm for many guys who want to avoid painful, expensive, and questionable shots from their doctors.This natural way to boost testosterone has attracted a huge market, resulting in an industry that is filled with all talk and no walk products.
MaxGenics promises to rev up your body's own natural testosterone production, helping to stop and reverse the trend of diminishing levels.

You immediately gain confidence in the brand when you see how they supposedly base their formula and their business practices on five principles:
Always using all natural ingredients
Guaranteed results
Superior customer service
Top quality manufacturing standards
Third party testing to ensure purity of ingredients
Given the trend of all hype and no results in the industry, it's easy to wonder just how closely the company sticks to its promises.

Let's take a look at the formula used in MaxGenics to determine if this product and company are worth a second look.
MaxGenics Ingredients
The ease of checking out the supplement label for MaxGenics is a good sign; although, like many brands, the formula is a proprietary blend.

Put simply: You have no idea how much of each ingredient is in the formula.

Seeing as how this is common practice, there's no reason to fault them for that.

The list of ingredients in the formula includes:
Nettle Root Extract
Nettle Root is used for a variety of purposes; however, when it comes to specifically boosting testosterone levels, there just isn't enough evidence to support this claim.

Still, I'll give this ingredient a pass as it has been shown to do wonders for the prostate.

It is also used as a natural means to reduce inflammation, relieve pain and soreness in muscles and joints, and support the post-workout recovery process. While it may not be a testosterone booster, it certainly is a valuable ingredient.
Eurycoma Longifolia (Tongkat Ali)
Always happy to see this one on any list, Eurycoma Longifolia is one of the few ingredients in the industry that has the science to back it up.

Clinical studies have proven that Eurycoma Longifolia has the ability to release free testosterone, resulting in an increase in your t-levels.

One added bonus you may notice is the sudden spike in libido.
Tribulus Terrestris
Another very popular testosterone-boosting ingredient, Tribulus Terrestris has been, and continues to be, a part of the diet of man since ancient times.

Primarily used as an alternative medicine and libido booster, Tribulus Terrestris suddenly exploded on to the Western front when claims of its t-boosting powers made front page news in fitness magazines.

How much of the front page news was hype?

Pretty much all of it. Even with the ingredient still in the supplement spotlight, there are no clinical trials to back up the claims of being an effective testosterone booster.

Like Nettle Root, while it may lack evidence, it still is a great overall herbal remedy to incorporate into your diet.
Muira Puama
Native to the Amazon rainforest, Muira Puama is just starting to appear in many testosterone focused supplements.

Known for its ability to increase libido and performance in the bedroom, Muira Puama is thought to help increase free testosterone levels in the blood.

Let's get something straight: Just because you can get it up in the bedroom doesn't mean you are experiencing an increase in your testosterone.

Many companies are capitalizing on the idea that erections are a tell-tale sign of a boost in your t-levels. Muira Puama, for its benefits in the bedroom, is lacking evidence as a testosterone booster.

If your focus is on libido, this ingredient is great but remember, it's no t-booster.
Bioperine
Another ingredient I'm always happy to see in any supplement, Bioperine does not boost testosterone; however, it does something just as important. Bioperine boosts the absorption and utilization of the nutrients that it is ingested with.

It essentially turns any supplement into a super supplement, ensuring your body can utilize more of the ingredients, instead of just excreting most of it out.

You always want to see this on any supplement you buy.
Bulbine natalensis
This is a relatively new ingredient on some testosterone boosters, but it's sure to explode in the near future.

Bulbine natalensis is native to Southern Africa and, like a few of the other ingredients on the list has been used as an aphrodisiac for a number of years. While some studies are still in progress, the ones that have been completed and released show great promise.

One recent has shown that Bulbine natalensis promotes significant increases in anabolic and angrogenic processes in the body that could potentially result in a huge spike in testosterone.

If the human trials are successful, you will be seeing this ingredient everywhere. ("Anabolic and androgenic activities of Bulbine natalensis stem in male Wistar rats" 2010. Para. 1)
MaxGenics also contains a few key vitamins that are important for testosterone production such as Zinc and Vitamin B12.

The recommended dose is two MaxGenics capsules a day with food.

They also recommend that you follow a healthy diet and exercise program to achieve best results.
MaxGenics Pros and Cons
Advantages
The ingredients are listed and all natural
There's a money back guarantee
The ingredients are tested and have checked out for quality and purity
Disadvantages
Price is a little steep for a one month supply, given the ingredients
The authenticity of the reviews (see below)
Most of the ingredients have no clinical trials to back them up
MaxGenics Reviews
Searching the interwebs will lead you to the usual mix of vague reviews mixed with clearly copy and paste reviews for the product. Then you may stumble upon a seemingly genuine, heartfelt video from a guy named Scott.

Good guy Scott posted a video on YouTube just to send out his thanks to MaxGenics for changing his life.

Here's his review:
Seems legit, right?

Wrong.
Good guy Scott is a testimonial maker for hire.

Check out his pitch below, where he promises to "make an Awesome Video Testimonial Sales for you 1 Minute plus No script needed for $5."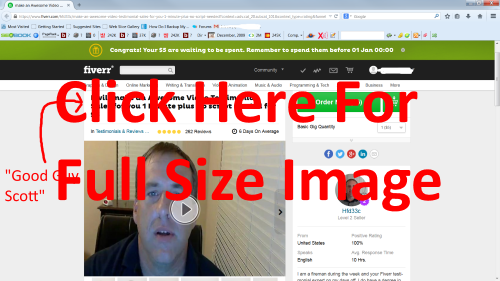 Scott got paid a whopping five dollars for that video review that now has over 14,000 views, and has probably made MaxGenics thousands.Just a guess.
Where to Buy
You can purchase MaxGenics through their official website. A one-month supply consisting of 60 capsules will run you $50.They also give you the option to buy up to three bottles at once, effectively lowering the cost.

The website does include a money back guarantee. It's good for three months.

You simply call and tell them you were not satisfied.

According to what we've heard, they honor the guarantee easily, without a lot of questions.
Conclusion
MaxGenics is an average testosterone boosting supplement.

It only feature two proven testosterone boosters with a plethora of libido boosters.

For the ingredients you are getting, the price of $50 for a one month supply is pretty high.Something along the lines of $30 to $35 would be more reasonable.Despite the ingredients, the paid review is a bit unsettling.

It makes you truly question the integrity of the company that supposedly operates by five superior principles. Case in point: There are other, far superior testosterone boosters out there.

The fact that it contains the soon-to-be very popular Bulbine natalensis is the only reason I would recommend this supplement.

If you can snag a bottle for $20 cheaper than what they are selling it for, I'd say give it a try.Otherwise, look elsewhere.
Have You Used MaxGenics?

Leave Your Review Below!
References

Yakubu, MT. "Anabolic and androgenic activities of Bulbine natalensis stem in male Wistar rats" 2010. http://www.ncbi.nlm.nih.gov/pubmed/20645801.

Web.
How People Found This Review:
and maxgenics, and maxgenics reviews, and maxgenics testosterone booster, and maxgenics testosterone booster reviews, and maxgenics review
Ask A Question
User Questions and Answers
No Questions Have Been Answered For This Article.