Morph Megadrive Reviews
By:
Rob Miller
Fact Checked On: 4-27-2013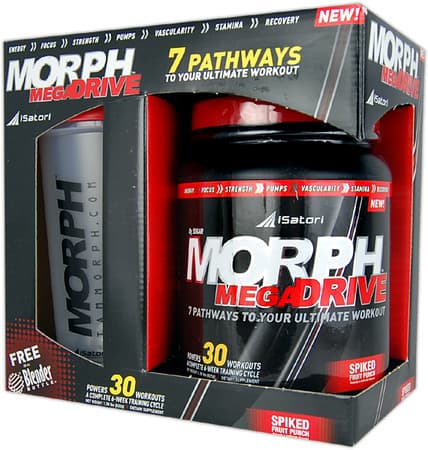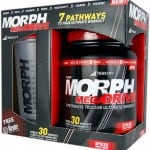 Anyone who reads about pre-workout drinks and supplements knows that some are designed to help you energize up and blast through a workout with good results.

There are not a lot of products, however, that address recovery time or needs.

There are also not a lot mixtures that promise to address all seven muscle and energy pathways.
So, when we heard about iSatori's Morph Megadrive pre-workout drink we knew we had to investigate a bit further.

This product guarantees a full-workout level of support (no more of the dreaded "hanging halfway" feeling of some lesser products) and dramatically improved results over similar formulations.

We read of increases in lean muscle mass, razor sharp mental focus, and the rebuilding of muscle at a faster rate than ever.

So, we looked at the ingredients, read the customer feedback, and did a bit of comparison shopping to determine our results.
Ingredients and How It Works
The ingredients in the Morph Megadrive product do seem to support the claims.

For instance, they have proprietary "ProMiniPlex" formula that uses tons of isolates.

They have a patented "Muscle Power Activator" that contains the most powerful nitric oxide boosters around, a trademarked "Neuropsych" formula with tons of B12, and the impressive "Hydro-PUMP" formula that is packed with Arginine.
This is a material well-known for working as a vasodilator and NO booster which dramatically increases and supports muscle growth, recovery and mental focus.

To ensure the best energy supplies, the Morph Megadrive product also uses the "Volumaxer" mixture that is a reliable insulin driver or energy supplier, and this is partnered with their patented "Oxy-Pump" blend designed to carry oxygen as effectively as possible.

Finally, their "Prosyntha-RX" formula is a perfect finishing touch thanks to its abilities as a muscle regenerator.

Our conclusions about the formulation are clear and simple – this stuff should work well when used according to the manufacturer's instructions.
User Reviews and Feedback
So, does Morph Megadrive really deliver on its claims?

We turned to customer reviews to discover if this was the case.

What we found was that almost everyone who had used it found it to be a truly optimal pre-workout supplement.

There was a lot of praise for the product's abilities with delivering a good workout without the "jitters" that plague so many people.

It was common to also see a lot of positive feedback about the taste of the beverage, and how it was very "easy on the stomach".
This is often a problem for people new to pre-workout beverages, and the Morph Megadrive is clearly one of the formulas that can be used by beginners and advanced athletes alike.

What we found was that many bodybuilders appreciated their increased energy and sharper focus, while really enjoying the taste and digestability of the drink – particularly those who used post-workout meals as a part of their daily routines.
Where To Buy
Morph Megadrive has only one flavor – the Spiked Fruit Punch.

This is sold in the 625 gram sizes at a relatively higher price than other pre-workout drinks.

The lowest pricing is going to be found through online vendors and we were shocked to see that Amazon.com is currently extending a substantially lower price than many other locations.

Their 30-serving containers are selling for around $29, while other sites begin around $36. The competitors include AllStarHealth.com and DAMuscle as well.
Recommendation
Morph Megadrive from iSatori is a reliable supplement for those looking to give themselves a solid, pre-workout prep.The drink does do all that it claims, including boosting energy and helping with the post-workout recovery process.

Consumer reviews agree with the manufacturer's claims of sustained energy, and also approve of its abilities to enhance performance without any jitters or side effects.
Top 3 Pre WorkoutAffiliate Disclosure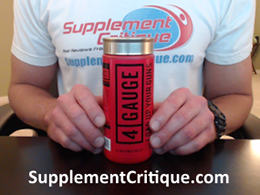 4 Gauge is a brand new pre workout that kicks in FAST and will rev up your workouts.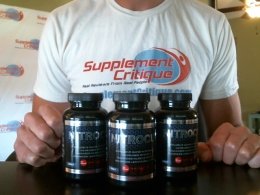 Nitrocut is a VERY effective pre workout supplement for a variety of reasons, see why here.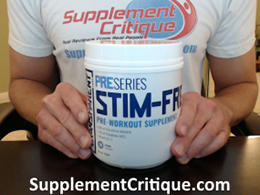 If you're looking for a stim-free pre workout, add Transparent stim-free to your list!
Want To Really Get Ripped?

Click Here To Download My FREE "Get Ripped" Ebook!
Ask A Question
User Questions and Answers
No Questions Have Been Answered For This Article.