Ostarine (MK-2866)

Reviewed by: Rob Miller

5 OUT OF 5

RECOMMENDED

Date Published:
08-21-2017
Note:  This is just a review.

Click Here to buy Ligandrol legally online.
Lean muscle mass, low levels of body fat, incredible strength, and unstoppable power: These are the primary fitness goals that the majority of people have.

A strict diet and well-planned training program is still the foundation of any fitness goal but when you want to go above and beyond and look like something out of a Greek myth, you need to consider all your options.


Dietary supplements are so incredibly popular because they all promise to be that extra boost you need to look like Gerard Butler from 300 or like Megan Fox in Transformers.

The problem is that so many supplements fall short of their promises, costing you time and money.


When serious muscle is at the forefront of what you're after, you have a few ways to go in terms of supplements.

There's always the illegal and discouraged route of anabolic steroids.


They work far better than you'd imagine but they also contribute to health problems and can get you in the trouble with the law. After that, you have prohormones.

Prohormones talk a big game but rarely deliver the results you're looking for but they will provide you with all the side effects found with anabolic steroids.


Lastly, you have a S.A.R.M.
S.A.R.M.s are exploding in popularity due to their effectiveness and minimal side effects.

One of the most popular S.A.R.M.s that is readily available on the market is Ostarine.


Can Ostarine help you pack on serious muscle mass while boosting strength and reducing fat?


Let's take a look at this game changer to see if it's right for you.
What is a S.A.R.M.?


S.A.R.M. is short for Selective Androgen Receptor Modulator.

The name itself gives away the reason why it's become such a hit in the bodybuilding, athletic, and fitness communities.

Unlike anabolic steroids, a S.A.R.M. focuses on the anabolic benefits without the androgenic effects. So what does that mean?


There are two terms mistakenly used interchangeably when it comes to muscle building compounds: anabolic and androgenic.


Anabolic primarily refers to the increase in the size of the muscle tissue.

Anabolic steroids are famous for giving you bigger what?
Muscles!


Androgenic refers to male characteristics that naturally occur during puberty.

Deepening of the voice, change in hormone levels, increase in the size of organs: these are all examples of androgenic effects.


So why does it matter if a S.A.R.M. focuses more on anabolic properties and less androgenic properties?
Side effects, that's why.


Think about all of the horror stories that you hear about with anabolic steroids: hair loss, radical swings in hormone levels that lead to gyno (man boobs) and destroyed testosterone levels, acne, and aggression.

That's not to say that androgenic effects don't have their benefits but the cons heavily outweigh the pros here.

THAT is why you want to maximize anabolic benefits while minimizing or eliminating androgenic side effects.


Back to what I was talking about above:
With a S.A.R.M. providing you with more ANABOLIC benefits and minimal ANDROGENIC side effects, you're looking at a near perfect way to attain your goals and not suffer the same horror stories you read about in forums.


You may be wondering how it's possible for a S.A.R.M. to be more anabolic when it has the word "androgen" right there in the name.

The beauty of a S.A.R.M. is that it has the ability to promote certain characteristics while reducing others.


In the case of muscle growth, certain S.A.R.M.s are able to amplify the muscle tissue growth while avoiding the growth of organs such as the male prostate or promoting the loss of hair due to increases in DHT.

Understand why S.A.R.M.s are so popular now?


Is a S.A.R.M. the Same as a Prohormone?


No, although this is a common misconception.

Prohormones and S.A.R.M.s are not illegal like anabolic steroids; however, the results they produce couldn't be more different.


Prohormones are touted as helping to produce insane muscle gains but the truth is that even the most dedicated lifter isn't going to be left with much after the cycle ends.

What's more, prohormones are notorious for promoting the same side effects as anabolic steroids.


Case in point: You're getting half the muscle with all the side effects.
Not worth it.


Is a S.A.R.M. the Same as an Anabolic Steroid?
Not even close. First, steroids are illegal.

Secondly, as mentioned above, steroids are going to promote anabolic AND androgenic effects to the same degree.


Yes, you'll walk away with an incredible amount of muscle mass but you'll also watch as your hair disappears, your aggression spikes, and your bone structure alters.


Look, there's no denying that hardcore gains and insane muscle size is going to come from the use of steroids.

However, why would you opt for something that's illegal AND going to cause medical issues in the long run.

Do you think it's a coincidence that all of the top performing bodybuilders have needed a kidney or liver transplant in their 40s or 50s?


A S.A.R.M. may not help you look like Coleman or Cutler but you're still going to look pretty damn good.


S.A.R.M.s and the WADA Prohibited List
Speaking of bodybuilding: Is a S.A.R.M. allowed to show up on a WADA drug test?


Unfortunately for bodybuilding hopefuls, a S.A.R.M. is on the prohibited list, right alongside anabolic steroids and prohormones.

The World Anti-Doping Agency placed S.A.R.M.s on the prohibited list back in 2008.


One of the most effective and popular S.A.R.M.s that finds a home on the top of that list is Ostarine.


Ostarine: The Perfect S.A.R.M.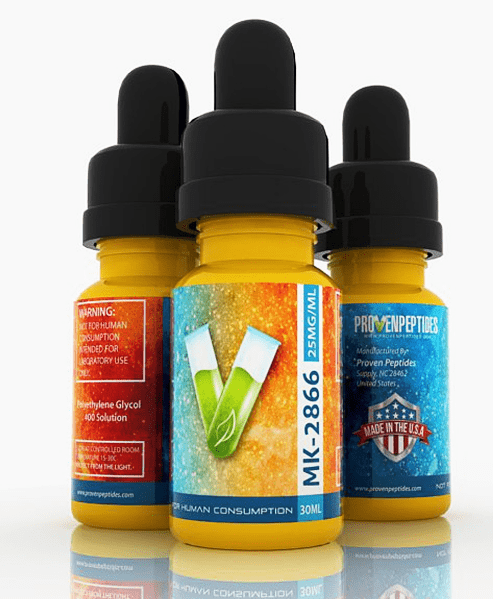 When it comes to the poster boy for S.A.R.M.s, it's hard to think of a better choice than Ostarine.


Also referred to as MK-2866, Ostarine has been a hot topic in the medical field as well as the bodybuilding industry.


Due to its ability to promote the growth of healthy muscle tissue and bone in those with muscle deteriorating conditions, Ostarine has been the subject in several ground-breaking studies.


How Ostarine Works
Just like other S.A.R.M.s, Ostarine works by targeting selective androgen receptors in the body.

Once ingested, the compound attaches itself to these selected androgen receptors.

From here, this is when the compound works its magic, promoting the growth of lean muscle tissue and promoting proper bone development.

Some users have even reported shedding body fat with Ostarine.


Potential Side Effects of Ostarine
As I mention above, Ostarine, as a S.A.R.M., is going to maximize the anabolic benefits while reducing androgenic side effects.

Unfortunately, there's just no way to eliminate side effects completely with a S.A.R.M. like Ostarine.

However, the intensity of the side effects is heavily dose dependent.

While user reports may vary wildly, here are some of the potential side effects for men and women when using Ostarine:
Potential mild testosterone suppression
Mild acne
Mild (if any at all) hair loss
Assuming worst case scenario, the best way to combat the minimal side effects that you may have is to supplement with a PCT (Post Cycle Therapy).

You wouldn't need a hardcore stacked PCT, a simple, mild PCT will do the trick.


What the Research Says about Ostarine
So what exactly has science demonstrated about Ostarine?

Well, it's important to note that no professional medical organization is going to fund a study that has the sole intention of proving Ostarine as a highly effective muscle mass enhancer for the purpose of bodybuilding.

Especially when S.A.R.M.s have been banned by the WADA. With that said, you can take a look at the medical research, its medical applications and apply those same benefits to what you can expect when you use a S. A.R.

M
In the past, anabolic steroids had been the go-to solution for many conditions that featured muscle and bone deterioration.

With the first study of a S.A.R.M. showing so much potential, studies have focused on replacing anabolic steroids with S.A.R.M.s like Ostarine.

In fact, the first study was performed back in 1998 and it involved guess which S.A.R.M. That's right. Ostarine.


In one of the most famous studies, the use of Ostarine resulted in amazing gains.

Subjects were not prescribed a specific diet or training program and yet, all subjects experienced a dose dependent gain of lean muscle tissue.

Subjects took 3 mg per day of Ostarine and ended up gaining an average of 1.3 kg or nearly 3 pounds of muscle mass.

They gained almost 3 pounds of muscle and did NOT add in supplemental training or a new way of eating!

You don't need me to say it but imagine what kind of results you can achieve if you were to add in a hypertrophy focused training program and meal plan. (1-3)
Highlighted Benefits of Ostarine
Here's a quick rundown of the finer points of Ostarine:
Promotes anabolic properties
Androgenic side effects (if any) are minimal
Will not negatively impact the liver
Supports lean muscle tissue growth
Protects current levels of muscle and bone
Will not convert to estrogen or dihydrotestosterone
May promote higher levels of strength, power, and performance
Best Way to Use Ostarine
There are two ways to administer Ostarine: an oral supplement usually in tincture form or an injectable dose.


Dosage:
Dosage will vary based on what your goals are.

Also, remember that gains AND side effects are dose dependent.

You may see more muscle mass with a higher dose but you'll also see a greater risk of testosterone suppression.

Any cycle that runs four or more weeks should be followed with a PCT, as mentioned above.


Lowest possible dose: 3 mg
Average dose (according to user reviews and brand recommendations): 12 to 15 mg
Highest dose (ideal for intense bulking): 25 mg (A PCT is absolutely required at this dose)
Cycle Length
This will vary by company. The general time frame is 4 to 6 weeks.


Cycle Support
Cycle support may be needed depending on the dosage.

Again, the lower the dose, the less chance you'll need a PCT.


Stacking Method
While you can stack Ostarine with different anabolic compounds, I'd argue against it.

Ostarine has a specific function that involves targeting exact androgen receptors in order to maximize your results while minimizing your side effects.


What do you think will happen if you throw a wildcard like a prohormone on top of that?


Remember above how I mentioned that prohormones serve up some anabolic features but also come with the androgenic side effects?
Why ruin a good thing?


The only thing you may want to consider stacking Ostarine with is a quality intra-cycle support supplement if you are using it at a higher dose.


Popular Brands of Ostarine
Here are a few popular brands of Ostarine that received universally positive support on forums and review sites:
Ostabolic-Osta (MK) by SARMX
Ostarine by PROSARMS1
Ostabol by Celtic Labs
I  personally prefer the Ostarine over at Proven Peptides.


It's made of great quality, it's 3rd party tested, and it works…period.


Here's their site:  http://provenpeptides.com/product/lgd-4033/ref/9/
Conclusion
When muscle mass and strength boosting is your fitness goal, it can be easy to reach a plateau where you just aren't seeing the results you once were.

Once you cycle through various diets and training methodologies, you may still want something more to help push your body past it genetic limitations.


Prohormones are tempting but the lack of results and the amount of side effects that you get will squash that temptation.

Anabolic steroids are incredibly effective but also highly illegal and come with long term health complications.

Then there's a Selective Androgen Receptor Modulator.


While banned by the WADA, finding a quality S.A.R.M. is still very easy and the compound is highly effective.


One of the best S.A.R.M.s on the market is Ostarine.

Backed by scientific research and studies, Ostarine has been shown to significantly increase lean muscle tissue and strength.


User reports claim that it promotes a higher level of fat burning.

If you want a new way to smash your limitations, Ostarine may be what you are after.
Have you used Ostarine? Leave your review below!


References
Ramesh Narayanan, Michael L. Mohler, Casey E. Bohl, Duane D. Miller, and James T. Dalton.

Selective androgen receptor modulators in preclinical and clinical development. Nucl Recept Signal.

2008; 6: e010.
Dalton JT, Barnette KG, Bohl CE, Hancock ML, Rodriguez D, Dodson ST, Morton RA, Steiner MS.

The selective androgen receptor modulator GTx-024 (enobosarm) improves lean body mass and physical function in healthy elderly men and postmenopausal women: results of a double-blind, placebo-controlled phase II trial. J Cachexia Sarcopenia Muscle.

2011 Sep;2(3):153-161. Epub 2011 Aug 2.
How People Found This Review:
and mk 2866, and mk-2866 dosage, and ostarine effects, and ostarine mk 2866 pills side effects, and ostarine review, and ostarine side effects
User Reviews
There are no user reviews for this post.
User Questions and Answers
User Questions and Answers
---
what is the best of the two ways to take mk 2866 please? i have not used this yet. i have been using other peptides. it is hard to get correct answer. thank you -richard
- Rob
Was this question helpful to you?

---
Is it safe to use osterine with another sarm like mk 677, gh enhancer? Will it increase the chance of androgenic side effects like hair loss? Or anything else? Thank you -Frank
You may want to check with the site you're purchasing from. I don't really have enough knowledge or experience on the subject.- Rob
Was this question helpful to you?
0

out of 1 people found this question helpful.
---
Check Out My Top Choice For T Boosters - Testofuel

Click Here To Read My Review
Sign Up For Our FREE 41 Page Ebook
"How To Get Lean, Ripped, and Strong Quickly"
Includes Three
Free

Bonuses ($23 Value):
Free

"Big List Of Foods You Can Eat" Quick Reference Sheet

Free

Get Ripped Workout Log

Free

Sample Meal Plans

X

Sign Up For Our FREE 41 Page Ebook
"How To Get Lean, Ripped, and Strong Quickly"