Performix SST Suspension Super Thermogenic Review
Rob Miller | May 2, 2018
---
Product Reviewed:
The Performix SST Suspension Super Thermogenic
|
OUT OF 5 | Review by:
Rob Miller
|
---
REVIEWS
QUESTIONS
COMMENTS
---
Home » Fat Burners » Performix SST Suspension Super Thermogenic Review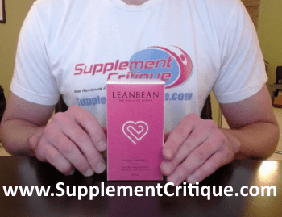 LeanBean Female Fat Burner is the BEST fat burner for women we\'ve ever tested. Read our review here.
Losing fat can be difficult whether it's for your upcoming competition, because you want to look good on the beach, or to drop those extra pounds that always seem to latch onto you over the holidays.

We all have a general idea of what it takes – a good diet and workout plan that achieves the right calories-in v. calories-out ratio.


But knowing and doing are often two very different things.

That's why the weight loss industry makes billions of dollars every year offering help, advice, support, tricks, and anything else they can manage to convince you might help you find success.


Some products focus on the general dieting population.

That's where you'll find most of your Dr. Oz fad supplements, like Garcinia Cambogia and Raspberry Ketones.

Others focus on the bodybuilding community for guys and gals who want energy and fat burning to help cut that stubborn layer covering up their hard earned muscles.

Performix SST Suspension Super Thermogenic is in that second category.


Using their Terra Intelligent Dosing technology, Performix SST Suspension Super Thermogenic promises to provide energy, focus, and fat burning you need to fine tune your body, making it gym and competition ready.


Performix SST Suspension Super Thermogenic Ingredients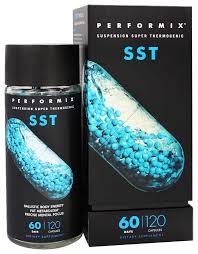 Just as important to the performance profile as the active ingredients are the phases of ingredient release, which we'll get into after we list the ingredients, which is a proprietary blend that includes:
Citrus Aurantium (Synephrine) which is often thought of as a replacement for Ephedrine once it was banned.

It helps control appetite while improving focus and mood.

It even provides thermogenesis by increasing your core temperature and metabolism.


Yohimbine which is another stimulant that carries additional benefits of fat release.

You should be aware, though, that the FDA recommends against the use of Yohimbine because it often causes jitters and heart racing and sometimes causes more serious issues like a dangerous drop in blood pressure.


Ashwagandha which fights against overall fatigue by acting on the adrenal glands.


Choline which helps boost focus and sharpness of thought.


Niacin which helps keep you calm and focused.


Caffeine which stimulates you in terms of both energy and metabolism.

It also suppresses your appetite and improves physical performance.


Mucuna Pruriens which boosts mood by increasing the release of dopamine.


Herperzine A which boosts mood and increases focus.


Vitamin B12 which is great for increasing cellular energy for a significant boost without the crash.


Most discussions of the Performix SST Suspension Super Thermogenic formula put a lot of focus on their Terra extended release technology.

It's at the core of all Performix products.

Basically what it does is use special coatings encasing the active ingredients so they can be released over time and at the proper pH levels, working for hours longer than the competition.

It works in 4 phases:
Terra 1 is the Introduction Phase where thermogenesis is first stimulated. .

Heat is increased and your BMR is raised.

This is when the Ashwaghanda, Caffeine, and Huperzine A are first released.


Terra 2 is the Chill Phase where your heightened BMR is sustained by the release of Yohimbe and Citrus Aurantium, and the breakdown of fat occurs.


Terra 3 is the Sustain and Block Phase where the body is manipulated to keep the fat burning BMR at that higher rate.


Terra 4 is the Transition Phase where the large dose of B12 is released, supporting sustained energy that lasts throughout the day with no crash.


How To Use Performix SST Suspension Super Thermogenic
Performix SST Suspension Super Thermogenic comes in liquid capsule and powder form.

For the capsules, it's recommended that you take 2 in the morning on an empty stomach, not to exceed 6 in a day.

For the powder, you'll take 3 scoops mixed with water in the morning.


For both formulations, it's not advised that you take them within 6 hours of bedtime.

The stimulants will make it tough to fall asleep.


Performix SST Suspension Super Thermogenic Reviews
Customer feedback on Performix SST Suspension Super Thermogenic is pretty mixed.

It's one of those Love-It-Or-Hate-It products.

Here are some examples from the "Love It" side:
"Kick your day into high gear with this.

I take two in the morning, and I'm still buzzing all day long. I don't crash at night. Buy it and buy a lot of it!

"
"My wife and I are both using it now. Love the boost in energy. We both take two in the morning.

Caffeine is strong but the burn goes allday because of the capsules.

Fantastic results after one month of use."
"Worked great started with 1 a day for 1st week then went to 2 a day after gave me good energy without the shakes no crash later on in the day using for almost a month now lost about 10 – 12 lbs so far "
As you can see, most of the positive feedback comes from people who like the energy.

There's not none, but there's not a whole lot of talk about the thermogenic side of things.


As for negative reviews, they fall into 2 major categories.

People either find it doesn't work for them at all:
"I tried the next day both pills with an empty stomach and nothing again!

No more energy and it didn't suppress my appetite either."
or they got terrible side effects:
"Didn't really do anything except get my heart and body racing."
"Today I woke up took the two pills and about a half hour later went outside to run.

Couldn't finish 3 miles and I kept having to stop and sit down from nausea and feeling like I was going to puke up my organs."
Another pretty common complaint is that Performix SST Suspension Super Thermogenic costs too much.


Where to Buy
You can find Performix SST Suspension Super Thermogenic at GNC which is a big plus for a lot of people.

60 capsules will last you a month when taken as directed, and the bottle costs $99.99. If you have a GNC memberhip, you'll save a whopping $35.00 with a price of $64.99. At Amazon, it gets even better.They charge $53.29 for those 60 capsules, and that's pretty comparable to what you'll pay at Bodybuilding.com
Performix SST Suspension Super Thermogenic Pros and Cons
Advantages of Performix SST Suspension Super Thermogenic
The formula is strong on energy and focus.
There's plenty of positive feedback about the energy Performix SST Suspension Super Thermogenic provides.


Disadvantages of Performix SST Suspension Super Thermogenic
It can be very expensive.


The fact that all the stimulants are in a proprietary blend means we just don't know how stimulant-heavy the fomrua is.


It contains Yohimbe which is known to cause negative side effects in some people.


Customer feedback shows that some people respond with jitters and nausea.


Conclusion
For some people, Performix SST Suspension Super Thermogenicprovides a nice energy level that lasts thorugh workouts and all day long. For others, it does nothing.

For still others, it makes them feel sick.

At the $99.99 price point, I'd advise anyone to stay away.If you can pick it up for less and you're looking for sustained energy, give it a try with just one pill at first.

If you're one of the lucky ones, you'll be fine at one capsule, and at 2 you'll feel great all day.

If not, you'll get no results or worse.

If you've got disposable cash, give Performix SST Suspension Super Thermogenic a try.

If not, go with something with a more consistent tract record of success.


Have You Used Performix SST Suspension Super Thermogenic?

Leave Your Review Below!!
Our Top Choice For Fat Burners – Instant Knockout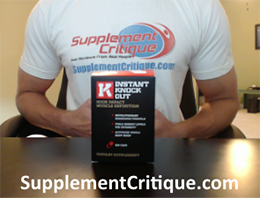 Instant Knockout is a revolutionary formula that's designed to not only boost energy levels, but also help to burn body fat.

This supplement can easily help to not only rid your body of that excess fat, but also boost your metabolism.


We tested a one month supply to determine it's effectiveness, and the results shocked us.


Click here to learn more in our official review.



Ask A Question
User Questions and Answers
---
When will the nausea go away? -Hope
If you're feeling nauseous, try taking it with a small amount of food. That should help.- Rob
Was this question helpful to you?
1

out of 1 people found this question helpful.
ASK A NEW QUESTION
---
I have been using performix terra dosing powder for a 8 months is that alright to continue to take it every morning for that lenght of time. -Charlise
Yeah, there's no reason you need to cycle it ( ie, it doesn't affect your hormones), but it's not a bad idea to take a week off every month or so just to clear your system and start fresh.- Rob
Was this question helpful to you?

ASK A NEW QUESTION
---