Prosolution Plus

Reviewed by: Rob Miller

4.5 OUT OF 5

RECOMMENDED

Date Published:
06-02-2017
Note:  This is just a review.

Click Here to visit the official Prosolution Plus website.


While the majority of guys coming to this website are simply looking to get bigger, a good portion are looking for help with premature ejaculation issues.


While I haven't tested too many premature ejaculation supplements (mainly because I don't suffer from the issue), I've done a shit ton of research on the subject.


One popular supplement I came across was Prosolution Plus, a once daily formula designed to help men suffering from premature ejaculation.
But does it really work?


I've done the research, and even had someone who does have PE test the supplement out, in an effort to see if it can really help.


Watch My Video Review Or Scroll Down To Read More
What is Prosolution Plus?
Prosolution Plus is a medically endorsed supplement that is designed to help promote sexual support and function, as well as help you last longer.

In a clinical trial conducted by an independent test panel, researchers noted a 64% improvement in premature ejaculation, a 67% improvement in erectile quality, and a 78% improvement in overall sexual satisfaction when compared to a placebo group.


The formula includes a natural blend of ingredients, including Tribulus Terrestris, which has been shown in related studies to help improve sexual function.

It also contains Withania Somnifera, Asparagus Adscendens, Mucuna Pruriens, Asteracantha Longifolia, Curculigo Orchioides, and Asphaltum.


Click Here to see a picture of the label.


Prosolution Plus Vs. Original Prosolution
The makers of Prosolution Plus came out with this formula to specifically help with men suffering from premature ejaculation.

In your researching online, you may see alot of info about their original product Prosolution Pills.

The main difference between the two is their formulation, and what they are intended to do.

Prosolution Pills contain a number of different ingredients, including Butea Superba, Cordyceps, Drilizen, and Solidilin.


Prosolution Pills are meant to help:
Improve sexual motivation
Help men with erectile dysfunction
Improve Libido
Possibly aid in restoring normal testosterone production
while Prosolution Plus is designed to:
Reduce the symptoms of premature ejaculation
Help you relax
Maintain erectile function
Make it easier to climax
Our Personal Test Results
Like I stated earlier in the review, I don't suffer from premature ejaculation issues, so I'm not the best candidate for the job.

However, I did reach out to some of my website followers and asked around to see if anyone would be interested in testing it out.

I received a number of responses, and chose a candidate based on 4 factors:
Not taking any medications that would cause premature ejac.


Has had PE issues for at least a year
Would use the product for at least 3 months before coming to a conclusion
The person would agree to leave a review at the end of testing
For purposes of anonymity, we will refer to the candidate as Russell.

Just to be clear, we did not pay for Russell to write this review, we simply provided him with a 3 months supply of the product for testing.

Here were his specific results with Prosolution Plus: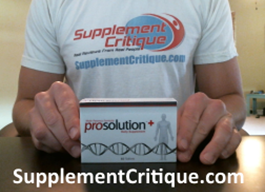 "I've been suffering from premature ejaculation symptoms for as long as I can remember.

There is nothing more embarrassing then "blowing your load" way too quickly, and I've tried many other supplements that promise to help with PE in the past, with very little results.

It usually would take me about 2 – 3 min. to orgasm, and I think it had alot to do with my ridiculous porn habit (at the time).


Rob Miller from SupplementCritique.com reached out to me to see if I would be interested in taking Prosolution Plus, and I figured it would be worth a shot.

He sent me out 3 boxes of the stuff, and I started taking it right away.

For the first few days, I have to be honest and say I really didn't notice anything.

About 2 weeks in is where I saw some real results.


I felt like I was lasting longer, without having to think about something else during sex.

And by longer I mean somewhere of the range of 5 – 10 minutes.

A pretty big improvement, but I wanted to last longer than that.


About 2 months in, it was like a switch was flipped on.

Not only was I lasting much longer (like 20 min. on average), but I was getting horny as hell really easily.I started to feel super horny in the morning, and then again in the afternoon.

I had never really experienced that before, at least not without some sort of visual stimulation (like porn haha)
Visit the official Prosolution Plus website here:  www.ProsolutionPlus.com
At the end of the 3 months, I would say that I pretty much felt the same as I did during the 2nd month, maybe lasting a bit longer.

I didn't notice any side effects, and at no time did it feel like it wasn't working anymore."
Combine With Vigrx Delay Spray For
The ULTIMATE Experience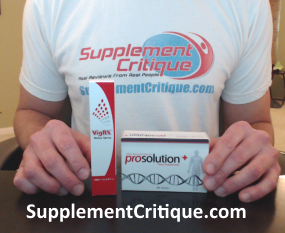 I recently got a chance to test out a premature ejac.

spray called Vigrx Delay Spray, which on it's own works very well.


However, I decided to try combining it with Prosolution Plus and the effects were ENORMOUSLY better.


The key thing behind Vigrx Delay sprays effectiveness is an ingredient called Benzocaine.

Benzocaine is actually a local anesthetic that essentially numbs the penis so that it's desensitized a bit.


But, it's only desensitized to the point of helping you last longer, NOT completely eliminating any feelings like you get with 99% of the other delay sprays on the market.


How do I use it?
To get the best results, typically you apply 2 sprays to the penis and gently message it in (you can even have your partner do it, if you're so inclined 😉
It literally takes just a couple of minutes to kick in, and once it does it will leave you lasting for a REALLY long time.


Check out my full review of Vigrx Delay spray here, or visit their website at www.VigrxDelaySpray.com.


Where To Buy Prosolution Plus
Prosolution plus can be purchased on their official website, which is recommended because of numerous counterfeit products floating around.

It's a bit on the expensive side, with a one month supply costing about $70.  The price point on a per box basis is significantly lowered when ordering larger quantities, with an avg.price per box of $36.Since it generally takes about 3 months to see the best results, we recommend you order at least a 3 months supply.


It's also backed by a 67 day money back guarantee, so if it doesn't work out you can always send it back for a full refund.


Visit the official website here:  www.ProsolutionPlus.com
Pro's
Dr. recommended and approved
Positive clinical testing
Good results from our tester
All natural ingredients
Conveniently available online
Does not require any type of lubrication
Established brand
Con's
It's not a cure…you need to keep taking it to see results
It's expensive
Not sold in stores
Recommendation
If you've been suffering from premature ejaculation, than I think Prosolution Plus could be the answer to your problems.

It's one of a kind formula has been shown not only in clinical testing, but also in our own personal testing, to effectively help reduce the symptoms of premature ejaculation.

While it is a bit on the expensive side, keep in mind that it is alot more convenient than using some sort of desensitizing cream to help you control your orgasms.


Couple this with the fact that they offer a 67 day money back guarantee, and I see no reason why it's not worth trying out yourself.

Visit ProSolutionPlus.com to learn more.
Have You Used Prosolution Plus? Leave Your Review Below!


Our #1 Choice For Male Enhancement – Vigrx Plus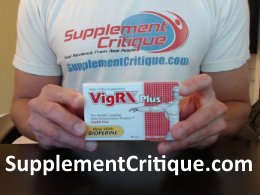 We have personally tested over 100 different male enhancement supplements, and Vigrx Plus stands out as the most effective in terms of results and customer reviews.

Not only is Vigrx Plus designed to help boost overall stamina and libido, but it's also the only product in its category to be clinically studied and PROVEN to work.


Click Here to read more about my specific results with Vigrx Plus
How People Found This Review:
and prosolution plus, and prosolution plus review, and prosolution plus reviews, and pro solution plus, and prosolution pills review, and prosolution
User Reviews
2 stars
I've tried the pills and this is my review for others:

The pill wont naturally increase the penis size.It will only give you the hardest erections you could ever get.

So if you always thought that your penis size is 6" when erect, this pill will make you realize that its actually 6.1" or 6.3".Do not buy the pills thinking it will give you an extra inch or two.

In terms of premature ejaculation.

The pills may only give you an extra 2 minutes.But it will keep you turned on and give you the ability to go again after the first ejaculation.



Personal advice - Do not buy thinking it will increase your penis size by and inch or two.Do not buy if your single because its a sex pill thats made to make you have better sex.

and do not buy thinking that it will give you an extra 10 minutes till your first ejaculation.It will only keep you turned on and give you very hard erections and thats about it.



I hope this will help.

Was this review helpful to you?
34 out of 36 people found this review helpful.
Rob Miller: Yeah they're not intended to help you gain size, just for performance issues. Thanks for your review!

Rob
SupplementCritique.com
---
Siva's Review
I had got pro solution plus for one month.
I started taking this pill from 28th May 2015, today 2 weeks passed.
I could notice a major difference, not only with PME but also erection quality.
Earlier I used to ejaculate within 5 strokes from insertion, now I could do up to 20 strokes, though it is not enough to satisfy my wife, am happy that I could see 4 folds improvement within 2 weeks.
Am expecting to last at least 2 to 3 minutes (at the end of 2 months from taking this pill) so that I could satisfy my wife at least once in past 4 years of marriage.

Was this review helpful to you?
20 out of 24 people found this review helpful.
---
Shahid's Review
Just want to let everyone out there know that there is no side effect for me in prosolution plus after taking it for couple of days...but there is still no noticeable change in my PE problem...good luck to everyone that is trying this product... 🙂

Was this review helpful to you?
10 out of 12 people found this review helpful.
---
Well worth the price
I've had premature ejac problems since as long as I can remember.

I've tried some of the gels and oils out there, but usually they left me feeling too numb to feel anything.

I have to say, this stuff works great.

Overall I saw a really big increase in performance and I feel like I'm lasting much longer.

Was this review helpful to you?
9 out of 10 people found this review helpful.
---
User Questions and Answers
User Questions and Answers
---
What is the dosage to take Prosolution plus? -Ram Vohra
The recommended dose for Prosolution Plus (www.ProsolutionPlus.com) is 2 tablets per day taken with a meal. You can also take 1 additional tablet prior to sexual activity, but you shouldn't take more then 3 pills in any 24 hour period. - Rob
Was this question helpful to you?
0

out of 1 people found this question helpful.
---
What's the difference between Prosolution Plus and the original Prosolution? -Mike
That's a great question, and one that I should have mentioned earlier in my review.  The main difference is in the formula's...With the exception of Curculigo root, the Prosolution + formula contains a whole new set of ingredients / extracts that include Withania root, asparagus adsendens root, asphaltum exudate, mucuna pruriens seed, asteraantha, and it's chief ingredient Tribulus Terrestris. The original Prosolution pills were designed to help men get you hard and keep you hard, while putting less of an emphasis at helping with premature ejaculation issues.  The Prosolution Plus formula is intended to do the exact opposite. It's designed to help men suffering from premature ejaculation issues, with less of an emphasis on helping improve sexual libido and enhancement.- Rob
Was this question helpful to you?
7

out of 7 people found this question helpful.
---
Approximately, how many users have given you positive feedback about the effectiveness of ProSolution plus in solving PE -Baba
I don't keep a count, but I'd say dozens. It's also been clinically proven to help with PE.- Rob
Was this question helpful to you?
6

out of 7 people found this question helpful.
---
Does prosolution plus have gelatin in the non-medical ingredients and if it does what animal is the gelatin made from? -Shahid
Nope, they use cellulose for their capsules, so it's 100% vegan friendly.- Rob
Was this question helpful to you?
5

out of 5 people found this question helpful.
---
Once you see results of Prosolution Plus do you have to keep on taking it if you want results at all times. Or can you back off of it little by little??? -Brett
You might be able to cut back a little, but you have to keep taking it if you want to keep getting the effects.- Rob
Was this question helpful to you?
8

out of 11 people found this question helpful.
---
Want To REALLY Get Bigger?

Click Here To See Products That WORK!
Sign Up For Our FREE 51 Page Ebook
On All Natural Enlargement Exercises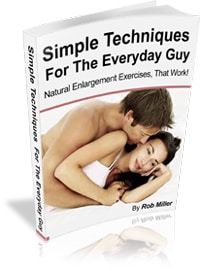 X
Sign Up For Our FREE 51 Page Ebook
On All Natural Enlargement Exercises