Super Fat Burning Gummies Review
By:
Rob Miller
Fact Checked On: 6-22-2018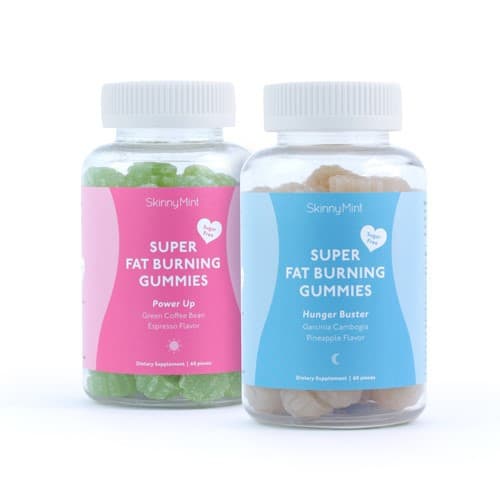 Super Fat Burning Gummies Skinny Mint Review Overview
Super Fat Burning Gummies are manufactured by Skinny Mint, who are most well known for their weight loss tea range and Instagram marketing.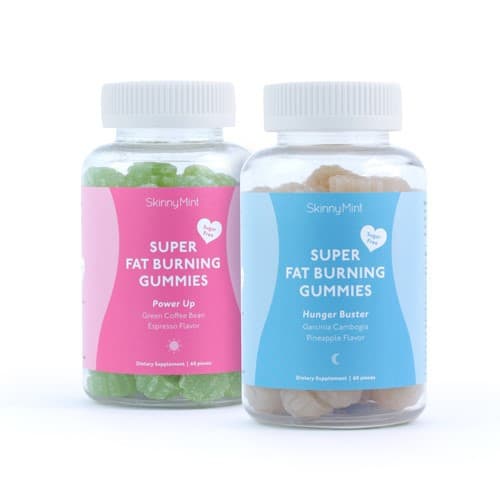 We actually just reviewed one of their other products called Skinny Fit Detox Tea, which is one of their flagship products.
Now, Skinny Mint have expanded their product range to include these gummies, that can be used alone or in combination with their other products.
We were rather intrigued by the idea of a fat burning gummy; so we decided to write this Super Fat Burning Gummies Skinny Mint review to find out whether they really can help you to lose weight.
In this review, we will examine the proposed benefits and ingredients offered by Skinny Mint Super Fat Burning Gummies in detail.

We will then move on to consider customer reviews before deciding if they are a good choice of weight loss supplement or simply a fad.
What are Super Fat Burning Gummies?
It seems like everyone is searching for an easy way to lose weight nowadays.

New products are springing up faster than ever – all claiming to be the magic solution to your fat loss woes.
One of the latest weight loss formulas to be released by the popular detox tea brand "Skinny Mint" is their new "Super Fat Burning Gummies".
Super Fat Burning Gummies aim to help you achieve the figure you desire, while feeling like you are treating yourself to a sweet treat.
They are provided in a two bottle pack of different gummy flavors; 'Step One – Power Up' and 'Step Two – Hunger Buster'.
Power Up has an espresso flavor.

It is to be taken first thing in the morning to boost your energy levels.
Hunger Buster tastes like sweet pineapple.

It must be taken in the afternoon to prevent cravings after lunchtime.
When used in combination, Skinny Mint claims that their Super Fat Burning Gummies drive accelerated weight loss and can even reduce fat absorption.
But do they really work?
It's time to find out.
Do Super Fat Burning Gummies Work?
The convenience of taking a sweet, chewy gummy and losing weight is an attractive prospect.
However, when considering whether a supplement is likely to work, we have to understand the science of weight loss in at least basic detail.
Look:
Healthy people gain weight when they consume more calories than they use up on a daily basis. (1)
The good news…
All of us will burn a set amount of calories every day even if we stay lying in bed, doing nothing.
Why?
Well, because it's not just exercise that burns calories.

Your body needs energy for every function it undertakes just to keep you alive.

Everything from breathing, to your heartbeat, uses up some energy!
The total of this basic daily energy requirement to stay alive is known as the 'basal metabolic rate' or 'BMR'.
This is the amount of calories you burn without any extra exercise and will vary widely between individuals. (2)
So, if you don't work out, and eat more calories than your BMR, your body has excess calories that it needs to deal with.
Almost always, these are stored as body fat to be used as an energy source another time.
Therefore, if you want to lose weight, you must consume less calories than you use up – forcing the body to use stored fat for fuel.
Yup, it really is as simple as that when it comes down to it.
Super Fat Burning Gummies claim to help you avoid having a calorie excess in two ways: boosting metabolism and curbing hunger.
Step One:
Power Up claims to get your day off to a good start and raise your metabolism.

The problem is it only includes one ingredient: Green Coffee.
Whilst we rate Green Coffee as a good ingredient for fat burning, we think Power Up would work better with a more varied range of ingredients.
Step Two:
Hunger Buster uses an appetite suppressant with the aim of making it easier for you to avoid snacking and overeating in the afternoons.

The problem is it also tastes sweet which means that the product has to include some form of carbohydrate or sugar.
Not the best for a weight loss product!
An examination of the ingredients will give us a bit more of a read on whether Super Fat Burning Gummies actually work at all.
So, let's take a closer look.
Ingredients In Super Fat Burning Gummies Skinny Mint
Super Fat Burning Gummies by Skinny Mint contain only two active ingredients.
'Power Up' contains green coffee bean, while 'Hunger Buster' contains garcinia cambogia.
Below are the respective ingredient labels:
Power Up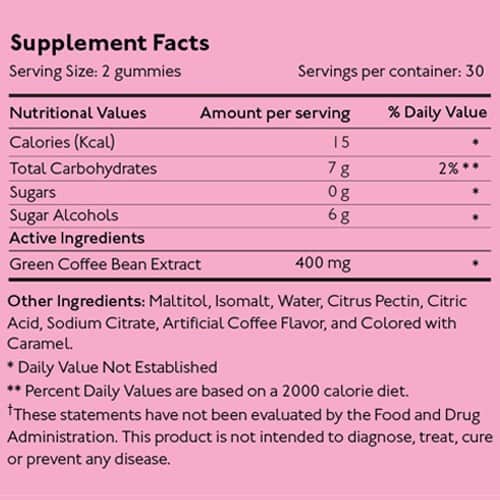 Hunger Buster Label
Green Coffee Bean – 400 mg
This is a popular ingredient in the weight loss world right now.
Green coffee, as the name suggests, is simply normal coffee but pre-roasting.
Believe it or not, coffee beans are green before they are roasted and processed ready for your coffee grinder.
Not only does the roasting process change their color, it also destroys much of the good stuff present in the beans.
Coffee beans are naturally packed full with antioxidants and weight loss boosting compounds, which are sadly lost during processing.
This is why green coffee is often used in health supplements.
It contains two active ingredients which are particularly beneficial for those wishing to slim down: caffeine and chlorogenic acid.
Chlorogenic acid works to encourage the body to use up it's fat stores as a primary source of energy. (3)
Basically, this means you burn fat as a priority over other sources.
Meanwhile, caffeine boosts the metabolism and increases the amount of calories you use as standard. (4)
Green coffee is a good choice of fat busting ingredient that has much clinical backing. We'd still like to have seen it paired with other effective metabolism boosters such as Cayenne Pepper and Turmeric.
Garcinia Cambogia – 500 mg
Garcinia cambogia is a tropical fruit that looks a little bit like a pumpkin.
It is also popular in weight loss supplements and is also taken as a standalone supplement in its own right.

The active compound in garcinia cambogia is called 'hydroxycitric acid' or 'HCA' for short.
The number one benefit of garcinia cambogia is its ability to suppress the appetite.
It is believed to have this effect due to the manner in which it interacts with levels of the 'satisfaction hormone' serotonin.
Garcinia cambogia appears to elevate levels of serotonin after consumption, leaving the user feeling satiated and less likely to want to eat. (5)
This is great for those who struggle to stick to a calorie controlled diet due to battling with cravings.
Furthermore, garcinia cambogia may actually reduce further storage of body fat.

Thus helping you to stay slim too. (6)
Overall, Super Fat Burning Gummies do contain two of our favourite ingredients, but we feel like they could have expanded on the formula to make it really effective.
Both of these ingredients do have clinically proven weight loss benefits, but we are not convinced the dose is high enough to provide the full potential like a top fat burner.
How do I take it?
Super Fat Burning Gummies by Skinny Mint are taken twice a day.
Two Power Up gummies should be taken in the morning with breakfast, although Skinny Mint also suggest taking them an hour before working out for an energy boost.
Hunger Buster is designed to be taken in the afternoon as a sweet treat that also helps to keep the cravings at bay.

Directions state that you should take two gummies when desired.
Side Effects Of Super Fat Burning Gummies Skinny Mint
There is not any information on the Skinny Mint website regarding side effects, so we did our own research.
Caffeine has the potential to cause side effects such as: headaches, insomnia, anxiety, jitters, shakes and stomach upsets.
This is especially likely in those who have a caffeine sensitivity.
Where To Buy Super Fat Burning Gummies
Super Fat Burning Gummies by Skinny Mint are available to purchase via their official website with worldwide delivery.
The official website price for a one month supply is $49.90, but you can make savings by purchasing in bulk.
User Reviews Of Super Fat Burning Gummies
Super Fat Burning Gummies by Skinny Mint have a number of reviews on the official Skinny Mint website.
We were not shocked to see that all the reviews displayed here were over 4.5 stars.
Most customers were raving about the Skinny Mint gummies results:

As you can see, many people are saying that they experienced a fat burning and hunger reducing effect from using Super Fat Burning Gummies.
Of course, we are not suggesting that these are fake reviews, just that in our opinion it would have been better to see video and pictures to back up the results.
Reviews on Amazon
We tried to find Skinny Mint Fat Burning Gummies on Amazon, but it appears they are not available at the moment.We don't know if they are currently out of stock, or if they are yet to list the product on Amazon.
It's also not available in stores.
However, there are other GREAT fat burners available in stores like GNC, Walmart, and others, so don't get discouraged.
Super Fat Burning Gummies Recommendation
Overall, Super Fat Burning Gummies Skinny Mint look like a fun and novelty product.
The idea that you can chew on a tasty gummy sweet and conveniently burn away fat is obviously a lovely thought.
Super Fat Burning Gummies Skinny Mint do contain ingredients that are well known in the weight loss world, but not at a quantity or concentration that we believe to be especially effective.
For example, garcinia cambogia has shown to be effective for weight loss but we think it would be more likely to produce results alongside other well known ingredients like Konjac Fibre.
We think that Super Fat Burning Gummies could be mildly useful as an addition to an already healthy, low calorie diet and regular exercise program.
However, there are definitely better fat burners out there that get the job done without the novelty of being available in gummy form.
Have You Used Super Fat Burning Gummies? Leave Your Review Below!
Top 3 Female Fat BurnersAffiliate Disclosure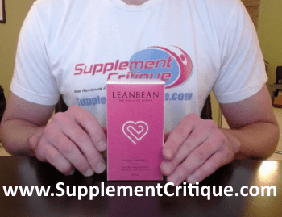 LeanBean Female Fat Burner is the BEST fat burner for women we've ever tested.

Read our review here.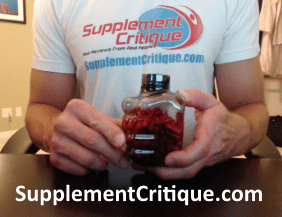 Instant Knockout is actually a new fat burning supplement I just came across, and got great results.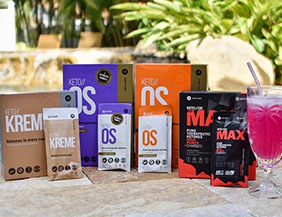 Biohacks your body into instant ketosis to burn fat instead of carbs.

Weight loss, energy, focus, anti-inflammatory, anti-aging.
Ask A Question
User Questions and Answers
No Questions Have Been Answered For This Article.