Universal Shock Therapy Review
By:
Rob Miller
Fact Checked On: 4-27-2013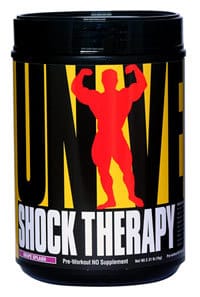 Are you aware of the benefits of NO (nitric oxide) boosting?

This is a substance that occurs naturally in the human body and which many different nutrients and vitamins can actually increase or enhance.

The reason that a bodybuilder, dieter, or someone just beginning a serious exercise regimen would want to consider using NO supplements is pretty simple – they widen blood vessels in order to promote blood and oxygen flow.
This increases the endurance levels while also allowing you to workout longer and harder while recovering faster than ever.

In this review we'll look at the incredibly popular Universal Shock Therapy from Universal Nutrition, which is known for its optimal NO formula and antioxidant complex. We will also explain why these factors make it one of the finest formulas for those looking to enjoy the NO supplement benefits.
How It Works and Ingredients
If you find you need something to really get you motivated to head to the gym or out the door for a run, the Universal Shock Therapy supplement may be the ideal solution.

This is because it is a NO activator that is partnered with a powerful antioxidant complex too.

This is something frequently overlooked by those looking for the remarkable power of an NO boost.

When the body is cued to produce more NO than it does naturally, it creates an array of free radicals at the same time, and these are compounds known for leading to some varieties of cancer.
The Universal Shock Therapy formulation has created a special "capture" formula that overwhelms any free radicals with a huge number of antioxidants.

This makes it a safe and potent formula for workouts of all kinds.

It uses the "Proprietary Formula" along with a "Muscle Volumizing Complex", an "Energy and Nootropic Complex, and the previously mentioned "Antioxidant Complex" too.

It also provides an extremely beneficial "Electrolyte and PH Delivery Complex" that ensures you remain fully charged and clear headed throughout even the most challenging workouts.
User Reviews and Side Effects
They say that the "proof is in the pudding," and most of those relying on Universal Shock Therapy confirm that it is an optimal formula for increasing the ability to remain focused while also boosting energy and performance levels too.

Some bodybuilders call it their "favorite" for energy, while others said that the recommended dosage was not adequate to their "advanced" needs.

Clearly, this indicates that the individual will have to explore the appropriate level required for the best results.

This is perfectly safe as long as daily limits are not exceeded.
Where To Buy
Universal Shock Therapy is a pre-workout powder that comes in a large number of flavors that include the Wild Punch, Grape Splash, Blue Raspberry and Citrus Blast.

The most common container size is two pounds, and this will deliver approximately fifty scoops.

The average price per the two pound container (through online vendors) varies substantially, but the best vendors make it available for a cost of $15 to $25 dollars.AllStarHealth.com is a good resource that offers a flat shipping rate in addition to competitive pricing, but even the manufacturer of Universal Shock Therapy (Universal Health) has the same general price structure.
Recommendation
Consumer reviews tend to indicate that this product does what it guarantees, though there are some who find it less effective in terms of volumizing of muscle.

What all of the reviews seem to indicate is that this is a reliable product for those beginning to body build, and for those looking to improve their mental clarity while also receiving protection from free radical formation.

Generally, this is an innovative product that is a good "starter" formula, but which may need to be increased in terms of dosage to remain fully effective over the long term.
Top 3 Pre WorkoutAffiliate Disclosure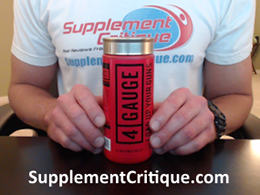 4 Gauge is a brand new pre workout that kicks in FAST and will rev up your workouts.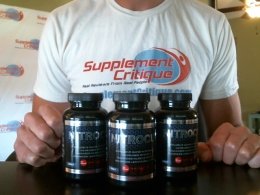 Nitrocut is a VERY effective pre workout supplement for a variety of reasons, see why here.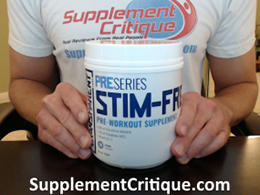 If you're looking for a stim-free pre workout, add Transparent stim-free to your list!
Want To Really Get Ripped?

Click Here To Download My FREE "Get Ripped" Ebook!
Ask A Question
User Questions and Answers
No Questions Have Been Answered For This Article.