Memotenz Review – 1 BIG Reason to Skip It
By:
Rob Miller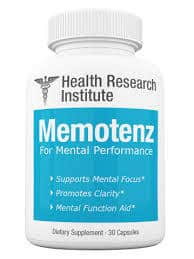 Contents
Benefits of Memotenz
Memotenz Ingredients
Memotenz Side Effects
Memotenz Reviews
Where to Buy
Who Makes It
Who is behind the Health Research Institute
Memotenz – The Bottom Line
Maybe you've struggled to remember the name of an actor from one of your favorite movies from several years ago, or maybe you've had a word on the tip of your tongue that you just can't quite articulate.

Or maybe you haven't experienced the effects of cognitive decline, but you just feel like you'd be more successful if you had a quicker mind with better recall and sharper wit.

If any of these applies to you, you're probably considering taking a brain boosting nootropic supplement, and if so, you're in luck.

We're living in the Golden Age of cognitive enhancement pills so your choices are vast and growing.
Want To

REALLY

Get Smarter?
Click Here to download my FREE "Complete Guide To Nootropics" eBook!!
Of course some products work, some don't, and some are simply better than others.

I was recently asked about a product called Memotenz, and decided to look into it.

Read on to see what I found.
Benefits of Memotenz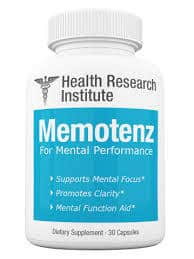 If you're looking for something that works quickly, Memotenz claims to have you covered.

It reportedly starts working almost immediately, but the benefits are compounded when you take it every day, and continue to grow over time.

The sorts of improvements you'll see include:
Clearer thinking.
Increased focus and concentration.
Improved short and long term memory recall.
Greater energy.
Better overall cognitive performance.
These are the claims of Memotenz, which are very similar to those made by most supplements of this kind, and let's face it – companies can claim pretty much anything they want to claim.A better test of what it might truly be able to do for you is a look at the formula, which is what we did next.
Memotenz Ingredients
The Memotenz formula starts off with 50 mg of Ginkgoxine, a proprietary form of Ginkgo Biloba Extract.

Ginkgo has long enjoyed a reputation for its ability to improve memory in those who suffer from age related cognitive decline.

It improves blood flow to the brain, boosting oxygen and nutrient transport, improving your brain's capacity to function at higher levels.
The rest of the formula is comprised of a 727 mg proprietary blend which includes:
St John's Wort which is commonly used as a natural anti-depressant because of its ability to improve the way serotonin and dopamine are transmitted through the brain.
Glutamine which helps protect the health and proper functioning of neurotransmitters in the brain.
Phosphatidylserine Complex which is used to help patients with ADD/ADHD maintain focus and to improve the way the brain handles cognitive stress, like test taking.
Bacopa Monnieri which has been shown to improve both memory and attention.

It's one of the most popular nootropic herb known to scientists and it currently being used ot help combat cognitive decline due to Alzheimer's Disease.
Dimethylaminoethanol Bitartrate, a form of DMAE, which is used to fight against age related cognitive decline by protecting the health of brain cells.

It also helps provide the brain with acetylcholine, which is needed to maintain memory.
Acetyl L-Carnitine which improves the speed at which your brain can learn as well as increasing alertness and improving reaction time.

One of its mechanisms of action is that it increases blood flow to the brain, which as we know increases the transmission of oxygen and nutrients for better functioning and protection.
Here's a picture of the label: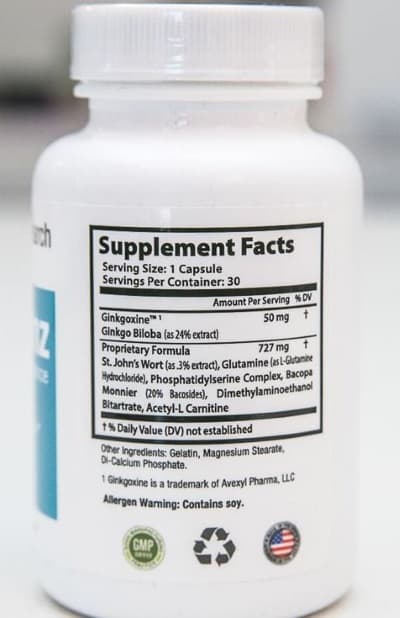 The Memotenz formula contains several well respected components that have the ability to improve cognitive function in several important ways.

But I do have some concern over how much – or how little to be more precise – of each of these ingredients is used.

This is a common problem with natural supplements, partly because the industry is largely unregulated.
In some cases, clinical studies demonstrate that a particular ingredient is effective, but these studies always use carefully chosen amounts of these ingredients, proving not just whether or not they are effective, but also at what dose they are effective.
Many supplements include these clinically studies ingredients in their formulas, but at much lower amounts than what's been studied and found to be effective.
With the 50 mg of Gingko and the 727 mg blend of the rest of the ingredients, this appears to be the case with Memotenz.
For instance, the daily recommended dose of Ginkgo Biloba to counteract cognitive decline is between 120 mg and 360 mg while Memotenz contains only 50 mg per serving.
For Acetyl L-Carnitine, the recommendation is between 600 mg and 2500 mg. As the last listed ingredient inside a 727 mg blend, it is highly unlikely that Memotenz even comes close to the lower end of this recommendation.
Memotenz Side Effects
Memotenz is all natural and not likely to cause serious side effects.

That said, it does contain St John's Wort, which may cause the following negative interactions:
Restlessness
Vivid dreams
Dry mouth
Irritability
Upset stomach
Fatigue
Dizziness
Skin rash (1)
Tingling
St. Johns Wort can also interact with certain medications, such as blood thinners and certain SSRIs.

If you take medications, it's best to check with your doctor before taking this or any supplement.
Another thing I noticed when I was doing some research on the Memotenz side effects was this comment on Youtube:
What he DOESN'T tell you or flat out lies about(actually it's the latter since he said "no side effects") is that you can wind up getting very annoying itching and hives from the product which I did right after I started taking.

At first I didn't want to believe that but after getting that side effect, I researched just two of the ingredients: the Gingko Biloba and the St. John's Wort(more so with the latter) list "allergic skin reaction" as side effects.

So Buyer, please be aware: You might not get this side effect but is it worth it taking the chance?
This comment was only posted a few hours ago, so my guess is that whoever made the video will promptly delete it. I took the liberty of screenshot-ing it here for proof.
It was all in response to this video on Memotenze, which at first glance looks like it may be a testimonial from a doctor:
He looks like a doctor…
Sounds like a doctor…
Then he's probably a doctor, right?
Well, no.
In fact, he's actually an actor who advertises his services in Youtube.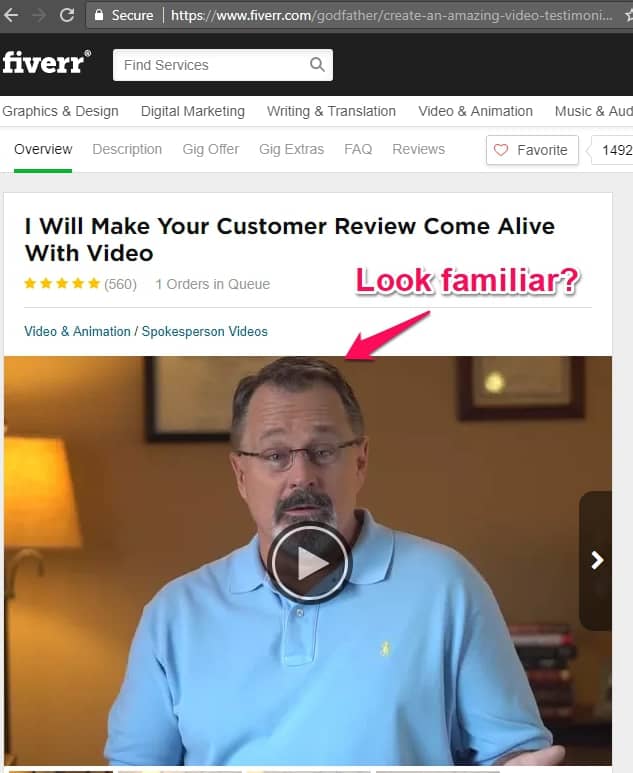 Basically, you can hire him (or guys and gals like him) to say whatever you want about your product.
According to his profile, the script has to be from a REAL person, and the viewing audience must be notified that he is an actor reading a review.
If you watch the actual video, however, it's not really a "review" of Memotenz.
Rather, it's basically a 4 min. long sales pitch.
Speaking of reviews…
Memotenz Reviews
Because Memotenz is not sold through independent retailers, there is no independent customer feedback posted anywhere online. The only thing we have access to are the testimonials posted to the product's own website.
Historically, these website testimonials are to be taken with a grain of salt because they are really more a marketing tool than they are reflective of actual customer experience.
In any case, here's an example of a Memotenz testimonial from the official website:

There's another site online that reportedly has some feedback on their site about this product.
The site will go unnamed here, but if you run a google search for Memotenz reviews, it's these guys: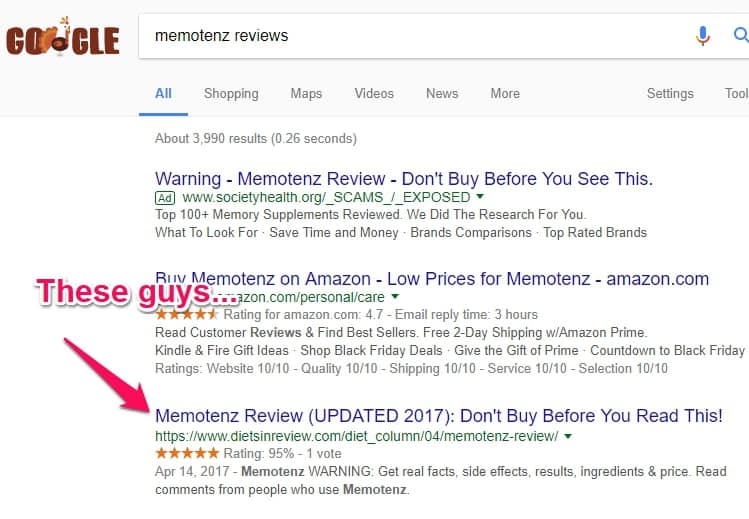 If you click on that link and scroll to the bottom of the page, you'll see a bevy of comments regarding how well Memotenz works.
Like this one: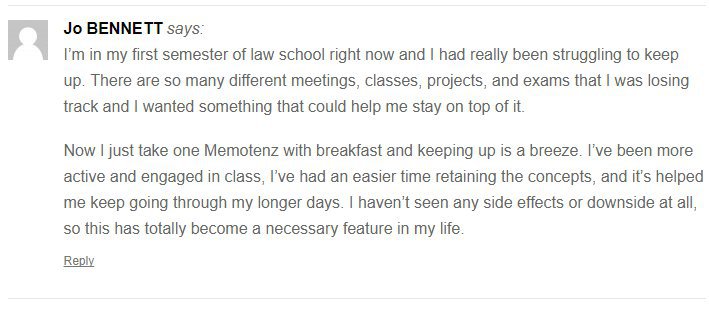 This one:

and this one:

I went through all 20 comments left on the page, and surprisingly, didn't see one negative comment posted.
Everyone had nothing but good things to say about the product, which makes me very suspicious.
One very positive aspect of Memotenz is that it doesn't promise you the world, making claims that it works like the Limitless Pill from the movie.

It's a common tactic you can read all about in my expose: The Real Limitless Pill? – Fat Chance!!
Where to Buy
At this time, Memotenz is only available through its official website, www.memotenz-official.com.
You won't find it at your local Walmart, CVS, or Walgreens, nor is it sold on Amazon or other online retailers.
A single bottle is currently priced at $79.98, but that per bottle price is drastically reduced to $39.99 if you buy 5 bottles at once.
The 30 day money back guarantee applies to 1 used bottle, and if you took advantage of the discounted price by purchasing multiple bottles, you can return those unopened to receive the full There is one catch, however.

All returned bottles are subject to a 20% restocking fee, so you won't be able to get all your money back.
Who Makes It?
Finding info on who actually is responsible for Memotenz is tough, to say the least.
The address listed at the bottom of the page is 8939 S. Sepulveda Blvd.

Los Angeles, CA 90045, which when you google it, it turns out to be a virtual office.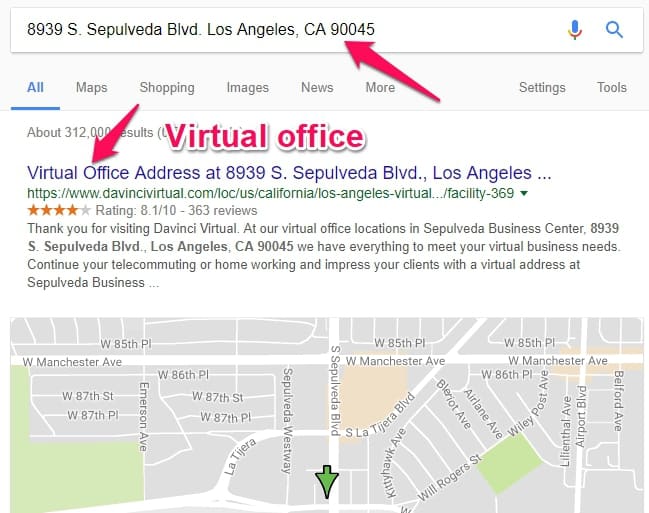 Basically what that means is they don't actually have an office staff in this building, conference rooms, or even an office space.
They're basically renting the ability to put the address on their website to make it seem more legitimate.
This is not inherently a "scammy" thing to do. In fact, I have a virtual business address at my local UPS store.
The email address provided at the bottom of their home page shows the website health-research-institute.info.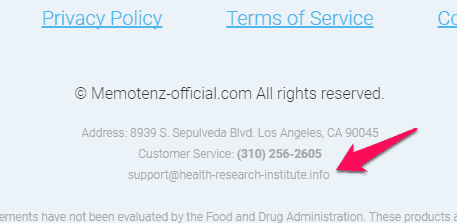 In my opinion, that makes it sound like it's a independent research facility, complete with scientists walking around in lab coats.
And sure enough, when you go to their website that's the very first thing you are greeted with.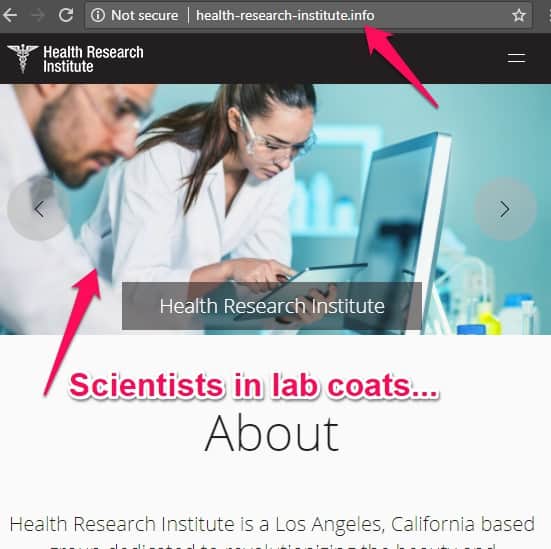 Who is behind the Health Research Institute?
Well, based on their official site here, we're not really sure.
In fact, we're not even really sure what exactly they do.
The whole site basically says that they are "dedicated to revolutionizing the beauty and healthcare industry", and that they are "dedicated to providing a wide array of functional and beneficial brands".
What brands might those be?
Well, they don't mention.
In fact, the only place I could find any mention of the brands they are behind was on the returns page, which is linked to way down at the bottom.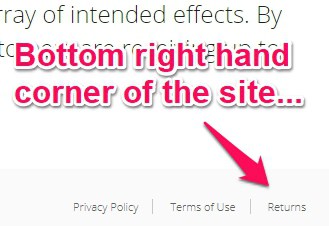 Once you're on that page, you'll see a form with one of the fields titled "Name of the product".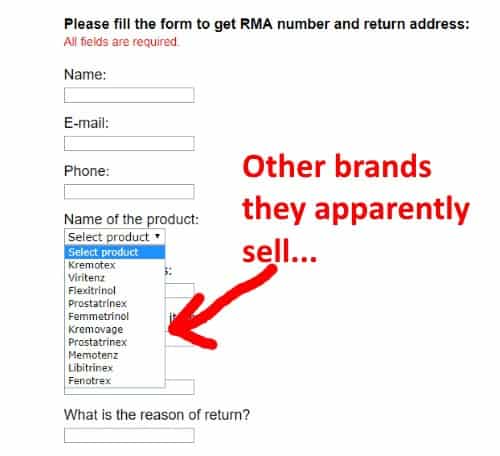 It's there that these other brands are finally revealed.
In addition to Memotenz, other brands of their product line include:
Kremotex: Which is a skin cream that apparently utilizes apple stem cells to turn back the clock on aging.
Viritenz: Which is a #1 rated male performance product. We're not sure who rated it #1, but that's what they said.
Flexitrinol: A natural joint pain relief formula that was formulated by scientists right here in the USA.
Prostarinex: A prostate health supplement.
Femmetrinol: A menopause supplement.
Kremovage: An anti aging cream that apparently uses the same technology Kremotex does (apple stem cells).
Libitrinex: A female libido enhancer.
Fenotrex: A sleep aid.
I can tell you from experience reviewing supplements in most of these categories, I've never actually heard of any of them.
When you go to the refunds and returns page, you'll see a form you have to fill out in order to obtain an RMA #.
An RMA# stands for "Return Merchandise Authorization Number", which is basically a number you'll need to return your order of Memotenz.
Memotenz – The Bottom Line
Memotenz is very similar to many of the brain boosting supplements I've researched and tried.

It uses a fairly decent formula in terms of the ingredients it chooses to include, yet the individual ingredient amounts are largely too small to have the desired effect.
With no real customer feedback to go on, it's difficult to know how well it's being received out in the world, which really leaves you needing to try it to know whether or not it will work for you.
On the positive side, there's a 30 day money back guarantee so you can try it relatively risk free, but the guarantee has a few drawbacks.

You have to contact them within 30 days, you have to explain how and why it didn't work, and even when you do return the bottles, you still lose a full 20% of the money you spent.
On the whole, given the fact that you're not totally covered by the guarantee, there just aren'tenough in the positives column to warrant giving Memotenz a try.
Have You Used Memotenz?

Leave Your Review Below!
Top 3 NootropicsAffiliate Disclosure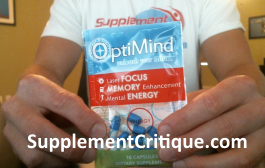 Optimind is the closest thing to Aderall that Ive tested, and Ive tested ALOT of Nootropics.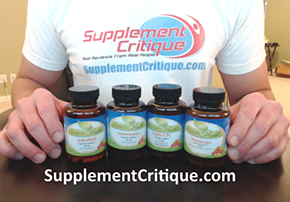 The Nootropics All Star Pack is a GREAT combo of supplements that will improve focus, concentration, and mood.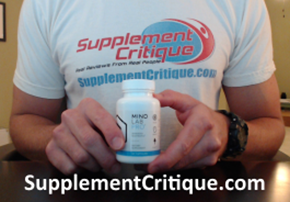 Mind Lab Pro takes a longer, but equally as effective, approach to increasing focus.
User Reviews

1.0 out of 5 Stars (1 Reviews)
Have you used this supplement?
Wayne's Review



Dealing with this company on a return is interesting. First, you must email corporate office to get shipping insurance reimbursed.

Why do they eve have shipping insurance? Customer service representatives immediately know your trouble.

I have many complaints! There is a 20% restocking fee!

Stay away from this. It is a bad product as well as a bad business.


Was this review helpful to you?
7 out of 7 people found this review helpful.
---
Ask A Question
User Questions and Answers
No Questions Have Been Answered For This Article.