General FAQ
What is Supplement Critique?
What makes SupplementCritique.com different from other review sites?
Who is Rob Miller?
What qualifies him as an "expert" when it comes to supplements?
Our Review Process FAQ
What does SupplementCritique.com review?
How is a product reviewed?
What is a "Trusted Product?"
What is an "Untrustworthy Product"?
Do businesses pay you to write reviews?
How does SupplementCritique.com make money?
Consumer FAQ
Why did you charge me for a product I didn't order or want?
I posted a question and/or comment, but I don't see it. What gives?!
I posted a review of a product, but I don't see it. What gives?!
What are your consumer review guidelines?
What constitutes an authentic review?
Can I delete or change my review after I've posted it?
Can I post a review on a product if the company has offered me an incentive?
I signed up for one of your ebooks. Where is it?
How do I stop getting emails from you?
Can you review a supplement for me?
Business FAQ
Can you review my supplement?
Can you remove your review of my supplement?
My product has been marked as "Untrustworthy". What gives?!
Can I respond to customer complaints and reviews?
What is Supplement Critique?
SupplementCritique.com is a supplement review portal that aims to provide reliable, honest, and accurate reviews of supplements.
It was founded in 2011 by Rob Miller as a way of chronicling his experiences and results with a wide array of supplements.
Over the years it has grown to become one of the leading supplement review websites on the internet, and has garnered the trust and admiration of it's peers.
It has received press mentions in nationally syndicated publications like Forbes, Buzzfeed, and Today, and is a BBB rated business.
What makes Supplement Critique different from other supplement review sites?
A few things make us unique from the vast majority of supplement review sites on the internet.
1. We actually test products out
Unlike most supplement review sites, we actually physically test products out and report on our results!
99% of the "other" supplement review sites out there do NOT do this, and simply give you an overall opinion of a supplements effectiveness.
Products that work are marked as "Trusted Products" at the top of the review.
Click Here to learn more about how we evaluate products and mark them as "Trusted".
2. Other sites have inferior content
If you visit most of the popular supplement review sites, you'll generally find lazily put together information that is very broad in scope and nature.
In many cases, the content doesn't even make sense!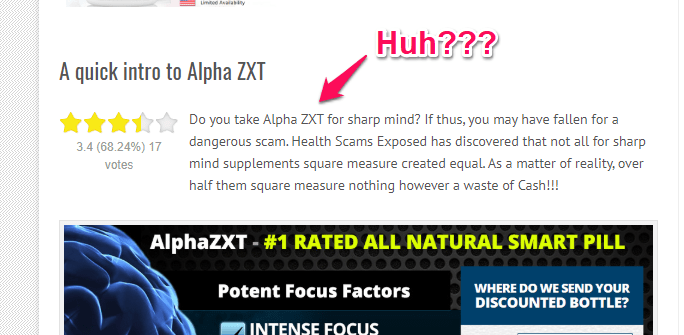 This is a HUGE problem in the industry, and one that we don't take lightly.
It's also something that you will NOT see on SupplementCritique.com.
All of our reviews are professionally written, well-researched, and made to "tell it like it is".
3. We do NOT Own Any Of The Supplements Featured On This Site
Many of these supposed "review sites" are nothing more than outright scams that are designed with one goal in mind…to get you to buy THEIR supplement.
They push out garbage reviews, don't test ANYTHING, and give a bad review to every supplement they write about.
Their ONLY goal is to get more traffic to their site and "bait and switch" you into purchasing THEIR product.
Which, consequentially, they ACTUALLY own.
Some of the sites you'll see doing this include:
These sites specifically OWN the brands that you'll find in their Top 3, Top 5, Top Whatever.
I know what you may be thinking…
But Rob, don't you have a Top 3? How do we know you're not the owner of these supplement brands?
While there is no way for me to explicitly prove it to you, I can tell you this….
None of the sites listed above disclose anything about their relationship to the products they're promoting.
Yes, we DO feature top supplements throughout our site.
HOWEVER, we do NOT own the brands behind these supplements.
And we ONLY partner with supplements that TRULY do work. (more on this later).
4. Much of our content is thoroughly vetted by an MD and a Licensed Pharmacist
Additionally, a good majority of our articles here on SupplementCritique.com are checked for accuracy by a board certified medical doctor and a licensed pharmacist.
Our Medical Reviewer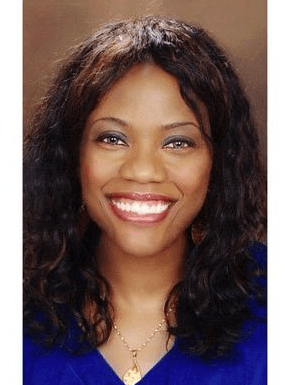 Dr. Helen Okoyeis an American Public Health Physician/Health Care Executive/Researcher/Entrepreneur with a Doctor of Medicine Degree (MD), an MBA in Healthcare Management, and a Masters in Epidemiology/Public Health).
She's medically reviewed dozens of articles across the site for accuracy and factual information.
She has been also been featured on Entrepreneur magazine, NBC News, Yahoo News, The Huffington Post, Tonic by VICE, The Reader's Digest, The Paleo Diet website, She Knows, Massage Magazine, Carol Roth, among others.
Articles and reviews that have been reviewed by her are indicated with the following label: MD Reviewed By: Helen Okoye, MD.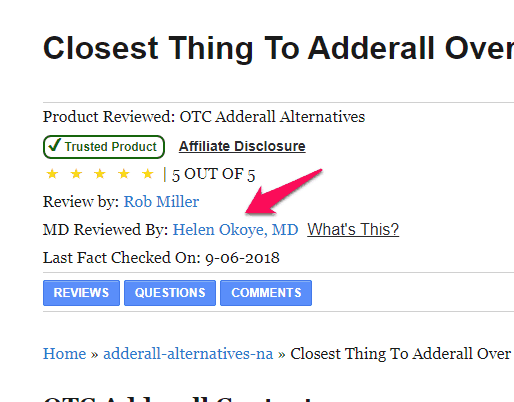 You can learn more about Dr. Okoyein her bio here.
Our In-House Pharmacist
We also employ a licensed pharmacist that thoroughly reviews all of our articles for potential drug interactions and safety concerns.

Dr. Brian Straub, Pharm D is a graduate from the University of Pittsburgh School of Pharmacy.
Brian has a personal interest and experience with supplements, which makes him a valuable subject matter expert for supplementcritique.com.
He specifically analyzes many of the products reviewed on Supplement Critique, and will give you information on any potential drug interactions and medical conditions that could be cause for concern.
Products that he has reviewed for RX interactions will show the following icon at the top of the review:

You can learn more about him here.
5. We use the money we earn to help invest in new supplements to test
Everyone has to make a living, right?
That includes us! We make money as affiliates for select products, those of which you will see a little icon for at the top of every review.
We use the money earned from these affiliate programs to keep the lights on, as well as purchase more supplements to continually test out.
To date, we have spent the following testing out supplements: $25,673.42
We routinely test these products ourselves, as well as give away supplements to test out to readers of our site via our Supplement TEsting Pilot Program (STEPuP).
Who is Rob Miller?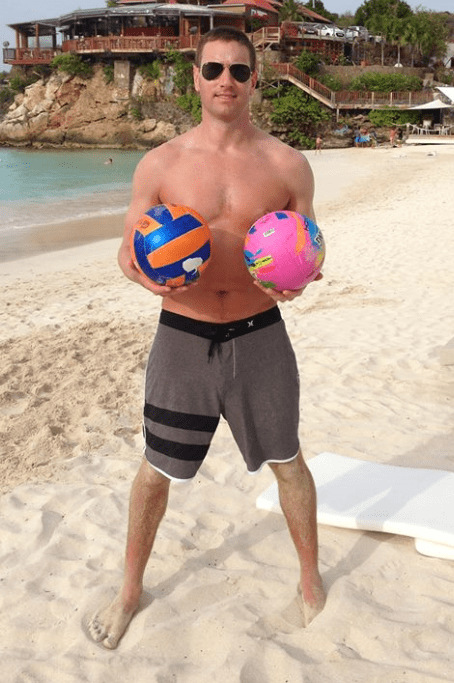 Rob Miller is the founder of SupplementCritique.com.
He started Supplement Critique in June of 2011, mostly as a way to document his results with various supplements he had been testing.
Over time, the site started growing in popularity, and he started to expand into a wide variety of supplement category's.
What qualifies him as an "expert" when it comes to supplements?
For starters, he holds a diploma as an "Advanced Dietary Supplements Advisor" from The Health Sciences Academy, graduating in August of 2018.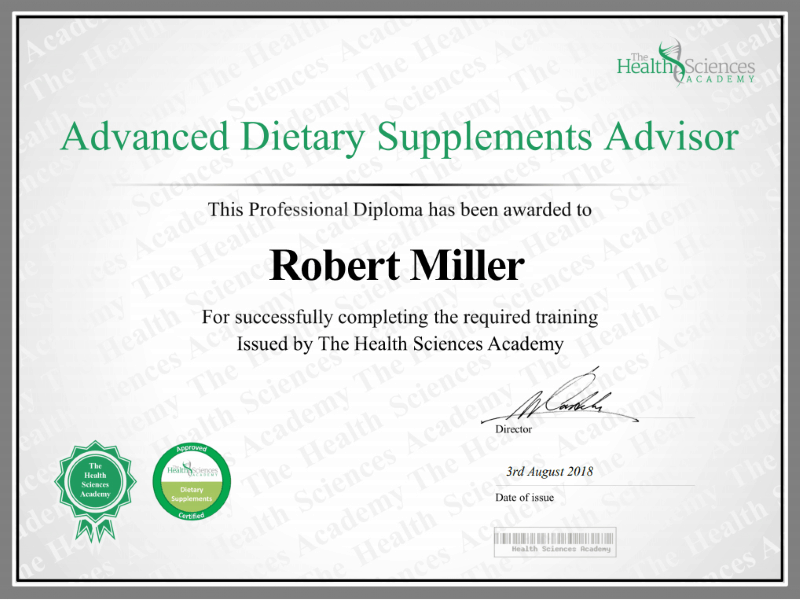 Rob has been trained thoroughly in:
The basics of dietary supplements
How to build a supplement program designed specifically for an individuals needs
How to read and understand supplement labels
Potential side effects and drug interactions with herbal ingredients
The toxicity and safety of vitamins and minerals
Preventing and improving health conditions with supplementation
He also previously worked at GNC for almost 3 years as a retail sales associate, learning the ins and outs of supplements.
He learned things like:
What supplements work and which don't
How a supplement is brought to the market
How supplements are priced
He has also personally tested a plethora of supplements over the years. To date, he has tested a total of 143 supplements!
Rob also graduated from the New Jersey Insitute of Technology, and holds both a B.S. in Business Management and and MBA with a concentration in ecommerce management.
You can read more about him in his full bio here.
What does SupplementCritique.com review?
We review a wide variety of supplements, with some of our most popular categories including:
We even review things like workout programs and even female related supplements like over the counter female viagra.
How is a product reviewed?
Generally speaking, we have reviews divided up in to 2 categories:
Products we've tested
Products we haven't tested.
Before testing out any supplement, we always do a thorough preliminary review of the product in question.
This includes information on the ingredients, potential side effects, where you can buy it, what user reviews are saying, and much more.
Once we've gathered enough information, Rob Miller or one of his chief "Supplement Testers" will begin experimenting with the product.
Keep in mind that we do NOT test every product we review.
That would be nearly impossible to do.
Instead, we reserve testing for only the most popular products and/or products where we have a lot of our visitors asking specifically if we can test it out.
How is the star rating calculated?
Throughout the site, you'll see that our supplement reviews have a star rating attached to them.
This star rating is calculated through a proprietary algorithm that we use to judge the effectiveness of a supplement.
It's calculated using the following parameters:
Average customer reviews (both on our site and on 3rd party sites)
Business practices (especially involving deception)
Price
Potential for side effects / medical interactions
Ingredients profile
Our own personal testing results
What is a Trusted Product?
A trusted product is a supplement we have personally tested (or was tested by someone in our Supplement Testing Pilot Program) and proven to work.
At SupplementCritique.com, we thoroughly vet and test every product before making a recommendation.
Simply put, if the product does NOT work, we do NOT recommend it.
It should be noted that we do NOT mark products as "Untrustworthy", simply because we have not written about them or tested them.
Learn more about how we mark products as "Trusted" here.
What is an Untrustworthy Product?
An untrustworthy product is just that, untrustworthy.
We have determined through our research, testing, and analysis, that this particular supplement is doing something deceitful, and you shouldn't consider using it.
Seehow we rate products as an "Untrustworthy Product" here.
Do businesses pay you to write reviews?
No. We don't accept payment for reviews, and cannot be "bought".
If you feel we've posted erroneous information about a particular product, please contact us with whatever info you deem erroneous.
So then how do you make money?

Do you sell anything?
Supplement Critique almost exclusively makes money partnering up with various supplement brands via their Affiliate Program.
This simply means that if you click on outbound link no a page, we ae credited with the sale and are paid in the form of a commission.
Commissions range from as little as 5%, to as much as 40%, depending on the product.
For information on what an affiliate marketing is, check out this Wikipedia article.
To be clear, as mentioned earlier, we do NOT own any of the supplement brands that are featured on this site.
Not only is that an ethics violation, but let's be honest…
How unbiased can you be if you're selling your own brand of supplements?
Who we've partnered with:
In the interest of full transparency, here is a list of every company (and the specific products we promote) that we have partnered with as an affiliate partner:
Additionally, you will see an icon at the top of every page of which are are affiliated with that says "Affiliate Disclosure", for added transparency.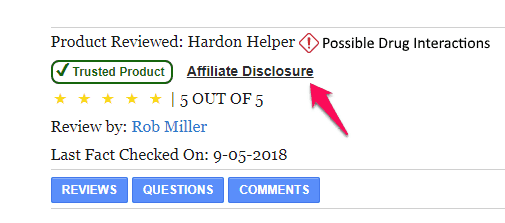 So what keeps us honest?
Well, for starters we only select the absolute BEST brands to partner with.
As stated earlier, we do NOT promote anything that we haven't personally evaluated ourselves.
We've been propositioned from numerous companies offering large sums of money to replace an existing product with theirs, and have refused to do so.
We've also had requests from companies offering to pay us to take down a review, which we will simply NOT do.
Consumer FAQ
Why did you charge me for a product I didn't order or want?

I want my money back!
I'm sorry to be the bearer of bad news, but we did NOT charge you.

In fact, we don't sell anything! We just review supplements.
Click Here for a list of phone numbers of products that have free trials.
I posted a question and/or comment, but I don't see it.

What gives?!
All questions and comments go into a moderation system, and are generally reviewed and responded to within 24 hours.
Once we respond to your comment or question, you'll receive an email notifying you of our response.

The email will include a link to view our answer to you question or comment.
This is what it looks like for comments: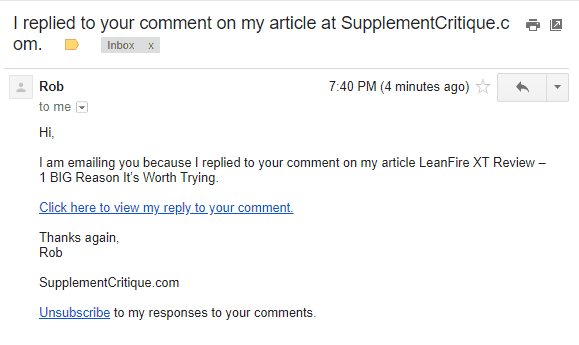 And this is what it looks like for questions: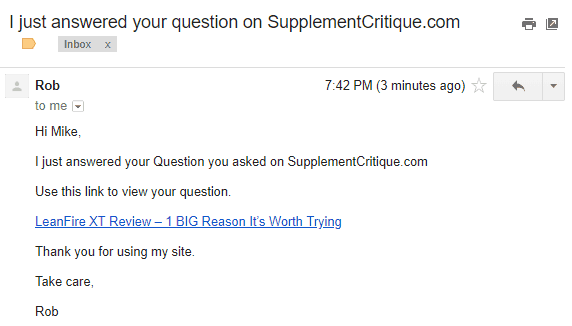 You can opt out of receiving these emails at any time by simply clicking the "Unsubscribe to my responses to your comments" link at the bottom of the email.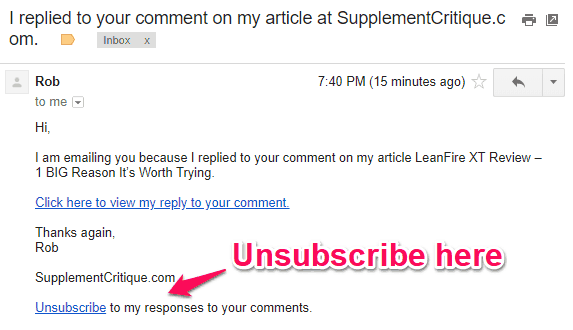 If after 24 hours you still don't see a response, feel free to contact us and we'll get the bottom of it.
I posted a review of a product, but I don't see it. What gives?!
Just like with questions and comments, reviews are put into a moderation queue.
Generally speaking, we approve them within 24 hours.
In most cases it will be much quicker, it really just depends on our workload.
Just like with comments / questions, you'll get an email notifying you that your review has been approved once we get around to verifying it.

We do have a few guidelines that should be followed if you want to see your review approved.
What are your consumer review guidelines?
Simple. We only post credible and authentic reviews from customers who've actually tried the product!
Reviews left on the site should provide enough info about their experience so that it is deemed helpful to future readers.
What constitutes an authentic review?
Here's a few things we look for when approving reviews:
Detail, Detail, and More Detail!
You can't just post a 2 word review like "It works" or "I like it" and expect your review to be approved 🙂
You have to provide as much detail as possible, without disclosing any personal details of course.
We're not asking you to write your life story here, but try to give us some context.
Here's an example of a detailed review: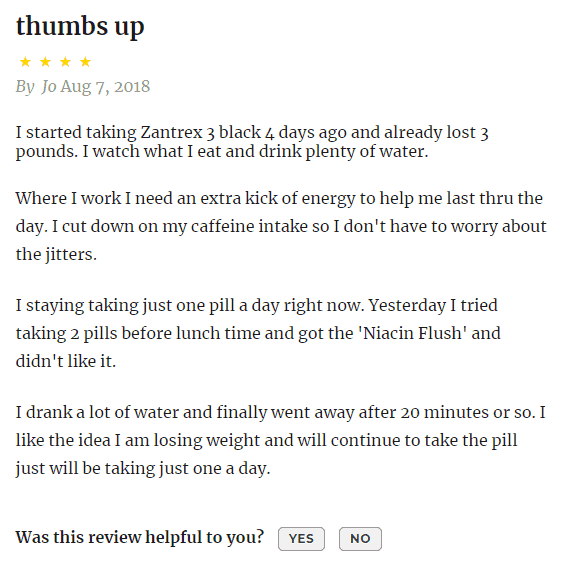 and here's an example of an Undetailed and vague review: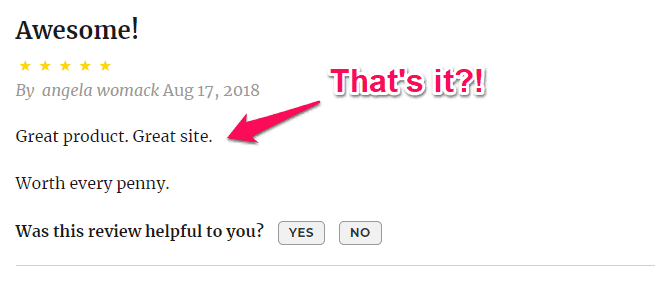 We allow for small errors in punctuation and spelling, but sometimes it simply gets out of hand.
Please, for the love of god: don't post a review in all caps, don't write your entire review without putting a single period, and don't misspell half the words you're writing.
We're not asking you to write like Ernest Hemingway, but if a review looks like this: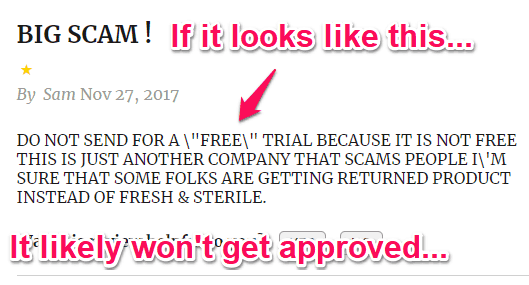 It likely won't be approved.
Don't post a review of one product on a different products page.
You'd be surprised how often this happens.
Almost 2 – 3 times a week, someone will post a review of XYZ supplement on the ABC supplements review.
Please don't do this, you're review will NOT be approved!
Can I delete or change my review after I've posted it?
Yes. If you made a mistake in your review and would like something added or changed, feel free to contact us with the appropriate changes.
Can I post a review on a product if the company has offered me an incentive?
We do not accept reviews from those that have been given an "incentive" to leave a review.
Not only does this make the review inauthentic, but is a bad overall user experience for people trying to get to the truth of a supplement.
I signed up for one of your ebooks. Where is it?
We have several ebooks here on SupplementCritique.com, available completely free of charge.
When you sign up for one of them, you will receive an email asking you to confirm your email address.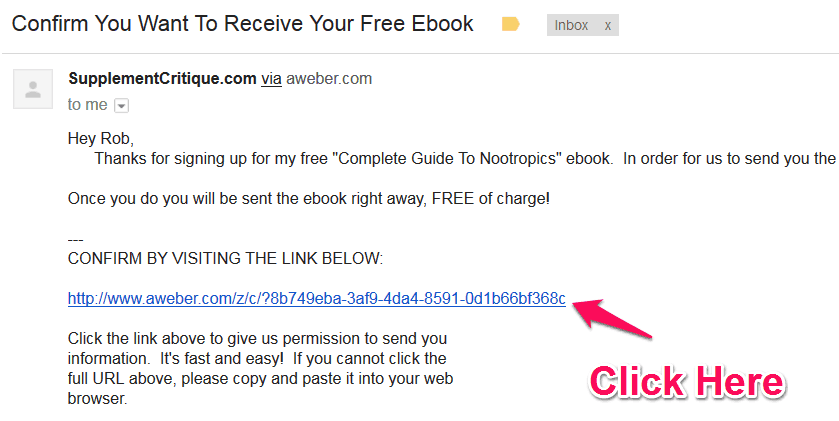 This is just so we know we're sending it to the right person.
After you have confirmed your email you will receive a separate email with your ebook attached.
How do I stop getting emails from you?
If at any time you don't want to receive email communications from us, simply contact us here and we'll get your email removed from our systems.
Can you review a product for me?
As you can imagine, we get tons of requests for product reviews. We look into these on a case-by-case basis, and determine whether or not we'll do a comprehensive review based on numerous factors.
If you have a specific product that you would like review, send us an email and we'll look into it.
Business FAQ
Can you review my supplement?
Certainly, we are always open to testing out new supplements!

Keep in mind that we can not test every supplement on the market, and it's important that you contact us first to be sure we'll be able to test it.
Can you remove your review of my supplement?
We spend a great deal of time and money researching various products, as well as providing a platform for past consumers of products to voice their opinions.
With that said, we do not remove pages from our site. Additionally, we do accept any sort of monetary compensation to remove a negative review of pages on the site.
My product has been marked as Untrustworthy. What gives?!
As detailed above, we don't just arbitrarily place supplements in the "Untrustworthy" category without putting serious thought and research into it.
Click Here to learn how we mark products as "Untrustworthy".
With that said, occasionally we've had companies that partnered with "less than reputable" advertising firms that pulled some shady marketing practices to sell more of your product (without your knowledge).
Shoot us an email and we can talk it over.
Can I respond to customer complaints and reviews?
At the moment, we are not setup to allow businesses to directly communicate with customers on an official basis.
With that said, we will be implementing a Business page service in the near future, and will update this page when that happens.
In the meantime, if you would like to respond to a consumer comment directly, simply click the reply link next to their comment and reach out to them.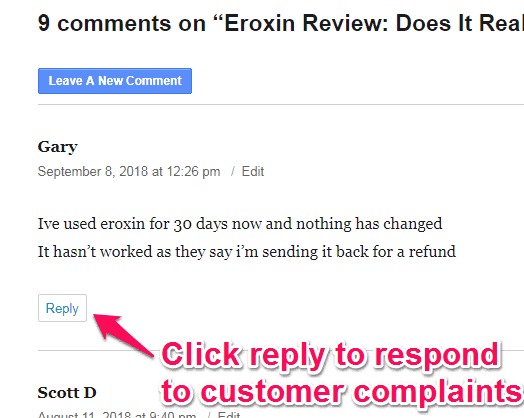 Connect With Us On Social Media!