Instant Knockout Fat Burner Review
By:
Rob Miller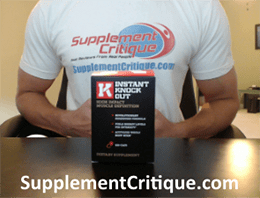 ---
Contents
What is Instant Knockout?
Are There Any Side Effects?
My Personal Results
Quick Tip
Where Can I Buy It?
How Do I Take It?
Can Women Take Instant Knockout Too?
Recommendation
Note:
This is just a review.
Click Here
to visit the official Instant Knockout website.
Achieving a rock hard body is never easy. It takes a healthy diet, dedication to workouts, and the right mindset to keep yourself from "cheating" with 3 slices of pizza. Another important aspect to getting a ripped physique is taking the right supplements. One such supplement I recently got a chance to personally test out is called Instant Knockout, which is a fat burner designed to help you shed away that stubborn layer of fat from the hard to target areas.
So what is it about this formula that makes it so effective. I'm going to talk a little bit about how the supplement works first, but if you would like to skip ahead to my personal results then you can click here
.
Watch Our Video Review Or Scroll Down To Read More
What is Instant Knockout?
Instant Knockout is an all natural fat burning supplement that aims to help not only suppress appetite, but also target unwanted fat deposits. It does this through the use of a proprietary formula which includes the following ingredients: Vitamin B6 and B2, Zinc, GTF Chromium, Green Tea extract, Green Coffee bean extract, Cayenne Pepper, Glucomannan, Caffeine, and Bioperine (black pepper extract).
Now. instant knockout contains 300 mg of caffeine, so it's not for the faint of heart. To give you an idea of how much caffeine that is, a typical cup (8 oz) contains about 150 mg of caffeine. The combination of caffeine, green tea, chili pepper, and glucomannan (1800 mg) will definitely help you shred up quick.
Click Here for a picture of the label.
If you didn't already know, chili pepper has been studied for it's weight loss properties. It actually works in 2 ways…for one, it has the ability to heat up your body, which helps you burn calories. (1) Second, it also helps to make you feel fuller, longer, which helps control your appetite.
Glucomannan also happens to be a dietary fiber, which also works to suppress appetite by acting as a thickener. (2) Any guy that is looking to lose weight knows that it really boils down to calories in, and this ingredient will keep you from stuffing your face next time you sit down for dinner.
Green tea has been featured for it's weight loss benefits on numerous media outlets, including Dr. Oz, Oprah, and "The Doctors". While research is still in the infancy stages, Green tea has been shown to act as a potent antioxidant, and can help to boost metabolism and remove fat from fat cells. (3)
The Instant Knockout bottle is actually pretty clever and unique, and you'll see on the right hand side of this page that it is literally in the shape of a fist.
Are There Any Side Effects?
Anyone who tells you that a supplement is completely side effect free is full of s$%t, and obviously Instant Knockout is no different. The most notable side effect would be from the caffeine, which can cause a range of side effects including insomnia, irritability, headaches, and drowsiness.
This is exactly why I recommend starting off with the lowest possible dosage at first, so you can assess how well you respond to the supplement.
If you are someone that has been a caffeine addict like myself for any length of time, you would probably be ok taking a full dosage. As always, it's best to speak with your doctor before starting any supplement regiment.

My Personal Results With Instant Knockout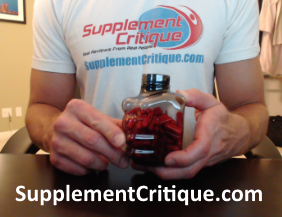 The summers down here in south Florida can be pretty brutal. Brutal to the point where you just don't feel like going outside…at all!! It's kind of like how people in the rest of the country feel in the winter months. It's just hard to drag your ass out and do something when it's so cold (except here, it's so hot) As a result, in the summers I tend to gain a little bit of unwanted fat, especially around the gut. This past summer, I gained about 8 lbs…not good.
I got 3 bottles of Instant Knockout last month to get me started for the beach volleyball season down here. The bottle says you should take 1 capsule, 4 times a day with meals, but I decided to take 2 capsules at once to really get that kick in the ass. Because I personally think it's a good idea to workout first thing in the am on an empty stomach, I usually do a 20 – 30 min round of High Intensity Interval Training (HIIT) about 45 min after I wake up. My usual routine for HIIT is this: a brief 5 min. job and stretch routine, followed by 10 minutes of karaokes, side steps, lunges, and fast hopping on one foot for 30 ft (each foot). Then, the real fun begins…
I'll do a course I've developed somewhat that goes like this:
1. Bounding leaps for 40 ft, jog back to starting position / rest 20 seconds
2. Full sprint for 40 ft., jog back / rest 20 seconds
3. 10 Box jumps, rest 20 seconds
4. 10 squats in place, followed immediately by 10 jumping my highest in place, followed immediately by squatting as low as I can in place for 10 seconds.
5. 10 Burpees, 20 second rest
Once I finish this round I'll take a 2 min. rest, then repeated it all 3 times…with a 20 lb. weight vest on the whole time. If it sounds like a lot…it is 🙂 Now, typically the only pre workout I will have with this is Nitrocut and coffee, but to be honest I can't drink too much coffee beforehand otherwise I feel like I'm going to throw up halfway through the routine.
So, instead on this morning I didn't drink any coffee and instead popped 2 capsules of Instant Knockout. 45 min later I could feel this HUGE surge in energy, and was rearing to go. Normally I am completely wiped at the completion of my HIIT exercises, but today was different. I was still tired, but not to the point where I felt like I needed to lay around the rest of the day.
So far I'm seeing a VERY big reduction in my fat deposits. I was looking a bit "puffy" when I first started, but could now finally start to see my abs coming out (not completely, but it was there). Bathing suits that I used to not be able to fit in are actually fitting pretty nicely at this point, but I want more! I'm going to continue taking it and update the review accordingly.
Note: If you're looking to burn some SERIOUS fat, then I would recommend you take Instant Knockout (www.InstantKnockout.com) with either a testosterone booster called Testofuel, or a pre-workout supplement called Nitrocut.

Quick Tip!! Use IKO in Combo With Phenibut As an Effective Pre-Workout
Since I've written this review, the chief complaint behind Instant Knockout seems to be the caffeine content. While it's true that enormous amounts of caffeine like this can give you a huge spurt of energy, it can also cause a jittery, anxious, and uncomfortable feeling.
About 6 months ago I tested out a substance called Phenibut, which is used to help give you a calm, relaxed feeling and quell any anxiety. It also works AMAZING for sleep.
I used Phenibut in low doses (250 – 750 mg) along with Instant Knockout during one of my recent workouts, and the results were truly AMAZING.
Not only did I get the full fat-burning and energy producing effects from the Instant Knockout, but the Phenibut completely eliminated any anxiety I was experiencing from caffeine overload.
This combo would be especially helpful for guys that work out later in the day after work, who need a good boost in their workouts but are concerned about any anxiety and insomnia creeping into their sleep patterns.
One thing I want to note is that should you decide to stack Phenibut with Instant Knockout, that you do so only 1 – 2 times per week, with at least a 3 – 4 day break in between doses.
Phenibut has a tendency to build up a tolerance quite rapidly and can be habit forming if taken more often than this.
If you decide to stack this, follow these directions exactly:
1.) Take a low dose of Phenibut (about 250 – 500 mg) on a COMPLETELY empty stomach about 1 – 2 hours before your planned workout session. It literally takes that long to kick in.
2.) Take 1 – 2 capsules of IKO 30 – 45 min.. prior to your workout.
3.) Enjoy 🙂
You'll feel the effects kick in dramatically after dosing with the IKO, and you will have one of the best workouts of your life. Trust me!!
I've tried many brands of Phenibut, and the most effective one BY FAR was the AbsorbYourHealth brand (www.AbsorbYourHealth.com) It comes in powder form, so it's easy to mix into practically anything, although I suggest you mix with a low calorie juice or sports drink.

Where Can I Buy It?
As of this review, the Instant Knockout fat burner will only be available online on their official website, www.instantknockout.com. The price for a 1 month supply is $59, and they do have promotions like buy 3 get 1 free bottle, which is backed by a 90 day guarantee.
I asked the owner of Instant Knockout if they had any plans to sell it in any retail stores like GNC, Walmart, CVS, Amazon, etc. but there doesn't appear to be any plans to do so in the near future. Generally speaking, companies that put their product in large retail stores suffer a big loss in their margins, so I can imagine why they would be reluctant to do this.
How Do I Take It?
According to the label, Instant Knockout is designed to be spread out throughout the day, taking 1 capsule 4 times per day. Because it contains so much caffeine, I recommend that you take it on a full stomach at first to assess your tolerance. I would also recommend that you take the last capsule no later than 6 hours before bed to prevent insomnia or restlessness.

Can Women Take Instant Knockout Too?
Absolutely. Alot of women come to my site and think that many of these products are geared towards just men, BUT Instant Knockout is NOT one of them. It is 100% tailored to help both men AND women achieve their fat loss gains.
Click Here to learn how Instant Knockout can work for women as well.
Alternatively, you might want to check out a supplement called Lean Bean female fat burner.
It's the best diet pill for women we've ever tested, and we've personally tested dozens of them.
Click Here to read my full review of Lean Bean.

Recommendation
Instant Knockout is one of the few fat burning supplements that REALLY does work in my opinion. You still have to put in the work, but it does a very good job at motivating you for the gym, as well as burning away that excess fat. I highly recommend it to any guy looking to lose weight, as well as help solidify their bodies.
I have found that when combined with your usual workout routine, or bet yet if you want to beef up your routine, that it is going to have the most desirable results and as with any health related supplement, you are going to have to put in just a little bit of effort before it can do its magic.
Have You Used Instant Knockout Fat Burner? Leave Your Review Below!
References
1. Hot Peppers – Top Fat Burning Foods: Health.com
2. Glucomannan Fiber: Shape.com
3. Green Tea Health Benefits: WebMD.com
Additional References
https://www.ncbi.nlm.nih.gov/pmc/articles/PMC3649093/
https://www.ncbi.nlm.nih.gov/pubmedhealth/PMH0027694/
https://www.ncbi.nlm.nih.gov/pmc/articles/PMC3908530/
https://www.ncbi.nlm.nih.gov/pubmed/10211048
https://www.ncbi.nlm.nih.gov/pmc/articles/PMC4477151/
https://www.ncbi.nlm.nih.gov/pmc/articles/PMC2943088/
https://www.ncbi.nlm.nih.gov/pubmed/27393090
User Reviews

4.2 out of 5 Stars (13 Reviews)
Have you used this supplement?
It works
I have an under active thyroid and had a total hip replacement two years ago so have gained 28lbs! Devastating! I googled fat burner and came up with Instant Knockout (www.InstantKnockout.com). I am the third day in now and although I haven't as yet lost weight I can certainly confirm I am less hungry and my energy levels have definitely increased. Due to an under active thyroid, I am usually flagging by 3pm and flat out by 9pm but at 10pm last night I was still going strong. I would put a caveat in here that if you have trouble sleeping take this earlier in the evening rather than later. But, so far so good, I'll report back with any weight loss! Hopefully I'll be putting the 5th star on!

Was this review helpful to you?
22 out of 25 people found this review helpful.
---
By
Chris G.

,
May 10, 2017
I took your suggestion and stacked the Instant Knockout with Testofuel (www.Testofuel.com) and Whoa! What a combo!

Im sleeping better, have more energy throughout the day, and my sex life feels like its been transformed lol. It was a bit expesnive but worth every penny in my book, thanks for recc it!

Was this review helpful to you?
6 out of 8 people found this review helpful.
---
Works Great So Far, but...
By
D. Sommers

,
Apr 20, 2017
Too much caffeine....like, wayyy too much caffeine lol. Taking all 4 capsules throughout the day just made me feel really jittery, so I cut it down to just one pill in the am and one before working out and so far so good!

Was this review helpful to you?
73 out of 82 people found this review helpful.
---
By
Jonathan

,
Apr 28, 2017
I've been taking the Instant Knockout fat burner for about 3 weeks now and I gotta say I'm seeing some pretty good results. Already slimmed down from a size 34 to size 32, and am starting to see better definition in my shoulders and abs. Will continue taking it for another 3 weeks and post my final results, thanks!

Was this review helpful to you?
74 out of 87 people found this review helpful.
---
Instant Knock the Fat Out!
I lost 20 pounds in one month using Instant Knockout. My workout routine is more intense...I can work out for 3.5 to 4 hours straight now. Fat is melting off me. My hubby is taking it too and he lost 4 pounds within a week. This product is an integral part of my stack.

Was this review helpful to you?
69 out of 82 people found this review helpful.
---
Click Here To Visit The Official Instant Knockout Site

www.InstantKnockout.com
Ask A Question
User Questions and Answers
---

Should take instant knock out on a empty stomach? -Lynwood

The recommended dose is 1 capsule taken 4 times a day with meals, though I took 2 capsules twice a day with my first 2 meals.  The best way to do it is to take them about 15 minutes before you eat so you get the benefit of the appetite suppression.- Rob
Was this question helpful to you?
9 out of 9 people found this question helpful.
ASK A NEW QUESTION
---

I'm sensitive to caffeine. Is their any alternatives to Instant Knockout that you recommend? -Ted

Check out a fat burner called Phen 375.

It's equally as effective, but only uses a small amount of caffeine and is in general low on stimulants.

Here's my review: https://www.supplementcritique.com/phen-375-review/- Rob
Was this question helpful to you?
3 out of 4 people found this question helpful.
ASK A NEW QUESTION
---

I'm looking to add mass and lose the belly. Should I take this with anything else? -Mark T.

Yeah I would recommend you stack Instant Knockout (www.InstantKnockout.com) along with a testosterone booster called Testofuel.

The 2 work very well when combined to help shed excess lbs. as well as add lean muscle.

Here's my review: https://www.supplementcritique.com/my-personal-testo-fuel-review-and-results- Rob
Was this question helpful to you?
2 out of 2 people found this question helpful.
ASK A NEW QUESTION
---

If I can tolerate 1 capsule fine, is it okay to try taking 2 capsules twice a day instead of 1 four times? -Nick

Try 2 pills for your morning dose first and keep the second dose at 1.  Then if all goes well, you can up that second dose to 2 if you want.- Rob
Was this question helpful to you?
18 out of 21 people found this question helpful.
ASK A NEW QUESTION
---

most fat burners are mostly stimulants which often if not usually cause you to use the bathroom or in many cases run to the bath room, how does instant knockout do in this area of side effect -jason

It's got quite a bit of caffeine so it will affect you the same way caffeine usually affects you.- Rob
Was this question helpful to you?
19 out of 25 people found this question helpful.
ASK A NEW QUESTION