Elite Test 360 Review – Should You Use It?
By:
Rob Miller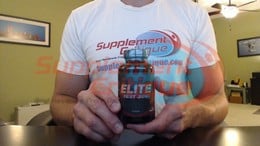 Contents
What Is Elite Test 360?
Fake Advertising
Fake Reviews And Testimonials
The "Free Trial" Isn't So Free
Elite Test 360 Ingredients
What About Ripped Muscle X?
My Results
Pros And Cons
Where To Buy?
Conclusion
If you're looking for our review of Elite Gain 350, this isn't it. Click Here to read about that supplement.
One of the bodybuilding supplements that has been popping up all over the internet lately is called Elite Test 360.
Like many similar products, its focus is on naturally boosting your testosterone levels which could have all sorts of benefits including increased strength, athletic performance, body composition and sex drive.

Which would explain why Elite Test 360 bills itself as "Your Secret Weapon in the Gym."
Of course, it's our job as responsible, unbiased reviewers to be skeptical about the supplements out there, so we're going to take a closer look.
Watch My Video Review Below Or Scroll Down To Read About My Results
What Is Elite Test 360?
Shortly after Elite Test 360 popped up on my radar, I did a quick Google search as per my usual practice.

Immediately, I was inundated with a bunch of "reviews" using broken English and very odd phrasing to discuss how fabulous and wonderful Elite Test 360 is for anyone wanting to look and feel at the top of their game.
On reviewer, for instance, gave this high praise: "I found it 100% edgy supplement for making the looks fantastic." And, of course, we ALL want to make the looks fantastic.
Another glowing commentary states that "Elite Test 360 is a fantabulous supplement for building your muscles enlarge and ripped." So that's convincing…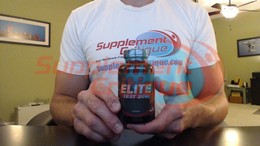 Fortunately, I also noticed that it's available for sale on Amazon which means Amazon customer reviews.
Taking a look at those was very revealing – and refreshingly honestly.

I was not entirely surprised to see that the reviews were almost exclusively negative.
The majority of customers on Amazon gave Elite Test 360 a measly one star based on three key complaints:
It does nothing.
It's crazy expensive.
The side effects are TERRIBLE.
I didn't even realize how bad and nasty they could be until I started reading through some of these reviews. One user complained of stomach pains, dry mouth, and a constant headache.
He even mentioned it actually DECREASED his testosterone levels, literally doing the opposite of how it's supposedly intended to work.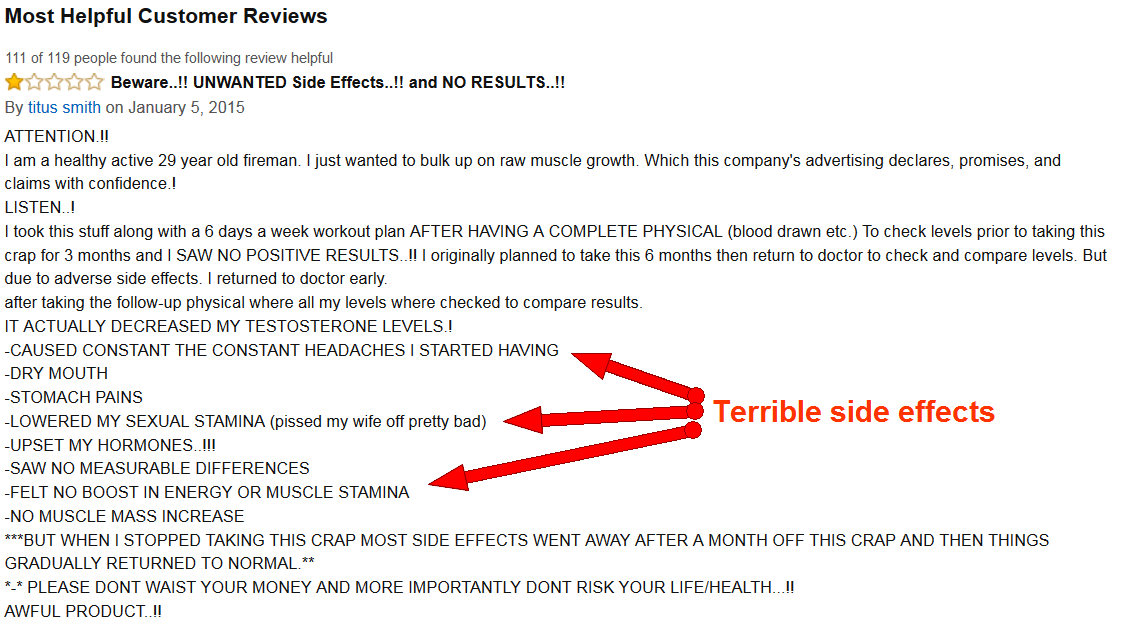 Even the positive reviews of Elite Test 360 (yes, there are quite a few of them) look suspect. For example, one reviewer who goes by the name of "Jesse Castillo" says nothing but great things about the product.

However, if you visit Jesse's profile you'll see that Elite Test 360 is literally the ONLY product he has reviewed.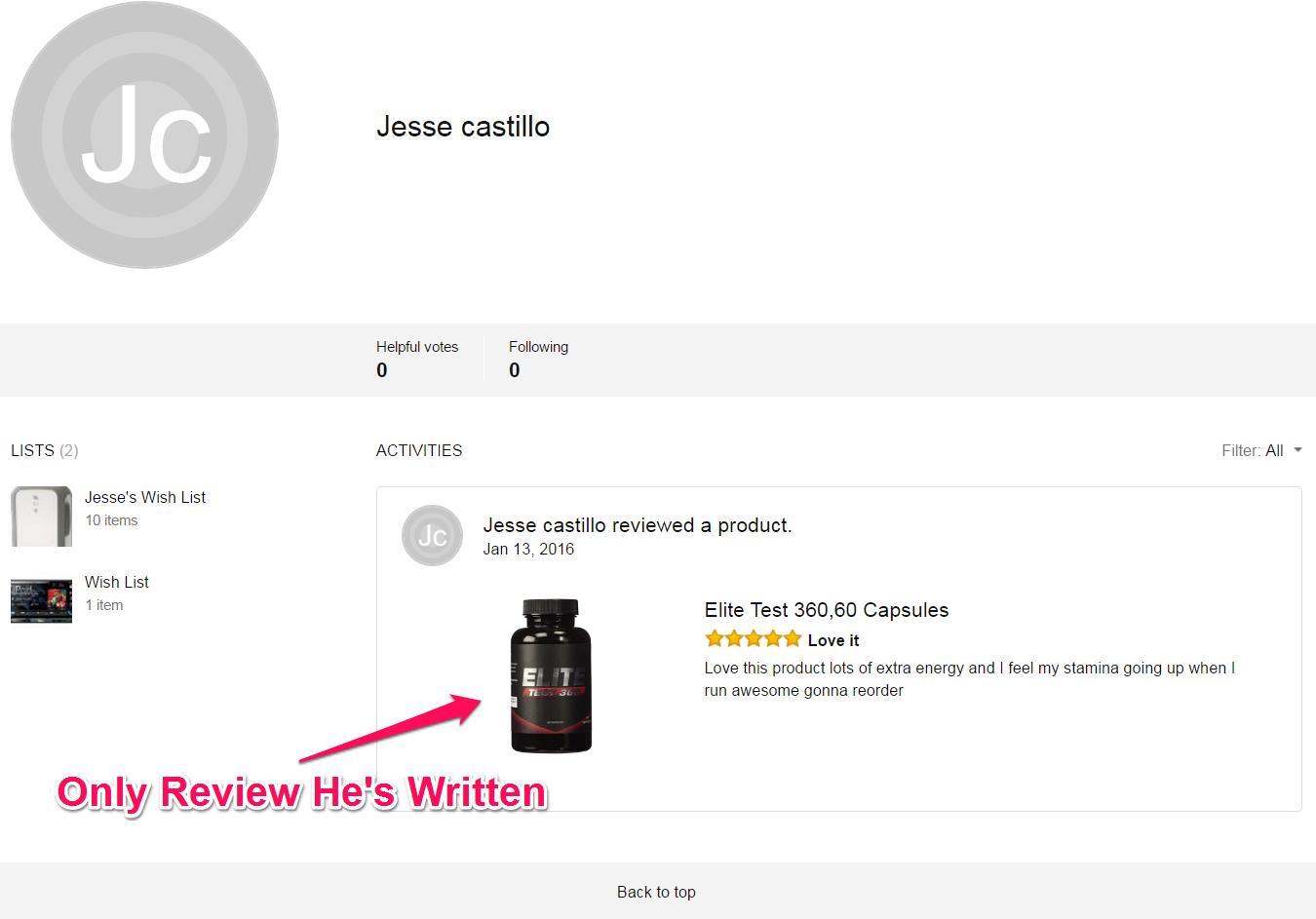 Still, that's not direct evidence that it's fake, and we like to be thorough.
So we kept looking.
To better understand these specific complaints let's really examine what's in the bottle.
Fake Advertising

What Got You Here In The First Place…
So, like many of you reading this now, you probably stumbled across an ad about something Usain Bolt, Lebron James, The Rock, or Laron Landry takes to get absolutely massive and strong.
The ad usually involves some before and after photo showing insane results, but sometimes it gets changed up. One thing is for certain, you'll almost ALWAYS see it on Yahoo.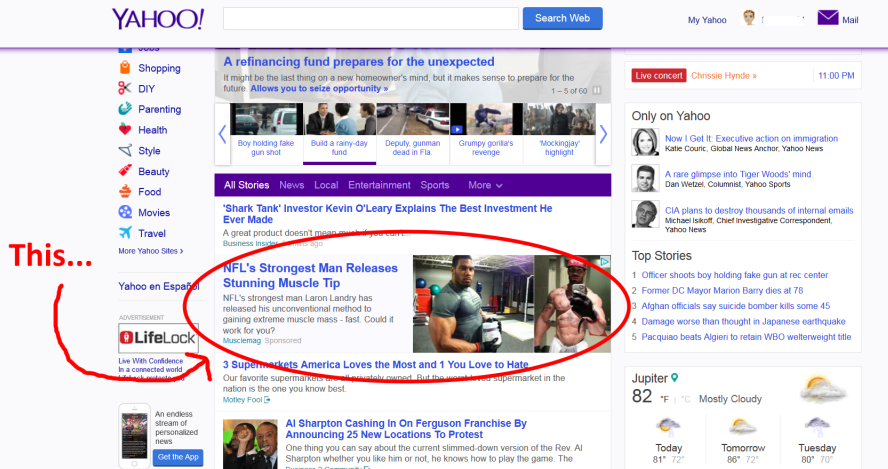 When you click the ad it takes you to a page that "seemingly" looks like the ESPN website. The article chronicles the transformation of several notable celebrity's, including Dwight Howard, Carmelo Anthony, Chris Pratt, and many others, who ALL achieved their body transformations through the use of two supplements….Ripped Muscle X and Elite Test 360.
At first glance, it's pretty convincing….
There are tons of before and after photos showing a fat and flabby Chris Pratt: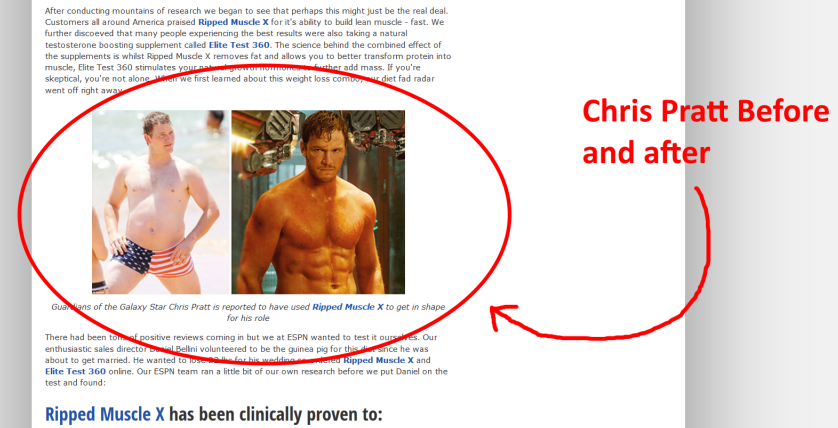 a skinny Dwight Howard who is suddenly big and muscular, and a before and after photo of a guy named "Ryan Hasman", who is apparently a staff writer over at ESPN.
He apparently "put the combo of Elite Test 360 to the test", and chronicles his transformation over a 4 week period.
The problem here is this….this isn't the REAL ESPN website, it's one designed to look like it. Not sure what I mean? If you are still on the site, try clicking around on the other links (links like NBA, MMA, or any of the links to "headlines" or "articles" on the right hand side).
Where does it take you?
Well, it CERTAINLY doesn't take you to another page on the ESPN site…that's right…every click takes you to the ripped muscle x sales page.
If you don't have the page open anymore I made a quick screencast showing you what I'm talking about below…
As you can see, its not the real site, just one designed to look like one. I also reached out to the editors of ESPN and NONE of them have ever heard of a Ryan Hasman…go figure…
Fake Reviews and Testimonials of Elite Test 360
Another thing I noted in my research was the sheer amount of fake reviews and testimonials of Elite Test 360 scattered throughout the internet.
Many so called "blogs" are nothing more than blogs setup by the company and/or their affiliates, with funky sounding names like elitetest360reviews.net and doeselitetest360work.com…Their sole intended purpose is to get you to believe that this supplement is a "miracle" and can work for anyone.
Don't be fooled…
I searched around on Amazon and found a ton of reviews on there as well, with the vast majority being overwhelmingly negative. In fact, even the reviews that were positive seemed suspicious to me, mainly because the persons reviewing it literally had Elite Test 360 as their only review.
This leads me to believe that many of them are simply fake.
One other very prominent scam I noticed was fake youtube reviews….One of them, which actually ranks on the first page of google, shows a guy who is talking up Elite Test 360 BIG TIME…check it out below:
After I did some research on a website called Fiverr, I noticed that this very same guy advertises his services as a paid actor for reviews and testimonials...check it out below…
(NOTE:Fiverr is a website where normal people advertise a wide range of services, from creating fake video reviews, all the way to design work for literally…you guessed it…FIVE DOLLARS)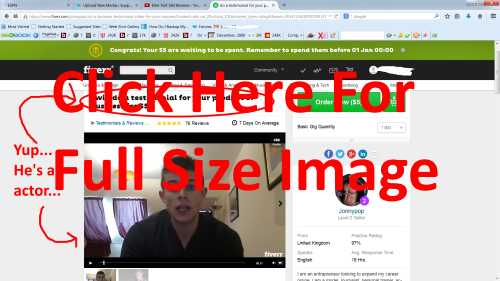 Here's another one I found in case you were curious…
and here's his gig on Fiverr…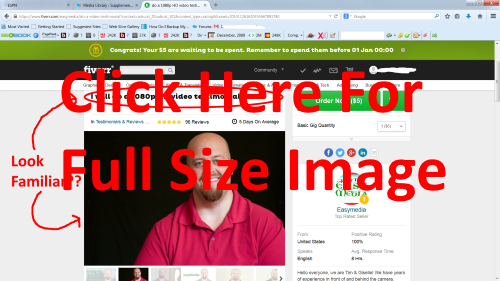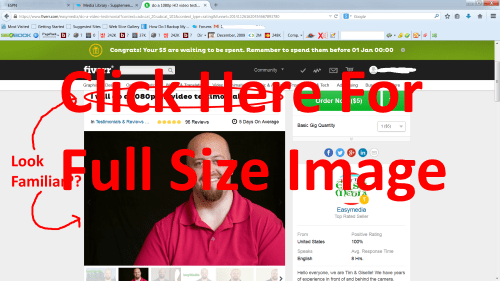 Deceptive Billing and "Free" Trial…
The biggest issue we have is with their deceptive billing and free trial. You see, in the ad the "editor" talks up that the product is complete free, all you have to do is pay a modest shipping charge, and this is where they get you…
When you go to the order pages for both of these supplements, you are prompted to enter your address so they know where to send the bottle.
It then redirects you to a page where you put in your credit card info for that shipping charge I was telling you about above (which is just a modest $4.95 for each bottle).
What you probably didn't notice was the fine print just below that says this for Elite Test 360…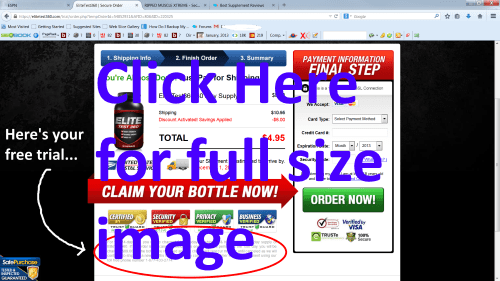 and here's the "free" trial of Ripped Muscle X…
That's right guys...this supposed "free" trial is not actually a free SAMPLE, but rather a time period in which you can use the product. At the end of 14 days from the time you order, you will be billed $89 for your "trial" of Elite Test 360, and $87.63 for your "trial" of Ripped Muscle X. Most guys don't realize it until it's too late, and this can end up costing you Hundreds or even THOUSANDS of $$$ if you're not careful…

Elite Test 360 Ingredients and How They Work
Elite Test 360 has only two active ingredients:
Tribulus Terrestris standardized for 45% saponins.An herb with a long history of use as an aphrodisiac, Tribulus – or puncture vine – is generally thought to increase the body's own natural production of testosterone.

The results seen from taking Tribulus are more likely due to the effect that it has on a hormone called Luteinizing Hormone (LH), produced in the pituitary gland.Once the levels of this hormone rise, the LH signals the testes to produce and release an increased amount of testosterone.

Anyone in the know will tell you that more testosterone is great for better workouts and results, but there is some dispute about whether or not Tribulus Terrestris actually does the trick.There seems to be no doubt that it increases your libido, but the part about lifting T levels is still under debate.The majority of quality laboratory studies, however, have all come up negative – including this one from the October, 2005 edition of the Journal of Ethnopharmacology.

That study also mentioned that Tribulus, in addition to having no direct impact on testosterone levels had no indirect influence on the hormone either.

Essentially, this means that the herb does not even significantly increase the levels of a substance that could later turn in to testosterone.
Alpha KetoGlutarate (AAKG).

This is a form of L-Arginine, the amino acid that acts as a precursor to nitric oxide.

NO is a vasodilator, so your blood flows more freely to your muscles during workouts.

This means more oxygen and nutrients transported for better pumps and better overall workout results.Unfortunately, NO is a gas and cannot be directly supplemented.

The only solution, then, is to take one of the several substances that your body converts into NO.

While AAKG is one of the more popular choices, recent studies have found it to be one of the least effective when it comes to actually increasing NO.In fact, one study found that taking AAKG supplements for one week did increase levels of arginine more than placebo.Unfortunately, this did not translate into more NO.

Exactly why the arginine was not converted into NO is not fully understood.Frustratingly, this kind of confusing and unreliable result is a common theme of research into AAKG and arginine.

It should be noted, though, that L-Arginine is also part of the testosterone production process.

Again, however, studies have not shown that arginine supplements actively increase testosterone levels.I feel like I should also mention that – even if AAKG were undeniably proven to help in this application – the dosage in Elite Test 360 are insanely low.

The dose generally used in studies, which produces minor improvements, is about 37.5 times larger than the dose found in Elite Test 360.
And, contrary to Elite Test 360′s claim that it is "an excellent source of vitamins," those two ingredients are all there is.

There are no vitamins, just Tribulus Terrestris and AAKG.

Don't believe me?? Here's a picture of the label: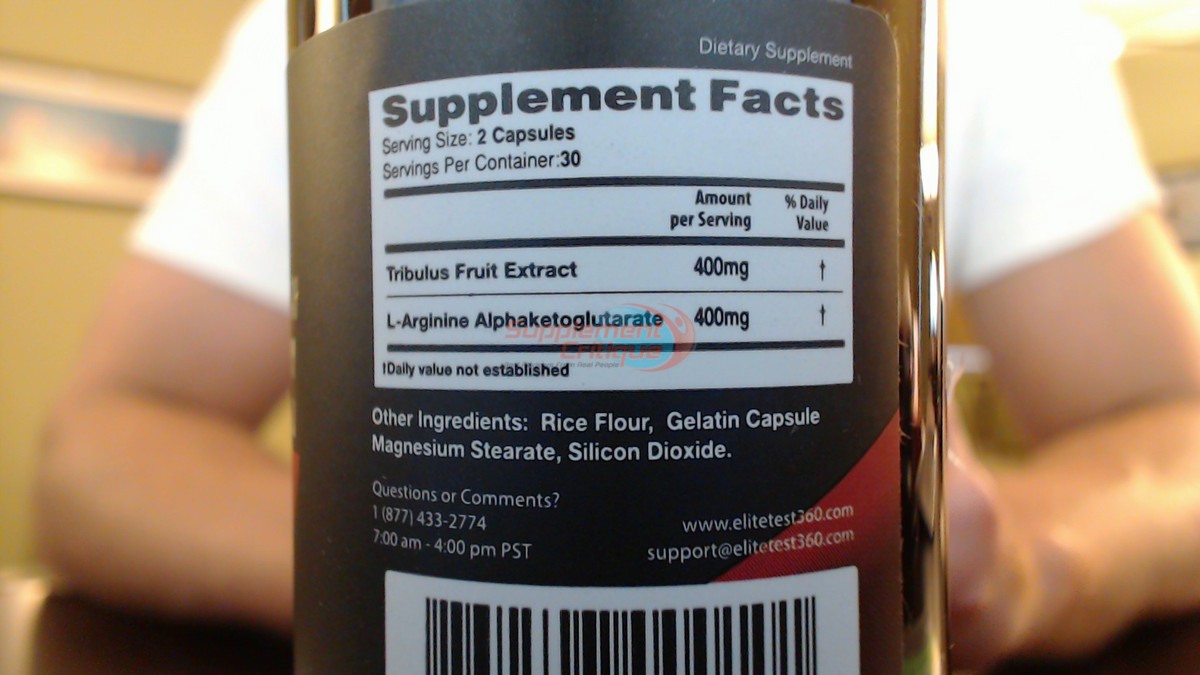 This may be fine for a minimal workout aid, with potential to increase vascularity and endurance during a strength workout.

But it is by no means a cutting edge formula, and it doesn't contain vitamins like the manufacturers claim.
Much of the promotional material also tends to stress the important role that "amino acids" play in the amazing results that Elite Test 360 is supposed to give you.

But AAKG (arginine) is the only amino acid in the formula.
And, while AAKG, does seem to have some potential it's usefulness here is woefully hyped up.

In fact, "hype" is the main issue that Elite Test 360 struggles with.

Unfortunately, it doesn't live up to the hype.
Then there's the issue of price, which is not justified by this bare-bones formula.

In fact, plain old arginine supplements are usually some of the cheapest you can pick up.

When you consider the fact that neither of these ingredients are even all that effective, Elite Test 360 just isn't worth the inflated price tag.

Stacked With Ripped Muscle X
The manufacturer of Elite Test 360 also produces another supplement called Ripped Muscle X that they shamelessly encourage you to stack.

In fact, when Elite Test 360 gets negative reviews, supporters usually say it's because the complainer didn't following the instructions properly by combining these two products.
Since this review is about Elite Test 360, we won't go into a ton of detail on Ripped Muscle X, but here's a basic rundown of the ingredients:
Arginine – You know what this does and, taken with Elite Test 360, you might actually feel some difference.
Citrulline – Another NO precursor, citrulline has been shown to be significantly more effective than arginine and AAKG
Acai – This fruit became a buzzword a few years ago and just won't go away.

Ultimately, the berry doesn't do much of anything and really has no purpose in this formula.
Beta Alanine – An amino acid that is converted to carnosine, Beta Alanine has been shown in reliable studies to improve muscular endurance by buffering lactic acid build up.
Zinc – A fairly common mineral, zinc plays an important role in men's health and testosterone production.
Creatine – One of the most popular and well-studied supplements out there, creatine can increase both strength and endurance.
Green Tea Extract – Some studies have shown that green tea has potential to decrease body fat.
Honestly, Ripped Muscle X seems pretty solid at preliminary glance.

The problem is that you shouldn't need to take another supplement to make Elite Test 360 work.

My Results
So I finally got around to testing out Elite Test 360 for myself, and as expected, I didn't get any results. At all! Considering it literally only contains 2 ingredients, I wasn't surprised.
The directions on the label state to take 2 capsules once in the morning, and I expected it might take a few days to kick in. After 3 or 4 days of feeling nothing at all, I said "enough is enough", so I decided to cancel my trial.
The cancellation process is, how do I say….nearly IMPOSSIBLE! The first time I called I was put on hold for about 10 min., with the usual hold music playing throughout the entire time. Then all of a sudden the hold music stopped, COMPLETELY!
I wasn't disconnected because the time kept going on my iphone, so I decided to hang up and try again. Second time around, I was placed on hold again, but after 10 minutes someone eventually picked up.
They offered me a discounted rate of 1/2 off to keep the bottle I have, or I could just send it back to them and prevent any billing. I opted to just send back the remaining portion and be done with it.
Elite Test 360 Pros and Cons
Advantages of Elite Test 360
There is a product website with most of the necessary information, including ingredient details.
Full company contact information is given, including address, phone number with customer service hours, and email.
Disadvantages of Elite Test 360
It's expensive.
It's only got 2 ingredients, and when compared with the expense, it doesn't add up.
The company pushes you to stack Elite Test 360 with another product called Ripped Muscle X in order to get the full effect.
Most of the Elite Test 360 reviews we've seen say it does nothing.
Some users have had issues with the "free trial" turning into a billing nightmare with surprise charges.
The company is not registered with the Better Business Bureau (BBB).
Where to Buy
You have a few choices when it comes to purchasing Elite Test 360 – if you do decide to do so.

Through the official website, you can either by it straight out or you can sign up for a free trial period.
If you buy it straight out, you'll pay $89.99 for a single month supply and there are discounts for buying in bulk.If you sign up for the "free" trial, you pay only shipping, and they send you a one month supply.

If you do nothing within 14 days of your order date, you'll be charged the $89.99 and signed up for monthly shipments costing you $89.99 a piece.
Some customers have complained that it is unreasonably difficult to get out of this arrangement but, since the company is not registered with the Better Business Bureau, it's hard to find any clear reports.
Alternatively, you can buy it from Amazon for $38.14 and avoid all that hassle.Even at that price, though, Elite Test 360 is still outrageously expensive.

By way of comparison, you could buy these two ingredients separately for about $15 total and just stack them.If you decide to go that route, you can pick these supplements up just about anywhere supplements are sold.

Conclusion
Frankly, there's really very little to redeem Elite Test 360.

The ingredients used are on the dubious side of things, with little quality science to back up their use here.

Even if the ingredients were solidly backed by research, the dosages are way too low to deliver the sort of results that Elite Test 360 promises.

It certainly is no "Secret Weapon."
But what really does this product in for me is the company behind it.

Not only is Elite Test 360 laughably expensive, the company uses the infamous "free trial" combined with an auto-shipping arrangement.

These practices are usually the calling card of a less-than-trust-worthy operation.
If you really want to take tribulus and AAKG just go pick some up yourself for a fraction of the price.

The truth, though, is that there are plenty of other products making similar claims that actually follow through on their promises.
Have You Used Elite Test 360? Leave Your Review Below!
Top 3 Testosterone BoostersAffiliate Disclosure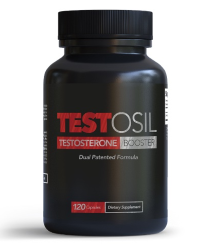 Testosil is the most effective testosterone boosting supplement on the market that I've tested.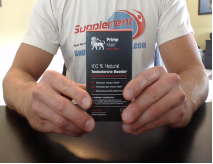 Prime Male is another very effective testosterone booster that uses clinically proven ingredients.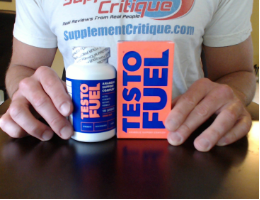 Testofuel is a VERY popular testosterone booster that contains ingredients to help older men.
User Reviews

3.0 out of 5 Stars (2 Reviews)
Have you used this supplement?
Trust me its fake.
By
Jason Schallmo

,
Oct 31, 2015
Hi everyone, Im pretty big into body building and considered the chance of trying a new product.

At first I WAS scammed, it was said to be a free trail until they called me 4 times saying whats to lose its only $2.50 a bottle. bot Ripped Muscle X and Elite Test 360 this was..

I Stacked them and only them to try their full results..
Does NOTHING. Not only the ingredients pretty much tell you tht it will do nothing. But I was even charged $50.00 extra a month later for BOTH.. Trust me throw these out. Stick to Supplements tht carry credibility.

Was this review helpful to you?
43 out of 44 people found this review helpful.
---
By
Hugo Serrano

,
Mar 2, 2015
I have been using elite test 360 and muscle x for two weeks and i have noticed a difference! It has given me an energy boost during workouts and increased my endurance and sexual performance. I dont think some magic pill that is just gonna transform your body like u act like is suppose to happen but with effort i have noticed a difference. I am at my lowest weight since highschool thanks to the use of muscle x and elite 360.

Was this review helpful to you?
5 out of 17 people found this review helpful.
---
Check Out My Top Choice For T Boosters - Testofuel

Click Here To Read My Review
Ask A Question
User Questions and Answers
---

How do I cancel? -David

You have to call their customer service # at 1-877-433-2774 within 15 days of ordering your trial to cancel the auto delivery. If you call after that time period, they will still charge you for the initial bottle you ordered, but cancel any further shipments. FYI, when I called to cancel my Elite Test 360 trial I waited for almost 30 MINUTES before I got someone on the phone. - Rob
Was this question helpful to you?
10 out of 11 people found this question helpful.
ASK A NEW QUESTION
---

I'm using prime male, what would be the best pre work out supplement? I know some of them have testosterone boosters. -Jim

Go with Nitrocut. It's primary focus is boosting nitric oxide, which makes it a great complement for Prime Male, or any testosterone booster.- Rob
Was this question helpful to you?
4 out of 4 people found this question helpful.
ASK A NEW QUESTION
---

How much training is needed? -John

That's a tough question to answer. Basically, you'll get out what you put in. Sign up for my free "getting ripped" ebook. It'll give you a workout and meal plan you can work with. Rob SupplementCritique.com- Rob
Was this question helpful to you?
2 out of 2 people found this question helpful.
ASK A NEW QUESTION
---

Hi I have sent an email to cancel the order right after did it online.how much will I still have to pay -Ij

You'll have to talk to Elite Test 360 to be sure, but if you canceled successfully, the only thing you should have to pay is the shipping charge you already paid.- Rob
Was this question helpful to you?
4 out of 6 people found this question helpful.
ASK A NEW QUESTION
---

I liv in the UK how do I cancel it I need a fone number -Eugene

The only phone number I could find for the company is toll free US number. You'll have to contact them via email at support@elitetest360.com. - Rob
Was this question helpful to you?
1 out of 2 people found this question helpful.
ASK A NEW QUESTION