SupplementCritique.com was founded in February of 2011 as a portal for honest, reliable, and credible reviews of supplements.
All SupplementCritique.com reviews go through a thorough process to ensure factual accuracy, as well as to provide you with the most in-depth, entertaining, and informative review.
The purpose of this page is to give you an idea of how exactly that process is done.
Since our inception, we've produced over 2,000 articles about supplements ranging from weight loss pills, to nootropics, pre workout supplements, and much more.
We fund the operation of this site via affiliate marketing.
When you click on a link that leads you off of our site, there's a good chance that we may make a commission from the sale, should you choose to purchase a product.
In the interest of full transparency, and to comply with FTC guidelines, we mark each review where this is the case with a link that says "Affiliate Disclosure".
You can read our full affiliate disclosure here.
Now, onto out review guidelines…
How is a product reviewed?
Generally speaking, we have reviews divided up in to 2 categories:
Products we've tested
Products we haven't tested.
Before testing out any supplement, we always do a thorough preliminary review of the product in question.
This includes information on the ingredients, potential side effects, where you can buy it, what user reviews are saying, and much more.
Once we've gathered enough information, Rob Miller or one of his chief "Supplement Testers" will begin experimenting with the product.
Keep in mind that we do NOT test every product we review.
That would be nearly impossible to do.
Instead, we reserve testing for only the most popular products and/or products where we have a lot of our visitors asking specifically if we can test it out.
Do businesses pay you to write reviews?
No. We don't accept payment for reviews, and cannot be "bought".
If you feel we've posted erroneous information about a particular product, please contact us with whatever info you deem erroneous.
Visitor Review Guidelines
What are your consumer review guidelines?
Simple. We only post credible and authentic reviews from customers who've actually tried the product!
Reviews left on the site should provide enough info about their experience so that it is deemed helpful to future readers.
What constitutes an authentic review?
Here's a few things we look for when approving reviews:
Detail, Detail, and More Detail!
You can't just post a 2 word review like "It works" or "I like it" and expect your review to be approved 🙂
You have to provide as much detail as possible, without disclosing any personal details of course.
We're not asking you to write your life story here, but try to give us some context.
Here's an example of a detailed review: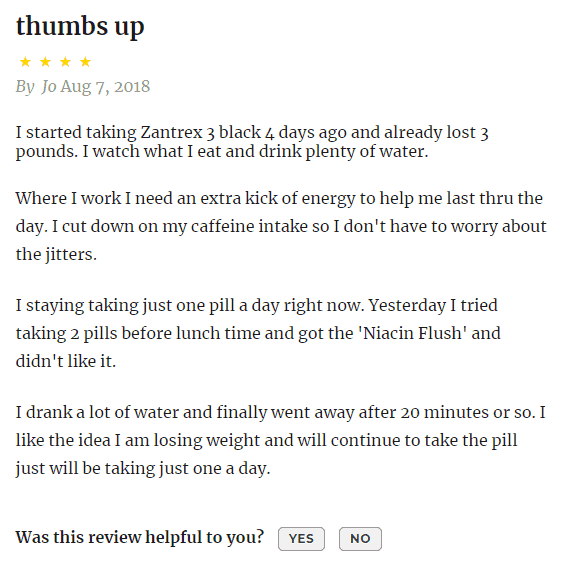 and here's an example of an Undetailed and vague review: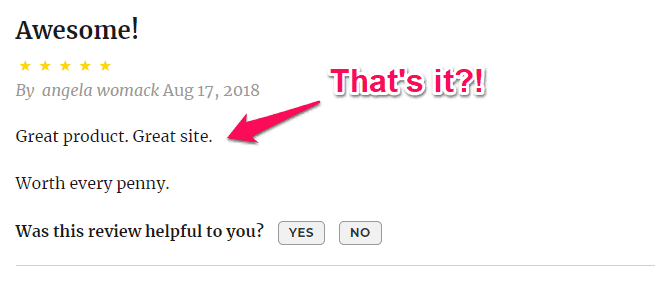 We allow for small errors in punctuation and spelling, but sometimes it simply gets out of hand.
Please, for the love of god: don't post a review in all caps, don't write your entire review without putting a single period, and don't misspell half the words you're writing.
We're not asking you to write like Ernest Hemingway, but if a review looks like this: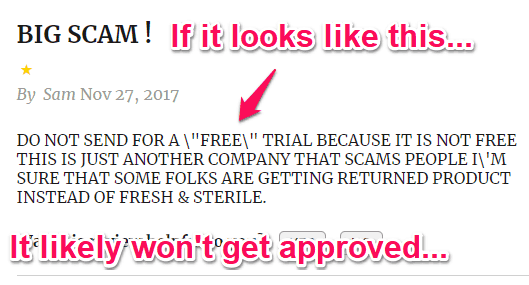 It likely won't be approved.
Don't post a review of one product on a different products page.
You'd be surprised how often this happens.
Almost 2 – 3 times a week, someone will post a review of XYZ supplement on the ABC supplements review.
Please don't do this, you're review will NOT be approved!
Can I delete or change my review after I've posted it?
Yes. If you made a mistake in your review and would like something added or changed, feel free to contact us with the appropriate changes.
Can I post a review on a product if the company has offered me an incentive?
We do not accept reviews from those that have been given an "incentive" to leave a review.
Not only does this make the review inauthentic, but is a bad overall user experience for people trying to get to the truth of a supplement.
If you have any questions regarding out review guidelines, please contact us here.