Contents
What's In The Crazy Mass Cutting Stack
Why Did We Pick This Stack For Getting Ripped
My Results With Crazy Mass
Where Can I Buy The Crazy Mass Cutting Stack
Questions We've Received Regarding Crazy Mass
Recommendation
Note: This is just a review. Click Here To Visit The Official Crazy Mass Website
If you've been visiting my site and reading the comments lately, you'll notice that I often recommend stacking supplements. The reason why is because one supplement alone will typically not get you the results you're looking for. Stacking works for a reason…its providing your body with a careful balance of all natural ingredients to help you get the best from your workouts.
If you are looking to cut up (get ripped) then this stack from Crazy Mass will work very well for you. We recently got a chance to personally test out these products, and the results were far beyond any stack I have seen to date.
Important: If you're looking to bulk up / gain mass, then I would recommend a completely different stack called the Crazy Mass Bulking Stack.
Click Here to read my review of the bulking stack.
Also, if you're looking to purely gain strength, consider their strength stack.
The bottom line is, Crazy Mass has a stack for whatever your individual goals are.

If you're unsure of which one to buy, either shoot me an email or leave a comment below.
I've been using the Crazy Mass brands for years now, and know what works and what doesn't.
Note:In the video below, you'll see that the product labels look different.

The only reason behind this is that they changed up the names of the products.

They all contain the same ingredients and work EXACTLY the same as the original.
Watch My Video Review Below
What's In The Crazy Mass Cutting Stack?
The Crazy Mass cutting stack is made up of 4 different supplements; 1 bottle of Paravar, 1 bottle of Testosterone-MAX, 1 bottle of Winstral, and 1 bottle of Clenn-Maxx. I will explain how these supplements work below:
What is Paravar?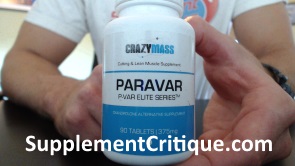 Paravar is a cutting and leaning agent that helps to burn fat while retaining lean muscle. It's designed to be used for your cutting cycles, and helps in a number of ways, including:
Enhanced vascularity for muscle nourishment
Burns subcutaneous and visceral (between the organs) fat
Retains solid, lean muscle
Works for both men and women
Improves muscle hardness for increased definition
Paravar is designed to be taken twice a day, with 1 tablet at breakfast and one at dinner, even on your off days. On your workout days, you should take 1 tablet about 45 minutes prior to your workout for the best results. You should also cycle it on a 8 weeks on 1.5 weeks off basis for the best results.
The ingredients in Paravar are as follows: Whey and Soy Protein concentrate, Branch Chain Amino Acid (BCAA) blend, Wild yam, Nerde, ATP.
What is Testoroxn?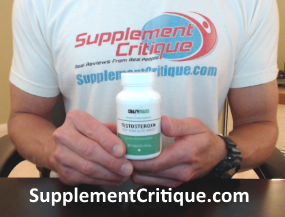 Testoroxyn is an all natural testosterone booster that works to encourage your bodies own natural production of testosterone. It does this through the use of a mix of high quality ingredients, including Tribulus Terrestris. There are numerous benefits of Testoroxyn, including:
Helps to promote serious muscle gains
Increases nitrogen retention and blood flow
Increased sexual performance
Enhancer Strength and endurance
Increased recovery times
Testoroxyn is designed to be taken 3 times a day, with one tablet at each major meal (breakfast, lunch, dinner). On your workout days you should take it 45 minutes prior to your workout, and best results are often seen after 2 months.
What is Winnidrol?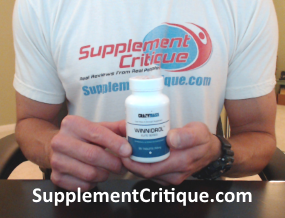 Winnidrol works to improve speed, agility, and endurance by burning fat and increasing your metabolism. It also works as an effective cutting agent by reducing water retention and allowing your definition to be enhanced greatly. Some of the other benefits include:
Increased strength without weight gain
Preservation of lean muscle tissue
Enhanced muscle density
Enhanced vascularity
Winnidrol is designed to be used during your cutting stage, and is taken twice a day with meals. It's also designed to be cycled on a 2 months on, 2 weeks off basis, and you should use it for at least 2 months for best results.
The ingredients in Winnidrol are as follows: Dimethyaminoethanol, Choline Bitrate, Wild Yam, Linoleic Acid (CLA), Oleic Acid, and L-Carnitine.
What is Clentrimix?
Designed as a natural alternative to the substance Clenbuterol, Clentrimix is an effective supplement to be used both during bulking and cutting cycles. This ephedrine free fat burner combines a healthy dose of all natural ingredients to help safely and effectively burn fat while retaining muscle. Other benefits include:
Increased stamina and endurance
Reduced Hunger and Appetite
Increase muscle composition and size
Increase muscle to fat ratio
Clentrimix is designed to be taken 3 times a day with meals, for a period of no less than 2 months. The ingredients are as follows: Niacin, Niacinimide, Guarana Extract, Yohimbe, Citrus Aurantium, and Garcinia Gum.
Why Did We Pick This Stack For Getting Ripped?
Based on our test results, the Crazy Mass cutting stack outperformed every other stack on the market. The results men and women have been getting with this stack clearly indicate that it is very effective at helping to boost lean muscle mass, as well as reducing fat deposits.
Furthermore, unlike a lot of other stacks we have come across, the Crazy Mass cutting stack was specifically designed to help increase endurance and recovery times so you can get back in the gym faster.
This is a big deal to those of us that need to hit the gym several times a week to keep up the gains, especially if recovery is usually a tricky part of the process for you.
Check out some of the results guys have been getting below: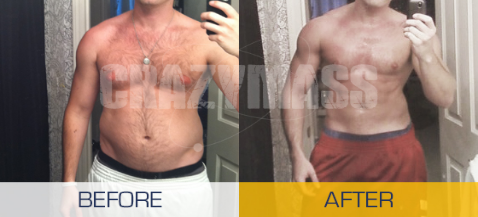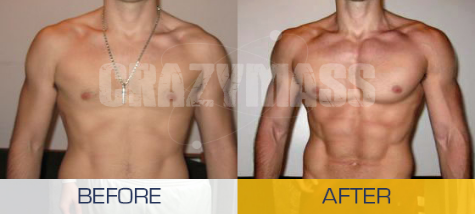 You can see TONS of testimonials and before and after photos from guys who have used the REAL Crazy Mass Supplement line here.

My Results With Crazy Mass
At first I was a bit skeptical when I came across this stack. Their official site is very limited on product information, so much so that they don't even list the ingredients. That said, I decided to give it a whirl and order it. I got all 4 bottles in the mail a few short days later, and started taking it about a week later.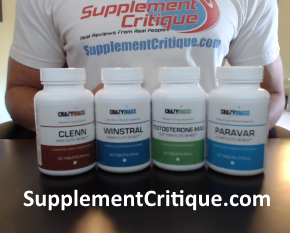 The way I decided to take it was like this…1 tablet of Clentrimix about 45 min prior to my workout (that's the pre workout formula), and 1 tablet of Paravar and Winnidrol each post workout. The Testoroxyn I took as directed, which called for 1 tablet 3 times a day with meals, even on non workout days.
I started noticing the effects almost immediately…I had a huge surge of energy for the gym, and I think the Paravar worked very well for giving me that "vascular" look. I felt more focused and concentrated during my workouts, and was not dead tired afterwards (even though sometimes this is a good thing). I also felt an incredible surge in my libido and sex drive, something that I never really had an issue with in the past, but never hurts to have a little more.
I completed the cycle after 1 month and was looking great. I could start to see my abs popping back out again, and I felt like it trimmed off alot of the stubborn fat I've built up over the years. I personally did not get any side effects, but do note that it does contain yohimbe (8% standardized), so guys with high blood pressure or irregular heart problems should consult a physician prior to using it.
Click Here to visit the official Crazy Mass Cutting Stack website.

Where Can I Buy The Crazy Mass Cutting Stack?
This cutting stack is only available on their official website, www.CrazyMass.com.
In years past, the price comes in at $219.00, and each quantity you order will last one month.
With that said, Crazy Mass has reduced the price of the cutting stack to $184.99.
It still comes with all 4 supplements, and all of the same quality ingredients.
I recommend starting off with at least 2 months' worth of this stack to get the best results, and shipping is 100% free no matter how much you order.
It is one of those that sticking with it is the best way to get the desirable results that made you want to take it in the first place.
Typical delivery is about 3 days, and is discreet.
Questions We've Received Regarding Crazy Mass
Q.I'm currently using Nitrocut and Muscle advance creatine i enjoy the incredible output of this combo.Strength, endurance, and muscularity and I thank you for all of this to you.

I'm only 140lbs and my goal is 160lbs by summer and I already finish my first bottle of Nitrocut and MA creatine.
I have a question though, you e-mail me the site for "Crazy Mass" and I found out about thier D-bal and tren-bal combo for bulking up I wanted to know what do you think about this combo and how do I used this with the nitro and creatine. Willie (email received March 26, 2014)
A.Glad you're getting great results! For the D-bal and Trenbalone combo, it is definitely a great combo. I would suggest you take it once your done with your supply of Nitrocut and creatine, it's designed to work to enhance strength and vascularity on a much more potent scale.
Can Women Take The Crazy Mass Cutting Stack?
As far as I'm aware, there should be no issue with women taking this supplement. As always, though, if you are pregnant or nursing I would advise against it. You should also check with your doctor to be sure it's safe for you to take it as well.
How Do I Take It?
I get alot of questions on how to take the Crazy Mass Cutting Stack so I figured I would post the dosing schedule real quick. I would suggest the first time you take the cutting stack you follow the directions on the label, rather then following the protocol and dosing schedule i did. Here's a quick breakdown on how to take each:
Paravar – For the Paravar, you'll want to take 1 tablet 2 times a day with meals, even on days you're not working out. On your workout days, you should take at least one tablet 30 – 45 minutes prior to your workout for the best results.
Testoroxyn – For the Testoroxyn, you should be taking 1 tablet 2 – 3 times a day with meals, even on your non workout days. On your workout days, take at least 1 pill 30 – 45 min. prior to your workout to get the best results.
Clentrimix – Take one tablet 3 times a day with meals. There is no off period for Clentrimix, and you should take it on both your workout days and non-workout days.
Winstral (Winnidrol) – Just like the Paravar, you should take 1 tablet of Winnidrol 2 times a day with meals, even on days you don't workout. On your workout days be sure to take it 30 – 45 min. prior to your workout.
Recommendation
We always recommend stacking supplements to get the best results. Sometimes it can be hard to identify which products you should be stacking based on your goals, but Crazy Mass does a great job by taking the guesswork out of things. I highly recommend you try it for yourself and I can guarantee you'll start seeing results in no time.
Visit The Official Crazy Mass website (www.CrazyMass.com/Cutting-Stack/) to learn more.
Top 3 Pre WorkoutAffiliate Disclosure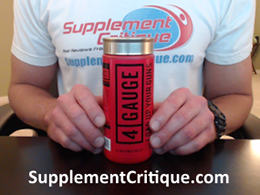 4 Gauge is a brand new pre workout that kicks in FAST and will rev up your workouts.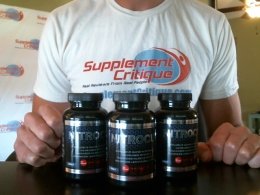 Nitrocut is a VERY effective pre workout supplement for a variety of reasons, see why here.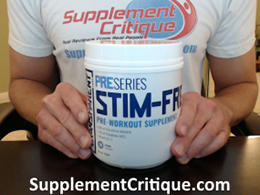 If you're looking for a stim-free pre workout, add Transparent stim-free to your list!
User Reviews

4.7 out of 5 Stars (9 Reviews)
Have you used this supplement?
Mike's Review
At 43 and 6'2", I have over the years made a smooth transition to 240 Ibs from my long time optimum weight of around 200 Ibs. A generally healthy diet (no sodas, moderate alcohol, etc) was not enough to defy weight gain caused mainly by not work outing consistently often blaming family commitments, office pressures and other quite legitimate excuses.When fatty layers started becoming visible especially around the midriff, I made a conscious decision to reverse the trend by getting back into the gym especially when other effects such as diminished sex drive and mental fatigue began to manifest in order for me to avoid transitioning to the realm of medical conditions of diabetes, high cholesterol, hypertension and similar complications.
It was always a struggle to marshal energy to work out and results of any gains were also not visible at all despite being always physically drained from the exercises at the end of it all. This led me to elicit the help of supplements and detailed research and consultation made me settle for the Crazy Mass Cutting Stack.
My second order of two stacks arrived promptly early December with a complimentary bottle of HGH Elite Series well ahead of the my yet to arrive first order of September 2015 (even the complimentary replacement of October has also not yet been received). My regular regimen commences with all 4 tablets at 04.00 AM before hitting the gym at 05.00 for an hour and half five times a week of mostly cardio but also weight training. Breakfast is often grilled fillet of chicken or fish, home-made healthy biscuit and fruit smoothie with black tea with lunch made up of controlled portions of varied choices of a balanced diet when I also take my second and final 4 tablets. I retire to bed at 10.00 PM after my 7.30 PM dinner of a generous portion of raw green vegetables with a grilled piece of lean protein or some kidney beans and only work up briefly at midnight to take 2 tablets of HGH Elite Series. I try to keep my diet exciting by taking controlled portions of varied low calorie "recommended" balanced diet. My beverage of choice is water with me taking a minimum of 3 litres per day and occasional indulgence not too much alcohol.

My results so far:

1. The HGH Elite Series which I started taking more than a week after starting the Cutting Stack virtually eliminates all the soreness caused by exercises.
2. By the second week of being on the stack, my body muscles especially arms, chest and shoulders were already looking quite lean but well defined. Fatty deposits on the sides of the abdomen and lower backhave almost disappeared even though my frontal midriff endowment seems cheeky and stubborn but not as prominent as before.
3. Despite a perfect metabolism and regular movement of bowels, I seem not make a dent on my weight save for a constant oscillation of approximately 2 Ibs higher or lower than my starting weight.
4. Not long after taking the stack, I get tremendous energy to push in incredible workouts or do other tasks but seem to get a huge crash about two hours later that I just feel like sleeping.
5. The efficacy of suppressing hunger is a failed one on me because unlike before, I seem to get unbearable pangs of hunger in between meals that I am forced to snack on a fruit.
6. I certainly have an increase in my libido that I regularly wake up with a morning wood and I am kept company at "head office" by a warm pleasant feeling for most of the day.
7. I seem to get knee joint pains especially when climbing stairs something that the HGH Elite Series seems to have failed to take care of among all other issues of soreness.
8. I sometimes get mild bouts of disorientation and breathlessness and the times that they have happened is closer to bed time.

Certainly a decent supplement that delivers!

Mike

Was this review helpful to you?
28 out of 31 people found this review helpful.
---
Working good so far



I'm just about finishing up my 3rd week on this and it's working really good. Pants feel looser, arms and chest looks bigger, and I have a ton more energy. The only downside is the price, but worth it so far in my opinion.

Thinking about taking a 1 week break and then ordering another stack. Do they offer discounts for bulk orders?

Will keep you abreast on my progress, thx!

-M


Was this review helpful to you?
17 out of 18 people found this review helpful.

Rob Miller: Glad to hear! I honestly don't know if they offer discounts for larger orders.

I just checked their site and when I added more quantities the price was still the same. I honestly don't think you'll need any more than a 2 - 3 month order anyway, that's right around the time you'll see the best results.


Rob
SupplementCritique.com
---
This stuff is great! lol Just finished up my first month and I can really see a difference. Slimmed down to a size 33 from 36, lost about 15 lbs. and I can really see the difference. I'm gonna take a week or two off before I start my next cycle, thanks for recommending this!

Was this review helpful to you?
14 out of 16 people found this review helpful.
---
Liking It!
I been on this for 2 weeks now and I'm already seeing a difference. Lost like 10 lbs. and I have a ton of energy for the gym after work.

Can really see my definition now, can't wait to see what the next 2 weeks bring!

Was this review helpful to you?
9 out of 9 people found this review helpful.
---
Wish I would have heard about this stuff sooner! Been taking the cutting stack for 12 days or so and my strength has gone up big time.

Was maxing out on the bench at around 225, 3 reps and I'm up to about 250, 3 reps at this point. Been stuck at the 225 point for a LONG time now, so I can see this helping me make a huge gains.

No big effect on fat loss, but I have dropped a couple of lbs.

Was this review helpful to you?
10 out of 16 people found this review helpful.
---
Click Here To Visit The Cutting Stack Site

www.CrazyMass.com
Ask A Question
User Questions and Answers
---

Do I need to take anything after cycling off this crazy mass cutting stack like estrogen blockers etc? Thanks. -Jeremy

No. The stack is all natural and doesn't interfere with your body's natural hormone production processes.- Rob
Was this question helpful to you?
14 out of 16 people found this question helpful.
ASK A NEW QUESTION
---

Hello Rob, I just got my crazy mass cutting stack! I decided to take 2 pills of test max daily instead of 3 since it contained high dosage of DHEA? Do you recommend an estrogen blocker/and supplement for the kidneys? I also decided to take 2 pills out of everything instead of 3. Do you think this would work out with good results or the formula only works as directed? -Bader

2 pills a day of each should be just fine. It's definitely a good place to start and assess your tolerance. It could be all you need, but if you find you need more, just add back in the last dose.  I wouldn't worry about estrogen or kidneys, the dhea dose isn't that high, and any testosterone increases won't be enough to require interventions.- Rob
Was this question helpful to you?
9 out of 9 people found this question helpful.
ASK A NEW QUESTION
---

hello i was worried about the side effects if i took just one cycle of the cutting stack then stopped. -casey

Because the Crazy Mass Stacks are natural and not steroids, you don't have to worry about side effects or PCT when coming off your cycle.- Rob
Was this question helpful to you?
9 out of 9 people found this question helpful.
ASK A NEW QUESTION
---

Hi Rob, I have received my cutting stack. I was wondering if you tell me the best way to take these 4 supplements. I've read several different reviews and everybody seems to have a different one. Should you take all 4 pills twice a day or 3 times a day . Should you take 2 supplements for the first 4 weeks and the other 2 supplements for the other 4 weeks? -Omari

Take all 4 each day. The recommendation is 2 or 3 times each per day. Start out with 2 doses of each per day, one in the morning and one at lunch or before working out. If you feel like you need more, up it to 3 of each per day. With supplements, you really can experiment (within reason) to see what works for you.- Rob
Was this question helpful to you?
9 out of 9 people found this question helpful.
ASK A NEW QUESTION
---

My question is when and how to take the cutting stack, thank you. -Fahad

Take one of each pill 3 times a day with meals.  Use it for either a 4 or 8 week cycle before taking a break.- Rob
Was this question helpful to you?
9 out of 10 people found this question helpful.
ASK A NEW QUESTION