Athlean-RX Reconstruxion Review – Should You Use It?
By:
Rob Miller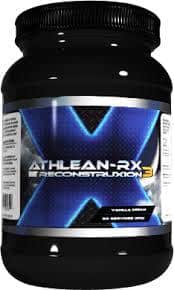 ---
Athlean-RX Reconstruxion Overview
Athlean-RX Reconstruxion keeps the muscle building process going all night long with slow release protein and other recovery ingredients.

Lots of guys neglect the recovery process.

They don't get enough rest, they don't have enough off days.

They eat foods that don't feed muscles. You name it.

Then there are some guys who diligently drink protein after their workouts, thinking they're doing all they can to make sure recovery is quick and complete.

But the simple truth according to Jeff Cavaliere of Athlean-RX is that you need much much more if you're going to get what you want out of your workouts.
Athlean-RX Reconstruxion is an overnight recovery product that you use before bed to keep the muscle building going at full tilt all night long.

When your muscles get a steady stream of what they need, you get better, faster, more complete muscle building than you do when your muscles just plain don't get what they need.
Athlean-RX Reconstruxion Ingredients
The ingredient profile in Athlean-RX Reconstruxion consists of:
L-Leucine which is a highly anabolic amino acid which activates protein synthesis.

Your body doesn't produce it naturally, so the only way to get is is through food intake or supplementation.
Medium Chain Triglycerides which are quick assimilating fats, readily used by the body as energy.

This kickstarts and maintains the muscle repair and building process while you're sleeping.
Pure High Grade Whey Isolate which gets the process going immediately.
Slow Release Casein Protein which keeps the muscle building process going for hours.

It gives your body that slow release of muscle building components that keeps your body's energy stores sustained and available all night.
Athlean-RX Reconstruxion comes in Vanilla Dream flavor and mixes well with milk or water for a light pre-bed meal that's specifically directed at rebuilding and repairing your muscles while you sleep.
Athlean-RX Reconstruxion Pros and Cons
Advantages of Athlean-RX Reconstruxion
It takes post muscle recovery to a new level by being a product to bed time.
It uses a combination of fast acting and slow acting ingredients so the recovery can last all night.
Disadvantages of Athlean-RX Reconstruxion
There isn't much more here than in most other quality post workouts.
I did not see a money back guarantee.
Where to Buy
You can purchase Athlean-RX Reconstruxion through the official website.

The 30 serving tub costs $49.99.
Conclusion
Focusing on post workout recovery is an important part of getting big and ripped.But I'm not convinced you need two post workout products, one for right after working out and one for before you go to bed.

If you choose a quality product, you can take that same one before bed if you want that extra help while you sleep.

It doesn't necessarily have to be Athlean-RX Reconstruxion.
Use your own discretion and of course, more than anything, listen to your own body and see what it has to say about what is going to give you the best post workout recovery results.
Have You Used Athlean-RX Reconstruxion? Leave Your Review Below!
User Reviews

5.0 out of 5 Stars (1 Reviews)
Have you used this supplement?
ReconstruXicon works as advertised
By
Ken

,
Mar 15, 2023


In Short:

I would recommend this to a friend.
I'm 85yo. I'm on my 8th day removing 3' of snow and 5" of ice from a 250X20' drive way. with no other help for 3.5 hrs per day for 8days now. I use ReconstruXicon at night. Next day I'm fully recovered to face this truly ugly shore. Thank you Jeff.

Was this review helpful to you?
1 out of 1 people found this review helpful.
---
Ask A Question
User Questions and Answers
No Questions Have Been Answered For This Article.