Contents
What is 4 Gauge Pre Workout
4 Gauge Side Effects
What Do The Reviews Have To Say
My Personal Results
Where to Buy
Frequently Asked Questions
Recommendation
Note: This is just review. Click Here to visit the official 4 Gauge Pre Workout site.
There's no denying it, dragging you're butt to the gym can be tough sometimes. Whether you've just had a long day at the office, or you're just feeling lazy, sometimes you just don't feel like working out.
What's even worse is sometimes you get to the gym, and while you may have felt motivated on the drive there, that motivation sometimes disappears 1/3 of the way into your workout.
To combat this, many seasoned gym guys take a pre workout supplement.
Over the years, I've personally tested DOZENS of pre workout supplements.
One recent supplement that popped up on the market is called 4 Gauge, which is the focus of this review.
Watch My Video Review Or Scroll Down To Read More
What is 4 Gauge Pre Workout?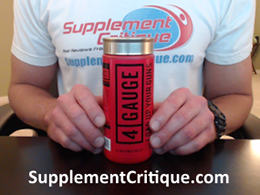 4 Gauge is a pre workout supplement that is designed to help you power through your workouts more effectively than ever before.
You can use 4 Gauge as both a fat burner / weight loss supplement, as well as a potent pre workout supplement.
Some of the benefits include:
Enhanced focus and concentration for your workouts.
No crash
Increased stamina and endurance
Bigger pumps
They actually have one of the coolest websites and packaging I've ever seen in a supplement. When you go to their homepage, once you start clicking around bullet holes start appearing.
The bottle, as you can imagine, is in the shape of a 4 gauge shell.
The 4 Gauge ingredients list includes the following: Caffeine, L-Theanine, Creatine Monohydrate, L-Citrulline, Red Beet Extract, Rhodiola Rosea, Acetyl L-Carnitine, Coconut Water powder, as well as some other vital minerals and nutrients like calcium and potassium.
Here's a quick snapshot of the 4 Gauge label: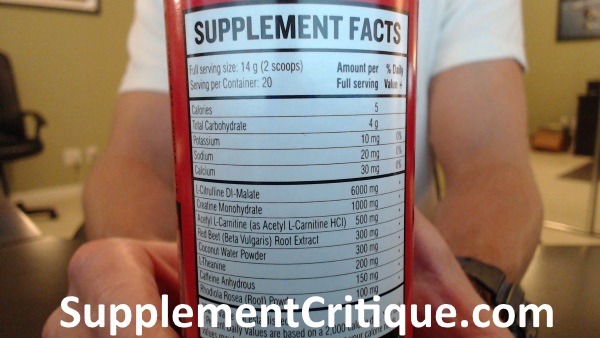 The combination of caffeine and L-Theanine is VERY common, and is a stack I've used in the past many times. In fact, I actually recommend it as a potent alternative to medications like Adderall for it's cognitive enhancing benefits.
4 Gauge Ingredient #1: Caffeine
Probably the most common ingredient found in pre workout supplements, caffeine is the most consumed psychoactive drug in the world. Practically everyone you know consumes caffeine in one way or another, and 4 Gauge packs 150 mg of it into their formula.
This may sound like a lot, but in reality it's really about the same amount you'd find in a standard cup of coffee.
This nice thing about 4 Gauge is that because it comes in powder form, you can control exactly how much caffeine you're putting into your body.
You can take 1 scoop and you'll only be taking 75 mg of caffeine, or you can take 2 full scoops to get the most effects.
4 Gauge Ingredient #2: L-Theanine
L-Theanine, also known as Suntheanine, is an amino acid that reportedly can help relieve stress and induce feelings of relaxation. Unlike other stress-relieving herbs, L-Theanine does NOT produce drowsiness or fatigue, something that is critical when introducing it into a pre workout supplement such as this.
A typical effective dose for L-Theanine is about 200 mg, which is exactly the amount contained in 4 Gauge.
In a recent study, researchers concluded that L-theanine consumption has a significant effect on the general state of mental alertness and arousal. (Source: 1
)
4 Gauge Ingredient #3: L-Citrulline
L-Citrulline is also a very common ingredient found in pre workout supplements like 4 Gauge. It's been proven in numerous studies to help improve circulatory health, as well as alleviate erectile dysfunction symptoms. (Source: 2
)
L-Citrulline is known as a "non essential amino acid", and when it is processed through the kidneys, it actually converts L-Citrulline to another amino acid called L-Arginine.
L-Arginine is a vasodilator, which means that it helps to improve blood circulation by expanding the cell walls of blood arteries and vessels. This increased blood flow results in that vascular look you get when you finishing working out, and can also help dramatically with libido issues.
4 Gauge contains 6,000 mg of L-Citrulline, which is double the recommended daily dose of 3,000 mg.
4 Gauge Ingredient #4: Creatine Monohydrate
If you've been lifting weights for any length of time, than you no doubt have read about the effectiveness of creatine. Creatine is typically used for bulking up and gaining mass, but in recent years it's been a popular ingredient in a wide array of pre workout supplements.
There's a myth that if you're looking to get ripped, you shouldn't be taking creatine.
Nothing could be further from the truth…
By it's very nature, taking creatine before your workouts actually ENHANCES your calorie burning because you'll be pushing yourself harder in the gym.
I talk about this pretty extensively in my complete guide on creatine here.
In addition, studies have shown that creatine consumption can help increase lean muscle mass, as well as improve athletic performance. (Source: 3
)
4 Gauge contains 1000 mg of creatine, which is an optimal dose for a pre workout supplement.
4 Gauge Ingredient #5: Acetyl L-Carnitine
Acetyl L-Carnitine, or just Carnitine, is also an amino acid that helps the body produce energy. It's actually a very common ingredient in testosterone boosters because of it's ability to help men with infertility and "male menopause" symptoms. (Source: 4
)
Studies for L-Carnitine have shown to help metabolize food into energy in some people.
4 Gauge contains 500 mg of L-Carnitine, which is on the low end of the spectrum when it comes to an average dose. However, for the purposes of being a pre workout, this is actually a standard dose.
4 Gauge Ingredient #6: Coconut Water Powder
The addition of this ingredient actually left me scratching my head for a bit.
Don't get me wrong…
I've heard of (and have drank numerous times) Coconut Water. It's actually very effective at helping you get and stay hydrated during bouts of intense exercise, especially High Intensity Interval training sessions.
In fact, I've used it plenty of times during some of the competitive beach volleyball tournaments I've played down here on a hot South Florida summer day, so I know it works.
However, I've never seen Coconut water "powder" being injected into literally ANY supplement in the past, and to be honest had no idea what it's purported benefits were.
According to my research, Coconut Water powder is basically the extract of coconut water.
Essentially, it's just powdered coconut water.
While there haven't been a ton of clinical studies conducted on coconut water, there are numerous anecdotal stories of it's effectiveness at helping endurance athletes stay hydrated in even the most extreme of conditions. (Sources: 5, 6
)
4 Gauge contains 300 mg of coconut powder, which translates to about a 12 oz. glass of regular coconut water.
4 Gauge Ingredient #7: Rhodiola Rosea
Rhodiola Rosea is an herbal extract that is used to help increase energy, focus, stamina, and strength. It's another ingredient commonly found in pre workout and testosterone boosters, and I can attest to it's effectiveness.
Studies for Rhodiola Rosea are pretty scarce, but some anecdotal reports have shown that it can help burn fat and lessen symptoms of depression. (Source: 7
)
4 Gauge Ingredient #8: Red Beet Root Extract
Red Beet root extract, as the name implies, is literally extracted from red beets. It's said to improve physical performance in healthy athletes, and has been shown in limited studies to improve running performance in certain individuals. (Source: 8
)
4 Gauge contains 300 mg of red beet root extract, which is an optimal dose for a pre workout supplement.
4 Gauge Side Effects
As with any supplement, side effects are always possible, and this is certainly the case with this supplement. The most obvious one would be the jitters, anxiety, increased blood pressure, and crash that caffeine causes.
4 Gauge contains 150 mg of caffeine, which is about the same as a premium cup of coffee.
However, the side effects from the caffeine would be offset by the L-Theanine. Generally speaking, a ratio of 2:3 on caffeine and theanine is appropriate, and that is the case with this supplement.
None of the ingredients are on the World Anti Doping list, so it won't cause you to flag a false positive on a drug test.
What Do The Reviews Have To Say?
4 Gauge literally has come out like a week ago, so apart from some reviews listed on their official website, there's absolutely no testimonials on third party websites at this time.
I'll keep an eye out and post any that pop up in the future.
My Personal Results
If you've read any of my reviews in the past, you know that I like to start off with the lowest possible dose to assess my tolerance.
On my first try, instead of jumping straight in to taking a full scoop of 4 Gauge, I took only about a half a scoop on a completely empty stomach first thing in the morning.
It was actually really good. I felt a good burst of energy, but didn't have any sort of crash or comedown that I typically get with a lot of other pre workouts like VPX White Heat and Cellucor C4.
The second day I decided to take a full scoop and it hit me REALLY fast, probably in like 5 – 10 min.
On the third day I went with their suggestion and took 2 full level scoops and WOW, it hit me hard!
I hit the gym (leg day) and was pushing out reps like it was my job.
By the end of my workout I was pretty wiped out, but I didn't get that overly shitty feeling that you can get with some of the pre workouts that contain a ton of stims.
Where To Buy
As of this review, 4 Gauge pre workout is only available on their official site, www.4gauge.com. The price for 1 round is $45, which contains 20 servings.
Discounts are offered for larger quantities, with the best deal being a 3 bottle order which will run you $112.50.
You won't find 4 Gauge for sale in stores like Amazon, GNC, Vitamin Shoppe, Walmart, Walgreens, or CVS, so don't bother looking. (Click Here to read our article on the best pre workout supplements at GNC)
There is also no free trial available, so you don't have to worry about getting sucked into an auto rebill nightmare. As far as I'm aware, they do ship worldwide to countries including the UK, Canada, Australia, New Zealand, and Germany.
Frequently Asked Questions
How To Take It
According to the label, you should take 1 serving 20 – 30 minutes prior to your workout to get the best results. Unlike many of the other pre workout supplements we've reviewed, 4 Gauge is not a pill.
It comes in powder form, so you simply mix it in cold water and gulp it down. The recommended dose is 2 level scoops mixed in 300 – 350 ml of water.
It's not recommended to exceed this dose, and side effects may result.
I've heard of some guys taking it right before they head into the gym to maximize it's effectiveness. As for the taste, the only flavor that's available at this time is fruit blast.
I haven't personally tried it yet so I can't comment on that.
Is it safe?
Generally speaking, yes. Since the ingredients are all nature, and in relatively modest quantities, the risk of any adverse effects should be low.
Can I take it if I have high blood pressure or diabetes?
As with any supplement, this question is best answered by your doctor.If you suffer from high blood pressure, this might not be the right supplement for you because of the caffeine content (check out a supplement called Nitrocut instead).
Some of the ingredients in 4 gauge may interact with certain medications, so it's best to get the all clear from him or her.
What should I stack it with?
To get the best results, I recommend stacking 4 Gauge pre workout with a fat burner called Instant Knockout, as well as a testosterone booster called Testofuel.
The combination of all 3 of these supplements will not only help you shred excess fat quickly, but will also improve strength, endurance, and libido.
Do I need to cycle it?
Generally speaking, it's a good idea. The problem with most pre workouts, including 4 Gauge, is that over time your body starts to develop a tolerance.
This means that you'll need to take more and more of it to get the same effects.
What if it doesn't work for me? Can I get a refund?
Unfortunately at this time it doesn't look like they have a money back guarantee. If you purchase more than one bottle, however, and find that it doesn't work for you, you can send back the unused portion for a full refund.
Of course you'll be responsible for the return shipping, but to be honest I don't even think you'll want to send it back, it's that good.
Recommendation
I've personally tested a wide variety of pre workout supplements, and I have to say 4 Gauge looks like a winner.
One of the biggest benefits of this pre workout supplement is that it doesn't contain any harsh stimulants like yohimbe, DMAA, or ephedrine.
Sure, those ingredients will get you SERIOUSLY pumped up for your workout, but they will often leave you feeling like TOTAL garbage once the effects wear off.
4 Gauge doesn't do this.
It comes on smooth, gives a serious boost of mental and physical energy, but doesn't leave you with any hard crash feeling.
Have You Used 4 Gauge? Leave Your Review Below!
Sources
Top 3 Pre WorkoutAffiliate Disclosure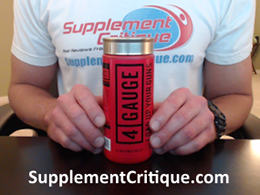 4 Gauge is a brand new pre workout that kicks in FAST and will rev up your workouts.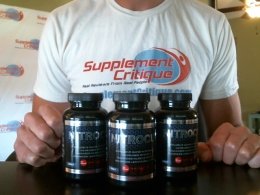 Nitrocut is a VERY effective pre workout supplement for a variety of reasons, see why here.
How People Found This Review:
and 4 gauge pre workout, and 4 gauge pre workout review
User Reviews

2.0 out of 5 Stars (4 Reviews)
Have you used this supplement?
Outstanding
I have used many different preworkout products over the last several years without any luck finding something I like. Crashes, jitters and heart palpitations were the norm.

I do not remember how I came upon 4 Gauge, but I am glad I did. I have been using it now for six months, and do not intend to change a thing.
As their site state, the pumps and focus are there.

There is also absolutely no jitters or crash. The taste is bitter but easy to get used to.

As a pre-workout, I would not hesitate to recommend 4 Gauge.

Was this review helpful to you?
1 out of 1 people found this review helpful.
---
Laila's Review
From my experience, it's a bad pre-workout. I've tried many brands, and use pre-workout every morning.

I wouldn't buy it again.

I tried to return it, however, I discovered that you're not allowed to return it after you've opened the bottle.

How is someone suppose to know if they like it or not without trying it?

I wouldn't recommend it at all.

Was this review helpful to you?
1 out of 1 people found this review helpful.
---
Kelly's Review
4 gauge did nothing for me. I wont buy it again.

The taste was very bitter.

Was this review helpful to you?
1 out of 2 people found this review helpful.
---
good stuff, works well
By
Richie Frank

,
Jun 3, 2017
52 years old, 170 lbs. 7 years back into a Power lifting/Body building split. Using 4 Gauge for the past four weeks. I have tried numerous pre workout mixes, of them, 4 Gauge is the only one that I will be using from here on out.

The focus is on, the pump is on, the drive is on and there is absolutely no crash and no palpitations from excessive doses of stimulants.
The taste is rather bitter but palatable and it mixes easily.
Ordering online was easy and arrived promptly.
If you are looking for a solid pre workout without an excessive caffeine and stimulant rush that works, ... Give 4 Gauge a try, it wont disappoint you.

RJF

Was this review helpful to you?
0 out of 1 people found this review helpful.
---
Click Here To Visit The Official 4 Gauge Website

www.4Gauge.com
Ask A Question
User Questions and Answers
---

Is it safe and/or as effective for women? -Webb

Yeah, absolutely. There's no reason why women shouldn't have great success with this.- Rob
Was this question helpful to you?
2 out of 2 people found this question helpful.
ASK A NEW QUESTION
---

Which are the ingredients in Oyedrene -Stella

The ingredients listed on the Oxydrene are Thiamin, Riboflavin, Niacin, Vitamine B6,  Pantothenic Acid, Rhodiola Rosea, Cordyceps Sinensis, Coenzyme Q10, Schisandra Chinensis, Eleuthero Root, L-Arginine Alpha-Ketoglutarate, and Gingko Biloba.- Rob
Was this question helpful to you?

ASK A NEW QUESTION
---

Does the energy enhancer and oxygen transporter to the body, Astheplex contain an ingredient that csuses lack of sleep. I live in Spain now and I'm not able to get Oxydrene here. Instead they sold me this product and yesterday I took it for the first time and could not sleep -Stella

I don't see anything in the ingredients list that looks like it would cause difficulty sleeping. Try again, and if it continues, you may want to adjust your dose or the timing - taking it earlier in the day.- Rob
Was this question helpful to you?

ASK A NEW QUESTION
---

Can women take 4 gage? -Melissa

Yeah, absolutely. There's nothing in it that women shouldn't take.- Rob
Was this question helpful to you?
1 out of 2 people found this question helpful.
ASK A NEW QUESTION
---

Hi Rob, how are you, Quick question have you got more information on 4 Gauge, and how good is it. -Terrence

It's coming out soon, so I'll have more information then.- Rob
Was this question helpful to you?

ASK A NEW QUESTION