VPX Redline White Heat Review – Does It Work?
By:
Rob Miller
VPX Redline White Heat Overview
Let's face it.

Sometimes, it's just hard to drag yourself to the gym.

And if you're just not into it, even when you do finally get your ass there, how much benefit do you think you're getting when you practically sleepwalk your way through the routine.

If you want serious results, you need motivation, you need energy, and you need focus.

Anything less, and you're just wasting your time.

That's why finding the right pre workout supplement is so important.
One product that caught my eye not long ago is VPX Redline White Heat.

They call it "The Ultimate Pre-Wrokout Amplifier" and from what I can tell, the name may just fit.

It claims to provide intense energy combined with laser sharp focus so you're dealing with the exact right combination for taking your workout to the next level.

So okay, what's exactly in this stuff?
Click Here to jump to my personal review.
VPX Redline White Heat Ingredients and How They Work
The thing to know about VPX Redline White Heat is that it's pretty much all stimulants, including Caffeine, N-Methyl Tyramine, and 3 different kinds of Yohimbe.The caffeine comes in at a whopping 400 mg a scoop, while the rest of the amounts are proprietary. There's really nothing for pumps.

They recommend you stack VPX Redline White Heat with a non-stimulant pre workout containing some NO boosters and/or creatine if you're looking for more than just the energy and motivation.

But according to a whole lot of their customers, nobody does energy like VPX Redline White Heat.
The standard dose is 1 scoop with 8-10 ounces of water, but it's highly recommended that you start with half a scoop to assess your tolerance before jumping right in with both feet. Click Here for an image of the label. VPX Redline also makes a number of other supplements, including Meltdown, NO Synthesize, and Clenbutrx.
VPX Redline White Heat Reviews
This stuff is getting some really positive feedback.

The consensus is that as long as you can handle your stimulants, you'll love VPX Redline White Heat:
"I got this in fruit punch and… just wow.I'm someone who drinks coffee all day, and in general pretty used to stimulants… I was on fire at the gym"
"This stuff is extremely powerful.

More than anything I've tried."
"I feel like the Incredible Hulk and feel like I could flip cars over.

I get so focuses I add set after set to my workouts and never want to leave my gym."
VPX Redline White Heat Pros and Cons
Advantages of VPX Redline White Heat
It gets great reviews.
It's pretty affordable.
It comes in lots of flavors and by all accounts, the taste isn't bad.
Disadvantages of VPX Redline White Heat
It gets you super amped which may not be for everyone.
My Results With White Heat
I've always been super cautious when taking anything with yohimbe in it, mainly because of the side effects (I'll get to that later). I got a 5.78 ounce tub of strawberry VPX Redline White Heat off of Bodybuilding.com for about $33. I figured I would take it about 30 – 45 min. before a High Intentsity Interval Training (HIIT) workout I had planned later in the day. Since I'm pretty sensitive to stimulants, and this contains like 2 – 3 VERY strong cups of coffee worth of caffeine in one scoop, I decided to just try a half scoop mixed in water.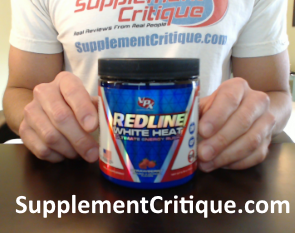 To start, the taste was actually pretty good. You could tell it was a synthetic type taste, but that's typical with most pre workout powders. There was no bitter or nasty aftertaste, that's for sure. It took just a few minutes before it started to kick in, but I could immediately tell it was going to amp me up. About 20 minutes in, I grabbed my weight vest, box (for box jumps), and headed to a nearby basketball court where I do my HIIT routine.
When I got there I did my usual 5 min jog / stretch session and all of a sudden it was like, BOOM! The energy just kicked in, BIG TIME. Normally I'll do a 20 – 30 minute routine that consists of burpees, box jumps, sprints, lunges, etc., but I pushed through to a full 35 min., or basically till I was pretty much completely wiped. I did my cool down session and then I noticed something….GOOSEBUMPS…
Weird, right? Well, living in south Florida, this was a "colder then average" day with a high temperature of around 60, so I kind of attributed it to that. I got home, had my usual handful of lightly salted almonds and post workout protein shake, then took a shower. Even with the water on very hot, I STILL had goosebumps. They finally went away around the "scalding" temperature setting 🙂
When I got out I dried off and decided to lay down for like 20 min and watch some TV. That's when it really started to hit me…I started getting the goosebumps again, felt really cold, AND was starting to feel a bit nauseous. I got under the blanket to warm up and 5 minutes later I was FREAKING sweating. Took the blanket off, got the chills and goosebumps again…I was beginning to think I was coming down with something, but thought back to the day when I took Zyrexin (which also contains yohimbe).
I tried napping for like 20 min. but all I did was toss and turn every couple of minutes. I was awake, alert, and felt like I had the flu…weirdest feeling ever. This lasted for another few hours and then it finally started to wear off. I had a hard time staying asleep that night, and must have woken up 3 or 4 times throughout the night. The effects even seemed to linger into the next day.
I didn't get that sick feeling, but I just felt like worn down or something. I can't even imagine what I would have felt like had I taken a full scoop.
Watch My Video Review (if you prefer…)
Where to Buy
VPX Redline White Heat is available online through a few different retailers.The 40 serving tub sells for $30-$35.
Conclusion
This is some STRONG shit, let me tell you. I drink coffee on a regular basis, but this stuff had me plowing through my workout with ease. However, the side effects are not worth it in my opinion. Some guys won't get the same side effects i did, and some will get it worse then I did, it just depends on the individual. I actually did a little digging and it looks like this stuff might be off the market sooner rather then later. Why, you ask?
Well, it looks like a study conducted in October of this year found that VPX Redline White Heat (amongst other supplements in the same category) contain a compound called 1,3-dimethylbutylamine (DMBA). In the latest research, DMBA was found to be structurally similar to DMAA and Ephedrine, both of which were recently banned from use in over the counter supplements. DMBA is sort of like amphetamine, but not exactly like it...It will give you the same relative feeling, but probably wouldn't cause you to pop a blood test.
Consumer reports did a write up on this, and even tried reaching out to VPX, who had no comment. Retailers like GNC, Vitamin Shoppe, and others have already pulled White Heat off their shelves, and if the FDA gets wind of this I would expect it to be pulled completely off the market pretty soon. So, if you like this stuff then I recommend you STOCK UP on it!
Have You Used VPX Redline White Heat?Leave Your Review Below!
Top 3 Pre WorkoutAffiliate Disclosure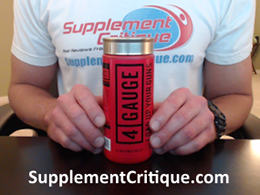 4 Gauge is a brand new pre workout that kicks in FAST and will rev up your workouts.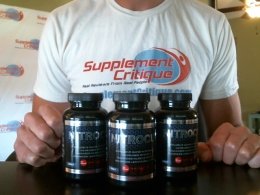 Nitrocut is a VERY effective pre workout supplement for a variety of reasons, see why here.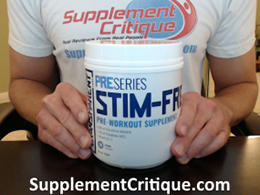 If you're looking for a stim-free pre workout, add Transparent stim-free to your list!
User Reviews

5.0 out of 5 Stars (1 Reviews)
Have you used this supplement?
Good Shit
By
Mike Williams

,
Dec 24, 2015
Some guys at the gym gave me a packet of this stuff. As soon as I took it (I usually snort my pre workout for a faster reaction) I felt awesome. I felt like I was flying. As soon as I started my lift, I went all out. It wasn't even by conscious choice, really. I just wanted to work my ass off. I went for a full half hour longer than I intended to, and felt awesome. I felt fine the next day. I definitely didn't have any of the weird side effects that the guy above did. I'd recommend it for anyone who can find it.

Was this review helpful to you?
1 out of 1 people found this review helpful.
---
Want To Really Get Ripped?

Click Here To Download My FREE
Ask A Question
User Questions and Answers
No Questions Have Been Answered For This Article.