VPX Meltdown Reviews
By:
Rob Miller
Fact Checked On: 5-9-2018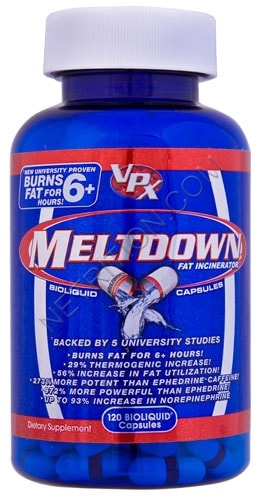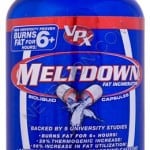 Have you ever wondered just why fat burning is so hard for people who are not genetically designed to keep from storing the stuff? Most people spend their lives unaware of the fact that our bodies are designed to actually keep up from burning fat. A protective feature that dates back thousands of years when food supplies were scarce and extra fat tissue was the deciding factor between death and making it to the next meal. Meltdown, a product from VPX, is a fat burner designed to create the perfect synergy between improving the body's fat burning capabilities and actually blocking the hormones that keep us from being able to burn off fat.
How It Works and Ingredients
The ability to increase fat burning is something that can prove incredibly helpful for those trying to build mass and to increase their overall physique. Likewise, the ability to naturally circumvent the body's innate design to keep you from being able to burn fat can help you achieve your goals with relatively greater ease as well. But it is these two things happening at the same time and at maximum efficiency that really creates the window of opportunity that you need, and VPX Meltdown offers you just that.
Meltdown greatly increases glycerol and norepinephrine and helps to provide a remarkable boost to fat burning and thermogenesis. The ingredient list is actually fairly simple, and one of the most important things that anyone reading the label will notice is a distinct lack of filler ingredients. This product is designed to help you burn off fat and it achieves this in a number of ways, and the 11-Hydroxy Yorhimbine found in this product actually helps increase fat burning by a remarkable 56%.
User Reviews
Of course looking good in research and on paper doesn't always equate results, so we decided to see what users of this product, which can be found at VPXSports.com had to say. There are plenty of great reviews of the product, and the word "amazing" is used in virtually every single one. Many customers say that it provides "the best results" and that it is incredible at suppressing the appetite and burning fat without unwanted mood effects.
A sample review from a real user:
"After using VPX meltdown for about 1 1/2 months, I had lost about 15 pounds of fat, all while maintaining the majority of my muscle. This wasn't the case when I used a number of similar products, many of which gave me bad side effects. If you are looking for something that works quickly and effectively, this is it."
Bobby, Tennessee
Recommendation
We definitely feel that the makers of Meltdown did their research into how the body tries to protect itself against fat loss and really worked to circumvent this. Most companies out there are putting in the latest fashionable ingredients in the hopes of making a quick sale, while the makers of Meltdown have focused on actual benefit and on helping people achieve the look of a genetically superior being without putting the body at risk. In short, we absolutely recommend this product.
Top 3 Fat BurnersAffiliate Disclosure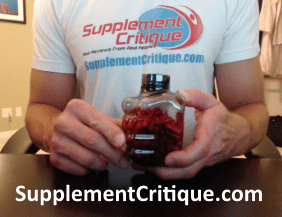 Instant Knockout is actually a new fat burning supplement I just came across, and got great results.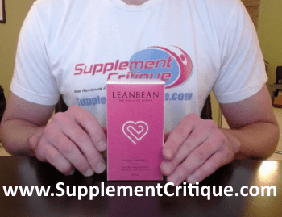 LeanBean Female Fat Burner is the BEST fat burner for women we\'ve ever tested.

Read our review here.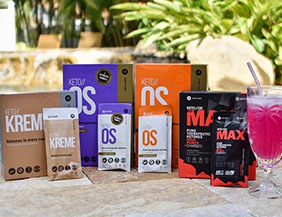 Biohacks your body into instant ketosis to burn fat instead of carbs.

Weight loss, energy, focus, anti-inflammatory, anti-aging.
Ask A Question
User Questions and Answers
No Questions Have Been Answered For This Article.