Six Star Pre Workout Ignition Review – Does It Work
Fact Checked On: 11-17-2014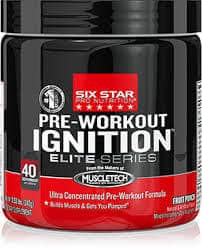 Six Star Pre Workout Ignition Overview
Six Star Pre Workout Ignition is one of those "kitchen sink" pre workout formulas.

By thatwemean that it promises just about "everything but the kitchen sink." Here's the list.

With Six Star Pre Workout Ignition, you'll:
Have through the roof energy for intense training
Experience greater cellular energy in your muscles.
Achieve explosive muscle pumps through superior vasodilation.
But according to several Six Star Pre Workout Ignitionreviews from customers, I'm not so sure if it delivers.

Let's take a look at the formula.
Six Star Pre Workout Ignition Ingredients and How They Work
Basically the entire formula is a proprietary blend they call the Pre-Workout Ignition Matrix.

They don't disclose amounts, but the components of the Six Star Pre Workout Ignition formula are:
Creatine which increases the cellular energy of muscles so you can push more weight harder and longer in your workouts.

This is how you get bigger results, faster.
L-Arginine which increases nitric oxide, which increases the flow of blood to your muscles during workouts.

This gives you more energy and means that more oxygen and nutrients are delivered to your muscles when they need it most.
Caffeine which provides energy and focus.
Beta Alanine which reduces the buildup of lactic acid in your muscles during workouts.

That means your muscles won't quit on you like they do when lactic acid build up causes them to stop pushing.
Schisandra Extract which increases focus.
The instructions ask that you test the waters carefully at first by taking just a 1-scoop serving to assess your tolerance.

After that, you can use up to 3 scoops mixed with 12 ounces of water.
Six Star Pre Workout Ignition Pros and Cons
Advantages of Six Star Pre Workout Ignition
It's inexpensive.
There are Six Star Pre Workout Ignition reviews from customers saying that it tastes good.
It's a pretty comprehensive formula.
Disadvantages of Six Star Pre Workout Ignition
The majority of Six Star Pre Workout Ignition reviews are not very favorable.

Most say that you have to use a lot just to feel anything.

Even the positive reviews are only positive in light of the cheap price.
Where to Buy
You can purchase Six Star Pre Workout Ignition online and in stores like CVS and Walgreens.

We've seen the 40 scoop tub selling for as little as $16 at Bodybuilding.com and as much as $22 at CVS.Either way, it's pretty cheap.
Conclusion
There's an old saying I'm sure you're familiar with. "You get what you pay for." Nine times out of ten it's true, and this seems to be the case with Six Star Pre Workout Ignition.

It's cheap, and it doesn't work very well.
Have You Used Six Star Pre Workout Ignition?

Leave Your Review Below!
Top 3 Pre WorkoutAffiliate Disclosure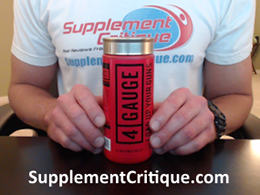 4 Gauge is a brand new pre workout that kicks in FAST and will rev up your workouts.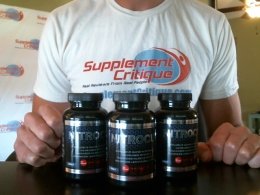 Nitrocut is a VERY effective pre workout supplement for a variety of reasons, see why here.
How People Found This Review:
and six star pre workout explosion review
Want To Really Get Ripped?

Click Here To Download My FREE "Get Ripped" Ebook!
Ask A Question
User Questions and Answers
No Questions Have Been Answered For This Article.