Muscle Advance Creatine Review
By:
Rob Miller
Fact Checked On: 11-1-2018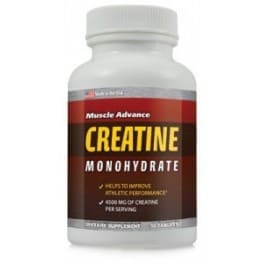 ---
Manufactured By: Muscle Advance Sports Nutritionals
2049 N.

Lincoln St.
Burbank, CA
Every bodybuilder knows that if you are looking to build size, you need to take creatine. It is without a doubt the most important substance you can use to help build mass, increase size, and get stronger, period. But, with so many creatine products on the market, how do you know which one is the right one? Well, we have personally used several dozen different types of creatines, and we believe that Muscle Advance Creatine is one of the most pure and effective creatines on the market. Our results with Muscle Advance Creatine were better than average, and we want to show you why this is the best creatine supplement on the market.
How Much Creatine Do I Need?
Many companies that create creatine products will tell you that you need a ridiculous amount of creatine in your diet to make a difference, but the simple fact is THIS IS FALSE. Every guy has a certain amount of creatine that is right for him, and using too much of it can actually have the OPPOSITE EFFECT!
Take Creapure for instance, it has over 6000 mg of creatine in it. The human body can only process so much of it at one time, so taking 6,000 mg, or even 10,000 mg, won't do much help.
Why is Muscle Advance Creatine So Good?
Most guys are sceptical that creatine pill may work so good, but the bottom line is that Muscle Advanced Creatine is one of the most powerful creatine supplements on the market for many reasons. The main reason behind this is the fact that it simply contains the highest quality creatine on the market.

It does not contain any other synthetic chemicals, harmful by products, or any stimulants. Muscle Advance is just pure, simple, creatine. The added Benefits are:
No Hauling Around Giant Containers of Creatine
No Mixing with some nasty juice
Very portable, throw in your gym bag or car and go
Another great thing about Muscle Advance Creatine is that it is one of the only one of its kind that is formulated in capsule form. The truth is, it really doesn't matter whether or not you take creatine in a capsule or powder form, you will still see the same results. What makes the difference for me, though, is the fact that I can take it anywhere with me, instead of lugging around a huge tub of creatine.
Finally, after trying out several different types of creatine products, we found that this one was the best one in terms of results.
My Results With Muscle Advance Creatine
I was looking to gain about 20 pounds of solid muscle, and ordered a 6 month supply of Muscle Advance. Not only did it give me extreme amounts of energy for the gym, but it also helped to increase my lean muscle mass and fat burning capability. Starting off, I only weighed in at around 165 pounds, which for me was way too low being 6 ft tall.
I decided that the best thing for me was to "load up" for about 5 days, and then do a 3 week maintenance phase. During the load up phase, I took 3 capsules of Muscle Advance Creatine 4 times a day, then during the maintenance phase I took 3 tablets a day. It really doesn't matter whether you load up or not, you will just see faster results this way.
After using Muscle Advance Creatine for about 6 months, I gained 30 pounds of almost complete lean muscle mass, which was phenomenal! Of course, I had to combine it with a heavy eating regiment, cut out crap foods, and did very little cardio. I was surprised to see that the majority of my weight was not actually water weight, and I could tell this because the amount I was lifting went up significantly.
Recommendation
Since it takes a while for creatine to really kick in, I recommend that you get at least a 6 months supply of Muscle Advance Creatine to get the best results. The currently have a special running, where you can buy 3 bottles and get 3 free. It comes out to about $150 total, but the results you will get from it will be well worth the price.
Ask A Question
User Questions and Answers
---

Hi rob Would it be OK to take la Norateen with crazy mass products which are all natural products -Tony

It should be safe, yes.- Rob
Was this question helpful to you?
3 out of 3 people found this question helpful.
ASK A NEW QUESTION
---

Hi rob what is the best way to pop your calves out only that is the only thing thats laging -Tony




The best calf exercises you can do would be calf raises and calf presses.  If you look them up in google you'll find tons of video demonstrations.

- Rob

Was this question helpful to you?
3 out of 3 people found this question helpful.

ASK A NEW QUESTION
---

Is it ok to take testofuel, and Muscle advance creatine at the same time? -Hayden

Absolutely it's a great stack for putting on muscle mass. Sign up for my Getting Strong ebook for great tips and advice on the meal and workout side of things.- Rob
Was this question helpful to you?
3 out of 3 people found this question helpful.
ASK A NEW QUESTION
---

Hi is cee creatine better than mono -Tony

Creatine Ethyl Ester absorbs better, so that could make it more effective, and you can use less. Ultimately, they both do the same thing. If you find a form that you prefer, then stick with it.- Rob
Was this question helpful to you?
2 out of 2 people found this question helpful.
ASK A NEW QUESTION
---

Hi can you drink coffee with creatine only some suppliers say it's OK -Tony

The only reason not to is because caffeine is a diuretic while creatine makes you retain water, so they kind of work against each other. But since water retention isn't the goal of creatine, just side effect, it's fine to mix them. Some say caffeine helps improve creatine absorption.- Rob
Was this question helpful to you?
2 out of 2 people found this question helpful.
ASK A NEW QUESTION