TestoGen Review – Should You Use It?
By:
Rob Miller
Fact Checked On: 10-16-2017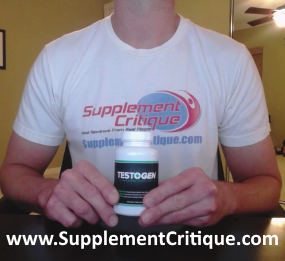 The sheer number of natural testosterone boosters available on the internet will make your head spin.
I know, because I've personally reviewed over 250 of them.
I've also tested over 30 of them. and can tell you from experience that the vast majority of them don't really do what they say.
Their popularity has exploded in the last several years, and there are good reasons for that.

When we're young, our bodies produces loads of the stuff – more than we need.

But as we age, production levels drop off dramatically.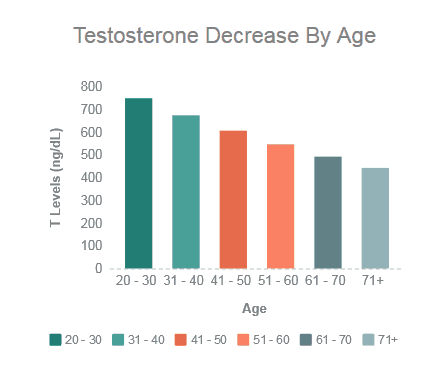 By the time you're in your late 30s/early 40s, you start to notice the symptoms.
They include:
Getting tired more easily
You start putting on weight around your middle section.
Workouts that used to get you in shape fast, or don't have the same effect they used to.
You get irritable.
You can even lose your desire for sex.
Natural testosterone boosting supplements can help reverse some of these effects.
The trick is finding the right one.
I recently became aware of a product called TestoGen.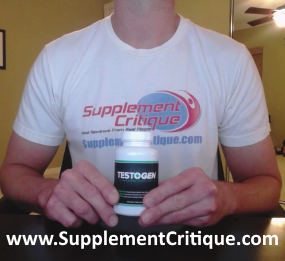 It's got nice slick marketing that's informative and not too over the top in terms of hype. That's a good start.

But of course the real test is what's in the product and whether or not it actually works.

So that's what I looked into next.
TestoGen Ingredients and How They Work
TestoGen takes almost a kitchen sink approach to boosting testosterone naturally.
Most of the testosterone boosters I've used in the past have used either Tribulus Terrestris, DHEA, or Zinc as their primary ingredients.
What I like about Testogen is they took it a step further, and added a BIG dose of D Aspartic Acid and other important nutrients.
The formula comes at the problem from several different angles, some proven and some anecdotal.

There's:
D-Aspartic Acid which helps increase the release of Luteinizing Hormone which in turn encourages the production of increased testosterone. It's been clinically tested and shown to increase testosterone levels by up to 42% in just 12 days.
Ginseng which is an aphrodisiac that also supports testes health and boosts mood. (Source)
Tribulus Terrestris which may be the most common ingredient found in these products.

It's also thought to boost the release of Luteinizing Hormone.
Vitamin D3 which may increase levels of free testosterone and slow down the rate of conversion to estrogen.
Fenugreek which is thought to increase testosterone and vitality and to increase insulin release.

It's been clinically shown to help maintain healthy hormone levels, although some evidence disputes that claim. (Source)
Selenium which helps facility many bodily processes.
Vitamin B Complex which increases energy and maintain appropriate levels of serotonin.
Zinc which is an essential mineral involved in the testosterone production process.
Check out a photo of the label below: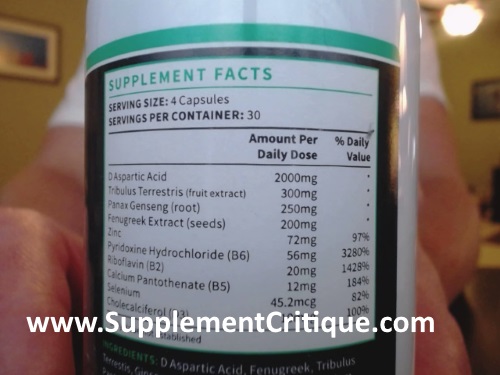 Instructions are to take 2-4 TestoGencapsules per day.

It's recommended that you space out your doses and that you take them after eating.
My Personal Results
I've already tested over 30 different testosterone boosters over the years, and I was pretty confident I'd be able to tell if Testogen was going to work within the first few days.
For me, the first thing that seems to be impacted during testing is sleep quality and libido.
One thing is for sure, when I get a shitty nights sleep, I am pretty freaking miserable the next day.
This was not the case when I was taking Testogen.
Within a few days of taking Testogen, I started to notice that I was sleeping about an extra hour a night (total of abut 8 1/2 hours).
By the end of the first week, I could definitely sense a change in libido.
I've been laughed at before for saying this, but I started waking up with a morning wood.
It's all fun and games when you're like 23 years old and reading that, but trust me…
Once you stop getting those morning boners, it starts to have an impact on your overall mood and confidence.
About the second week in, I started noticing an improvement in my overall energy levels and stamina.
Typically I'll hit the gym for about an hour, with the first half of my workout dedicated to lifting, and the 2nd half dedicated to cardio.
Usually towards the end of it I'm pretty damn wiped, and I'll struggle to get that last mile in on the treadmill.
This wasn't the case while I was taking Testogen.
I felt like I was getting huge bursts of energy, and also felt like I could push through my workout with ease.
These effects seem to last for about 3 weeks or so, and then as I got towards the end of my testing, it seemed to wear off a bit.
TestoGen Pros and Cons
Advantages of TestoGen
The ingredients are all natural.
Some of the ingredients have been tested and shown to improve testosterone levels.
There's a money back guarantee.
The website is complete and informative.
Disadvantages of TestoGen
Ingredient amounts are not revealed so it's tough to tell if the levels are high enough to be effective.
We haven't seen any TestoGen reviews from actual customers to help us reach an informed conclusion.
Where to Buy
TestoGen is available through the product website.

A single bottle contains 120 capsules which will last a month even if you take it at the highest recommended dose.

It costs $52.95, but there are discounts available if you buy in bulk.
Conclusion
When I first took a look at Testogen, I was sort of on the fence. On the one hand, they weren't being completely transparent as to the doses of each ingredient that they were pumping in the stuff.

And they're still not, and that's not helpful when you're trying to determine whether or not it may be right for you.
However, I can say with 100% confidence after testing it out for the last 4 weeks, Testogen is DEFINITELY a superb product.
If you're looking for an all around effective testosterone booster, I HIGHLY recommend it.
Have You Used TestoGen?Leave Your Review Below!
Top 3 Testosterone BoostersAffiliate Disclosure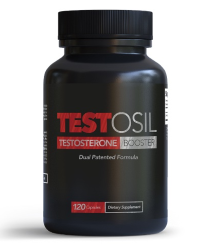 Testosil is the most effective testosterone boosting supplement on the market that I've tested.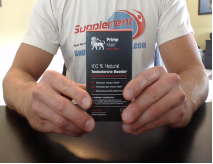 Prime Male is another very effective testosterone booster that uses clinically proven ingredients.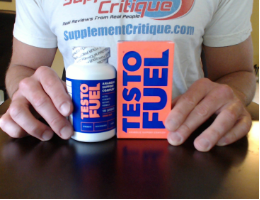 Testofuel is a VERY popular testosterone booster that contains ingredients to help older men.
Check Out My Top Choice For T Boosters - Testofuel

Click Here To Read My Review
Ask A Question
User Questions and Answers
---

No instructions are given on the bottle on WHEN to take the product. Advise taking all 4 pills in the morning? or one for breakfast, one for lunch, one for dinner, and one for late night snack time? or two for breakfast and two for lunch (or dinner)? etc -Greg

They recommend that you space out your doses throughout the day, and that you take them after eating.- Rob
Was this question helpful to you?

ASK A NEW QUESTION