Gold Standard Whey Protein Review
By:
Rob Miller
Fact Checked On: 6-15-2019
---
Click Here To Buy Gold Standard Whey Protein
Everyone needs protein. It's the building block of life, and without it our bodies would wither away into nothing. Ive been taking protein supplements since I was about 16 years old, and the vast majority of them didn't taste so great. Either they left a bitter aftertaste, tasted very "chalky", create an upset stomach, or just plain sucked. I was turned onto Gold Standard Whey when a friend recommended it to me, and I decided to give it a shot. The following is my personal review, and why I think it's the best whey protein on the market.
What Is Gold Standard Whey Protein?
Made by a company called Optimum Nutrition, Gold Standard is a brand of whey protein that comes in 14 different flavors. It uses Whey Protein Isolates (or WPI's), which is the most pure form of protein you can get. A typical serving (one rounded scoop) provides 24 grams of quality protein, along with 5 grams of Glutamine and Glutaminc acid and 5 grams of BCAA's (Leucine, Isoleucine, and Valine).
Why I Switched To Gold Standard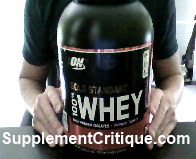 I had been taking several protein supplements over the years, and the most recent one before Gold Standard was Twinlab Whey Fuel. I personally am a fan of chocolate, so I always ordered the chocolate version of it. When I first tried it I thought it tasted a bit chalky, but I figured eventually I would get accustomed to the taste. Unfortunately, it didn't really taste very good, and had that chalky texture to it.
By chance, I was talking to a friend of mine who suggested I try Gold Standard. I ordered a 2 lb. tub, which by the way is surprisingly cheap at less than $30, and got it in the mail a few days later. There's not much else to say other than I was VERY impressed at the flavor, the texture, and how easy it was to mix. I typically mix my protein with fat free milk, and the first time I used gold standard I thought I was drinking chocolate milk!
The Good About Gold Standard
Tastes Great
Mixes well with Milk
Cheaper online, but available in stores
No clumping
Easy to sip, no need to chug it just to get through it
Highly rated on many supplement sites
Easily stacks with other products
Low in Fat, calories, and carbs
Ideal for those looking to bulk up or lose weight
The Bad About Gold Standard
Not the "cheapest" protein on the market
I personally only like a few of their flavors
Doesn't have a "rich" flavor, for those looking for that
Why I Recommend Gold Standard Whey
In my personal opinion, and this is coming from years of trying various types of protein powders, drinks, bars, and even cookies, Gold Standard whey is the most effective, best tasting, and affordable whey protein on the market. It works effectively for both men and women, and can help you get your required protein intake per day, without adding any additional calories, fat, or carbs to your diet.
Get The Best Price on Gold Standard Whey Protein here
Have You Used Gold Standard? Leave Your Review Below!
Ask A Question
User Questions and Answers
---

I'm just 16 and I'm doing bodybuilding is gold standard whey protein suitable for me ? -Dineswaran

Yes. At your age, protein is about all I would recommend, and Gold Standard Whey is a great choice.- Rob
Was this question helpful to you?
1 out of 1 people found this question helpful.
ASK A NEW QUESTION
---

How many lbs can I gain by using a 5lbs on gold standard whey -leon

The amount of muscle weight you gain depends on your diet and workout plan and your commitment to that plan. If you do everything right, 8-10 pounds in a month is an achievable goal.- Rob
Was this question helpful to you?

ASK A NEW QUESTION