They're calling it a "Scientifically Advanced All-In-One Formula for Improved Workouts." It's Pre JYM from Jim Stoppani of JYM Supplement Science.

If you haven't heard of him, he's a scientist who's been working out since he was 11 years old.

He's got a website, he was a Senior Science Editor at Muscle and Fitness Magazine, and he works with Bodybuilding.com, and he's basically pretty serious about what it takes to perform, succeed, and excel.

He runs his company very closely, even taking questions directly come customers through Twitter and Facebook.
Pre JYM Ingredients and How They Work
Pre JYM is a comprehensive pre workout supplement, and in some cases, comprehensive can mean that there are lots of different ingredients for lots of different benefits, but the amounts of each ingredient are so small as to not really have any effect in the end.

This is something that Pre JYM, and JYM Supplement Science, pushes back against pretty hard.

This supplement uses full, effective dosing for all of its ingredients, and no proprietary blends.

Everything is fully disclosed.
The formula is divided up into several matrices:
The Power/Strength Matrix includes Creatine and Beta Alanine which both increase the strength and power of your muscles for more intense lifting.
The Maximal Pump/Vascularity & Energy Amplifier includes Citrulline Malate which will increase the amount of nitric oxide in your system, opening up your blood vessels and allowing increased blood to make it to your muscles for that pump you want.
The Fatigue Fighting Anabolic Activator includes BCAAs L-Leucine, L-Isoleucine, and L-Valine to ensure a quick and complete post workout recovery.

If you can't go back to the gym the next day, then you need BCAAs.
The Focus & Drive Intensifier uses Caffeine and Huperzine A to increase energy and mental clarity and focus so your eyes stay on the prize and you have the energy, will, and stamina to see it through.
Pre JYM Pros and Cons
Advantages of Pre JYM
It's a complete and well rounded formula.
It contains full doses of the ingredients.
There are tons of favorable Pre JYM reviews.
People say it tastes great.
Disadvantages of Pre JYM
Frequently Asked Questions We Get
Does it have any side effects?
After pouring through countless customer reviews, it looks like the most common we've seen is instance of bloating, a strong "tingly" feeling, and insomnia. Obviously you can prevent the insomnia issue by taking it as early as possible in the day before your workout, but that's not always possible for many who have a late day workout routine.
Is there a Pre Jym pre workout available without caffeine?
At this time no, however, the owner has explicitly stated that there is a caffeine free version of the product available called Post JYM (which is a post workout supplement).
How do I take it?
The instructions on the label say to mix one scoop of Pre JYM with 14 oz of water about 30-45 minutes prior to your workout. It's not stated whether or not you should take it on an empty or full stomach, however, it is recommended that you start with half a scoop to assess your tolerance.
What are the reviews saying?
Check out a couple of popular Pre JYM reviews we found on Youtube:
Where to Buy
Pre JYM is sold through bodybuilding.com.

The 20 serving tub sells for $35. It doesn't appear to be sold on Amazon, and currently no brick and mortar stores like CVS, Walgreens, or Walmart carry it.
Conclusion
With a well rounded formula, fully dosed ingredients, and rave reviews, I would say go for Pre JYM, with just a couple reservations. 300 mg of caffeine is a lot, so some people might find that to be too much.Also, the price is a little steep, but not too awfully bad.

If the big dose of caffeine doesn't bother you, give Pre JYM a try.
Have You Used Pre JYM?

Leave Your Review Below!
Top 3 Pre WorkoutAffiliate Disclosure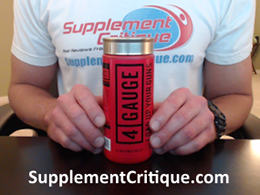 4 Gauge is a brand new pre workout that kicks in FAST and will rev up your workouts.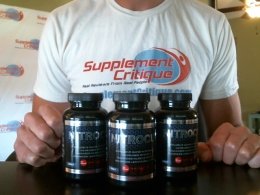 Nitrocut is a VERY effective pre workout supplement for a variety of reasons, see why here.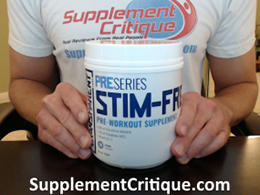 If you're looking for a stim-free pre workout, add Transparent stim-free to your list!
User Reviews

5.0 out of 5 Stars (1 Reviews)
Have you used this supplement?
Ryan's Review
Pre-JYM is the best pre-workout mix I've used. I feel like I've tried all the other big brands and even Bobybuilding.com's house brand. Pre-JYM is the only one that gives me what I need without the negative side effects. I couldn't recommend it more and the cherry limeade flavor is really good.

Was this review helpful to you?
0 out of 1 people found this review helpful.
---
Want To Really Get Ripped?

Click Here To Download My FREE
Ask A Question
User Questions and Answers
---

Hi , I was wondering if there are any ingredients in this pre workout that can worsen existing gynecomastia. Also could any ingridients in Pre Kaged or ErgoBlast worsen gyno? Thanks in advance. -Floyd

It doesn't look like it to me, but I don't know all the ins and outs of gyno. You should check the ingredients with your doctor.- Rob
Was this question helpful to you?

ASK A NEW QUESTION