Crazy Mass Bulking Stack Review
By:
Rob Miller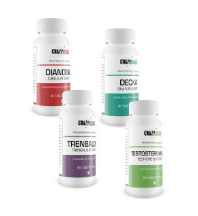 ---
Note: This is just a review. Click Here To Visit The Official Crazy Mass Website
There's guys that want to get ripped like Brad Pitt in fight club, and then there's guys that are looking to pack on muscle like "The Rock". Whatever your motivation may be, your probably looking for a supplement to help give you faster results. Well, if you are looking for a supplement that is designed to help give you massive gains in muscle mass and strength, then the Crazy Mass Bulking Stack is exactly what you need.
I've been reviewing alot of "steroid" alternatives recently, and came across this one after writing a review of their cutting stack. Unlike the cutting stack, which is designed to help you get shredded and lean out, the bulking stack is primarily geared towards the "serious" bodybuilder / weight lifter who's looking to get huge. So what is it that makes this stack so effective? Well, we're going to give you a detailed review of the Bulking Stack so that you can find out if it's right for you.
IMPORTANT: If you're looking to shred fat and build solid lean muscle, then I would recommend a completely different stack called the Crazy Mass Cutting Stack.
Click Here to read my review of the cutting stack.
Contents
What is the Crazy Mass Bulking Stack
Dianobal
Testosterone-MAX
Deckadrolone
T-Bal 75
Where To Buy the Crazy Mass Bulking Stack
Recommendation
Watch My Video Review Below Or Scroll Down To Read More
What is the Crazy Mass Bulking Stack?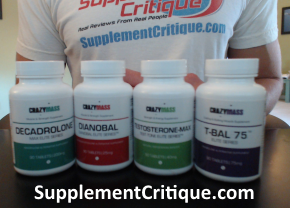 Just like the name implies, the stack is a combination of 4 different supplements that are designed to help you bulk up. The 4 different supplements include Dianobal, Testosterone-MAX, Deckadrolone, and T-Bal 75.
Don't let the names fool you, these aren't the "real" steroids like Dianabal or Decadron, but rather they are all natural formula's that are intended to help "mimic" the effects of steroids, without all of the nasty and harmful side effects.
I've been studying alot of these so called "steroid replacements", but this is probably the first one I came across that actually is legit.
So how exactly do these supplements work? Well, let's take a look at each one individually so we can give you a clearer picture about how they're supposed to work in combination, as well as why you should take all of them instead of just one or two.
Dianobal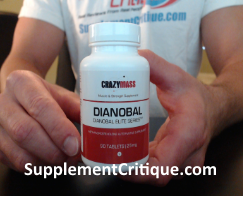 Dianobal is a muscle and strength agent which is designed to help guys that are "hard muscle gainers" get the size they are looking for. The real Dianabol (or D-Bol for short) has been used bodybuilders and celebrities looking for a short cut to get bigger in a very short period of time. However, D-Bol has been banned for use in bodybuilding in the US since 2001 (1), and unless you live in Mexico, you can't get it without a prescription.
For those of you looking for something that will mimic the effects, Dianobal is the all natural alternative to this. It's made up of clinically tested ingredients that works to increase strength and stamina, as well as rapidly increase lean muscle mass. Just to be clear, THIS IS NOT A STEROID. Rather, it is a safe and effective alternative to the real deal.
Dianobal is best taken both as a stack with the other supplements, and should be cycled on a 2 months on / 1.5 weeks off basis. Here's the full ingredient list for Dianobal for those that are wondering: Inosine, L-Isoieucine, L-Valine, Colostrum, L-Leucine, and DHEA.
Testosterone-MAX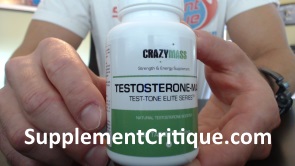 Testosterone-MAX is Crazy Mass' formula which features the testosterone boosting power of Tribulus Terrestris. It's geared towards helping to not only promote strength gains, but also to help reduce stored body fat. Not only that, but Tribulus has been shown to be very effective at helping men suffering from erectile dysfunction. (2) Even if you don't have ED, it still works great at producing rock hard erections.
Just like Dianobal, it is not "real" testosterone replacement therapy (like Androgel or similar), but rather uses a complex blend of ingredients to help your body pump out more of it's own testosterone. It actually stacks well with both the cutting AND bulking stack, but in my personal opinion it works best with the cutting stack.
It's also recommended that you take Testosterone-MAX for at least 2 months to see the best results. Here's the full ingredient list for Testosterone Max: DHEA, Alpha Lipoic Acid, L-Carnitine, Tribulus Terrestris Extract, and Vitamin E.
Deckadrolone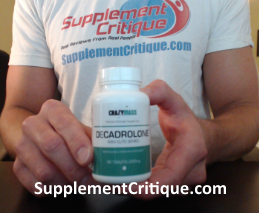 Deckadrolone, not to be confused with Deca Durabolin, is a safe and legal alternative to help you recover quicker. Unlike the other parts of this stack, it is primarily used to help you recover from very intense workouts, and help you blast past plateaus. Because of this, it is intended to be taken both on your workout days, as well as your off days.
One of the ways it helps with rest and recovery is by increasing protein synthesis, which leads to a reduced instance of Muscle Hypertrophy. It also helps to improve collagen synthesis, which leads to reduced inflammation of the joints, allowing you to get back in the gym faster.
It is recommended that you take Deckadrolone along with the other supplements in this stack for increased results. Here's the full ingredients list for Deckadrolone: Wild Yam Root, L-Arginine AKG, Acetyl L-Carnitine, Yukka Bark Korean Ginseng, DHEA, and L-Citrulline.
T-Bal 75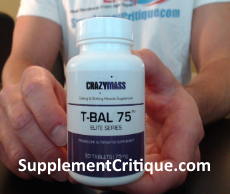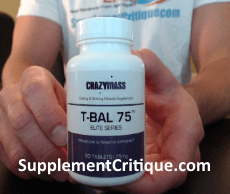 T-Bal 75 elite series uses an all natural and proprietary blend of ingredients to help aid in increased nitrogen retention and release free testosterone. One of it's key ingredients is colostrum, which contains the growth hormone IGF-1. When you are looking to cut up, you generally lower your caloric requirements. When you do this, IGF-1 levels can fall off dramatically, making you lose many of the gains you've made over a certain period of time.
By taking colostrum you are helping your body to retain your IGF-1 levels, and prevent yourself from losing strength and mass gains. (3) Here's a list of the other ingredients in T-Bal 75: Samento Inner Bark, Nettle, Daucosterol, Pepsin, and Sitosterols.
Where To Buy the Crazy Mass Bulking Stack
At this time, the only place you can buy the Crazy Mass Bulking Stack is on their official website, www.CrazyMass.com/Bulking-Stack. It retails at around $185, and they offer free shipping to customers in the US.
Recommendation
If you're looking to pack on some serious muscle, then the Crazy Mass Bulking Stack is right for you. All of these supplements in combination have been shown very effective at not only helping to increase muscle mass and strength, but also aid in recovery. As mentioned earlier, it can also help for me suffering from low libido, and can even help you sleep better.
Now, Crazy Mass bulking stack is not a miracle pill. You can't expect to pop a bunch of these pills and get jacked in a few weeks, all while sitting around on your ass. But, if you put the time and effort into the gym and eat a solid diet, you WILL see results with this stack.
Click Here to sign up for my completely FREE "How To Get Larger, Stronger, and More Powerful" eBook. It has a TON of info on diet and exercise that will give you GREAT results in conjunction with the stack.
Have You Used the Crazy Mass Bulking Stack? Leave Your Review Below!
References:
2. nih.gov
3. nih.gov
User Reviews

3.8 out of 5 Stars (8 Reviews)
Have you used this supplement?
crazymass
By
Dillon Wingard

,
May 4, 2015
Took crazymass dianobol crazy gains I weighed 160 now I'm 180 went from 14" arms to 16" and 41" chest to a 45"! Highley recommend the product using dbol anadrol and DECA next! I'll let you know how that stackworks!

Was this review helpful to you?
18 out of 20 people found this review helpful.
---
Tim's Review
I don't know how to respond directly to sardor but here's my "review". I've been on the pills for 4 weeks now. I'm only taking the dianabol tbal and the deca Im not taking the test. I started off taking all 3 three times a day. I would get slight headaches so after 3 days I cut it down to all 3 twice a day. The headaches went away after a week I think my body just had to get used to the differnce. I've been trying to keep my diet on track like I posted before. A few months back I took a test supplement and I was hitting 210 to 215 on the bench for 3 sets of 5 or 6. But I stopped taking the test and a few weeks after I would hit about 190is for the same numbers. The huge noticeable difference that I see from these pills is recovery a little strength too because yesterday I pushed 205 for 3 sets of 4 but I didn't have a spotter so I couldn't really push myself either. It used to take me a week to recover from a leg work out now it might take 2 days with the pills. I'd say my strength has increased a bit but I switch up my rep ranges and weight a lot so it always varies. I weigh in at roughly 165 by the way. My squat has went up from sets of 210 to sets of 225 for like 4 sets of 8 to 10. So between all the factors it's hard to tell a concrete change because I've been on and off certain supplements changing up my rep and weight scheme and other factors. If I were to take the test pill as well though I feel like my weight would definitely go up. I just don't take test cause it give me bad back acne. So all in all if you take the whole stack and stick to a good diet I think it's definitely a good stack that will give you all around benefits such as weight lifting increase lean muscle mass increase and definitely caster recovery. Keep in mind I also only take them twice a day so I can't say how three times a day would make a difference

Was this review helpful to you?
17 out of 20 people found this review helpful.
---
Just completed a one month cycle of this stuff and this has got to be hands down one of the most effective stacks I've ever come across.

Not sure how much muscle mass I've gained, but my strength and size is very noticeable. Friends have been commenting on how much bigger I got so I know it's working.

Was this review helpful to you?
13 out of 15 people found this review helpful.
---
Sardor's Review
Hey Rob, this is Sardor again and i'm updating my bulking stack supplement news.
So far it's been 4 days and i'm taking 8 pills a day, in the morning with my breakfast and then my lunch.
As Tim saying i also noticed some changes when i'm taking 3 times a day because it gives me some headache and my blood pressure rises but i agree with Tim's review that what this pills actually doing to me that i'm noticing is that in gym i'm actually more active and recovery is way faster than it used to be because if i did my workouts like this without bulking stack probably i would stay home instead of going to work the next day.
So i could say i think it works and Tim i think you should take some creatine after the stack see what happens, i'm also drinking lots of Mass Gainer Whey Protein and some pre and post workout shakes, I'm really hoping these all give me results and after my cycle and probably 2 months i'm going to post some pictures and let you guys be judge on this stack

Was this review helpful to you?
9 out of 9 people found this review helpful.
---
Jake's Review
I have tried the crazy mass strength stack and it works very well. I have been lifting for about 14 years I am 27 now. I use to lift about 4-5 times a week but I am a sanitation worker and I lift a total of 8-14 ton a day so determining my workout plan has been hard cuz of over training. when I tried the strength stack it worked wounders, I would ony work out 3 days a week and get a nice workout at my job and within 6 weeks I gained 15lbs while loosing fat and 40lbs on bench and 100lbs on squats and my joints felt amazing and the recovery time was great I highly recommend this product waiting till pay day to get another stack

Was this review helpful to you?
10 out of 11 people found this review helpful.
---
Click Here To Visit The Bulking Stack Site

www.CrazyMass.com
Ask A Question
User Questions and Answers
---

What other supplements can I take with the cutting stake? For example: protein (whey, casein) L-glutamine, creatine, bcaa etc etc -Cooper

Yeah you can (and should be) taking all of the other supplements you mentioned. Creatine should be used mainly for your bulking cycles though, but yeah BCAA's and Whey Protein are a must with any stack. - Rob
Was this question helpful to you?
12 out of 12 people found this question helpful.
ASK A NEW QUESTION
---

I'm thinking of buying the bulking stack. How do I go about taking all of these pills? I can't find the proper way to take 4 different supps at once. -Rafi

Take 1 of each pill with breakfast, and then again at lunch.  After you assess your tolerance, you can add a 3rd pill of each with your evening meal.- Rob
Was this question helpful to you?
11 out of 12 people found this question helpful.
ASK A NEW QUESTION
---

I work in construction so u know is hard work but I still go to the gym 5 days a week just wondering if I take the bulking stack I will see any changes? Also I'm 180 fit but i have a lil belly not much wondering if I shoud go with the bulkin stack or cuttin stack first thank you .. -Omar morales

As long as you eat a lot and lift heavy, you'll gain muscle mass with the Bulking Stack.  You can bulk first then cut. Or you can do it the other way around. It's really a matter of personal preference. But it is definitely better not to try to do them at the same time. It can be done, but you have to be very precise with how much you eat.- Rob
Was this question helpful to you?
9 out of 9 people found this question helpful.
ASK A NEW QUESTION
---

I'm 50 and can't build muscle or gain weight! What's the best products? -Rick

Go with the Crazy Mass Bulking Stack and sign up for my free "getting strong" ebook for tips and advice on meal and workout plans to help you reach your goals.- Rob
Was this question helpful to you?
4 out of 4 people found this question helpful.
ASK A NEW QUESTION
---

Dose this have estrogen side effects that will make you grown woman boobs? -Eric

Ha, no you should be fine. I didn't grow boobs and I haven't heard anyone who has.- Rob
Was this question helpful to you?
5 out of 7 people found this question helpful.
ASK A NEW QUESTION