If you're trying to cancel a free trial, or are looking for a refund for a supplement you recently ordered, WE'RE NOT THE GUYS TO TALK TO.


In fact, we don't sell anything here on SupplementCritique.com.


However, if you're looking for a phone number for a particular supplement, I've created this list below for your convenience.

If there's any other companies who's phone number your looking for that isn't listed, just leave a comment below and we'll research it for you.


Not sure how to cancel your free trial?

Click here for step by step instructions.


Cancellation Numbers By Company (listed alphabetically):
A
Adderin – 727-498-4811
Addium – 800-767-4440
Alpha Cut HD – 844-845-8061
Alpha Fuel – 844-845-8061
Alpha Fuel XT – 800-343-9025
Alpha Ripped – 800-BE-ALPHA
Alpha T – 800-BE-ALPHA
Alpha Testo Max – 888-342-9097
AlphaTren – 855-511-2251
Alpha X Boost – 800-318-3418
Anabolic RX24 – support@biotrimlabs.com
Anaconda XL – 855-817-4948
Andro Enhance by Jet – Unknown, Click Here to submit phone number to us
B
Biomuscle XR – 888-507-9059
Bio Rocket Blast – 855-336-1087
Biotestosterone XR – 888-507-9059
BlackCore Edge – 1-888-535-5789
Brain Plus IQ – support@biotrimlabs.com
C
ClinaMax – 888-312-9064
Cogniflex – 800-767-4440
Cognifocus – 888-470-0665
Cianix – 888-258-2864
D
Dyna Storm Pre and Post Workout – 800-210-7831
E
Elite Test 360 – 877-433-2774
Enhance Mind IQ – 866-482-8277/925-273-6871/866-513-4691
Endovex – 855-765-7911
Epic Male Enhancement – Unknown, Click Here to submit phone number to us
F
FCK Power – 800-496-1038
Force Factor Volcano – 866-44-FORCE
Formula Focus – 855-457-0806     support@orderff.com
G
Geniux – 844-202-0521
H
HGH Factor – 800-587-0888
HT Rush – 1-888-895-5092
Hypertone Force and Excel – 1-888-563-0374; support@hypertoneforce.com; support@hypertoneexcel.com.


I
Instaflex / Instaflex Advanced – 800-436-0920
Intelligex – 888-255-1750
IQ + – 1-844-627-5900
J
Jacked Antler – 888-808-7939
L
LeanFire XT – 1-877-204-3263
M
Max Antler Pro – 844-2ANTLER
MaxGain – 877-773-5152
Max Shred – 855-660-1956
Max Synapse – 800-330-0479
Megadrox – 877-279-9025
Muscle XTX – 844-845-8061
N
NEOSize XL – 866-583-3047
Neuro3X – 1-800-259-6817
Neuro Lit – 1-888-242-4061
NeuroNZT – support@advancedlifelabs.com
NeuroXR – 1-844-893-4640
Nitrobuild Plus – 800-872-748 (AUS phone number)
NO2 Blast – 1-888-276-1975
NO2 Maximus – 1-888-478-0415
Noxitril – 800-503-2353
Nugenix – 1-855-714-3234
Nugenix Maxx – 1-855-714-3234
Nutragentex – 1-888-682-1138
O
Optimal Rock -1-888-900-8828
P
Panaxcea – 800-375-5498
Phallyx – 888-528-2672
PriaMax – 888-524-7880
Primal XL – 800-998-3487
ProMuscle Fit – 888-221-2554
ProShred Elite – 844-4PSHRED
Pure Nitro Max – 800-391-2180
Pure Testo Blast – 888-554-5857
Purple Rhino – 800-391-8794
R
Regenify – 800-931-9472
Ripped Muscle X – 855-204-7725
Rock Hard Long and Strong – 888-900-8828
S
Somnapure – 877-460-3326
Spartagen XT – 800-458-4634
Staminon male enhancement – 877-744-3406
Synagen IQ – 844-465-0024
Synapsyl – 800-298-8897
Sytropin – 800-295-4675
T
T Complex – 888-504-4395
T90 Xplode – 1-888-980-9165
Testadrox – 888-224-8821
Testoboost Pro – 888-221-2554
TestoMax200 – 888-223-3225
Testo Ultra – support@biotrimlabs.com
Testovital – 888-250-8961
Test X180, Alpha, Ignite, Tempest, and Genesis – 877-204-3263
Test X Core – 855-322-8780
V
Viarexin – 480-378-3182
Virectin – 888-675-0241
Vydox / Vydox Plus – 866-270-5693
X
X Alpha – 888-408-7937
Xanogen – 800-528-6565
Xtreme Nitro – 877-509-7025
Xtreme NO2 – 866-520-0522
Xtreme Testosterone – 866-520-0522
Xtreme Testrone – 866-520-0522
Z
Zyacin – 855-341-6876
Zyalix – 855-779-2101
Zynev – 877-659-3344
Zyntix – 877-724-3778
Zytek XL – 855-631-7191
How Do I Cancel A Free Trial?
Most supplement companies offer either a 10 or 14 day trial, but some are more and some are less, so it's important to ALWAYS read the terms and conditions BEFORE purchasing.


In any event, almost ALL of them will require you to call and cancel.


In some cases they may accept a cancellation via email, but that is usually VERY rare.


Step 1 – Finding their phone number
The first step is tracking down their phone number, which you may be able to find in the list above.


If it's not above, google is your friend in that department.


Simply go to google and type in "Whatever the name of the product is cancellation phone number".


In some cases, you may NOT be able to find the customer service phone number that easily.


In that scenario, I would suggest you just search for the product itself.


Let's use Zyntix as an example.


They make it VERY difficult to find their cancellation phone number.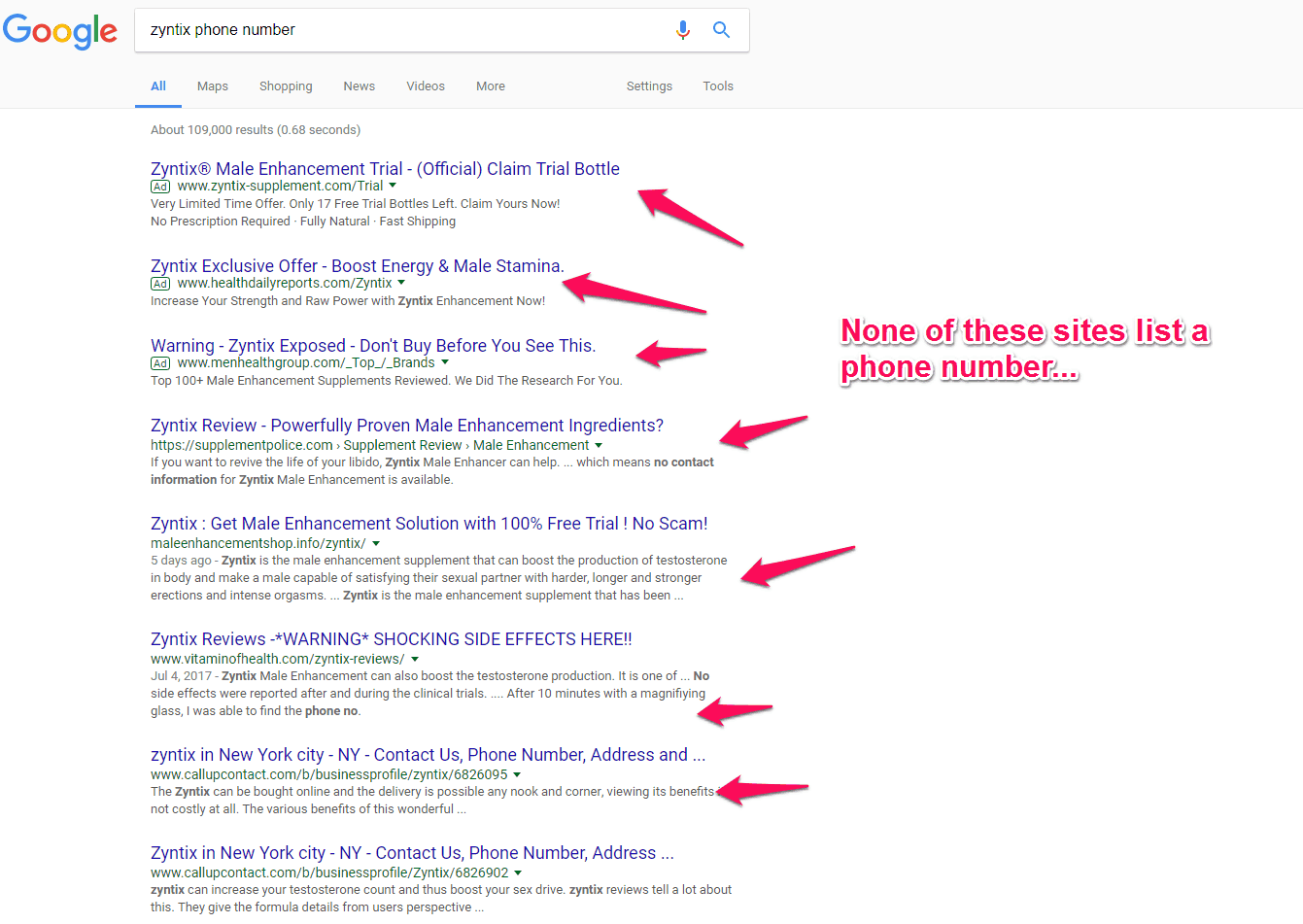 In this scenario, your best bet would actually be to click on one of the ads up top, like this one:

If you click on it, you'll see that it's not ACTUALLYthe official site (despite what the title says).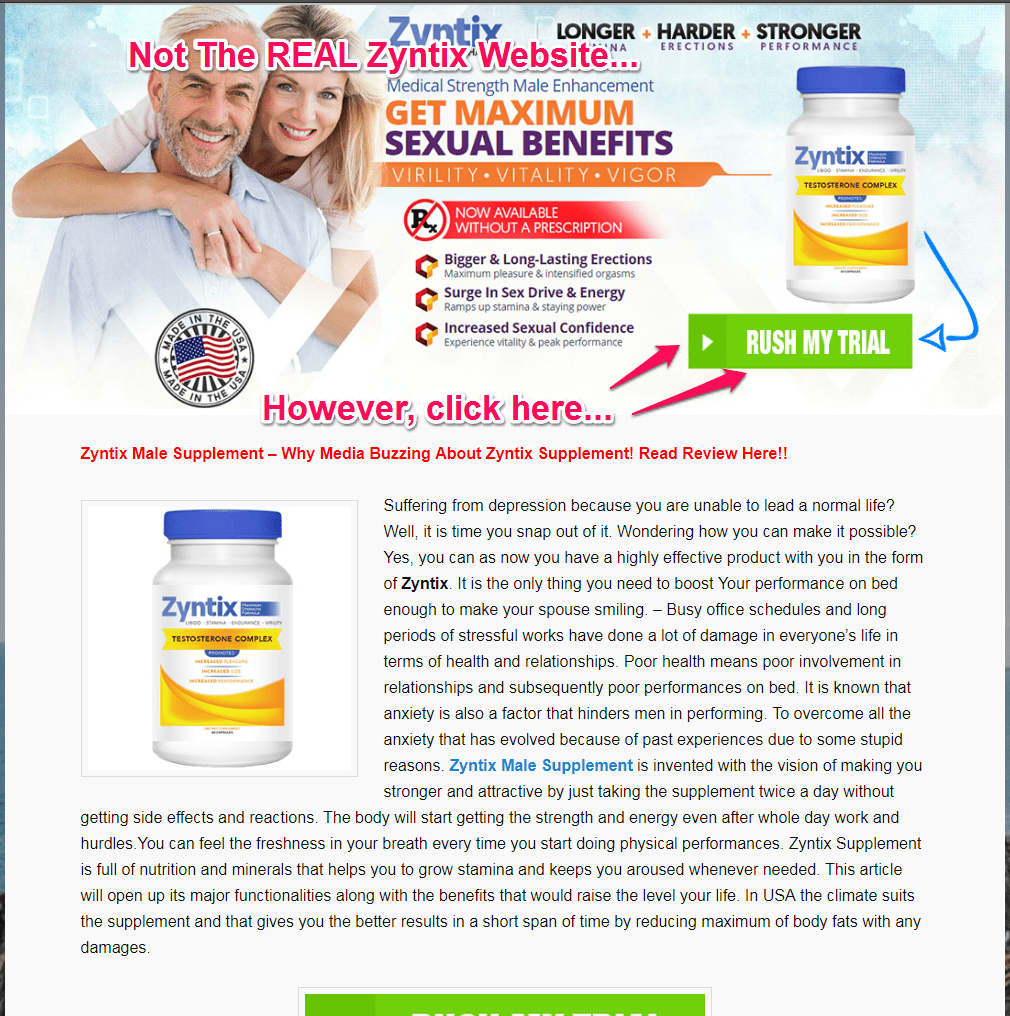 However, if you click the button on the page that says "Rush my trial" or something similar, that should take you to the official site.


Once you get to the site, search for a link that says "Contact" or "Terms and Conditions".


In the Zyntix example, it's way down at the bottom of the page.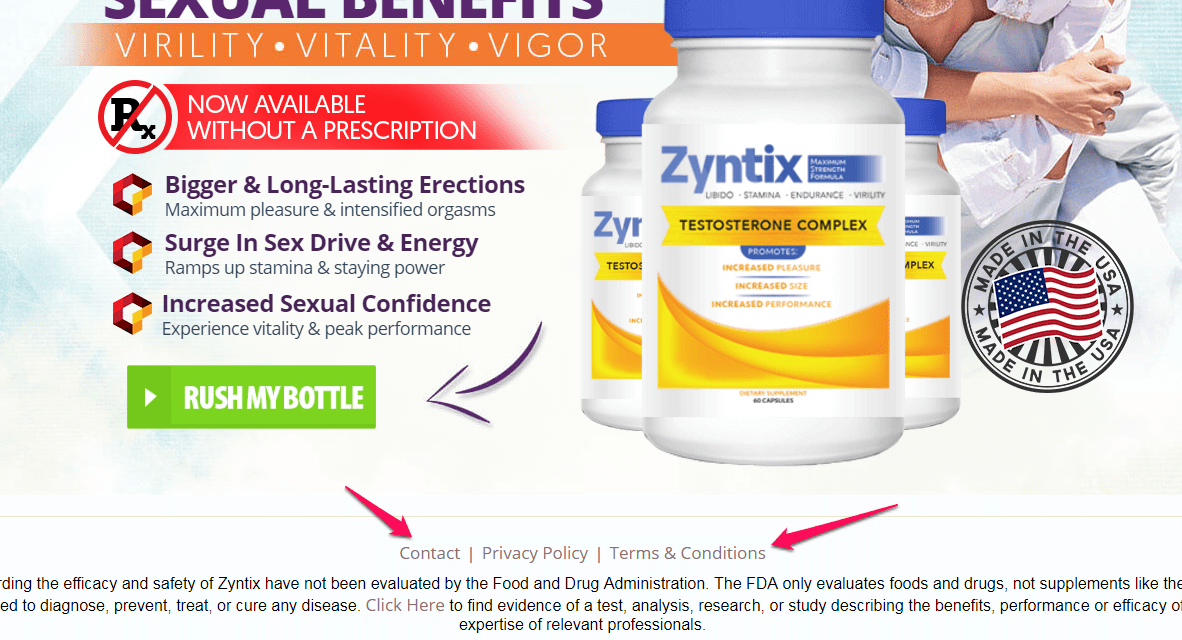 Click on either one of them and you should be able to find the cancellation phone number.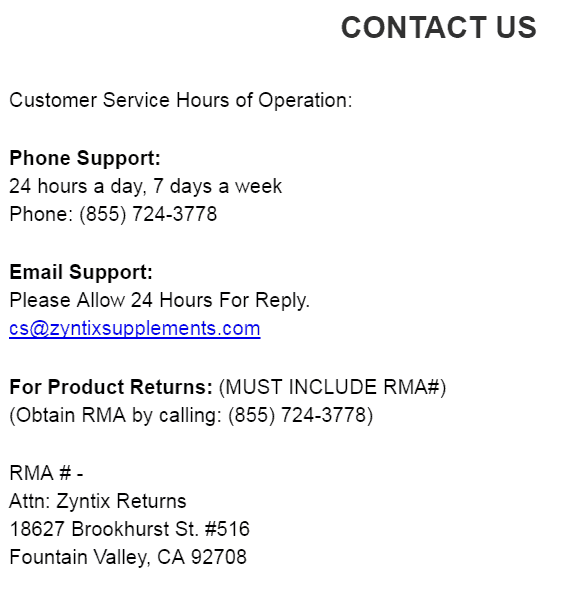 What can I do if I can't find the cancellation phone number online?
There may be some cases where you won't be able to find out a cancellation phone number via Google for one reason or another.


In that scenario, your best bet is to check with your bank / credit card company.


If you look on your credit card statement, you'll be looking for the name of the product.


For example, when I ordered Lean Fire XT by Force Factor, you can see the date of the transaction listed in my credit card statement.


See those numbers that are right after the name?



That's their customer service phone number.


Since your statement is only released once a month, it may not appear there just yet.


However, you can still find the transaction and phone number.


In that scenario, simply look for the transaction in your posted transactions.


Force Factor is a very reputable company, and they make it VERY easy to cancel.


They even allow you to keep the unused portion, without having to send it back.


Step 2 – Calling them to cancel
This is actually easier said then done in some scenarios.


Some supplement companies make it VERY difficult to cancel.


They'll pull all sorts of tricks out of their hats, including:
Telling you that you need to keep taking it to see the best results.


Offering to extend your trial by as much as a full month.


Offering you a significant discount to stay signed on to the trial, in some cases as much as 50% off!


and much more…
Whether or not you choose to accept any of their solicitations is entirely up to you.


I'm assuming that you're not interested in doing that, so here's the likely next steps.


Step 3 – Sending the product back
In probably close to 90% of the supplement free trials I've ordered over the years, I've been required to send the remaining or unused portion back to the company I've ordered it from.


They will make it explicitly clear when you call to cancel on whether or not you need to do this.


If you do –
You'll receive what is called an RMA #, which is short for Return Merchandise Authorization.


This is a series of digits that you WILL have to write on the outside of the package that your sending the supplement back in.


If you don't – (have to send it back that is)
You can toss it in the trash, take the rest of it, throw it in your medicine cabinet, whatever…
When you're sending it back, make sure you:
Use FedEx, UPS, or USPS.

The smaller delivery couriers can be notoriously slow to deliver and / or may get lost in transit.


WRITE THE RMA # on the outside of the box, preferably in more than one spot.


GET DELIVERY CONFIRMATION AND TRACKING added to your order.


This last step ensures that the supplement company can't pull a fast one and say they never received the package, and therefore, won't give you a refund.


What can I do if they won't allow me to cancel?
In the HIGHLY unlikely event that you have a company that refuses to cancel your trial, you may have to get your bank or credit card company involved.


I've actually had a few instances where the contact phone number listed for a supplement led to a dead line or noone answered.


In that scenario, you would simply call your bank or credit card company and explain the situation to them.


You would say something like this when you called:
"Hi, my name is (Whatever your first and last name is), I purchased a free trial for a supplement called (insert supplement name here) on (insert the date you ordered it) and have been unable to get in touch with them to cancel. Can you help me?

"
That should be more than enough to start investigating the matter right away. .


In some cases my bank actually patched through a 3 way call to the supplement company that was giving me a hard time, and listened in the whole time until they verified that my trial was cancelled.


If you have any questions on any of this, or need help with cancelling a specific supplement, I'm always here to help.


Just contact me here and I'll do what I can.
Ask A Question
User Questions and Answers
---
I need the phone number to return my $ for a free trial I returned just the way they explained. Nuero xr -Denise
I don't see the website anymore, which is where I would find their contact information. Check the transaction on your credit card statement. There should be a number there.- Rob
Was this question helpful to you?
4

out of 4 people found this question helpful.
ASK A NEW QUESTION
---
How do you get the boost elite for the free trial shiping and handleing -joe easley
You should be able to access their trial through a review website that links to it. It may not be available anymore though. I was unable to find it.- Rob
Was this question helpful to you?
1

out of 1 people found this question helpful.
ASK A NEW QUESTION
---
Healthy Slim Today - Phone Number Thanks! -Marianne
I haven't heard Healthy Slim Today. I did a quick search and still found nothing. Are you sure that's the right name? If it's something that you purchased online, there should be a phone number listed with the transaction on your bill. If not, call the bank. They are supposed to have a number they can use to reach the company that imposed the charges.- Rob
Was this question helpful to you?
1

out of 1 people found this question helpful.
ASK A NEW QUESTION
---
Can I cancel my order for extreme fit 180? -Kelly
SupplementCritique.com is a review website. You'll need to contact the company you placed your order with.- Rob
Was this question helpful to you?

ASK A NEW QUESTION
---
My husband ordered a free trial of Muscle boost xt & steelcut , we need to cancel but cannot find a no for contact information, can you plz help me , thank you -Judy
The number for Steelcut Testoterone is 1-855-796-2661. You can probably cancel both with this number. If not, they probably have the other number they can share with you.- Rob
Was this question helpful to you?

ASK A NEW QUESTION
---