Test X180 Overview
You aren't as spry as you used to be. Getting up to go to work seems like a pain. You can't perform in bed like you used to. Your stamina, once the stuff of legend, seems to be depleting as the years go by. You have trouble concentrating. A few years ago, you could draft up corporate reports in half the time it took the rest of your colleagues.
You aren't alone. As men age, their bodies simply produce less testosterone.  This can lead to several negative effects like a decrease in lean muscle mass and a lack of drive and performance ability in the bedroom.  You can just accept this, or you can fight back.  Force Factor wants you to fight back with Test X180, their new testosterone increasing supplement.
Force Factor is a relatively new sports nutritional supplement company that has come a long way in a short amount of time.  Founded in 2009, they have already won GNC's Rising Star Award.  They claim it is their job to make you better, faster, and stronger.  While the majority of their products are geared toward bodybuilders and athletes, Test X180 has the added function of increasing your sex life too.
Signup For Our FREE 43-Page "How To Boost Your Testosterone Naturally" ebook ($47 Value)
Click Here To Download It Now!
Signs of Low Stamina
Before I relate the finer points of the Test X180, let me explain why it is so important for your body to have an adequate amount of testosterone. It facilitates everything from your libido to your mood. Once your body starts to run out of this vital component, it can have a negative impact on your physical and emotional wellbeing. Here are some signs of low testosterone in men –
Decreased Libido
Once your testosterone levels go down, so does your libido and your ability to perform in bed
Lack of Energy
You suffer from low testosterone if tasks such as mowing the lawn leave you winded
Depression
The first point is a cause for depression itself. In addition, a study from the University of Seattle in Washington, men who have low testosterone are more likely to succumb to clinical depression.
Decreased Strength
Testosterone plays a huge role in building muscle mass. It may be why your body is having trouble acquiring the six pack abs that your trainer said you will achieve from his "no fail" fitness plan.
Remember, a lack of testosterone is not always a part of the aging process. Factors such as obesity and a sedentary lifestyle also affect how much testosterone your body produces to perform its best throughout the day. Fortunately, it is possible to overcome such challenges with Test X180 and a healthy workout regime that facilitates it.
Test X180 Ingredients and How They Work
Everyone wants to keep working out longer for more results. Unfortunately, your body can't handle the punishment for long. Put unhealthy diets, a desk job that offers little to no stimulation to your body throughout the day and you are left wondering why you are tired all the time. Stamina defines your body's ability to sustain itself during long physical activities. However, it will fail you if you are used to living a sedentary lifestyle and your body isn't used to physical activity.
This is where Test X180 shines the most. It supplements the nutrients that your system needs to endure long physical workouts.
The website explains that the ingredients are carefully chosen and combined to raise the level of free testosterone to enhance performance in the gym and help you increase your lean muscle mass so you look and feel great.  It also helps ensure that you're ready for intimate encounters when they arise.
The formula includes:
Testofen – an effective compound that helps your body combat its natural testosterone decline.
Ginseng, Tribulus Terrestris, and Cordyceps to enhance energy and increase blood flow to your extremities.  This helps libido and sexual performance by allowing more blood to flow to the penis during arousal.
Vitamin Blend including D, B12, and B6 which gives your body what it needs for work and play.
The instructions are to take 1 capsule twice per day.  The ingredients build up in your system over time, though some users say they notice a difference after the very first day.
Test X180 Pros and Cons
Looking at both the good and the bad, you can make a smart decision about whether or not a product is right for you.
Advantages of Test X180
There are Test X180 reviews from customers stating that they've had good results.
The ingredients are explained on the website.
There is a money back guarantee.
There is a free trial offer.
Reputable company that produces fine quality supplements.
Disadvantages of Test X180
Results require commitment.
A bit on the expensive side at $70 a bottle.
Where To Buy Test X180
You can pick Test X180 up online at GNC for $59.99.  That's a month's supply if you take it twice a day as recommended.  You also have a couple of options at the Force Factor website.  1 bottle costs $$69.99.  Or you can sign up for a 14 day free trial, but this will set you up for automatic monthly shipping and payment unless you call and cancel within 18 days of placing your order.
Test X180 is also known for providing a number of other successful supplements in its name; the Test X180 Alpha and the Test X180 Ignite. What makes them so great? Here is why –
Test X180 Alpha
The Test X180 Alpha packs quite a punch. The latest product from Force Factor is an advanced version of its predecessor; the Test X 180. In other words, it is new and improved or so the company claims it is. It promises to raise a user's libido, improve blood flow and offers a range of other benefits that someone who isn't as spry as he used to be is sure to appreciate.
It is the testofen in it that boosts sexual performance. This is just Fenugreek seed extract. Testofen has been tested on both animal and human test subjects. The results were very telling to say the least. Both test subjects saw their libidos increase significantly. In addition, the studies conclude that this ingredient makes your immune system a pathogen fighting machine and decreases body fat as well.
Test X180 Ignite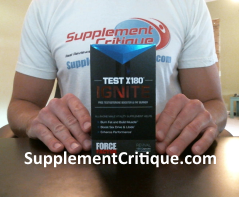 The Test X180 Ignite from Force Factor is also known as a testosterone booster and can give you the stimulation you need to kickstart your workouts into high gear AND get the most out of them. Like Test X180 Alpha, this one also boasts of testofen. Other notable testosterone boosting ingredients include avena sativa and horny goat weed extract. What makes these two ingredients so special you ask? Once they get into your system, they stimulate the adrenal glands that are located on your kidney thereby compelling it to release a smorgasbord of testosterone for your body to enjoy. And let's not forget that these ingredients also boost your libido.
Enhancing sexual performance isn't all that the supplement is known for. Test X180 Ignite includes ingredients that stimulate muscle mass and increase your mental focus. This is due to the stimulating ingredients such as EGCG and caffeine.
EGCG – This is an active ingredient that is found in Green Tea. It is known for its metabolic properties and it has an uncanny ability to burn through fat and chisel out rock hard muscle. In addition, it strengthens your liver and heart which is sure to come in handy the next time you have a hankering to take your body past its limits at the gym.
Caffeine – Ever wonder why your body craves a cup of coffee before you head out for the day? The caffeine in it
It is no secret that more testosterone leads to better muscle mass, stamina, better sexual performance and enhanced stamina. And the Test X 180 provides plenty of it.
Conclusion
We think Force Factor Test X 180 seems like a promising product in the sports supplement industry, and they may be on to something with this testosterone boosting male enhancement product.  The only issue I have is their free trial, which can be a little deceptive to some guys who aren't accustomed to ordering it that way.  However, you can purchase a one time order on their official website, www.forcefactor.com/products/test_x180, or buy it at your local GNC.  Either way, if you're looking for something to give you an edge in the gym, and in the bedroom, Test X 180 might just be the supplement your looking for.
Have You Used Test X180?  Leave Your Review Below!
Top 3 Testosterone BoostersAffiliate Disclosure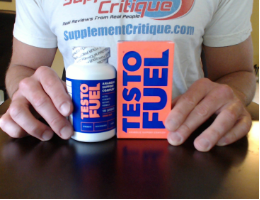 Testofuel is the most effective testosterone boosting supplement on the market that i've tested. It uses a unique blend of effective testosterone boosting ingredients that will help transform your life.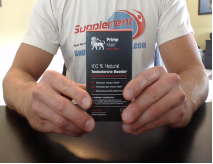 Prime Male is a VERY close 2nd to Testofuel, but contains ingredients to help older men. See why we recommend Prime Male for guys aged 40+, as well as my personal results.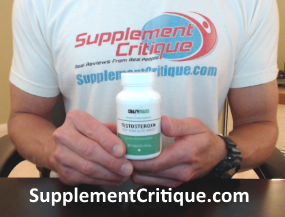 Testoroxyn uses DHEA and other ingredients to help boost free testosterone. See how Testoroxyn is different from Testofuel and Prime Male, as well as my personal results.
How People Found This Review:
and test x180, and test x180 reviews, and test x180 review, and test x180 ignite reviews, and gnc test x180, and x180
User Reviews
my review of testx180

By

Ricky R Woodyatt Jr.

Jan 5, 2014

Hello, I wanted to take a minute to share my thoughts. I have been using this product for a few months now.

I gotta say it took about 1 week before i started feeling results, 2 weeks I strarted feeling and seeing results. I work out for 15-20 minutes a day with dumbbells and resistance.

Before I weighed 210 with more fat than muscle. Now I weigh 200 and have lost 90% of my fat and put on muscle and it's cutting in.

My wife can't believe the results of this product. It does take time, so far I haven't experienced any bad side effects from testx180.


Was this review helpful to you?
5 out of 5 people found this review helpful.
---
TEST X180
4 days into trial, seem to have more energy, more alert, some knee joint pain is gone. mussels seem firmer.
Need to take with food, otherwise repeats and nausea develops.
Libido- see no change.
Free trial is a scam; has a ~$80.00 monthly shipment of product to follow.

Was this review helpful to you?
4 out of 5 people found this review helpful.
---
By
Dale Collins
Apr 10, 2013
I have been taking the stuff for two weeks and there is no change no shape no form . I will finish taking the entire bottle and then give my final review .

Was this review helpful to you?
4 out of 5 people found this review helpful.
---
Check Out My Top Choice For T Boosters - Testofuel

Click Here To Read My Review
Ask A Question
User Questions and Answers
---

Will this product have any negative effects on me with a kidney transplant and what are the side effects of this product. -Bill

As far as negative effects on your kidney transplant, you'd have to check with your doctor on that one.  Regarding side effects, the primary ingredient Testofen (Fenugreek extract) can cause diarrhea, upset stomach, bloating, and gas.- Rob
Was this question helpful to you?
4

out of 4 people found this question helpful.
ASK A NEW QUESTION
---

Is there any problems with this product causing heart problems, i was told to stop using a product to increase testosterone because there was a strong possibility it causes heart problems. -Bill

If you have an existing condition then I would be worried. If not, you should be fine. Either way it's prudent to check with your doctor to be sure.- Rob
Was this question helpful to you?
2

out of 2 people found this question helpful.
ASK A NEW QUESTION
---

Can you get big from text x 180? -james

Yeah it can definitely help with muscle mass.  It's not the best I've ever used for that (read this to see which one I prefer), but it can help in that regard.- Rob
Was this question helpful to you?

ASK A NEW QUESTION
---

I tested at 615 on my testosterone 2 years ago would test x 180 help me -Miguel

It should help somewhat, though I think you'd do better with Testofuel.  Check out my review here: https://www.supplementcritique.com/my-personal-testo-fuel-review-and-results- Rob
Was this question helpful to you?

ASK A NEW QUESTION
---

I wanted the 14day free trial -Vernon king

You can go to the Force Factor website to sign up for their free trial.- Rob
Was this question helpful to you?

ASK A NEW QUESTION
---