Test X180 Tempest Review
Fact Checked On: 11-11-2017 By: Rob Miller
I was given a heads up by a reliable source that the guys over at Force Factor have recently come out with a testosterone booster called Test X180 Tempest.
Unless you haven't visited a local GNC in over 5 years, you've probably seen many of the Force Factor line of products. These include the original, Force Factor 2, Force Factor Volcano, and the Test X180 line (Ignite and Alpha).
I've tested pretty much all of them, and can say with 100% confidence that they WORK, period.
Do they work for ALL guys?
Not necessarily.
But my experience thus far with the vast majority of their products has in general been satisfactory.
So what does this new T booster have that's different from the others in their product line?
Well, that's exactly what we're here to find out.
What is Test X180 Tempest?
For all intents and purposes, Test X180 Tempest is a "testosterone boosting" supplement that is designed to help stimulate your bodies own natural production of free testosterone.
For most guys (if not all), after the age of 30 we start to see a decline in our testosterone levels by about 1% per year.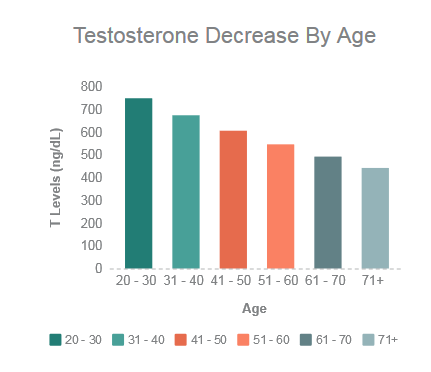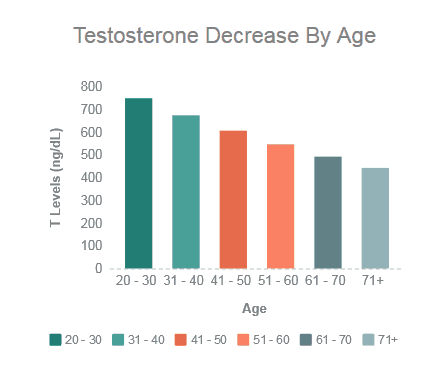 This may not sound like a lot, but trust me, if you haven't hit the Big "30" mark yet you'll see what I mean when you get there.
(If you're so inclined, take our quick Low Testosterone Quiz and see if you may be suffering from reduced testosterone levels.)
Reduced testosterone levels can be caused by chronic dieting, alcohol intake, Obesity / diabetes, Stress, and a host of other conditions.
The result of decreased testosterone production can result in:
Decreased libido
Changes in mood
Depression, Irritability, and anger
Fatigue
Reduce cognitive function
and diminished erectile quality
(Source: 1)
All of this, of course, sucks big time.
And this is what Text X180 Tempest is formulated to help with.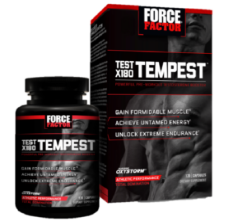 It technically hasn't been released to the public yet, so details are still a bit sketchy.
I did, however, get the inside scoop as to what is in it, how to take it, where to buy, how much it will cost, and more.
From my inside source, here's the deal.
The ingredients in Test X180 Tempest are broken down into 4 categories: basic, Muscle Pump and Performance Blend, Next Level Energy and Velocity complex, and a Testosterone Amplification System.
The basic ingredients include thiamine, Riboflavin, Vitamin B6, Folate, and Vitamin B12.
The Muscle Pump and performance blend includes Oxystorm and Ginkgo Leaf Extract.
The next-level energy and velocity complex includes ingredients like rhodiola root extract, ancient peat and apple extract.
Rounding out the formula is the addition of Testofen, which is a trademarked version of fenugreek seed.
So what do all of this ingredients do?
Well, Ive taken many supplements that contain many of the same ingredients found in Test X180 Tempest, and I know they work. The official literature for this supplement claims the following:
Increased Free Testosterone Levels
Total Testosterone Support
which, as a result of increased testosterone production, will:
Helps to build lean muscle
Boost sex drive and libido
Supports increases in strength, power, and velocity
Promote enhanced athletic performance
Reduce fatigue and support sustained energy levels
Boost Stamina and Endurance
and improve focus and concentration
So, will it ACTUALLY do all of this?
Well, I haven't personally tried it out yet (I plan on doing that soon), so the answer would be "I don't know".
However, based on the ingredients list that I'm looking at here, I would say MOST likely.
How do i know this?
Well, I've taken A LOT of supplements that contain Fenugreek seed extract, thiamine, and riboflavin, and can attest to their effectiveness.
For me, the positive effects seem to start to kick in after about a week, work for about 3 weeks, and then they start to dissipate.
The reason behind this is that your body tends to develop a tolerance to stuff like this, and you need to take more and more to get the desired effect / outcome.
What I typically do with most testosterone boosters like this is cycle on and off of them on a 3 week on / 2 week off basis.
This reduces any tolerance and brings back the results your looking for on a consistent basis.
A Note On Testofen
Testofen has actually come under a bit if scrutiny lately. Because so many companies (22 of them to be exact) claim that it's been clinically proven to boost testosterone, there have been a number of lawsuits filed claiming that this is basically horseshit.
Now, I don't make this claim at all. I can only speak of my personal results with supplements containing Testofen, but I don't do double blind studies involving blood tests to prove things work.
That's outside the scope of this blog.
Frequently Asked Questions
How do I take it?
The directions on the Test X180 Tempest label state that you should take 4 capsules 30 minutes prior to your workout. On rest days, you should continue taking the pills, although you should take 4 capsules with breakfast.
Taking it any later in the day may cause some mild side effects like insomnia, due to the stimulating effects from some of the ingredients.
How much does it cost?
According to their official website, a 120 capsules bottle (30 day supply) will retail at $99.99, with an optional discounted price of $89.99 for GNC members.
It should be noted that GNC is likely the only place you can buy Test X180 Tempest, apart from their official website.
Speaking of their official site, you'll notice that they are offering a limited free trial to test out their product. This involves paying $4.99 for shipping and handling, and getting a 28 capsule trial package.
You should be aware that if you decide to enroll in this free trial program, they WILL be billing you 18 days later in the amount of $89.99.
They also enroll you into what's known as a auto-rebill, auto-shipment program, which basically means that they will send you a new bottle of the stuff every 30 days, and continue to bill your credit card.
If you don't want this to happen, you need to call their customer service line and tell them you would like to cancel.
I can't tell you how many guys have come to me and complained that they didn't know they were going to get charged, when it's clearly written in big bold letters when you go to checkout.
Are there any side effects?
There's ALWAYS the potential for side effects with ANY supplement on the market.
For example, the primary ingredient Fenugreek seed extract has been shown to cause nasal congestion, coughing, wheezing, and allergic reactions in some people. (Source: 2)
However, it should be noted that it takes an INSANE amount of fenugreek to cause these side effects, and is EXTREMELY rare.
It should also be noted that fenugreek has a POSITIVE effect on lowering blood pressure, which is a side effect we could all probably live with.
Can I take it if I'm a diabetic?
That's a question that's best reserved for your doctor. I don't see any ingredients in Text X180 Tempest that would interact with diabetes medications, but I'm NOT a Dr. so i can't be sure.
How old do I have to be to take it?
Like any supplement, it's suggested that you should be a minimum of 18 before ingesting it.
The ingredients may interfere with hormone development in persons under the age of 18, so it's NEVER a good idea to take anything that may screw with your hormones during puberty.
Does it matter if I take it on an empty or full stomach?
Typically, the first time you take any supplement it's a good idea to take it on a full stomach at first to assess your tolerance / reaction.
With that said, once you've tried it a few times and feel ok, I would suggest switching to taking it on an empty stomach.
This will allow increased absorption of the ingredients.
How does this compare to other Text X180 products?
There are some pretty vast differences between the new Tempest formula and their other brands, Text X180 Ignite and Alpha.
I'll attempt to outline them in detail below.
Test X180 Tempest Vs Ignite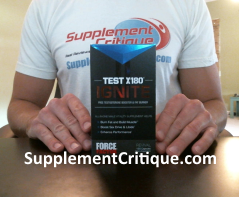 There's a couple of key differences here, but the most notable is the formula. Apart from the inclusion of Testofen, all of the ingredients in Text X180 Ignite are different from Tempest.
It doesn't include caffeine or green tea extract, which give it the stimulating properties that help as a natural pre workout.
There's also a very big difference in the price. Tempest retails at close to $90 per box, while Test X180 Ignite retails for as low as $70 for GNC gold card members.
Reviews wise, most of the people that tried Test X180 out had a positive result. Many were not too happy with the recurring billing charges as a result of the free trial, but that's to be expected from ANY supplement that runs an auto-rebill, auto-shipment program.
Test X180 Tempest Vs. Alpha
Unlike the Test X180 Ignite formula, there are actually a lot of similarities between Test X180 Tempest and Alpha.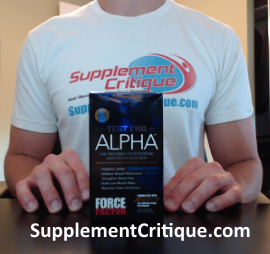 For example, they both contain Vitamins B6 and B12, as well as thiamine, riboflavin, and Testofen.
However, Test X180 Alpha contains a number of different ingredients that include L-Citrulline, Catuaba Bark Extract, Maca Root, and Damiana leaf, to name just a few.
Price wise, there's also a huge gap. A one month supply of Alpha will run you close to $125, making it one of the most expensive supplements you can even buy in GNC.
Just like Ignite, the reviews for Alpha are not overwhelmingly positive, but they're not terrible either.
Most of the complaints are due to the products price, not so much on it's effectiveness.
Conclusion
I haven't tested Test X180 Tempest yet, so I can't give you a definitive answeron whether or not it's worth buying.
Not yet at least.
They plan on putting it on the shelves soon, and I plan on picking up a bottle and testing it as soon as possible.
If my past experiences with other Force Factor products are any indication as to whether or not it will work, I am leaning towards a "yes".
However, no way to be sure until I try it. I'll be back soon with another review.
Have You Used Test X180 Tempest? Leave Your Review Below!
References / Sources
What is Testosterone / What does testosterone do: http://www.medicalnewstoday.com/articles/276013.php
Related Force Factor Products:
Alpha King Testosterone Booster
Top 3 Testosterone BoostersAffiliate Disclosure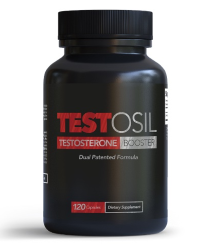 Testosil is the most effective testosterone boosting supplement on the market that I've tested.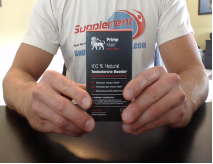 Prime Male is another very effective testosterone booster that uses clinically proven ingredients.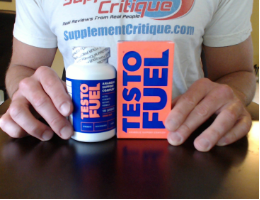 Testofuel is a VERY popular testosterone booster that contains ingredients to help older men.
Check Out My Top Choice For T Boosters - Testofuel

Click Here To Read My Review
Ask A Question
User Questions and Answers
No Questions Have Been Answered For This Article.