TestoUltra Review – 5 HUGE Reasons to Avoid It
By:
Rob Miller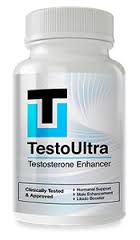 Update (9-22-2018):We're looking for one health volunteer to test out Testo Ultra!
The product will be provided free of charge, all we ask for is a detailed review of your personal results.
Contact Us hereto learn more!
Contents
How TestoUltra Works
TestoUltra Ingredients
How To Take It
Are There Any Side Effects
Clinical Studies
Will TestoUltra Increase Penis Size?
How Do I Cancel The Free Trial?
Who Makes TestoUltra
TestoUltra Reviews
Where to Buy
TestoUltra Pros and Cons
The Bottom Line
TestoUltra is a relatively new male performance enhancement supplement that positions itself as the answer for every guy who wants to perform like he popped a little blue pill, but without the expense and hassle of going to the doctor, getting a prescription, and worrying about whether or not it's covered by insurance.
When you use TestoUltra, your libido will shoot through the roof, your erections will be harder than they've been since you were a teenager, you'll be able to last as long as she wants, and all this comes together to give you the confidence of knowing that you're the one she wants and the one she knows will satisfy her.
The TestoUltra website is not the least bit shy in making sure you know just how you can benefit from taking it.

It goes on for days talking about all the sex you'll be having once you get used to your newfound prowess.
Looking for a TRULY effective testosterone booster?
Click Here to see my personal favorite
And that's all well and good, but we're more concerned about results than marketing, which is why we wanted to take a closer look at things like ingredients, clinical studies, customer feedback, and overall value.
Let us take a deep dive into TestoUltra and see if this is all talk, or if it actually puts its money where its mouth is and gets the job done as it promises.
Basically we wanted to figure out if TestoUltra is on the level, or if it's really just a scam.
Haga clic aquí para leer esta publicación en español
How TestoUltra Works
There are two primary ways that TestoUltra promises to improve your sex life.

First off, it contains aphrodisiacs that boost your libido, and the hornier you are, the more readily the rest of your sexual mechanisms come into play.
The most important mechanism is of course blood flow to your genitals.

Some of the ingredients in TestoUltra improve the way this happens, allowing more blood to flow into the corpus cavernosa, which are the penile chambers that receive the inflow of blood when you become aroused and get an erection.
TestoUltra increases blood flow and allows the corpus cavernosa to accept more blood, making bigger, harder erections that last longer.
Looking To

REALLY

Get Ripped?
Click Here to download my FREE "How To Get Ripped Quickly" eBook!!
Another benefit they claim is that when you're able to accept more blood for bigger erections, over time, it forces your tissue to grow to be able to accept more blood, leading to eventual permanent penile growth.

Plenty of products claim this as a benefit.

Unfortunately, science doesn't support it, and if there is any growth benefit through this kind of mechanism, it would be minimal at best.
TestoUltra Ingredients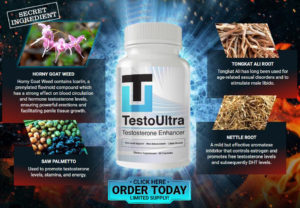 We already mentioned how the TestoUltra website goes into great detail about the benefits, but unfortunately the same can't be said about the formula.

They don't provide a complete list, nor do they mention how much of any individual ingredient is actually used.

Here's what we know.
The formula contains:
This is all the ingredient information provided online, though I'm fairly certain there's more to the formula than this.

If I come across more information online or can get my hands on a bottle, I'll update you here.
How To Take It
The recommended dose is 2 tablets taken once daily.

For an extra boost when you need it, take an additional pill about 30 minutes before having sex.
Are There Any Side Effects?
The makers of TestoUltra state that there are no reported side effects for healthy users, but that children, pregnant woman, women who are nursing, or anyone with a condition – especially one that requires medication – should not use it unless they are cleared to do so by their doctor.
With that being said, you should double check the ingredients in TestoUltra to make sure that they don't interact with any medications you may currently be taking.
Clinical Studies
We linked to a couple research papers above, but these relate to the specific ingredients within the formula, not the formula in its entirety.

These studies can indeed be informative, but they don't tell the whole story for a number of reasons.
First of all, when the ingredient is taken on its own or under the controlled circumstances of the study, the results may be vastly different than when it's used as part of a broader formula.
Secondly, TestoUltra doesn't reveal at what doses of the ingredients are used in the formula, so we can't really compare the results of the test to what you'll get from the formula in its entirety.
What would be helpful is a study of the actual supplement itself, but these are rarely done.

TestoUltra claims to have performed a study

The trouble is they don't provide any more information beyond the "fact" that it involved "experts" and more than 4,000 men. Even the results are vague, stating that it was "verified to increase power and sexual pleasure".

I scoured the website and google for the study or some valid reference to it, but came up empty.
Who Makes TestoUltra?
TestoUltra is made by a company called BioTrim Labs, who makes several other supplements as well.

We've even reviewed a couple of them, and you can check them out by clicking the links below:
BioTrim Labs is located in Salt Lake City, Utah.

I checked them out on the Better Business Bureau website, and let's just say the news isn't good:

An "F" rating is never a good thing, and in the case of BioTrim Labs, it all stems from complaints the BBB has received about the company.According to the website, there have been 15, and here's the kicker – the company has only responded to 2. The Better Business Bureau is pretty generous with companies that work with their customers to solve whatever problems arise.

Apparently, BioTrim Labs isn't one of these companies.
The complaints are pretty evenly split between Billing and Delivery issues and the products themselves.

Here's one example that covers a couple of the problems people tend to write in about, and it happens to be concerning TestoUltra itself, rather than some of the other BioTrim Labs products: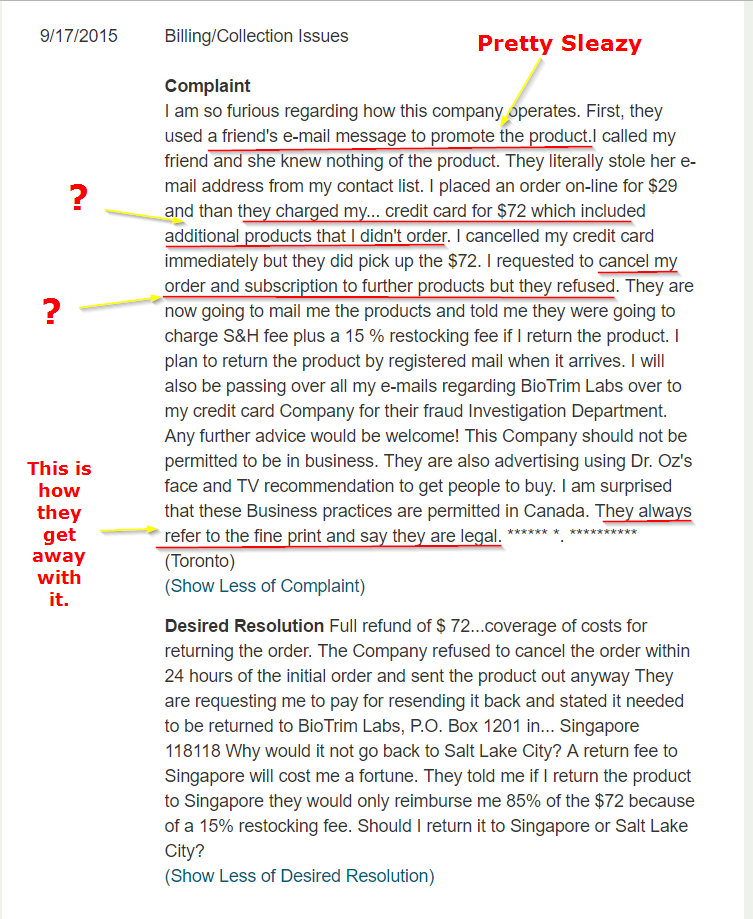 And when these complaints are made, BioTrim Labs as a rule doesn't respond or try to make it right.
TestoUltra Reviews
I always like to check out independent customer reviews, like through Amazon or another third party retailer, because ultimately what matters is how well a supplement works.

The problem is with TestoUltra, and tons of other similar products, they're not sold through third parties, so there are no independent reviews.
The only option for customer feedback we have is what the company who makes and sells the product decides to post to the website, which can be problematic because clearly they're trying to control the narrative and will put up whatever they feel accomplishes this to their best advantage.
I did my research for this review over a couple days.

When I first started, here's what the TestoUltra website showed for testimonials: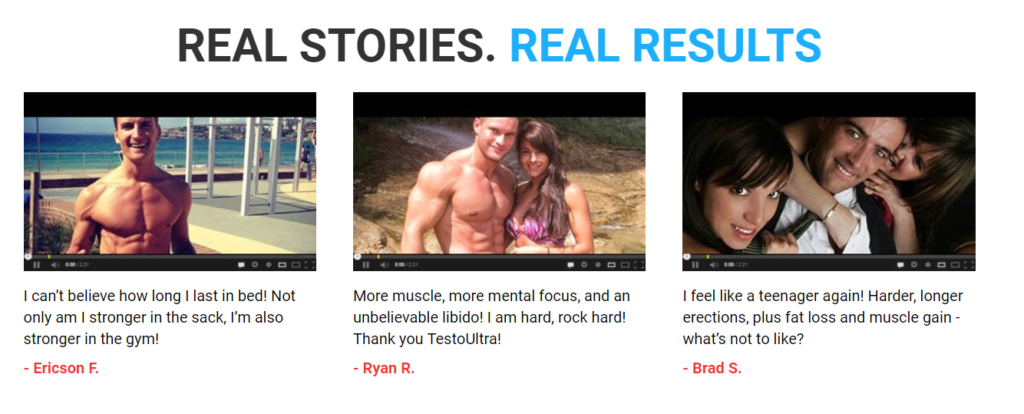 The strange thing is that while TestoUltra is promoted exclusively as a sexual performance enhancement, two of the three testimonials are about putting on muscle.This got me thinking about how you'll often see the same exact testimonials for different products, essentially proving that they just made them up.

I did a little digging and found these same exact testimonials using different photos for one of BioTrim's other products – AnabolicRx24:

Well the powers that be must have noticed this because when I came back to the website the next day, the entire testimonials section had been replaced with this: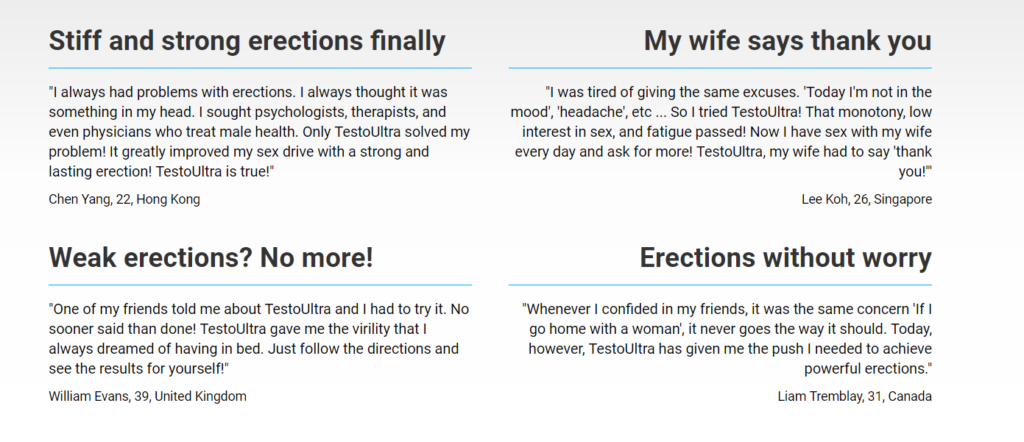 Now every single testimonial is about improved sexual performance, and based on my research, they appear to be unique to the TestoUltra product – at least so far.
The problem with testimonials on a product website is that it's hard to really trust them.

Companies can and often do embellish them and even make them up entirely.

In this case, it's pretty obvious they're not real because they use the exact same testimonials for two different products.
True, the name makes TestoUltra appear to be a testosterone booster.

In fact, it says right on the bottle that it's a "Testosterone Enhancer" which would help with packing on muscle.

But all the marketing identifies it as strictly a sexual performance enhancer.Something tells me that if the company thought it would sell more units, they'd switch to marketing TestoUltra as a testosterone booster in a heartbeat.
Where to Buy
You may have heard about the many "free trial" scams out there in the online supplement world.

If not, or if you still aren't sure how they work, read my article, Free Trial Supplement Scams – The Ugly Truthfor an in-depth look.
TestoUltra doesn't currently engage in the free trial scam exactly, but that doesn't mean you should let your guard down.
When you click through the website to the order page, you're given a few choices of how much to order. The "Starter Package" is the smallest you can buy, and it comes with 2 bottles – a 2 month supply – for $54.95 per bottle, for a total of about $109.90.
The package they promote as the best deal is called the "Pro Results Package".It includes 6 bottles at a cost of $28.95 each for a total of $173.70. They also have the "Pump Up Package" which is 4 months $13.95 per month.
The order page is a little vague about what's included and how it's enacted.Here's what is shown:

The clearest description of an included benefit is free shipping your current order.

The two other specified benefits are more vague.

What free samples does membership entitle you to, and how often?
I checked the Terms and Conditions document for more information, but the Premier Membership isn't even mentioned at all. This is not a good sign.

The document does, however, mention that by making you're purchase you're enrolling in their monthly re-bill program and will be receiving a new supply every month at the same price you pay initially.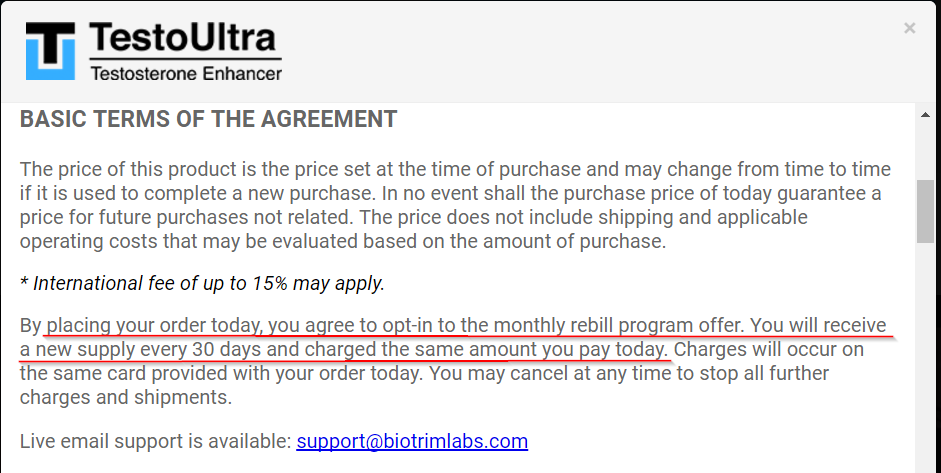 This opens up a whole new can of confusion.

Are they saying that this is just like a free trial scam after all? Only not free even for 14 days?

If you order a 6 month supply, will they start sending you more bottles next month, even though you wouldn't need more until 6 months in?

These questions are not answered, or even touched on, in the document.
And just like the free trial supplement scams, you are enrolled by default. Most customers don't even know they're signing up for anything at all until they notice the transaction on their credit card or bank statement.
TestoUltra Pros and Cons
Advantages of TestoUltra
Let me know if you think of any ; )
Disadvantages of TestoUltra
They call it a testosterone booster, but the descriptions of benefits are all about sexual performance enhancement, mainly blood flow for better erections.

Better erections are indeed a benefit of increased testosterone, but one of the many.
The entire ingredient list is not shown, nor are ingredient amounts.
There are no independent reviews from customers saying how well TestoUltra did or did not work for them.
BioTrim Labs, the company that makes it, has a dismal reputation for poor products and service.
By placing an order, you are automatically signed up for monthly charges, and it's not even clear if that includes additional bottles.
The Bottom Line
TestoUltra is another in a long line of mediocre supplements with misleading terms from BioTrim Labs.

For all the reasons stated above, there's simply no way I could recommend in good conscience that you waste your time or money on it.
Have You Used TestoUltra?

Leave Your Review Below!
Top 3 Testosterone BoostersAffiliate Disclosure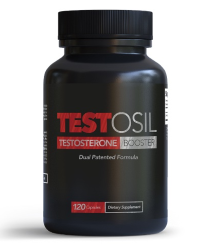 Testosil is the most effective testosterone boosting supplement on the market that I've tested.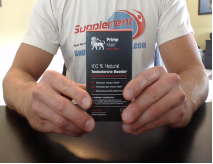 Prime Male is another very effective testosterone booster that uses clinically proven ingredients.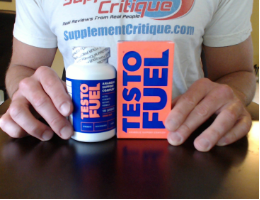 Testofuel is a VERY popular testosterone booster that contains ingredients to help older men.
User Reviews

1.3 out of 5 Stars (3 Reviews)
Have you used this supplement?
Disappointing
I thought that I was ordering a trial bottle of TestoUltra, however, they delivered and I was billed for 6 bottles of the product. Apparently, it's in fine print that you're buying a 6 month supply. Because of this, I had no choice but to use it. I popped a pill in the morning, and another one before I work out at the gym. So far, I'm not satisfied with the product. My sex drive did not improve dramatically. It's definitely not like Viagra where you get an instant hard-on right after you take it. It was disappointing.

Was this review helpful to you?
42 out of 43 people found this review helpful.
---
Testo ultra
By
Johann van Wyk

,
Jun 6, 2018
They changed the amount on my credit card without my permission. It accelerates my heartbeat, but they have a no exchange policy.

Was this review helpful to you?
35 out of 36 people found this review helpful.
---
Didn't Work
By
Martin

,
Apr 25, 2023


In Short:

I would NOT recommend this to a friend.
Short & sweet.... it didn't work. I took it as described but didn't notice any difference. I hope other people get the results they're looking for BUT I didn't .

Was this review helpful to you?
1 out of 1 people found this review helpful.
---
Ask A Question
User Questions and Answers
---

where in california state could this product be bought or in united states ? -ALEX

It's not sold in stores, only online through their website. But make sure you're aware of the terms of your order because you may end up with monthly billings you didn't plan on.- Rob
Was this question helpful to you?
21 out of 23 people found this question helpful.
ASK A NEW QUESTION
---

Is TestoUltra can be taken by a type 4 diabetic patient aged 55 years old? -Marivic

Because you have a medical condition, you'll need to check with your doctor about what supplements are okay to take.- Rob
Was this question helpful to you?
10 out of 12 people found this question helpful.
ASK A NEW QUESTION