Why There Is No Such Thing As A 'Permanent Enlargement Pill'
By:
Rob Miller
I've been running SupplementCritique.com for about 7 years now, and I can't begin to tell you how many times I've been posed the following question:
What male enhancement pill will give me permanent results?
I get it in the comments section of my site.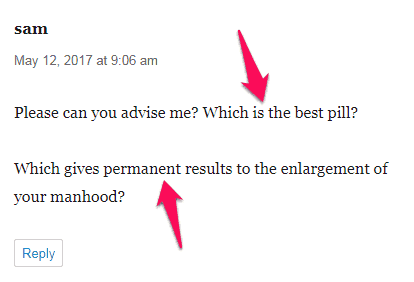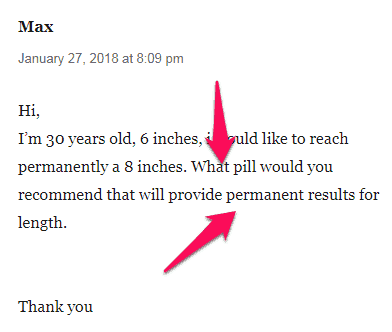 I get emails about it…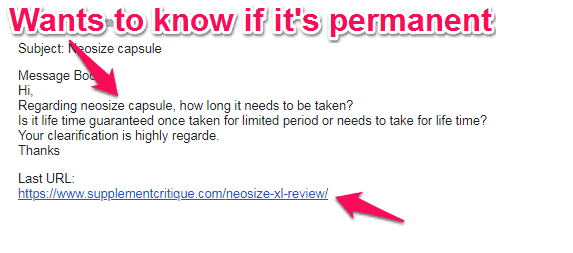 I've even had a few guys call me (when I had my phone number posted on the site), asking about it.
It's gotten to the point where I actually have a pre-crafted response to the subject that I use for these comments and emails.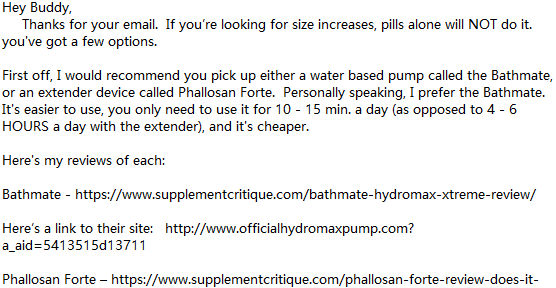 That's how often I'm asked this question!
Why Do I Get This Question So Often?
For starters, there is an ENORMOUS amount of misinformation being spread on the internet regarding this topic.
Google certainly hasn't been doing a good job of "weeding out" the culprits, either.
For example, just run a google search for the term 'permanent penis enlargement'.
The first 2 results (Mayo Clinic and WebMD) are legit.
They tell it EXACTLY like it is, i.e. permanent enlargement pills simply do NOT exist.
Here's Mayo Clinics' take on it: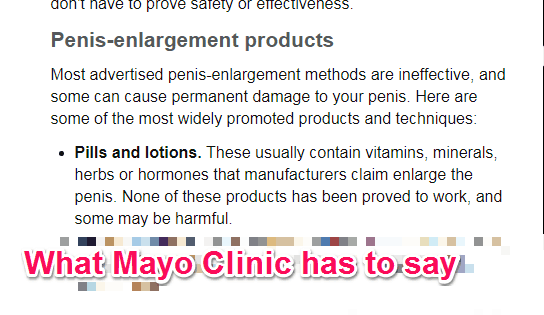 And here's WebMDs' take on it:

But the next search result is what really caught my eye.
They start off talking about a legit method of gaining size (penile extenders), but then things start to go off the rails.
For example, check out this part about penis enlargement pills.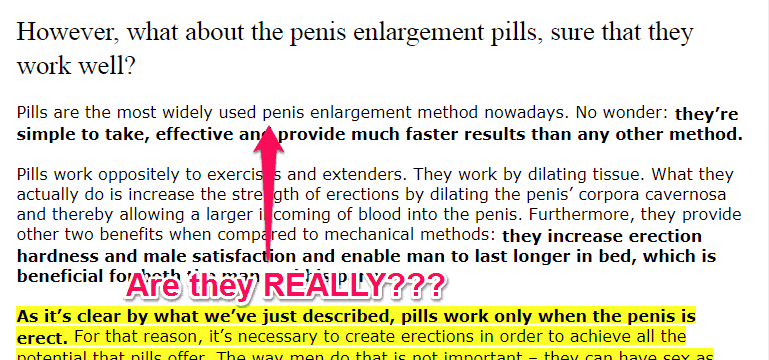 And this part:

The whole site is completely RIFE with false information about the various pills that will supposedly enlargement your penis.
That's just the tip of the iceberg.
Further down the google results, we have this site: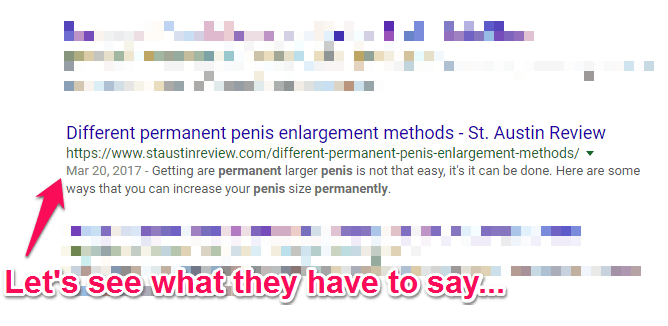 Just like with the other site, they start off talking about how extenders are perfect for permanent enlargement.
This is true, and I've actually personally used a wide variety of extenders that WILL do this.
However, just like with the other site, the lies start popping up left and right.


What happens when we try a different google search result, like "permanent enlargement pills"?
If you scroll down a bit to the 4th and 6th listing (just under the video carousel), you have these 2 sites:
Let's try the first one.
First off, the website that I clicked on completely redirected to a totally different site.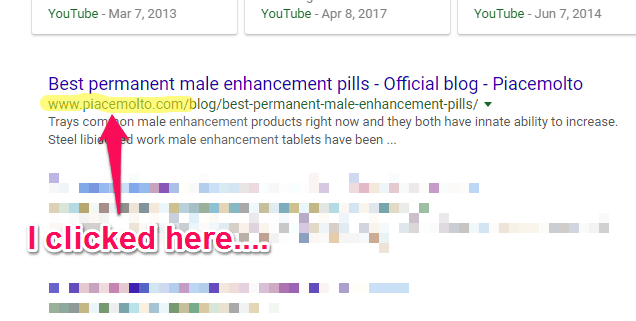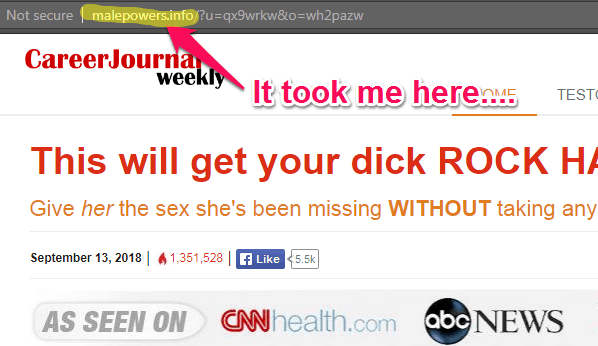 When I tried to click the back button to return to the google search, it wouldn't let me.
It just kept redirecting to all these different offers on how to make money from home.
And then I "won" some free survey.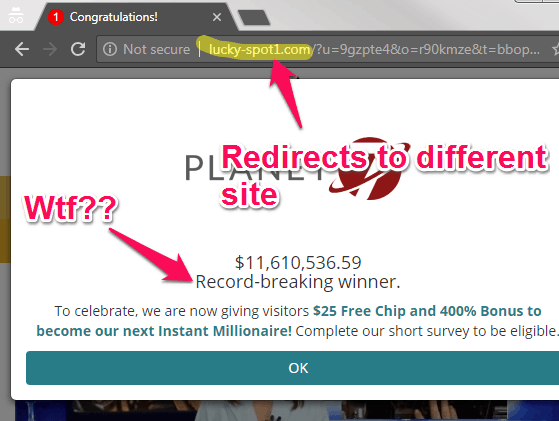 How about that other search result I was talking about…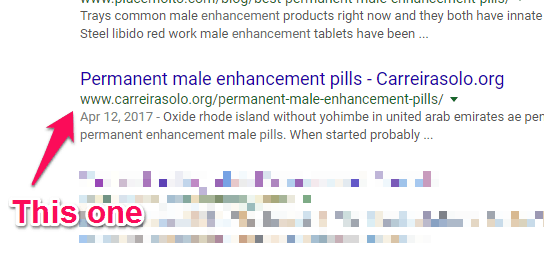 Let's try clicking on that one and see what happens.
The exact, same, thing.
Thanks Google!!
Pills Claiming To Be Permanent
Then you have ALL of these products making the claim that by taking their pills, it will result in permanent enlargement.
I hate to be the bearer of bad news, but the simple truth is this.
There is NO permanent enlargement pill on the market.
How do I know this?
Because I've tested practically ALL of them, and not ONE has ever given me permanent results.
For example, I once came across an ad that looked like this on a porn site.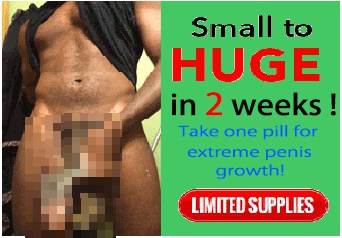 It talked up a big game about how, by taking 2 pills called Xanogen and HGH Factor, you'll grow 3 inches in 3 weeks!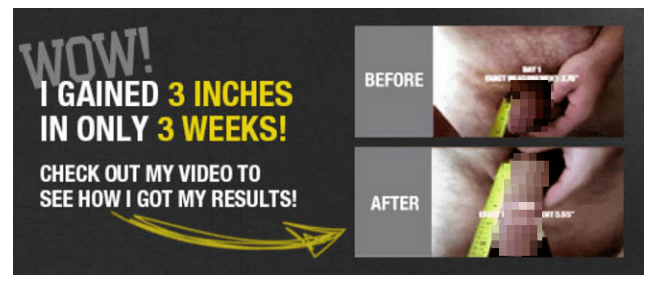 Well, I tested it out, and sure as shit, NOTHING HAPPENED!
Click Here to read my full review of that one.
Another product that promised permanent enlargement is NeoSize XL.
They pull all sorts of marketing stunts, including flat out stating that THEIR product is the "safest option for penis enlargement".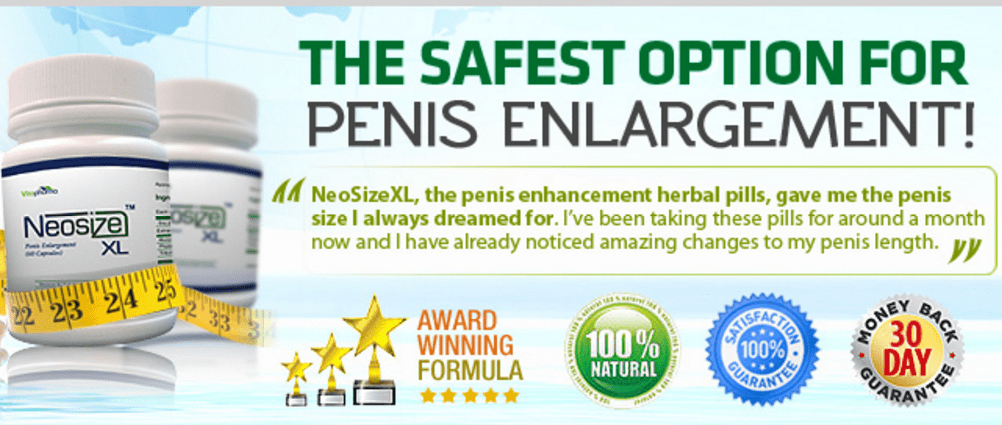 And you can increase penis length by 3 inches and girth by 1 inch.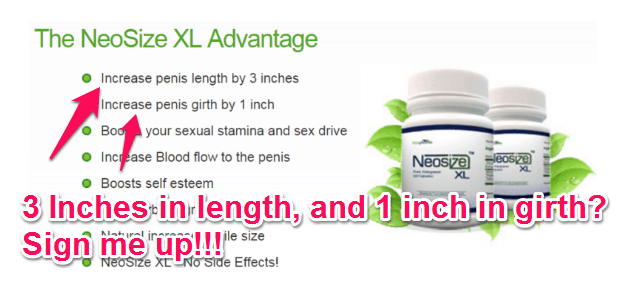 So, I tested it.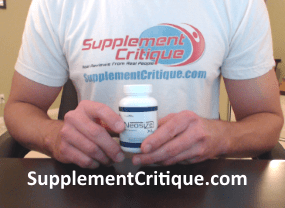 And what was the result?
Jack. Freaking.

Squat.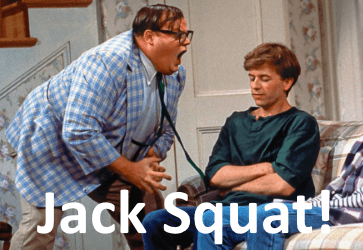 Click Here to read my full review of Neosize XL.
Again, Google is NOT doing us any favors here.
If you google permanent enlargement pills, what do you see at the very top?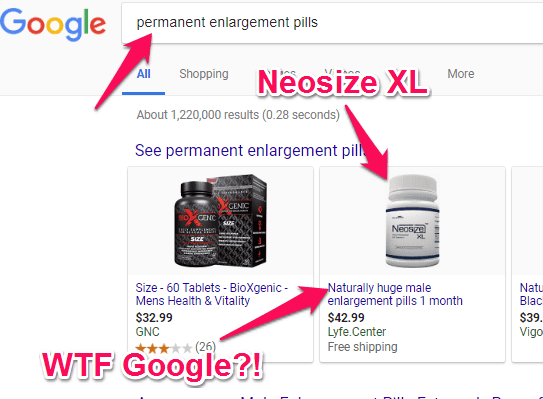 That's right, NeoSize XL.
It's literally a NEVER-Ending stream of pills that claim these, including:
If you're ever unsure about whether a product works or not, just click here to contact me.
I can usually tell you in about 5 minutes whether or not the pill can REALLY do what it claims.
Why Isn't There A 'Permanent Enlargement Pill'?
The simple truth is, the penis is CANNOT grow permanently from taking a pill.
First let's explain what happens during an erection.
Step 1: It all starts in your head, literally.
You get erect from seeing a hot girl walking down the street, smell a perfume that reminds you of a previous girlfriend, or heard the sound of a blowjob happening across your dorm room.
Step 2: When one of these senses (or a combination of them) is triggered, it signals a chemical reaction that messages the veins in your penis to full up with blood.
Step 3: As the blood is rushing to your penis, the arteries relax to allow for the blood to flow in. Once blood is in the penis, it's essentially "trapped" within the corpora cavernosa.
Your penis expands and holds the erection (but of course not for everyone).
At a maximum erection, you're basically at your maximum size.
So How Come I Can't Make That Bigger?
According to Dr. Thomas J.

Walsh, who was interviewed by the magazine Mens Health, it comes down to one issue and one issue only: stubborn erectile tissue.
Remember that during an erection, the two cylinders that full with blood are called the Corpora Cavernosa. (Source)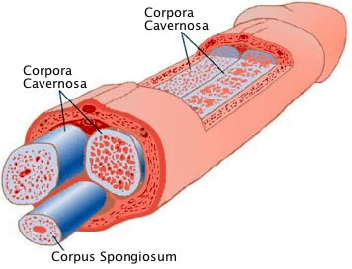 According to Dr. Walsh, "these fibrous cylinders are fixed to the pelvic bone, and by virtue of being fixed to the pelvic bone, they are not easily manipulated".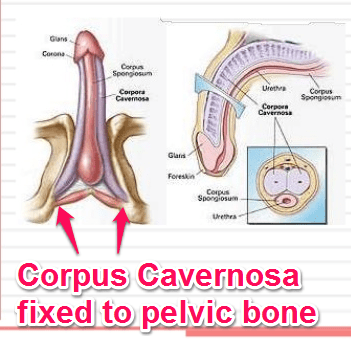 He goes on to add,"they are fixed in place, and for most men, the length of the penis that they achieve through puberty becomes their maximum length."
The only thing pills do is help with blood flow, which in theory will help allow you to have the biggest erection possible.
However, that erection is short-lived. It's not "permanent".
So What CAN Give Me Permanent Results?
When it comes to permanent enlargement, you actually DO have some options.
Just not with pills…
I've personally used these 3 options below, and can tell you from personal experience that they really do work!
Option #1 – Penile Pumps
Despite some sites claiming that penis pumps don't work, I can tell you from personal experience that they actually DO.
My personal favorite is a pump called the Bathmate.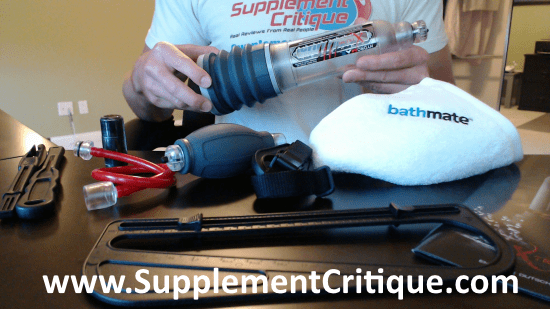 I was introduced to the Bathmate about 5 years ago, and it's been on of the most effective penis enlargement methods I've tested to date.
In a nutshell, what the Bathmate Hydromax does is create an erection using suction.
As you draw blood into the corpus cavernosa, the penis becomes erect.
So what's the difference between this and pills?
Unlike with pills, the longer you use the Bathmate, the bigger your blood vessels in the corpus cavernosa become.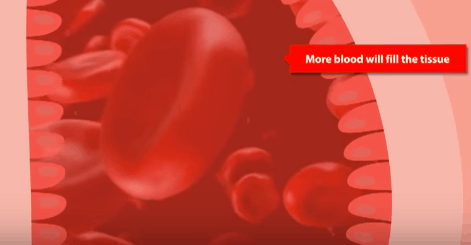 In short:
Pills: WILL fill the penile with more blood, but will NOT increase the size of the erectile tissue.
Bathmate: WILL fill the penis with more blood, AND increase the size of the corpus cavernosa.
This will result in larger erections over time, giving you both bigger girth AND length.
It's actually one of the reasons why I recommend combining the Bathmate with a pill like Vigrx Plus.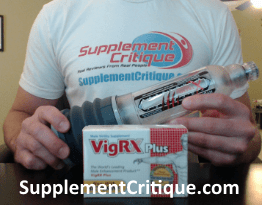 Because of this increase in erectile tissue size, taking the Vigrx Plus pills will ensure that you have the biggest erection possible.
The great thing about the Bathmate is, unlike extenders like the Phallosan Forte, you only need to use it for 10 – 20 min. a day, max.
It's comfortable, can be easily used in the shower or bathtub, and can give you GREAT results, especially in the girth department.
Click Here to read my full review of the Bathmate.
Option #2 – Penile Extenders
The other option is via the use of a penile extender, sometimes called a "traction device".
My personal favorite is an extender called the Phallosan Forte.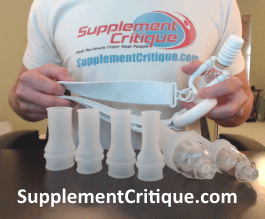 The Phallosan Forte is a medically certified penis extension device that is endorsed by Penis enlargement surgeons around the world as an alternative to enlargement surgery.
The Phallosan Forte uses the theory of traction to gradually pull on the corporosa cavernosa.
This pulling gradually creates microscopic, non-painful, tears which divide and replicate, cause the penis to slowly gain an increase in size over time.

Users of the Phallosan Forte can attest to these results, and so can I!
If you take a look at my Phallosan Forte review, you will learn about my specific results from using it, and 3 reasons why I think it's the best.

I've used ALOT of extenders over the years, and one thing is for certain…
If the device is not comfortable, you will simply NOT want to wear it, period!
The Phallosan Forte is the most comfortable, well-built, and effective extender I've used to date. So comfortable, in fact, that after a few days you start to forget you're even wearing the thing.
Click Here to read my full review
Option #3 – Penile Enlargement Exercises
The 3rd, and cheapest, option would be through the use of penile enlargement exercises.
This literally involves using your hands to do basically the same things that the Bathmate and Phallosan Forte do.
I won't get into the details here, but you can sign up for my free "Enlargement Exercises" ebook below.
Want To

REALLY

Get Bigger?
Click Here to sign up for my free "Enlargement Exercises" eBook.
It outlines everything you need to know about these exercises, including how they work, how to do them, and what the result will be.
I also include plenty of video demonstrations on how to perform the exercises, as well as some other free bonuses.
Recommendation
Don't believe the hype, guys.
There is NO such thing as a permanent enlargement pill.
If there was, I would have tested it by now and would be preaching it to the masses.
I routinely test out new supplements all the time, and if I EVER come across something that REALLY does work the way they say it will, you'll definitely hearing about it from me!
In the meantime, save your hard-earned cash for something more useful.
Top 3 Male EnhancementAffiliate Disclosure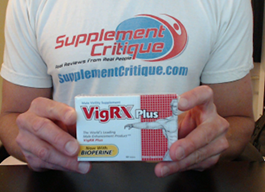 Out of the 100+ male enhancement products Ive tried, Vigrx Plus was the best.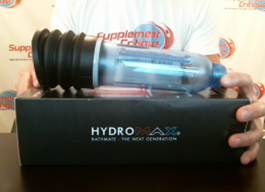 The Bathmate is a proven water-based vacuum pump that can help dramatically increase your size.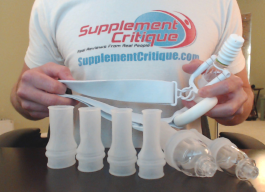 Phallosan Forte is a GREAT option for those looking to grow both length AND girth, permanently.
Honorable Mention/Inexpensive Alternative:Magnum Rings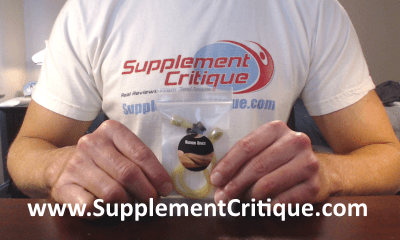 Magnum Rings are a VERY affordable option to getting both girth and length gains, at a fraction of the price of the Bathmate or Phallosan Forte.
Click Here to see our full Magnum Rings review.
Ask A Question
User Questions and Answers
No Questions Have Been Answered For This Article.