Climadex Review
By:
Rob Miller
Fact Checked On: 4-7-2020
Update (8-22-2018): We're looking for one health volunteer to test out Climadex!
The product will be provided free of charge, all we ask for is a detailed review of your personal results.
Contact Us hereto learn more!
If you suffer with erectile dysfunction, then you know there's a million products on the market promising bigger and longer lasting erections, a boost in sex drive and energy, and overall increased confidence in the bedroom.
Yeah, and only a small fraction of these products actually deliver. Others fall WAY short of the mark.

And still others are complete scams that will take your money and leave you worse off than before.
Here at Supplement Critique, it's all in a day's work to blast the scammers, thereby allowing you to keep your money and your confidence.
The fact is that it is easy to bust the scammers because many of them use the exact same tactics and try to appeal to men who feel vulnerable because of their shortcomings in the bedroom and so they simply swoop in and try and relieve them of their hard earned cash using the same age old tricks as the last scheme before them.
Because let's face it, when you have ED you're genuinely looking for a male enhancement product that works.

You don't have the time or money to be led astray and get distracted with crap supplements that flat out don't work.
You need a sex enhancer that actually delivers on its promises.

Something that'll get the job done, so you can perform in the bedroom like never before.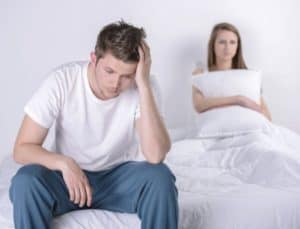 So. . . when I came across a questionable advertisement for a product called Climadex, I couldn't help but take a closer look.
Here's what I found. . .
1. Fake marketing behind Climadex
When I stumbled across this article on Yahoo, I said to myself. . . "I know that tons of men struggle with getting an erection, so maybe this 'crazy invention' is for them."

But as I clicked in I remembered one trick in the scammers toolkit.

They make fake articles that are actually ads.

The ads lead to fake sales pages, and ultimately sell people on terrible products.
Take a closer look at this so-called article. . . and note the 'sponsored' tag.

Now, when I clicked in I was led to an article that was supposedly published by GQ.
Yeah, right.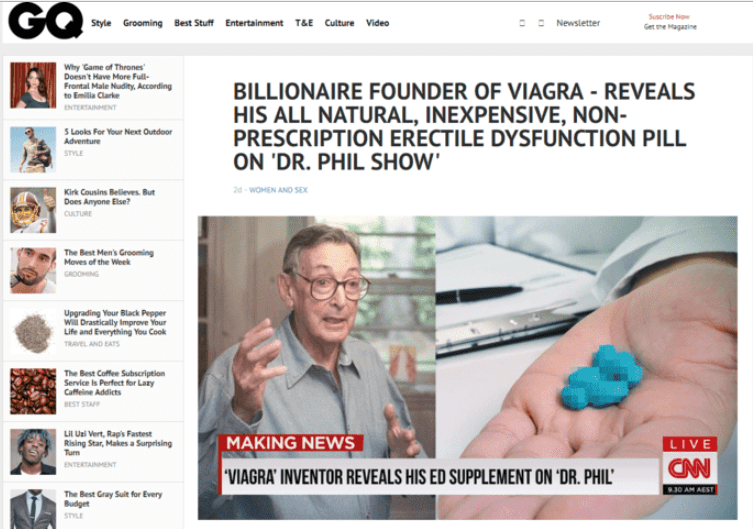 OK, first of all, you can tell this isn't the real GQ website (above).

Because this is the real GQ website header (below).

Notice the branding and color scheme is way different, but also notice how the fake ad rips off GQ's navigation menu: Style, Grooming, Best Stuff, Culture, Video, etc. It's almost exactly the same!
OK, so we know it can't be the real GQ. It's a counterfeit.

This has to be illegal, if not highly unethical.
So let's move on to the actual content of the advertisement, and the Climadex claims.
2. Did the founder of Viagra really create Climadex?
Not a chance.
But. . . there it is, front and center.

The headline says the founder of Viagra, Robert Furchgott, has recently rolled out his "inexpensive, non-prescription erectile dysfunction pill on Dr. Phil Show."
The absurdity of this claim boggles my mind, and for one simple reason.
It's so absurd I feel like I need a drumroll to introduce the absurdity.
Here it is: Robert F.

Furchgott, the founder of Viagra, passed away. . . almost a whole DECADE ago!
Did he come back from the dead to sling some counterfeit Viagra on the Dr. Phil Show?

Of course not!
Not only is it false advertising, it's highly immoral and downright disgusting.
Robert F.

Furchgott did this world a whole lot of good, and he was even awarded a Nobel Prize.

How a "company" like Climadex can tell a bald-face lie and use such an influential figure to manipulate suffering men into buying their crappy product is beyond me.
Anyhow, the Climadex ad claims that Furchgott came out of retirement and invented this special erectile dysfunction pill as a way to "give back."
The sleezebuckets at Climadex include photos of Furchgott and Dr. Phil side-by-side.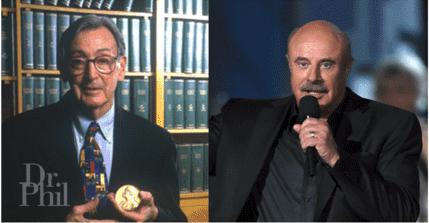 In the fake article, Furchgott supposedly says that "I have done the research, tested and tested, and I have finally come up with something that's safe for men and just as effective as the prescription product I invented years back."
To which the fake GQ reporter writes:
"Dr. Furchgott's words coupled with online reports of amazing results got us here at GQ curious about Climadex so we did some research — here's what we found. Is Climadex right for you?

The quick answer is Yes."
I can almost see Furchgott just rolling in his grave!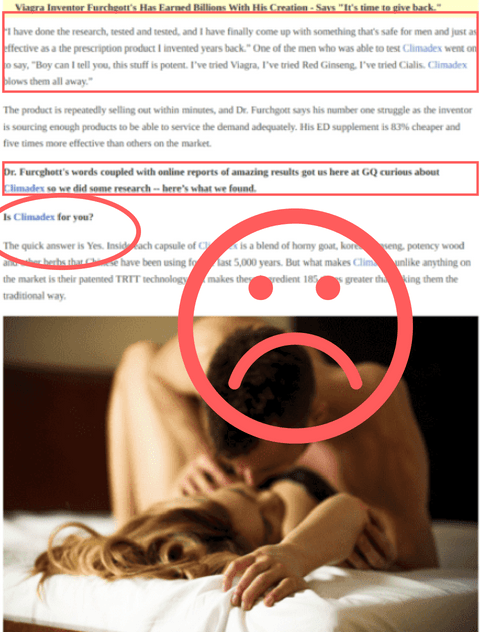 Towards the bottom of the sales page advertisement, Climadex includes a call-to-action to buy their erectile dysfunction product.

You can "take advantage of the exclusive link" and claim your "free bottle of Climadex."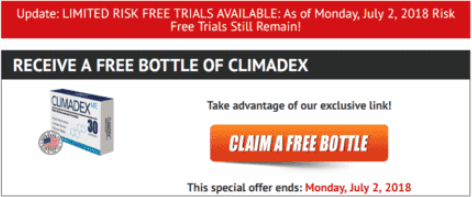 No thanks.
Finally, just to put the Furchgott thing to rest, just do a simple Google search for "Furchgott + Climadex" and you'll find absolutely nothing published ever.

Because there never was an affiliation between the two.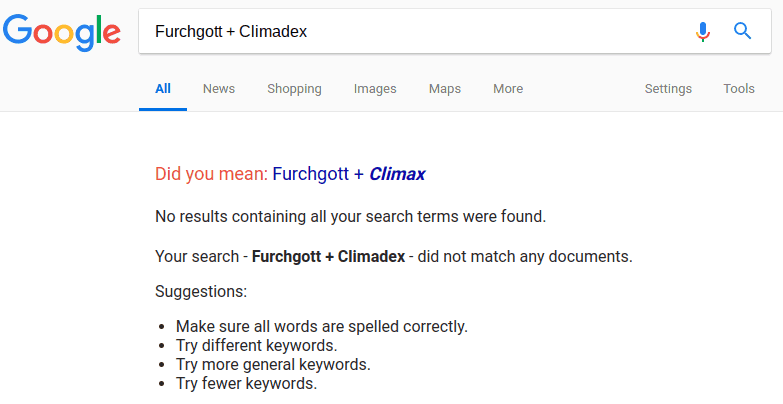 3. So what is Climadex?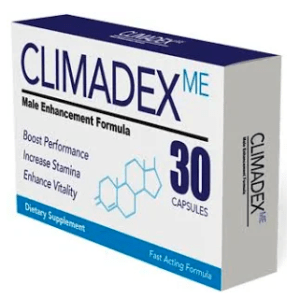 Even if you tried, you couldn't find much about the company or product online. Climadex.com doesn't exist, nor is there an official web page for the product.
This was the closest I came to finding the company (below), but alas, it's actually a third-party site just trying to sell the product. . .

With that said, don't be fooled.

I'm sure there are several Climadex sales pages floating around on the web, just waiting to hook unsuspecting men. That's how these things work.
4. What are the ingredients in Climadex?
From what I can tell, the ingredients are what you'd find in many other erectile dysfunction supplements sold on the market.
The formula is nothing out of the ordinary or groundbreaking.

In fact, it's pretty run-of-the-mill.
Climadex (supposedly) contains the following core ingredients:
Horny goat weed, this medicinal herb allows blood to fill the arteries and the three cylinders in the penis to create an erection. Source
Fenugreek extract, supposedlyfenugreek is a natural testosterone booster, with compounds called steroidal saponins that can play a key role in boosting testosterone levels. Source
Tribulus terrestris, while this herb may enhance libido in men, unfortunately it does not boost testosterone as once thought. Source
L-Arginine, this amino-acid mayhelp arteries relax and improve blood flow, and therefore it may also help with erectile dysfunction in men. Source
Ginseng, this popular herbal ingredient is said to increase energy and cognitive function. Source
Muira Puama, this herb improves libido and the ability to sustain an erection, and supposedly improves erection strength and overall stamina. Source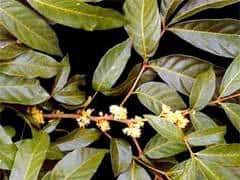 Maca Root, this ingredient allegedly serves as an aphrodisiac, although the scientific evidence surrounding this claim is still pretty limited. Source
5. Climadex Reviews
I was unable to find any Climadex user reviews on the internet.

Often the more legitimate male enhancement supplements are sold on Amazon, where you can read unbiased reviews of real people who have used the product.
But that's not the case with Climadex.
When I found their sales page, I also found fake reviews that have scam written all over them. . .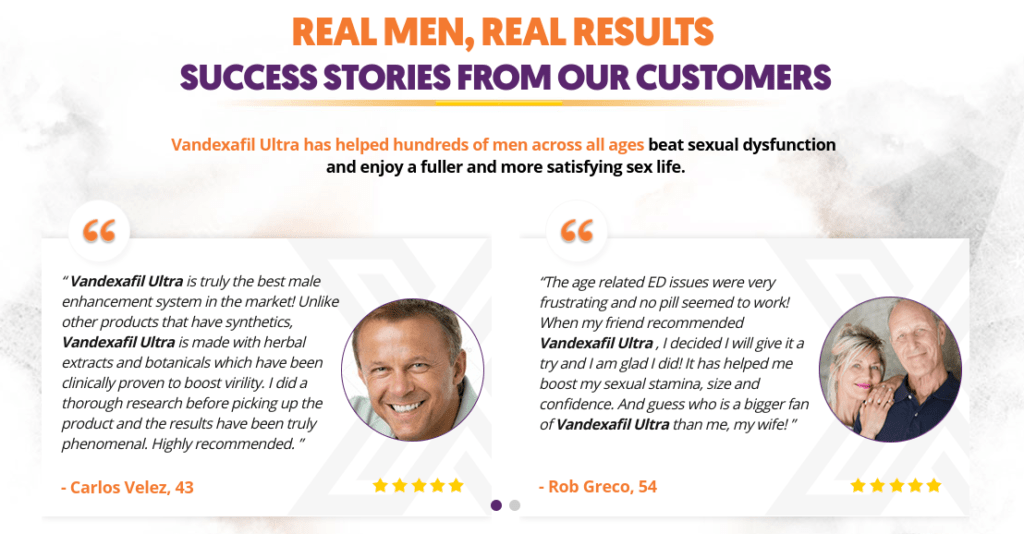 Climadex FAQ's
6. Is it Climadex or Vandexafil? (or Anamax?)
So get this.

In my searching I finally come across a company that sells the supplement.

And that company is called Friendo Health.
And apparently they're selling the supplement for $4.95 for 60 capsules.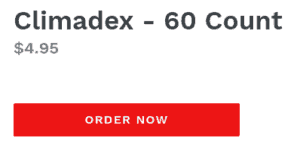 Pretty good dea Maybe too good to be true? Well, I thought so.

When you click the order button it takes you to a sales page with THIS URL. . .
Vandexafil!

What in the world is Vandexafil?
I'll tell you what it is. . . it's the same ol' Climadex with a fancy new name.
Look familiar?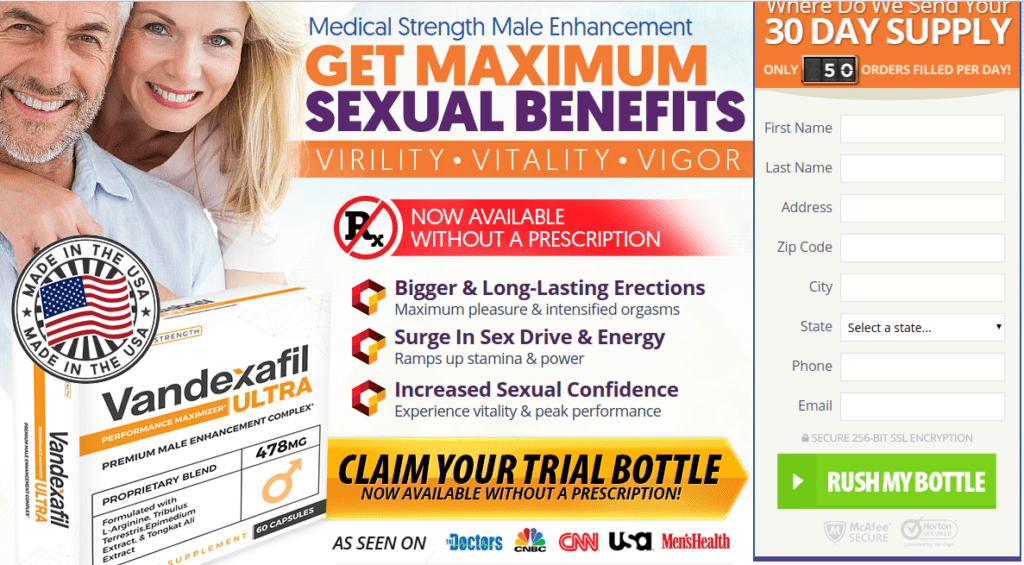 That's because it's the same thing as Climadex (below)!

The only difference is the color scheme and the box.

They didn't even bother to change up the marketing or copy.

Pretty sad.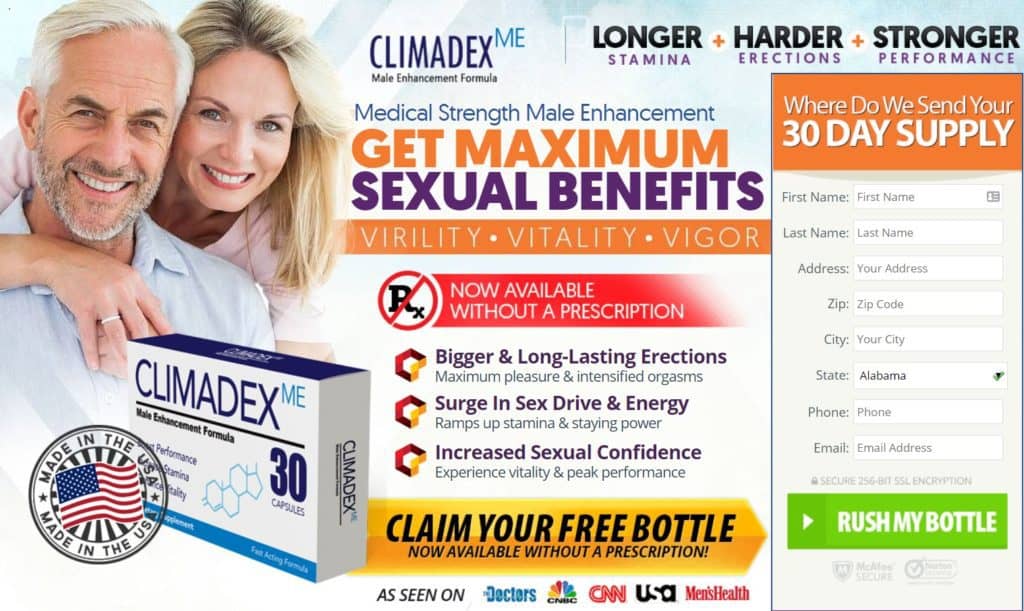 Needless to say, Climadex became Vandexafil because of the bad rap it was getting.

And sure enough, Vandexafil will soon switch to yet another name for the same reason.
Like…Anamax!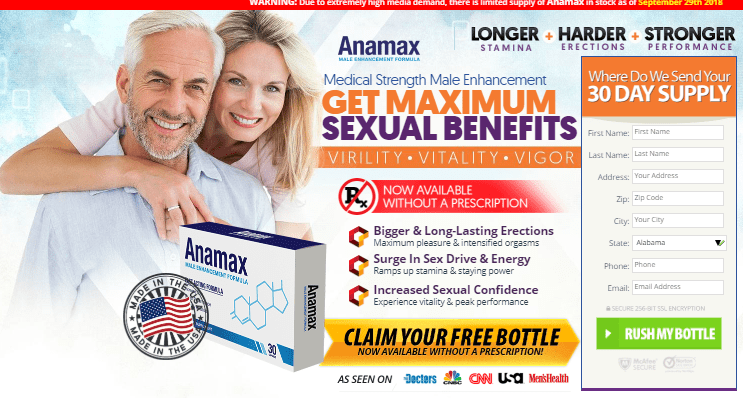 7. Who makes Climadex / Vandexafil?
You won't find any information online about the "company" that makes either Climadex or Vandexafil.
However, at the bottom of the Vandexafil sales page you can find a "Contact" link.

When you take the link you get this. . .
You can have at it, but they won't answer your call or return your emails.

You can also try sending them some snail mail.

They say they're located in Ontario, but next week they'll be located somewhere else.

That's how it goes.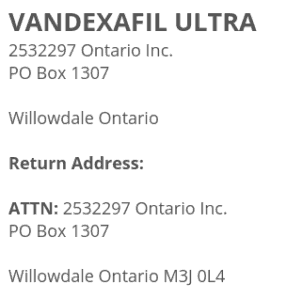 8. Are there any Climadex side effects?
To be honest, you don't really know what scammers like this are putting in their supplements.

So there's really no way of telling.

I mean, if they're willing to weave a web of lies just to get you to buy the product, who's to say what's listed on the ingredients label is what's actually in the formula?
With that said, the ingredients listed in the 'Ingredients' section mostly come with mild side effects, if any.
However, according to Healthline.com, erectile dysfunction supplements can give you the following side effects. . .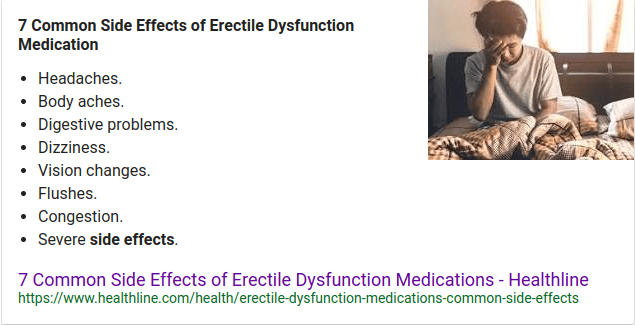 9. Where can I buy Climadex?
I've only found the product for sale on the Vandexafil sales page.

But if I were you, I wouldn't buy the product.

That probably goes without saying, but you never know.
You might get a free trial bottle, but there's a good chance you'll be thrown into their automatic billing cycle, which can be a nightmare to escape from.
If you've gotten sucked into that, click here to see how to get out of it.
10. Recommendations
Steer clear from both Climadex and Vandexafil.
Really, it's sad that a company would stoop so low as to use a deceased scientist to market their product.
While the ingredients list seems pretty straightforward, you can never know what the supposed erectile dysfunction pill actually contains.
That is a red flag and a huge no-no because you should never ingest something if you are unaware of what it is made out of.
Your money is much better spent elsewhere.

You've been warned.
Have you tried Climadex or Vandexafil?

If so, write your review in the comments below.
Top 3 Male EnhancementAffiliate Disclosure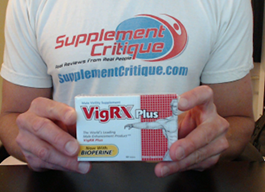 Out of the 100+ male enhancement products Ive tried, Vigrx Plus was the best.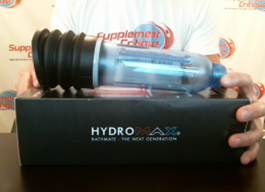 The Bathmate is a proven water-based vacuum pump that can help dramatically increase your size.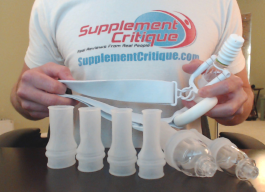 Phallosan Forte is a GREAT option for those looking to grow both length AND girth, permanently.
Honorable Mention/Inexpensive Alternative:Magnum Rings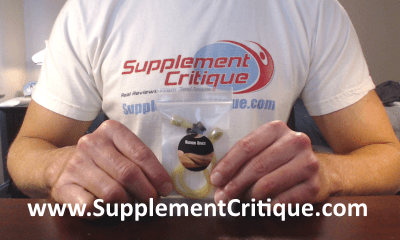 Magnum Rings are a VERY affordable option to getting both girth and length gains, at a fraction of the price of the Bathmate or Phallosan Forte.
Click Here to see our full Magnum Rings review.
Ask A Question
User Questions and Answers
No Questions Have Been Answered For This Article.