The Fake Article
If you're reading this review right now, you probably saw an article online talking about how stacking Anabolic Rx24 with another product called Nitric Max Muscle is the latest secret bodybuilding tool to take Hollywood by storm.
Look, I'm gonna give it to you straight.

This article is straight up bull shit, and I've seen the exact same one being used to push dozens of other stacks.

I'm not talking about a similar article.

I mean the exact same article – the only difference being that they swap out the supplement names depending on what they're trying to scam you with on any given day.

If you don't believe me, allow me to break it down for you.
Starting with the headline right at the top of the page:

Notice how they want you to think it's Men's Health Magazine.

They use their font and color scheme and everything, but notice the word "Life" in muted gray. It's not Men's Health folks.

If you look at the sections across the top of the page: "Fitness", "Sex & Love", etc, none of them go anywhere when you click on them.

And don't forget to note that word, "Advertorial" at the top of the page.

It's a made up word, but it means that this is an advertisement made to look like an editorial.
The scam article continues on by trying to make you think actual celebrities use the Anabolic Rx24 stack.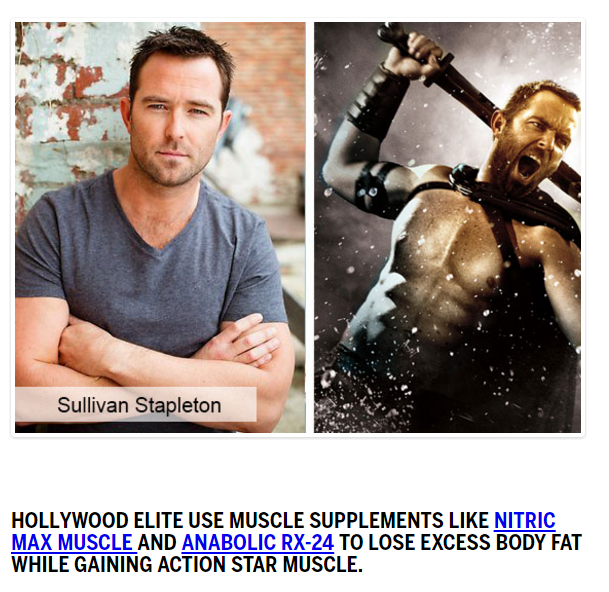 Sullivan Stapleton did not use Anabolic Rx24 to prepare for 300: Rise of an Empire.  What he did do was work his ass off and followed a very strict diet.
The article doesn't actually even say he did.

They just imply it and hope you fall for it.
Here's a great example of the bullshit this article tries to peddle. Anabolic Rx24 is a testosterone booster.

Its goal is to boost your natural testosterone levels which will result in better muscle building and fat loss, as well as increased sex drive and improved performance.

But the article doesn't even mention that Anabolic Rx24 is a testosterone booster.

This is what it says about the benefits you can expect:
These are the benefits of a nitric oxide boosting supplement, not a testosterone boosting one.

But this is exactly what happens when you just plug supplement names into an existing article.

It doesn't appear that they even care if what they say is true.

They just figure if you say it, believe will believe it and buy it.
You're probably convinced by now that this article is a scam.

But just in case, I'll leave you with one more glaring example:

Any supplement that tries to say you can lose fat or gain muscle without changing your diet or workout program is lying to you. It's simply not possible.

The writer did not gain 16 pounds of muscle in 4 weeks without working out extremely hard and eating a very specific diet. How do I know? Because it's impossible. That's just not how biology works.

Losing fat requires expending more calories (energy) than you consume.

Building muscle requires a surplus of calories combined with heavy weight training.

No supplement can take the place of either of these.
The funny part is if you do a little digging, you'll find an article from the actual Men'sHealth magazine warning you about Anabolic Rx24 and other products like it that claim a relationship with them.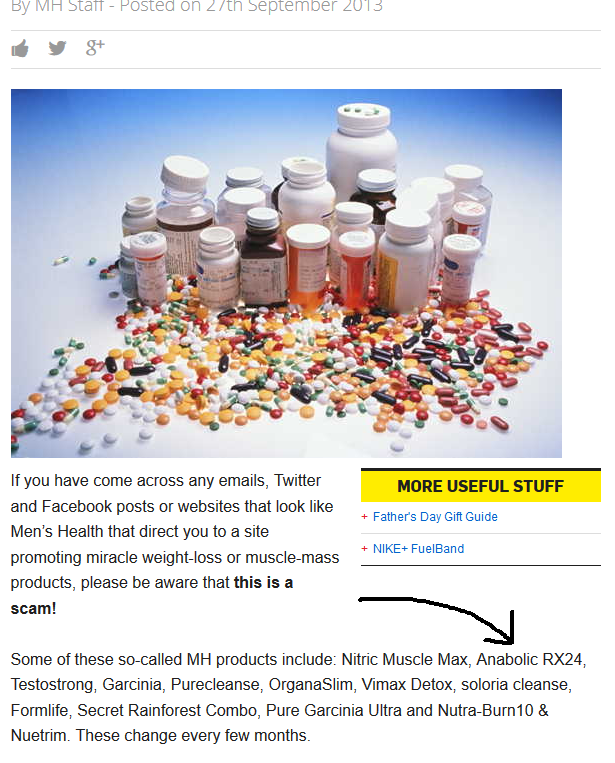 I've even written about some of these other products, including Testostrong and Nitric Muscle Max, but there are SO many others out there that seem to fly under the radar.
Products like Hypertone Force and Hypertone Excel, Alpha Fuel XT, and Blackcore Edge ALL use virtually identical marketing and advertising to push their products.
The short story is that it's just a lie.

These products have nothing to do with the magazine and the magazine does not endorse them.
With that said, Anabolic Rx24 deserves to be looked at on the merits (maybe), so we'll consider the false advertising one big strike while we continue to assess its pros and cons.