Magnesium Oil Spray Review – Should You Try It?
By:
Rob Miller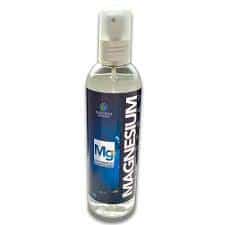 ---
Magnesium Oil Spray Overview
While it doesn't fit exactly into one of our usual supplement categories, I was asked by a reader to talk about Magnesium Oil Spray in terms of the benefits it may have for athletes and fitness enthusiasts.

I have to admit, I didn't know much about the relationship of magnesium to working out before getting this request.

My multivitamin contains 100 mg of magnesium oxide, but that's as far as I've taken it.

But magnesium is involved in countless cellular reactions and particularly energy production and tissue repair.

So what is magnesium oil, and why do some doctors and health advisers say we need it?
What is Magnesium Oil Spray
Oil is actually a bit of a misnomer.

It's basically magnesium (usually in the form of magnesium chloride) in a watery spray solution.

Instructions vary somewhat, but generally involve applying a few to several sprays to your skin after bathing.

You can spray it directly or spray it into your cupped hand then rub it in.

It is commonly recommended to apply it to the tops of your feet or back of your hands, though because the key is that it is absorbed transdermally, almost anywhere will do.
Athletic Benefits of Magnesium Oil Spray
Magnesium is itself an essential mineral to anyone's diet.

It's important for optimal cellular health and functioning.

But more than that, there are some doctors and health professionals who believe it works wonders for the serious and/or competitive athlete.
When you exercise, the magnesium in your body goes to where it's needed, potentially leaving a lack elsewhere.

The processes that suffer are oxygen uptake in muscle tissue as well as muscle tissue repair post exercise.

This equates to poor endurance during and sore muscle post strenuous exercise.

By increasing your magnesium intake, you ensure there's enough to take care of normal bodily functions while also tending to the extra needs brought about by strenuous exercise.

Studies show that if you have sufficient levels, exercise does not cause a problem, but if you are deficient, you would benefit from supplementation. (1) http://www.ncbi.nlm.nih.gov/pubmed/17172008
It is also thought that increasing magnesium intake helps calm restlessness and anxiety while promoting relaxation and a restful sleep.

Both of these effects are also beneficial for athletes and those with fitness goals.
Why a Spray?
Magnesium is not as well absorbed when taken orally as it is when applied transdermally.

By applying it to your skin, it can absorb directly into your bloodstream without having to go through the digestive system.

It's also more convenient in that you can spray it on directly or add it to your bath water.
Magnesium Oil Spray Pros and Cons
Advantages of Magnesium Oil Spray
It provides a simple, convenient way to increase magnesium levels.
Sufficient magnesium levels improve endurance and post workout recovery.
Its benefits are supported by scientific studies.
You can find anecdotal evidence in the form of Magnesium Oil Spray reviews that attest to the fact that it works.

Magnesium Oil Spray

may help prevent muscle cramps.
Disadvantages of Magnesium Oil Spray
It may take some time to figure out how much to use because there are a lot of different ideas about proper usage.
It may make you feel a tingle or itch.
It leaves a salty residue when it dries.
Where to Buy
There are several different brands of Magnesium Oil Spray oil available through several different retailers, both online and in stores.
Conclusion
If you're an athlete looking for alternative natural remedies for sore muscles and lack of endurance, Magnesium Oil Spray has a good chance of providing some help.

It may also be a good choice for anyone who gets muscle cramps on a regular basis.
Have You Used Magnesium Oil Spray? Leave Your Review Below!
User Reviews

5.0 out of 5 Stars (1 Reviews)
Have you used this supplement?
By
Terry Hill

,
Jul 15, 2019


In Short:

I would recommend this to a friend.
I use magnesium chloride in the raw form and make my own lotion magnesium has helped me in so many ways lower blood pressure keeps you regular in the bathroom and gives you an overall relax feeling and also eliminates cramps quickly

Was this review helpful to you?
5 out of 6 people found this review helpful.
---
Ask A Question
User Questions and Answers
No Questions Have Been Answered For This Article.