Hyper Tone Force and Hyper Tone Excel Review – 7 Big Reasons This is a Scam
---
Contents
What is Hyper Tone Force
Hyper Tone Force Ingredients
What is Hyper Tone Excel
Hyper Tone Excel Ingredients
Reviews
Free Trials
The Bottom Line
User Reviews
I've written a lot of reviews lately about these hard sell supplement scams popping up all over the internet lately.
Just the other day, I got word about yet another one.
This time it's Hyper Tone Force and Hyper Tone Excel.
While I'd love to tell you this one is different, unfortunately, it's not.
It's just another scam company, this time capitalizing on a certain South African runner's success at the Olympics in Rio.
This article came to my attention just a couple days ago, and there was no way I wasn't going to share it with you guys: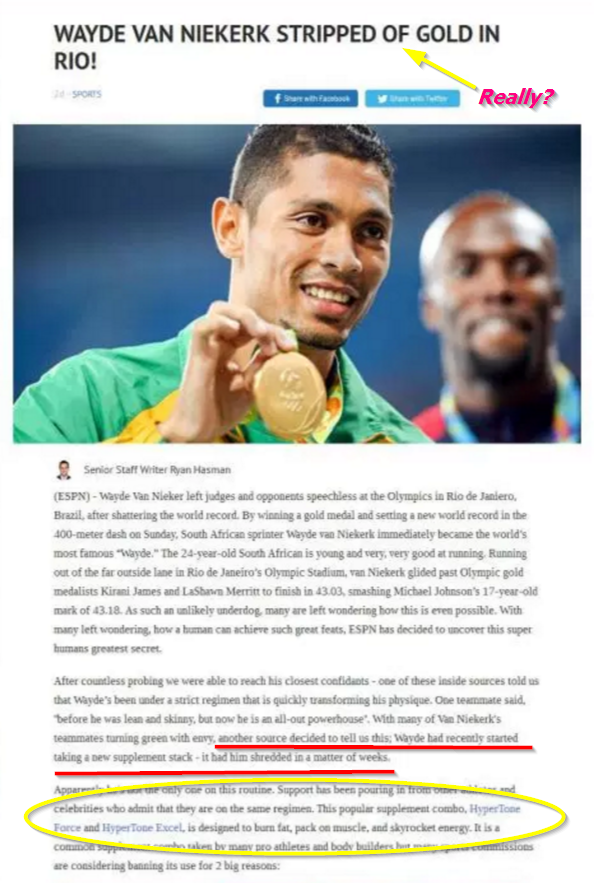 The print is kind of small, so I'll tell you what they're trying to say.
The headline clearly states straight up that Wayde Van Niekerk was stripped of the gold medal he won for the 400 meter dash – you know – the race where he broke the 17 year old world record while running in the outside lane – a completely unprecedented feat.
Let me assure you right off the bat, this isn't true.
The record and the gold medal remain intact.
The whole premise of the article is a lie.
Now take a look at what they state is the REASON he lost his medal: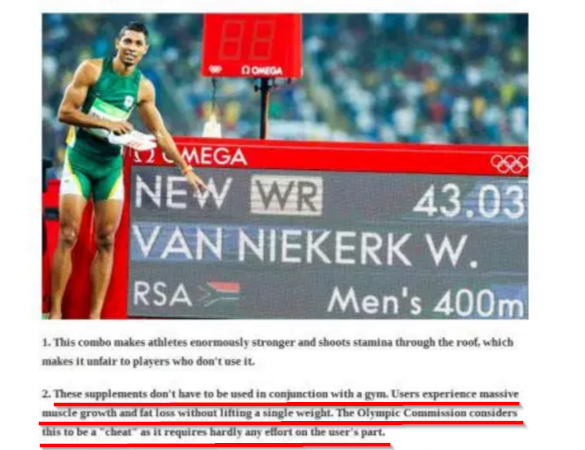 Seriously? Again, if you can't read it, allow me to help you out.
In number 2, it says:
"These supplements don't have to be used in conjunction with a gym.

Users experience massive muscle growth and fat loss WITHOUT LIFTING A SINGLE WEIGHT.

The Olympic Commission considers this to be a "cheat" as it requires hardly any effort on the user's part".
Are they serious?
Are they really trying to say you can lost fat and build muscle by taking a pill, without any special diet or workout?
Yep, that's exactly what they're saying.

Unbelievable.
Wayde Van Niekerk doesn't use Hyper Tone Force and Hyper Tone Excel.
He's most likely never even heard of them (unless his lawyer informed him that they're using his image without permission).
And they don't stop there.
The next part of the article talks about how the author used the stack himself, and the amazing results he got without working out.
They even show a before and after image comparison.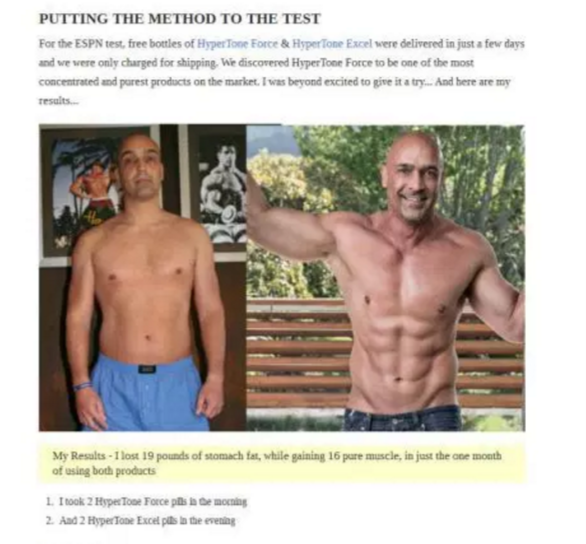 I can tell you with absolute certainty that this is image is not a before and after comparison for anyone who used Hyper Tone Force and Hyper Tone Excel.
This is actually an image of bodybuilder/trainer Gert Louw.
He offers a rigorous and intense diet and workout program through his website – it's the same one that he used to make the transformation you see in the images.
He didn't do it with pills.
He's never touched this stack.
The folks at Hyper Tone Force and Hyper Tone Excel lifted his image off the internet because they thought it would draw in users, impressed with the amazing results achieved by this "regular guy".
But Gert Louw is no regular guy.
He's committed to his fitness lifestyle and to sharing it with other committed people.
He did not get his body by taking pills.
Look, this happens all the time. Hyper Tone Force and Hyper Tone Excel are not the first and they won't be the last.
Here's the basic rundown of how this scam always works.
A link to an "article" on how some famous actor or athlete got in shape using some amazing new supplement stack.
You click the link and read the article. You think, "Holy cow! This stuff looks amazing. I've got to get my hands on some! What's that? It's free?

Oh my God, how did I get so lucky?"
You click the link to get you some free amazing supplements.

You sign up for your free trial, paying the paltry shipping charge, and you wait for your supplements to arrive.
About a week later, your pills arrive.

You make plans for your new diet and workout plan because despite what they say about not needing to change an of that, you want to set yourself up for maximum success.
Now two weeks have passed since you ordered and you're ready and excited to get started on your new amazing journey.

You take your pills, plan your meals, and hit the gym.
You get home, take out your phone to check your credit card or bank balance, and you see two unexplained charges for anywhere between $85 and $130 each.WTF?
Turns out, these two charges are for the amazing supplement stack that's going to change your life, you know, the ones you thought you were getting to try for free.
But as bad as that is, it's not the worst of it.

Unless you contact these supplement scammers and cancel your subscription, those two charges are going to return month after month, every month, forever.
That's it in a nutshell.
I strongly recommend you just stay away from these two supplements, just like I recommend with all these kinds of products.
But I know there are those among you who are still wondering,
"But what if they really do work?

Won't they be worth all the expense and hassle if they are?"
For you, I will continue.
We'll take a closer look at each product and break down their chances for success.

Looking To

REALLY

Get Ripped?
Click Here to download my FREE "How To Get Ripped Quickly" eBook!!
How People Found This Review:
and hypertone force, and hyper tone force, and hypertone force review, and hypertone force scam, and hypertone, and hypertone excel