When you hit your thirties, that's when the first signs of aging start to kick in.
If you work out, it's probably then when you start to notice a change.
Those last reps are suddenly harder than they used to be.
You start to feel soft around the middle even though you feel like you're working out just as hard.
Motivation starts to drop, and your interest in sex may even start to diminish.
It's all totally natural, but it still sucks, so clearly if there's something you can do about it, you will.
The culprit with all these symptoms is dropping testosterone levels.
When you're a teenager and in your early 20s, your body is practically swimming in the stuff.
That's why you could eat anything you wanted without putting on fat, why you had endless energy, and why you wanted to and could have sex at the drop of a hat.
Starting in your mid to late 20s, the amount of testosterone your body produces starts to drop.
It's not very noticeable at first, but after a few years – from about 30-35 – you'll start to see the effects, and they just keep getting more and more pronounced from there.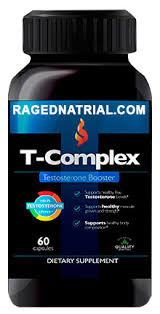 For some guys, perhaps due to illness, it's bad enough that they need actual testosterone replacement therapy.
This involves doctors and prescriptions.
Most guys don't fit into that category.
The testosterone drop is normal and natural, so they don't need significant interference, and they do well with a natural testosterone boosting supplement.
We've reviewed an awful lot of these natural testosterone boosting supplements.
We've found some that work very well, and some that don't work at all.
Not too long ago, I had a reader ask me about T Complex.
I hadn't heard of it before, so I told him I'd take a look.
What Is T Complex 1000?
T Complex is a natural testosterone boosting supplement you can order online. While some focus on the sexual and everyday benefits of increased testosterone levels, T Complex is aimed at guys who want to do better at the gym.
Its promised benefits include:
Explosive workouts.
Intense pumps.
Increased lean muscle mass.
Faster strength gain.
Shortened recovery time post workout.
Boosted sexual stamina.
T-Complex Ingredients
The T Complex 1000 website doesn't currently offer a list of ingredients in the T-Complex formula, but we were able to track that information down through other avenues.
While sometimes these third parties can be a little sketchy and potentially unreliable, that's not the case here.
This list appears by all accounts to be genuine.
The formula starts off with:
Zinc (15mg) which is vital to the chemical reaction in the body that produces testosterone.

Studies have shown a correlative link between zinc levels and testosterone levels, specifically showing that men with depleted zinc levels also often have depleted testosterone levels. 15 mg is the recommended daily dose for adults, so this amount in T-Complex is sufficient.

Magnesium (20mg) which is part of ZMA, which is a stack of minerals and vitamins that is thought to increase testosterone levels. 20 mg is only 5% of the recommended daily dose for magnesium, so it may not have much of an effect here.
The rest of the formula is included in a proprietary blend totaling 655 mg. This means that the entire blend adds up to 655 mg, but we don't know how much of each ingredient is included.
The entire 655 mg amount is pretty small considering how many ingredients are included, but it's impossible to tell how the distribution is done.
The blend includes:
Eurycoma Longifolia (aka Longjack, aka Tongkat Ali) which is believed to increase free testosterone by inhibiting the action of Sex Hormone Binding Gobulin (SHBG).

SHBG will bind to free testosterone molecules, tying them up so they can't be usefull.

By decreasing the effect of SHBG, Tongkat Ali may increase the amount of free, unfettered testosterone available for use by the body.

Mucuna Pruriens which is an herbal aphrodisiac to boost your libido.
Tribulus Terrestris which may increase testosterone levels by increasing the release of Luteinizing Hormone (LH) in the body.

LH is released by the pituitary gland and signals the testes to produce and release more testosterone.

This is how it is thought to work, thought studies have not born this out.

Nettle Leaf Extract which is supportive of prostate health and is capable of reducing inflammation.

The reduction of inflammation may lead to quicker post workout recovery.

Avena Sativa (Oat Straw) which may also increase free testosterone as it is know to improve physical stamina.
Ashwagandha which is known as an adaptagen. It helps your body adjust to physically stressful situations without returning to a catabolic state.
My initial comments on the ingredient list is that it's okay, but nothing special really at all.
I much prefer testosterone boosters to contain D-Aspartic Acid, which has been proven to increase testosterone.
Also, the ingredient amounts being mainly in the proprietary blend, and such a small one at that, doesn't give much hope that the ingredients that are in the formula are even there in high enough levels to have a significant impact.
How To Use T Complex
Each bottle contains 60 capsules and is considered a one month supply.
You are instructed to take 2 capsules per day, and you can take those any time that's convenient for you.
T Complex 1000 is not a pre-workout supplement that needs to be taken just prior to hitting the gym.
Its benefits are largely seen over time, after the components in the formula build up in your system.
The website indicates that your best results will be seen after taking it for 90 days.
T-Complex Side Effects
After taking a look at the formula and taking into consideration the ingredients and amounts, it's pretty clear there shouldn't be much to worry about in terms of negative side effects.
The all natural ingredients included are not prone to cause effects, and the small amounts in which they are present make the chances of having problems even slimmer.
The T Complex Free Trial Scam
Currently, the only way to get your hands on some T-Complex is to sign up for what they used to call a "Free Trial," but they're now calling just a "Risk-FreeTrial." By either name, a lot of guys are getting scammed, and we'll explain how.
The T-Complex website and its affiliates encourage you to sign up for their "risk-free trial" offer.
You simply pay the $4.95 cost of shipping, and they send you a "risk-free" one month supply bottle.
As soon as you place your order, the clock starts ticking.
If you call and cancel your subscription within 14 days of your order date, you will not be charged anything further.
If you don't call to cancel, you will be charged $85 for your "trial bottle," and you will receive a new shipment each month at a cost to you of $89.95 ($85 plus $4.95 shipping).

There are several problems with this situation.
First, most guys have no idea this is what they're signing up for.

They think they're getting a trial bottle for the price of shipping, and that's the end of it.

They are blindsided by the bill 14 days later and again when the second bottle shows up.

By then, they can cancel future payments and shipments, but they're already out at least $85 they didn't plan on spending.
Second, even if you are aware of the trial terms, 14 days is not nearly enough time to determine whether or not you're getting enough out of T-Complex to make it worthwhile, and that 14 days even includes shipping time, so you're not really even getting that long.
Third, this may not be the case with T-Complex, but lots of companies offering these trials are hard to reach and when you do reach them, they make it difficult to cancel by trying to get you to take a discount instead, or informing you that you have to return the product in order not to be charged.
Generally speaking, these free trial scams are not liked and they can be a huge hassle in some cases.
Money Back Guarantee
It looks like T-Complex does require you to return the trial bottle in order not to be charged.
According to their Return Policy:

T Complex 1000 Reviews
While there are lots of review websites set up to funnel you through to purchase a trial bottle of T-Complex, we were not able to find any genuine feedback from actual customers who've used it.
Without that kind of information, it's very hard to know how well T-Complex is performing in the real world.
T Complex Contact Information
We are often contacted by readers who've gotten caught up in free trial scams and can't figure out how to reach the company to cancel orders and billing.
I've checked the T-Complex website as well as the terms and conditions documents, and have decided to post their contact information here.
Customer Service Phone Number: 1-888-504-4395
Address: T-Complex
PO Box 153201 #1092
Tampa, FL 33684
T Complex and X Ripped Stack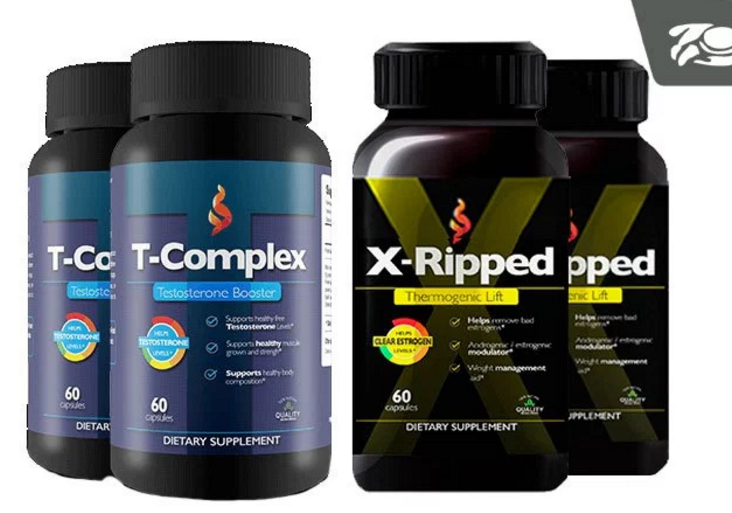 It's very common these days for two supplements to be marketed as working well together as a stack.
You may have seen advertisements for the benefits of using T Complex 1000 along with a fat burner called X-Ripped.
They're both free trial products, probably made by the same company, and the marketing article claims this is the stack all the celebrities are doing to get them ready for their big action roles.
Don't fall for it.
If you look hard enough, you'll see this same "article" being used to hawk dozens of other stacks, all of them these free trial products that can get you caught up in months of billing before you're able to straighten it out.
T-Complex is no different.
Any time you're looking at one of these free trial products, you have to keep in the back of your mind that it's probably a scam to get months worth of charges out of you.
T Complex Pros and Cons
Advantages of T-Complex
The formula is all natural.
It may increase free testosterone in your body, leading to some work out and sexual performance improvements.
Disadvantages of T-Complex
It's only available by signing up for the "risk-free" trial, which is not risk-free at all.If you don't call and cancel within a very short time frame, you run the risk of being charged $85 for the trial bottle and a new bottle each month.
The formula looks fairly weak.The ingredients themselves are nothing special and the amounts seem very low.
There are no customer reviews to help us know how it's working for real guys.
The Bottom Line
A natural testosterone booster is a good idea for guys who want to get the most out of working out as they get older, and there are lots of good products to choose from. T Complex will be a safe choice in terms of negative side effects, but I don't see how it will do much good.
There are certainly natural ways to increase your testosterone.
I just personally don't think T Complex is one of them.
They don't use a strong formula, and if you consider the potential downsides of the "risk-free trial," it's clear this is not your best choice.
Have You Used T Complex 1000?
Leave Your Review Below!
Top 3 Testosterone BoostersAffiliate Disclosure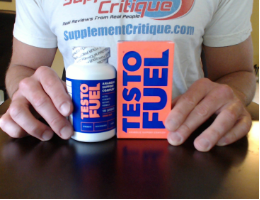 Testofuel is the most effective testosterone boosting supplement on the market that i've tested.
It uses a unique blend of effective testosterone boosting ingredients that will help transform your life.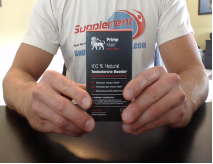 Prime Male is a VERY close 2nd to Testofuel, but contains ingredients to help older men. See why we recommend Prime Male for guys aged 40+, as well as my personal results.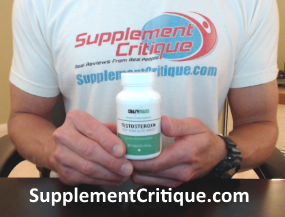 Testoroxyn uses DHEA and other ingredients to help boost free testosterone. See how Testoroxyn is different from Testofuel and Prime Male, as well as my personal results.
User Reviews

1.0 out of 5 Stars (3 Reviews)
Have you used this supplement?
Dwight's Review
I ordered it, along with a trial of Vmax.Then 4 days later went into hospital. Pkg arrive 6 days after I ordered it.

What they don't tell you is that the trial period begins on the day it is ordered, So I lost 6 days there. Didn't get out of the hospital till 5 days after it arrived, so had really no time to evaluate.

I found their ph # on my bank statement ($93.00 for Tcomplex and $92.00 for Vmax plus $8.99 for shipping) which they had already deducted. Called # and tried to explain.

Rep was from some Asian country and understood very little English and spoke even less. When she found out I wanted my money back, her speech and understanding of English got even worse!

When I asked her the name of the company, she refused to tell me. When I insisted, she hung up on me.

In short, I'm stuck with a product didn't give me a chance to evaluate, lost $185.00 plus the shipping (1.99 on one, $5.99 on the other in the process, and would not do business with or have anything to do with that company!! SCAM!! SCAM!! SCAM!!

Was this review helpful to you?
17 out of 17 people found this review helpful.
---
DO NOT BUY
This product sucks!! Do not waste your time. I have taken natural test boosters for years and this one is a JOKE!!!

No difference, no results and I took it for 2 months!! I have never used steroids or growth hormone and have been bodybuilding for over 20 years. Do not try this. you can find better stuff on amazon or bodybuilding.com oe even ebay.

The recurring cost was $90!!! WTF!! So pissed off right now.

Do you know what I could have bought for 90??? Run away guys!!



Was this review helpful to you?
14 out of 14 people found this review helpful.
---
Douglas's Review
I took it for 3days now I can't even get a erection so this is bull shit it doesn't work

Was this review helpful to you?
12 out of 13 people found this review helpful.
---
Check Out My Top Choice For T Boosters - Testofuel

Click Here To Read My Review
Ask A Question
User Questions and Answers
---

Hi. I just receive this item today. Just wanna know is this gonna work to stay longer on sex time. -Ajmal

I'm not a big fan of this stuff. Make sure you're aware of the "free trial" terms so you can avoid monthly charges. If you're looking for something to help you last longer, check out ProSolution Plus instead. Here's a link to my review: https://www.supplementcritique.com/prosolution-plus-review-and-results/- Rob
Was this question helpful to you?

ASK A NEW QUESTION