The Phony Megadrox and Testadrox Article
Here's where it all starts.A link to the article shows up in your Twitter or Instagram feed, and it looks so good you just have to click it.

When you do, you're taken to what looks like a Men's Health Magazine article, but really it's a Men's Health Life website, which has absolutely nothing to do with Men's Health Magazine.
Note: Sometimes the ads for Megadrox and Testadrox are on ESPN, but these are total BS as well.
Take a look at the menu bar on the real Men's Health website:

And here's the menu bar for the phony article:

See how it looks very similar to the real magazine, using the same font and color scheme?

It's no accident, and fyi if you try to click links to the rest of the site, the links don't work. That's because there is no rest of the site.
Okay, so we've accepted that the "article" doesn't come from Men's Health. So what?

They're not the only authority on the subject, and who cares where the article comes from, as long as what it says is true?

So we read on.
The article uses a slideshow of celebrity before and after pics, showing big stars like Dwayne Johnson, Gerard Butler, Hugh Jackman, and Chris Hemsworth.

The implication is that the way these famous movie stars got into great shape was by using the Megadrox and Testadrox stack.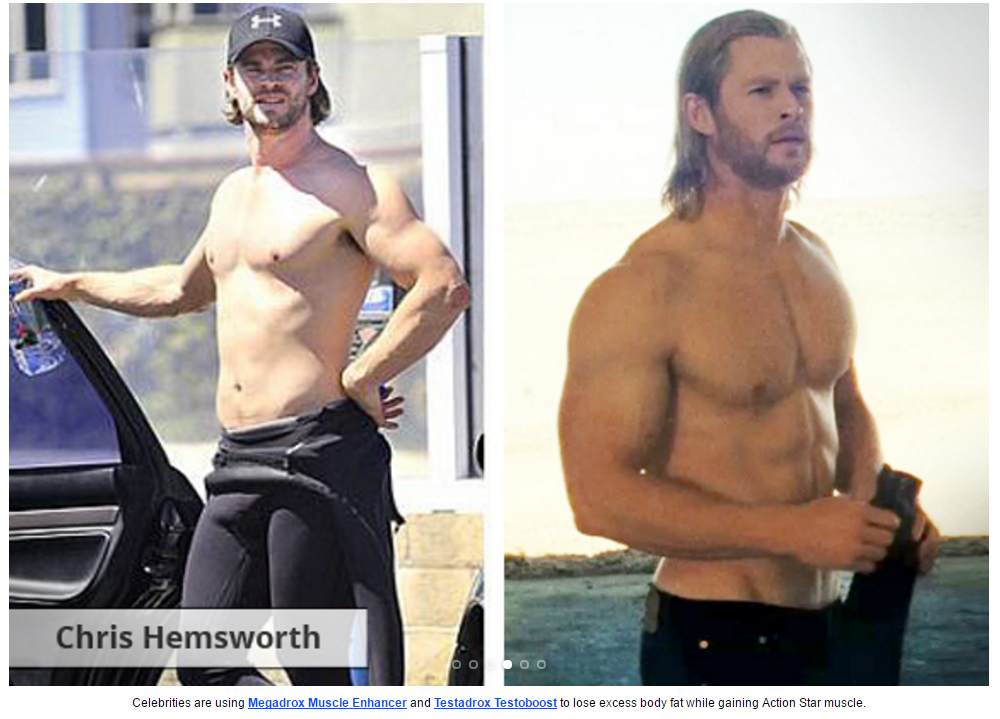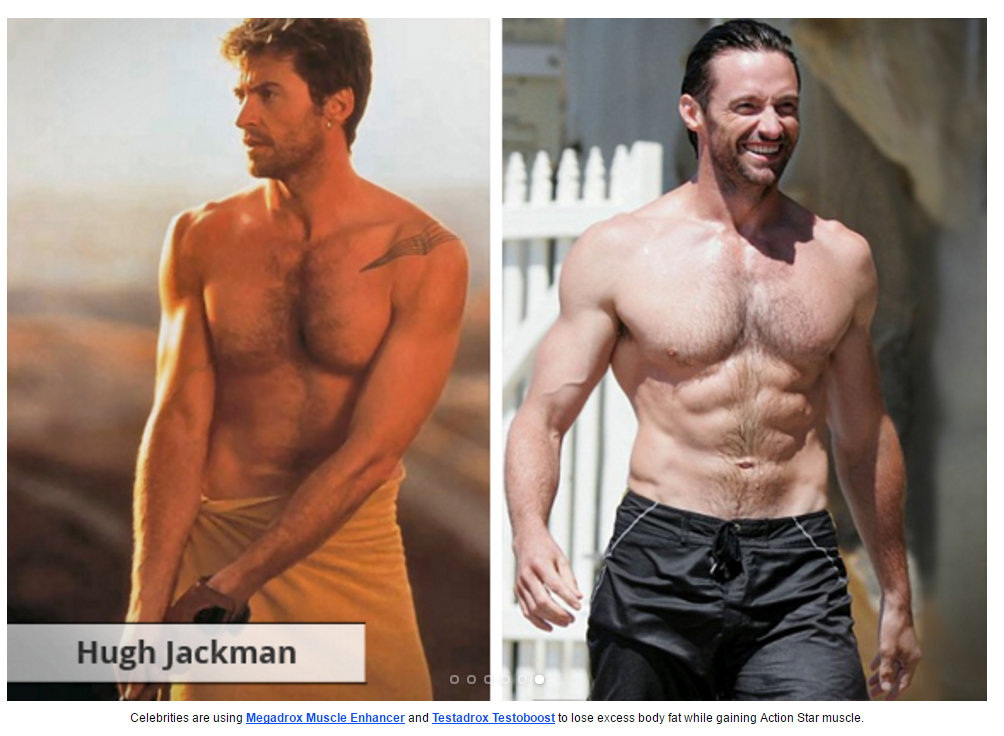 They even state:
"In confidential interviews with Men's Health & Life, Hollywood movie-stars are crediting the product with helping them lose body fat and put on lean muscle in preparation for movie roles."
See what they did there?

They show images of certain celebrities, then they simply refer to celebrities in general doing "confidential" interviews.
Who's ever heard of a "confidential celebrity interview"?
There's no such thing.

It's part of their job to get publicity, and a confidential interview doesn't do that.

It's simply a way for the Megadrox and Testadrox marketing team to imply that Hugh Jackman, The Rock, and the others use this stack, without actually coming out with the straight up lie.
Then they start talking a little bit about each of the Megadrox and Testadrox products, and how they work to help you out.

They also link to the product websites, so let's follow along and talk about them each individually before heading back to expose more about the article.
Another phony article I can across stated the UFC fighter Connor Mcgregor was using Megadrox, and that the real truth behind his "retirement" was that Megadrox is banned by the UFC.
However, if you look at the UFC banned substances list, there is no mention of Megadrox whatsoever. The same holds true for Testadrox, although they don't make any mention of this in the Connor Mcgregor article.