Intelligex Review – 3 Big Reasons You Shouldn't Buy It
By:
Rob Miller
---
---
Home
»
Nootropics
» Intelligex Review – 3 Big Reasons You Shouldn't Buy It
Contents
Smart Drug
The Problem
Free Trial
What is it
Who makes it
What do the reviews say
Conclusion
User Reviews
For the last few weeks I've been having a ton of people visiting my review of CogniQ, which is an all natural "smart drug". However, they are not visiting it to learn about Cogniq, but rather a supplement called Intelligex.
Intrigued, I started searching around for information on it, but literally came up short. I tried typing in the name of the product, tried searching through all the major search engines, and for the life of me couldn't find anything on it.
I was in minor disbelief when I could not find anything and was effectively beginning to wonder if I had been misled or even if maybe I just simply was dealing with incomplete information, but I still wanted to continue the search.
Finally, I resorted to making a post about Intelligex on my Cogniq review, asking anyone who has any information on it to pass along a website or something. Within 12 hours, I had 2 people get back to me with an official site.
It seems to me that Intelligex is using deliberate and FALSE marketing to lure unsuspecting customers to sign up for their free trial. Let's dive right in to the details so I can show you what I'm talking about.

"Is This Smart Drug The Most Powerful Brain Enhancer In The World?"
This is the headline I see staring me in the face right now. Right under that there is mention of a ground breaking pill that was recently discovered to boost brain power by up to 89.2%, as well as sharpen your mind and sky-rocket your energy levels.
Then, there's a flattering picture of what appears to be a human brain cut in half.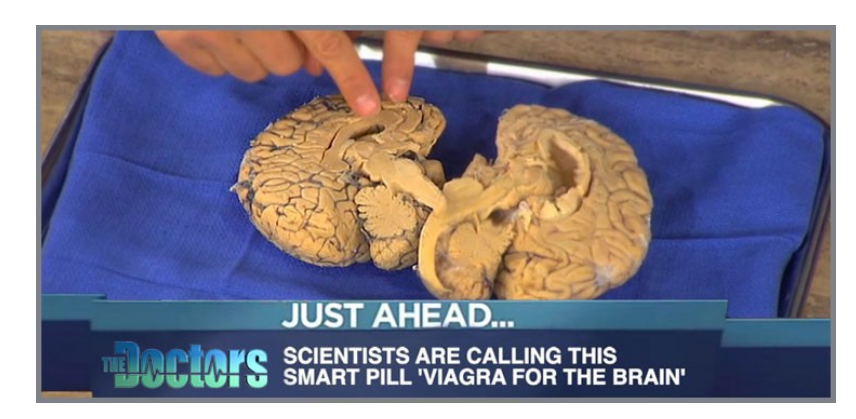 Apparently this new pill is mind boosting equivalent of what Viagra does for your sex life. And it's actually not just one pill, it's a combo of pills.
Those pills are none other than Intelligex and Amped.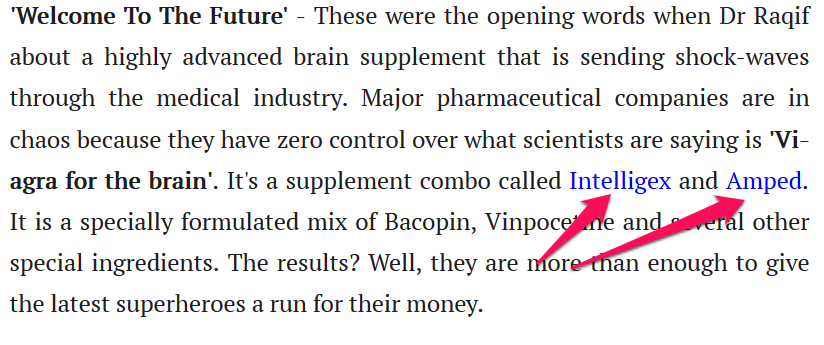 This apparent "news report" goes on to say that by combining both Intelligex and Amped, users experienced laser like focus, a huge improvement in memory, and a clear mind.
Pretty intriguing, no doubt, especially if it true, and it definitely got me even more interested in trying it out for myself.
They also mention that a study of 300 people was conducted at the Nottingham Clinical Trials Unit (NCTU) and that the results were astounding.
Want To

REALLY

Get Smarter?
Click Here to download my FREE "Complete Guide To Nootropics" eBook!!
They cite one of the participants journal entries, and if you read through them it can sound very convincing. Here's a summary of his results: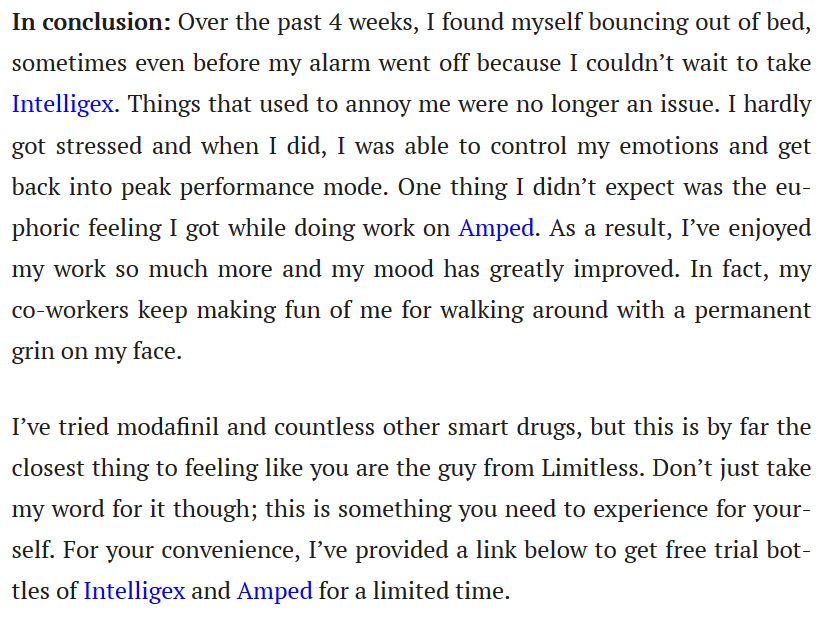 It was even cited as being the inspiration behind the movie "Limitless", starring Bradley Cooper.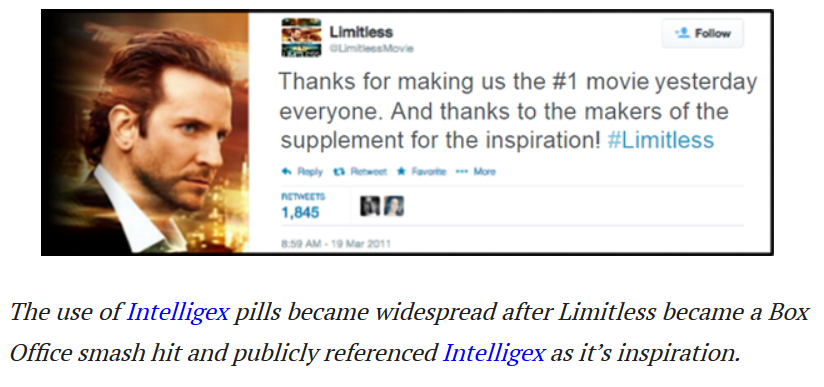 By the way all of this is seen on a website that is supposedly called "ProNews", and they had their Health and Science editor Alan Frasier test out Intelligex himself to see what all the fuss was about.
Apprently he took it for 4 weeks and his results were nothing short of amazing. A summary of his experience below: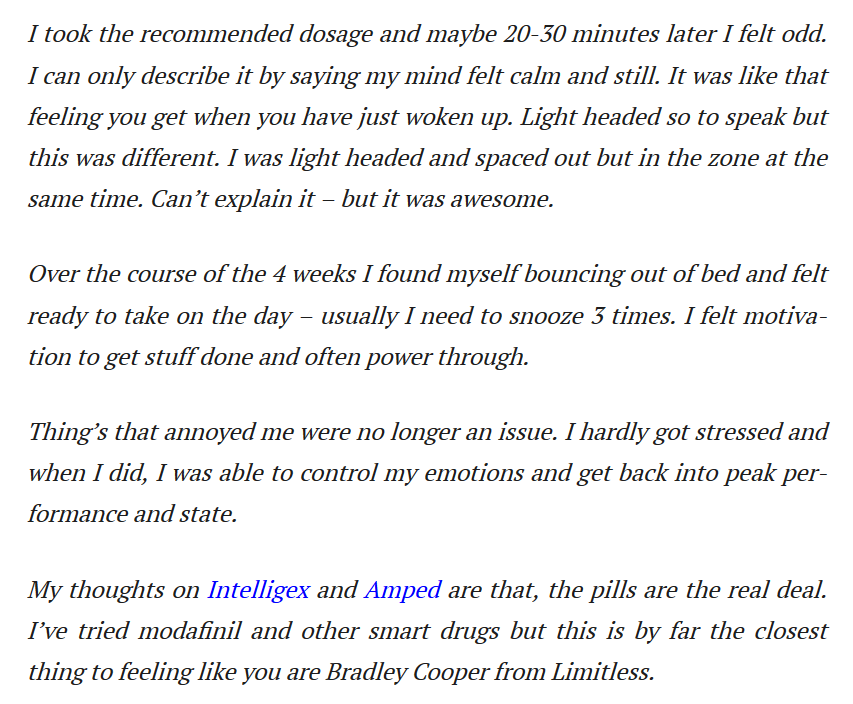 Lastly, there are dozens of seemingly "real" comments on the bottom, all saying how psyched they are to try it out.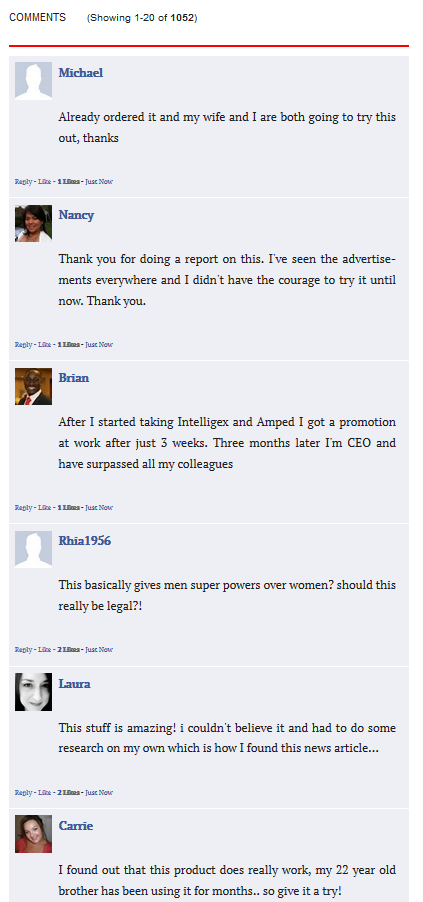 The Problem With All of This? It's ALL FAKE!!!
What you're seeing here is a cleverly crafted marketing piece, commonly referred to in the industry as a "Farticle" (Fake Article). The apparent news site "ProNews" is not really a news site.
Don't believe me?
Try and visit the URL and see what comes up.
That's right, absolutely nothing. It's literally a blank page…
Then, something else you probably completely missed was the fact that it even says it's an Advertisement right at the top (and bottom) of the page.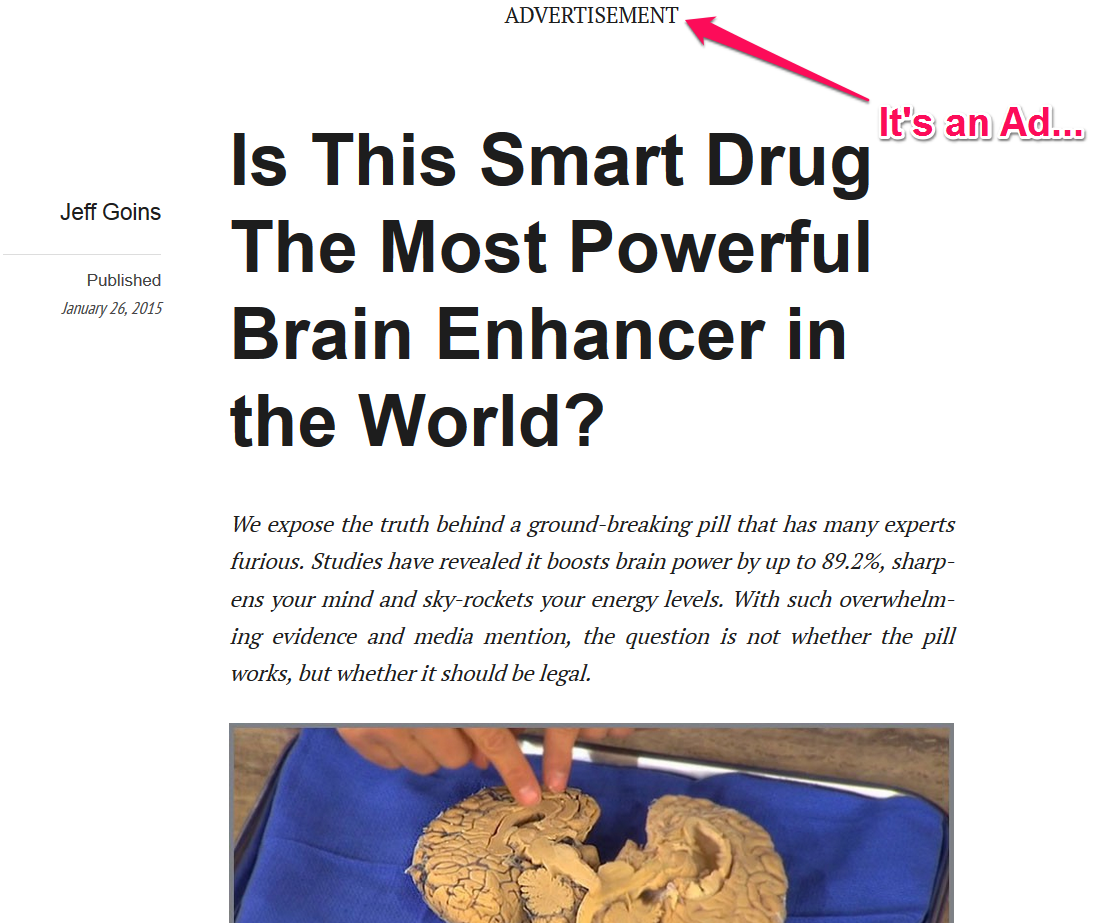 As if this wasn't enough to convince you that it's complete BS, check out the real Limitless Post that was made back in March of 2011.
They pretty clearly photo-shopped in the part about Intelligex being the "inspiration" behind the movie.
Lastly, try to leave a comment on this page…I've made a quick screen cast to show you what happens.
[vimeo 150356808 w=640 h=360]
As you can see, no matter how many times you click the "Log In" button to leave a comment, it redirects to a completely different offer for a product called Synapsyl.
Seems odd to me…

Their "Free Trial" is NOT All It's Cracked Up To Be
One sneaky trick that you probably also missed was their free trial. You see, when you visit the official website for Intelligex it appears as though you can try it out "risk free" by signing up to receive a trial bottle.
For most, this implies that your getting a sample, but nothing can be further from the truth.
Case in point, when you fill out their form to tell them where to ship the bottle, you are then redirected to a page that asks you to enter in a credit card to help pay for the modest shipping fee of $4.99.
What they also tell you in VERY fine print down at the bottom is that they will charge you $89.97 14 days after you order for this supposed free trial.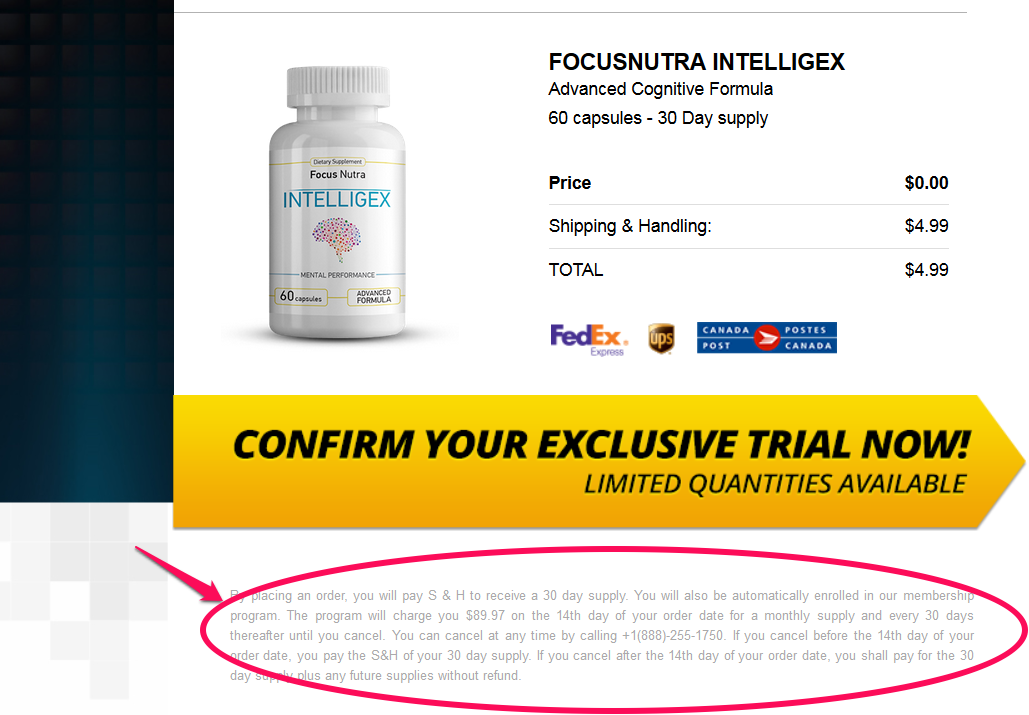 What's worse is that if you don't cancel in the allotted time frame they end up sending you a fresh bottle every month AND charge your credit card the $89.97 charge.
Despite all the B.S. marketing, does the product really even work? Let's examine a few other things about Intelligex before we jump to any conclusions.

What is it?
This supplement labels itself as a "smart drug", while not actually being a drug. It's an all natural supplement which is known as a nootropic, a new category of supplements aimed at helping you focus better, concentrate longer, and improve your short and long term memory.
There's been DOZENS of these so called "brain pills" popping up on my radar the last 6 months or so, and the vast majority of them that I have tested have been a waste of time.
Supplements like Brain Plus IQ, Geniux, and Adderin ALL claim that they are the "real limitless pill", but nearly ALL of them turned out to be complete duds.
So what makes Intelligex different? Well, therein lies the problem. We simply don't know what's in it.
They mention that their supplement contains a 100% pure phosphatidylserine complex, but that's literally it.

Who makes it?
From what I can tell, Focus Nutra is the company behind Intelligex. They appear to be located in London, England, and finding any other info on them was practically impossible.
Here's their contact info if you're looking to get in touch with them:
Phone: 1-(888)-255-1750, or
Email: support@FocusNutra.com

What do the reviews have to say?
Apart from their official website, there aren't many sites that have good, unbiased reviews of Intelligex. I searched around on Youtube and came across this video:
[youtube https://www.youtube.com/watch?v=F9eORL1OEYI]
It takes a bit of time before he jumps to his "results" (specifically around the 7 Min. mark if you want to jump to it), but as you will see it turned out to be a pretty big disappointment.
He basically says he didn't get much out of it, if at all, and that he figures maybe it will take a couple of days to kick in.
In a follow up video, he says that he actually got sort of sick the next day, although he couldn't attribute it to the Intelligex Pills:
[youtube https://www.youtube.com/watch?v=I7kTLMwU2P0]
In a final video chronicling his experience, he again go's on to say that he was feeling nausea again and decided to just stop taking the pills altogether.
[youtube https://www.youtube.com/watch?v=oFadWj2wO2A]
It's pretty clear from the videos that he seems to be going through some pretty rough times, and to be honest I feel pretty bad for him.
Unfortunately (and I'm not the least bit surprised), Intelligex couldn't seem to help him at all.
Is it FDA Approved?
Despite some of their marketing stating otherwise, Intelligex is NOT FDA approved. In fact, because it's a supplement it doesn't require testing / approval from the FDA.
Is it Really The "REAL Limitless Pill"?
In my opinion, absolutely not. In fact, most of the so called "limitless pills" I've tested have proven to be nothing more than a sugar pill.
3 Big Reasons You Shouldn't Buy It
They use deceptive / false advertising to market their product.
The reviews are VERY poor.
Their "free trial" is NOT really "free".
Conclusion
I've seen these fake ads time and time again. Typically you'll see pills like Intelligex pop up on social media sites for a few months, maybe more.
Once they've scammed enough people with their free trial they close up shop, come up with a completely new product with a different name and label, and repeat the process again.
Don't be a fool….if Intelligex was really the real limitless pill, they wouldn't need to resort to false marketing to promote their product.
Check out some REAL products that I've personally tested and PROVEN to work effectively.

Have You Used Intelligex? Leave You Review Below!
Top 3 NootropicsAffiliate Disclosure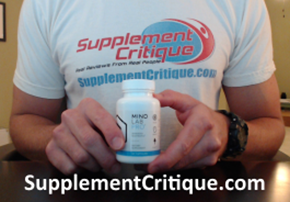 Mind Lab Pro is a VERY effective nootropic for focus, concentration, short / long term memory, and more.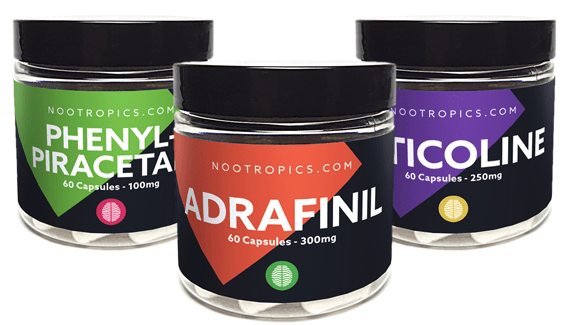 The Ultimate Nootropics Stack by Nootropics.com is one of the most effective stacks I've taken.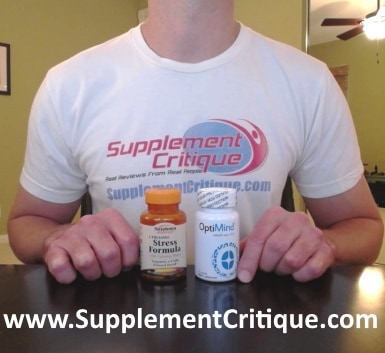 The combo of L-Theanine and Caffeine is a well known nootropic stack that really works.
User Reviews

1.0 out of 5 Stars (8 Reviews)
Have you used this supplement?
Pat's Review
Don't fall for the "Intelligex free trial" unless you intend to actually purchase the product regularly. They quote it's only $4.99 for your free trial bottle but in actuality it's $90 if you cancel after ordering the trial bottle. If you do decide to cancel, they also make it a hassle for you to want to cancel not to mention the harrassing calls you will receive to try and get you to buy the product or resubscribe. All in all..not a good idea in the least!

Was this review helpful to you?
243 out of 249 people found this review helpful.
---
Scam!!!
I did not receive a Confirmation email, they are very careful not to provide any information to make it easy to contact them...then by the time you receive the product you've already been charged!!!
The product did not work and it made me sick every time I took it!!! And then they refused a full refund, they claim they are not responsible for the late delivery of the product.

Was this review helpful to you?
123 out of 126 people found this review helpful.
---
Scam
Took 13 days to receive bottles during 14 day trial period. Upcharge applied to credit card before I took 1 pill. No relief and just a hassle all around. Don't go through the pain. Would give zero if an option.

Was this review helpful to you?
101 out of 102 people found this review helpful.
---
Sue's Review
I wondered why I never received an invoice and packages kept turning up. Now I know why. First insert in package said there were 3 units of intelligex, but only one in package, and NO invoice. 2nd package contained 2 units, and still NO invoice, but I thought, ok, so that's that. Imagine my surprise when a third package showed up, also without an invoice, and I took a closer look at my statements for which I do not receive a paper copy. Very shady business dealings. Nice rip off scam.

They say I clicked to agree to this. Not true. I am out $460, of which they have agreed to refund $100.77 usd for latest shipment. They gave me an address to ship to AFTER telling me they do not accept returns because they do not have a processing facility in Canada. Guess what? Canadian address. They'll also tell you lies about their websites, of which there are a few.

I have not tried it, and since finding this site, nor will I. I am sending back all unopened bottles of product, for which they SAY they will refund for one of them. I am pursuing this further with my credit card company. These 'people' should be shut down.

AND, I am posting this site wherever I can, and thank you for the honest review!

Was this review helpful to you?
45 out of 45 people found this review helpful.
---
SCAM
By
GREGG SHAW

,
May 25, 2017
Ordered "free sample" paying the shipping charge. Got the product: contains, allegedly, an assortment of B vitamins, Bacopa Monnier, Eleuthro, GABA, Gingko Biloba leaf extract, DL Alpha Lipoic Acid. Other than the Bacopa Monnieri nothing really groundbreaking or leading edge.
Tried it as per directions; no noticeable effect. SCAM: notice that the amount supplied is 60 capsules;serving is 2 capsules with 30 servings per container. It doesnt say 2 caps per day but one would normally assume you wouldnt take them all at once so its basically 30 day supply; but the "free" trial is only 14 days. I havent gone back to the details / conditions for the free offer but product has to get to you in the mail, you have to try it, and then notify them before the 14 days is up in order not to be charged automatically every following month for the $89.00(USA). That's a pretty tight schedule; and that's why its done that way. Its a money making scam. Avoid at all costs.

Was this review helpful to you?
17 out of 17 people found this review helpful.
---
Want To See What SupplementsWork Like Adderall?

Click Here To Find Out!
Ask A Question
User Questions and Answers
---

How do you cancel once you have received the free trial? -Rob

You'll have to give them a call within the trial period and tell them you don't want to receive any more charges or any more bottles. Their phone number should be on your bank or credit card statement.- Rob
Was this question helpful to you?
74 out of 76 people found this question helpful.
ASK A NEW QUESTION
---

How did they manage to get names like Warren Buffet, Anderson Cooper etc to write a beautiful review for the supplement. I just read it in a post by Newmax. Could persons of this status be lying? -Nkolika

The celebrities haven't even heard of the product.  It's not the celebrities lying, the lie is the marketers claiming that the celebrities endorsed it at all.- Rob
Was this question helpful to you?
54 out of 54 people found this question helpful.
ASK A NEW QUESTION
---

I want to cancel my order what number should i call? -Raul

The customer service number I found on their website is (888) 908-1193.- Rob
Was this question helpful to you?
53 out of 57 people found this question helpful.
ASK A NEW QUESTION
---

is the Anderson Cooper reference and recommendation a scam? -FRED

Yes it is.  I'm sure Anderson Cooper has never even heard of the stuff.- Rob
Was this question helpful to you?
40 out of 42 people found this question helpful.
ASK A NEW QUESTION
---

What would you recommend to be the best brain enhancement? -Tom

That would be Optimind.  Check out my full review here:  Optimind Review- Rob
Was this question helpful to you?
21 out of 28 people found this question helpful.
ASK A NEW QUESTION