Mind Lab Pro Review and Results
Rob Miller | August 20, 2018
---
Product Reviewed:
Mind Lab Pro
✔

Trusted Product
Affiliate Disclosure
|
OUT OF 5 | Review by:
Rob Miller
Last Fact Checked On:
---
REVIEWS
QUESTIONS
COMMENTS
---
Home » Nootropics » Mind Lab Pro Review and Results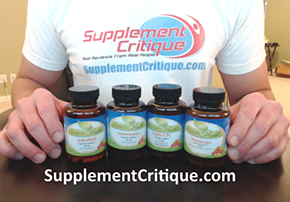 The Nootropics All Star Pack is a GREAT combo of supplements that will improve focus, concentration, and mood.
Note: This is just a review. Click Here To Visit the Official Mind Lab PRO web site.
New research shows that the better your brain works, the better your life will be.
A study conducted at Ohio State University found that smart people make more money than their less-bright counterparts – as much as an extra $616 for each one point increase in IQ. (1)
  Another study, this one published in the journal Psychological Medicine, reports that people with IQs of 120 or more are happier than those with IQs below 100.
To have a better mind and a better life, men, women, and even teenagers worldwide are turning to dietary supplements to give their brains essential vitamins, amino acids, and herbals they are not getting – or not getting enough of – in their diets.
When I was searching for a brain supplement, one that really stood out was Mind Lab PRO.
OptiNutra, the manufacturer, has taken a research-based approach to their product formula with impressive results reported by users.
Mind Lab PRO benefits:
Improves memory.
Accelerates learning.
Enhances problem solving ability.
Achieves optimal brain health.
Avoids age-related cognitive decline.
How Does Mind Lab PRO Work?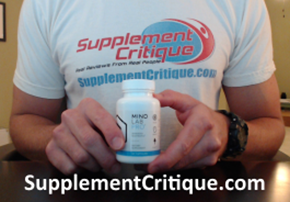 One of the primary functions of Mind Lab Pro is to replenish depleted levels of neurotransmitters, the molecules that transit signals in the brain.
It also protects neurons against damage and can help regenerate new neurons.
Mind Lab Pro contains 11 key ingredients that are proven to improve brain health and performance:
Citicoline — Supports mitochondria which generate power for all brain cells to increase brain energy 13.6%.
Phosphatidylserine (PS) — By helping to grow new neurons, PS is a powerful agent for slowing, halting, or even reversing age-related brain deterioration.
Lions mane mushroom — Used in traditional Chinese medicine, Lion's Mane triggers neurogenesis, the creation of new brain cells.
L-Theanine — Significantly enhances brain function in the Alpha-1 frequency band—those brain waves responsible for imagination, visualization, memory, learning, and concentration
Plus: Rhodiola rosea root … N-Acetyl Tyrosine … vitamin B6 … Bacopa Monnieri … Ptersostilbene … vinpocetine … and Huperzine A, shown to increase the level of the neurotransmitter acetylcholine in the brain.
Click here for a photo of the Mind Lab Pro label.
It's also important to note that this supplement is allergen free, non-GMO, and vegan friendly.
My Personal Results
I've been testing a ton of Nootropic supplements lately, everything from the downright awful to the possibly effective.  Most of them contain a number of stimulants that, while work very well for the first few hours, tend to give me a harsh comedown.
When I originally came across Mind Lab Pro, the first thing I noticed was the lack of stimulants in it.  This is what distinguishes it from my top nootropic supplement, Optimind.
I can tell this one is a winner.  The first day, I literally felt no effects.  Nothing.  I was beginning to think this was another one in a long list of nootropic supplements that simply don't work.
One thing I do want to note is that I literally slept like a baby that first night.
And as a result, the second day is when it seemed to hit me.  I woke up, and for the first time since I was like 23 years old, I had a wash of clarity come over me.
Normally when I wake up I am in a fog for at least an hour, but this time was different.  This time, I actually woke up and was ready to start my day.
I popped another 2 capsules and poured a cup of coffee for motivation.  For the first few days, I have to admit, I didn't feel much.  There was no laser focus, no increase in concentration, and no improvement in memory.
After about a week though, I started to notice a difference.  It was a strange sensation that could only be described as a relaxed, yet stimulated feeling.
I felt an overwhelming sense of calm, but a focused approach to every task I was working on.  It was actually a really nice feeling, because at the end of the day I didn't feel that hard crash you get from some of the other nootropics I've tried in the past.
Part of my job involves researching and writing, and over the last week I seemed to have developed a much easier time piecing together abstract thoughts and information.
It's like I can read something that would normally be a very boring topic, and I find it interesting and motivated to research it further.
Mind Lab PRO Pro's and Con's
Pros
Works great as a long term cognition enhancer.
Works for adult users of all ages, 18 and above.
Contains 11 potent brain nutrients vetted by clinical research in peer-reviewed medical journals.
Cons
Only available on the product's web site, not other sites or in stores
Facts About Mind Lab PRO
Is Mind Lab PRO safe?
All the ingredients are nootropic – natural vitamins, amino acids, herbals, and other nutrients.
So Mind Lab PRO is safe to take and has no side effects.
That being said, it's always prudent to speak with your doctor to see if any of the ingredients may cause an adverse reaction.
Will Mind Lab PRO raise my IQ?
Mind Lab PRO raises the level at which your brain performs its key functions including memory and information retention, problem-solving, learning, and cognition.
It can lift mental fog while helping you think faster and more clearly.
Does Mind Lab PRO actually make you smarter or raise your IQ?
The maker, OptiNutra, has not tested users' IQs to see whether they increased after taking Mind Lab PRO.
They say the supplement is not designed to make you smarter per se, but rather, to help your brain operate at maximum effectiveness.
Can I buy it in stores?
At this time I have not seen any of the major retailers like GNC or Vitamin Shoppe with Mind Lab PRO on the shelves, and it is not yet for sale on Amazon or Ebay from what we could tell.
Where can I buy Mind Lab PRO?
The only place you can order Mind Lab PRO is on the product web site www.mindlabpro.com.
They have a number of discounts available for a wide variety of orders, and the best option in my opinion is the 3 box deal, where you get 3 boxes and 1 free box, along with free shipping.
There are no discounts or coupon codes or free trials or samples available as far as I can see.
How do I take Mind Lab PRO?
OptiNutra suggests taking 2 capsules daily, but up to 4 capsules can be taken in a 24-hour period.
It can take a month or two to get the full effect, but you may experience some improvement in mental function in just a few days.
Recommendation
Bottom line, this stuff works!  If you're looking for a supplement that works right away, don't waste your time.  It doesn't seem to work that way.  But if you're looking for a supplement that will give you positive results over time, than I would definetly recommend you give Mind Lab Pro a try.
references:
1.)  POPeconomics.com
2.)  Cambridge.org
Our Top Choice For Nootropics – Optimind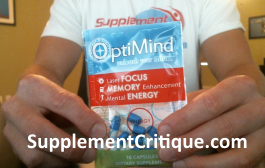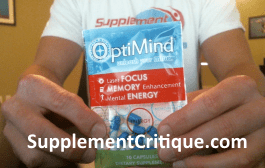 Optimind is the closest thing to Aderall that I've tested, and I've tested ALOT of these supplements.
It's made up of a high quality combination of all natural ingredients that are designed to promote laser focus, increase memory, cognition, and energy, and help to improve overall concentration.
Click Here to learn more in my official review.
How People Found This Review:
and Mind lab pro, and mind lab pro review, and mind lab pro reviews
User Reviews
mindlabpro
After taking 2 caps a day for over a month now, I honestly have to say I haven't noticed a thing. No changes in thinking, memory, or motivation.

No changes in clarity, mood or focus. I was hopeful but now disappointed.

I think the ingredients are all good but dosages are just too low to make a difference and I'm a small person of average build. And this stuff is expensive, $65/bot, not sure why a chess pro said it was a godsend.

Maybe 4 a day would help but for me, not at that price! Looking for better options, I heard Optimind and Nitrovit are really good, going for Nitrovit after much research.



Was this review helpful to you?
25 out of 31 people found this review helpful.
---
Luigi's Review
I'm in the third day of using MLP, and no effect AT ALL! No increase in focus, no increase in memory, nothing they promise... I'm 30 years old, no-smoke, no-alchool, also no-caffeine ... I'm taking 2 pills in the morning and 1 in the afternoon, I'm hoping it will work in the next weeks or I will ask my money back to MLP...



Was this review helpful to you?
24 out of 35 people found this review helpful.
---
ADHD
If you have ADHD or ADD I highly recommend MindLab Pro nootropic stack. Last year I was diagnosed with adult ADHD and doc suggested Vyvanse.

I wanted to try natural alternatives first and found nootropics. Two months later after many hours of research I purchased the MLP stack and began using it.

Now 7 months on and I have not looked back. It completely alleviates my symptoms.

I feel calm, concentrated and focused at work. It is amazing.

I have read many others' stories that are similar to my own so I know it is not just me. I should say though that while most people report that nootropics/MLP help them without the need for meds, some report that it helps them but they still need to use meds as well.

Like they still need the drug, but MLP seems to help it work better. So my advice is do not discount the meds completely.

It seems some really do need them. It is possible however that, like me, you may not need them at all if you take nootropics.



Was this review helpful to you?
7 out of 8 people found this review helpful.
---
I liked it - found something better
I took mindlabpro for a month and while it's always tough to tell in hindsight I never really noticed a difference. To be honest though a lot of the formula for mindlabpro had long term benefits so maybe my brain is actually super healthy now and I just don't know.

I recently tried taking just the lions mane on its own when I saw these 'Four Sigmatic' #notanad packets popping up at the health food store and DANG they had the effect I was hoping for from mindlabpro. (I tried one packet and immediately ordered 50 more, I don't know whether they extract it differently - or use more but it really feels like it works imo)
It's not an intense effect, and none of these things ever make what you're working more interesting (like adderall seems to do) But I was noticeably more focused, I could follow trains of thought better and stay on task longer.

For people seeking the nootropic effects and looking for reviews like I was - I 10/10 recommend you try a pack of Four Sigmatic it's like $1.50 for their 'mushroom coffee' lions mane/chaga blend.

Was this review helpful to you?
1 out of 1 people found this review helpful.
---
Cheryl f.'s Review
By
Cheryl f.
Jul 11, 2018
Mind Lab Pro's nootropic did not work for me. I started with two pills a day then bumped up to four a day.

I even did six a day for a while and I felt absolutely nothing. I returned the unopened bottles and they were really nice at first, but after two weeks and no refund I am getting the run around.

We'll see. I'm sure it works for some people, just not for me.



Was this review helpful to you?
1 out of 1 people found this review helpful.
---
Want To See What SupplementsWork Like Adderall?

Click Here To Find Out!
Ask A Question
User Questions and Answers
---

Is is dangerous to take Mind Lab pro at an age of 16? -Ben

Like most supplements, Mind Lab Pro is not recommended for anyone under the age of 18.- Rob
Was this question helpful to you?
6

out of 6 people found this question helpful.
ASK A NEW QUESTION
---

Which supplement has the better memory component, Mind boost or Mind lab pro? Also exactly would you say is the difference between the two? -John

Personally speaking, I think Mind Boost produces better long-term memory effects. The differences for me were that Mind Lab Pro produced more of a relaxed, yet stimulated feeling.  Mind Boost on the other hand seemed to help me more with short / long term memory.- Rob
Was this question helpful to you?
9

out of 12 people found this question helpful.
ASK A NEW QUESTION
---

What is the difference between Mind boost benefits and Mind lab pro benefits? -John

For me, Mind Lab Pro seemed to produce better focus, kept me more alert, and felt more motivated to get things done. With Mind Boost, it seemed to help more with helping me relax, felt "calm", and helped with better quality sleep, which made me more productive the next day. They're both great products, but they do have their differences.- Rob
Was this question helpful to you?
5

out of 6 people found this question helpful.
ASK A NEW QUESTION
---

What do you think about combining mind lab pro's product with optimind while you let mind lab build up in your system to really start working? Would it alter the performance at all? -paul

I recommend you start by using them on alternating days. If you don't experience any negative side effects, try using them both on the same day.- Rob
Was this question helpful to you?
6

out of 8 people found this question helpful.
ASK A NEW QUESTION
---

Mind Lab Pro told me via email this product is not recommended for anyone under 18 but your web site states "Works for users of all ages – from adolescents to the elderly". Why do you state this? -Ron

You're right. I must be getting old, considering 18 to be adolescent.  Thanks for the feedback. I'll update it now.- Rob
Was this question helpful to you?
3

out of 3 people found this question helpful.
ASK A NEW QUESTION
---