Vaso Blast Review: Worth The Hype?
By:
Rob Miller
Fact Checked On: 10-12-2018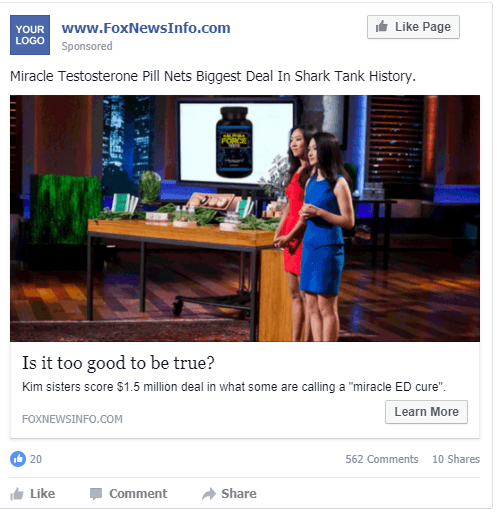 It's almost 2018, and if there's a quick fix pill or magic bullet solution to any health woe, you can bet someone's made it and put it on the market.

And nowhere is this more evident than in the male enhancement world.
All you have to do is take a quick once-over of our site to realize that perhaps no niche of the supplement industry is more flooded with supplement options, each promising to out-deliver the rest.
Vaso Blast is just one of many of these drugs.

In 2017, you certainly can't believe everything you read though, with supplements from pre-workouts to multivitamins coming under fire for questionable ingredients and additives.
Let's unpack the promises and hype behind this drug, take a look at the ingredients, and see if it's one worth shelling out the bucks for, or another quick fix promise that fall flat.
Benefits of Vaso Blast
Head to Vaso Blast's website and you're immediately hit with a glowing overview of all this drug has to offer.
The Cliffnote's version is that by taking Vaso Blast, which targets two erectile chambers in the penis, men can "almost immediately" expect a wider and longer shaft, 31% growth on average, increased nerve sensitivity, and better ability to better satisfy their partners.
The site brags that it's nothing like Viagra—which only increases erections, but does nothing for size itself.
How Vaso Blast Works
The website for Vaso Blast isn't what anyone could call subtle.

In fact, it straight up proclaims that their supplement works in revolutionary ways, unlike any other competing products in the marketplace.
What sets it apart from the crowd?
In short, Vaso Blast is allegedly on a stage of own thanks to a new scientific approach, which uses the "reverse nitric oxide pathway," to increase penis size faster than other brands do.
Most male enhancement products use the standard Nitric Oxide pathway, which is where Vaso Blast attempts to set itself apart from the crowd.

If you buy into the promises, then not only should you get results that dwarf those from other brands, but you should see permanent changes.
Read the full FAQ page and you'll learn that results are supposedly almost immediately noticeable, and only get better with time.

A few days in, you'll notice a fuller feeling, with significant gains in the first month, give or take.

It's not until month two though, that the drug is reported to work at its full potential.
The drug is designed to not just give you temporary impressive results, in other words, but create lasting change over time.
Ingredients in Vaso Blast
One of the primary selling points of Vaso Blast is its makeup of natural ingredients.

When stacked together, this ingredient profile is designed to jointly target multiple areas of sexual health and performance, by boosting free testosterone levels in the body, cranking up sexual vitality and energy, and revving up libido.
Let's take a deeper look at some of the star players in this ingredient list.
Arginine Alpha – Ketoglutarate: An amino acid, this ingredient boosts blood flow thanks to vasodilator abilities.

It's also used in many workout supplements since it helps the body crank up nitric oxide, which aids muscle growth.
L-Citruline: This is a non-essential amino acid that has been proven to be helpful not just for metabolism, but also shows up in a lot of male enhancement drugs for its vasodilator properties.

We all know more blood flow and circulation means more blood to the penis during erections.
Long Jack: This natural compound, originally from Asia, has been widely used for pro-fertility and as an aphrodisiac and powerful stimulant for sexuality.
1,3 Dimethylamylamine HCL: We'll discuss this one much more in depth below, but honestly it was shocking this was included on the list, tucked in between other natural and harmless ingredients.

Though it was once commonly featured in energy/performance boosting athletic supplements, this ingredient is banned by the FDA and categorized as potentially hazardous.

Known as DMAA, it's on the prohibited list of supplements by The World Anti-Doping Agency, banned by the military, and generally known as a poison due to high blood pressure and cardiovascular health concerns.

More on this, below.
Maca Root: This superfood ingredient is cropping up in all sorts of supplements and health foods lately, but it's also been used for sexual health and to encourage erections among its other benefits.
Long Pepper: This little-known vine from Asia has a claim to fame for a laundry list of ailments it's supposed to help heal—everything from migraines to heart conditions.

It's also known to help boost overall nutrient absorption in the body.
Muira Puama: This Amazonian ingredient is also known as "potency root," and is used as something of a sexual cure-all by indigenous people.
Tribulus terrestris, Avena sativa, & Tribulus aquaticus – Are three natural ingredients that are all three commonly used in alternative medicine to boost natural testosterone levels in the body
Trichopus Zeylanicus– In addition to helping treat liver disease and fatigue, this plant, native to India, has been shown to kick up libido, ramp up sexual performance, and help with endurance during the act.
Vitis Vinifera– A strong antioxidant, otherwise known as grape seed, Vitis Vinifera is used to direct more blood to the penis and helps boost erections.
Arginine Nitrate: Think of it as a natural energy booster, vasodilator, and pump-up ingredient all in one.
Zooming out and taking a larger look at this ingredient list as a whole, what's to make of it?

There's no doubt there are many natural ingredients and superfoods making an appearance in Vaso Blast—always a good thing.

No one's claiming plants like maca or long pepper will do a body harm.
But will this ingredient list deliver the 31% growth rate the site promises?

It's one thing to pop a pill that marginally increases your overall health, and quite another to assume that a smorgasbord of healthy ingredients equals the total revolution in your sex life and satisfaction levels that the drug promises.

If it was that simple, everyone would be taking it.
Natural ingredients aside, there's a more troubling issue at play here.
You wouldn't take a multivitamin without scanning the ingredient list, hopefully, so why would you pop a pill without doing the same?
Vaso Blast lists out the above ingredients, sure, what are there other additives or inactive ingredients?

And in what proportions are you getting these?

Who knows, since Vaso Blast glaringly fails to provide even a basic breakdown of how much of each ingredient you're getting, meaning there's no way to assure they're in effective or even safe amounts.
We've saved the biggest issue for last though, and this is the inclusion of 1,3 Dimethylamylamine, or DMAA.
Breeze through the ingredients list on Vaso Blast's site, and it's interesting to note that when they get down to this ingredient, instead of explaining what it is, the site launches into a totally off-topic tangent of how erections work.
Is this supposed to distract us from the inclusion of this ingredient?

Likely, as it's banned by the FDA for several alarming reasons.
We could talk all day about how it can cause severe cardiovascular problems and serious health concerns, but bottom line, it's illegal and banned the FDA, so the fact that it appears here at all is enough to make us dismiss Vaso Blast and question the company as a whole.
Where to Get it
Like many supplements of its kind, to snag a bottle of Vaso Blast for yourself, you'll have to order through their website.
A few options exist, ranging from a one bottle, 30-day supply from $39.99 all the way up to a complete four bottle option, which includes 3 freebies, for a 7-month dose.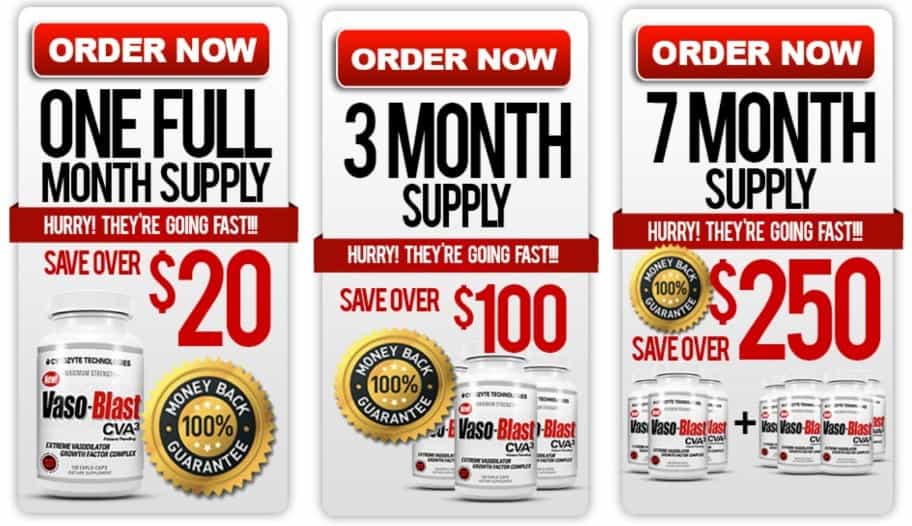 Who Makes It
Interestingly, tracing who's actually behind Vaso Blast is a little bit of a wild goose chase.
If you believe the fine print on the bottom of their homepage, Vaso-Blast seems to be a "registered trademark of Cytozyte Technologies," but on other pages on their site, credit goes to Bio Vita Labs.
And good luck finding any solid info on either of these companies…
A quick google search of either leads you right back to the Vaso Blast page itself, and no information on the brains behind this product.No address exists for the company either, lending to their sketchy-at-best presence even more.
Reviews of Vaso Blast
Scan through a sampling of reviews on google of Vaso-Blast, and what impression will you come away with?
Anything from, "this is poison," to claims that it's the best quality supplement on the market.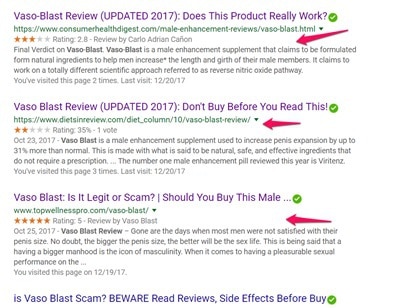 Don't fall for the glowing reviews.

A quick read reveals they're mostly fluff.
Far from subjective, science-backed reviews, most of these review sites include sparse if any actual customer reviews, and embedded links right in the text to order Vaso Blast.
Don't expect to see any factual information, research-backed claims, or true testimonies of the product, as most reviews simply rave how Vaso Blast is the best and safest supplement around.
These tooth-less claims and fluff seem to be taken either straight from the website or written by the company itself.

The writers of some claim to present an "unbiased" review, but with no research backing their claims, which could have been written by anyone, their reviews are completely useless.
Even more confusing, even though many reviews show a 5 out of 5-star rating for the product, some include the word "warning" right in the review title.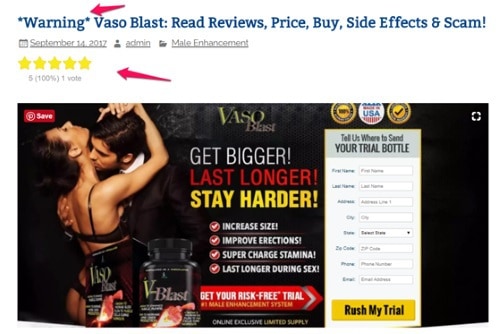 However, read on, and you'll find nothing but completely-fictional sounding testimonies, stock image ads from supposedly thrilled customers, and no actual unbiased information on the product.
Out of the first page of google results, only one product review site comes right out and calls BS, warning readers about the dangers of Vaso Blast, specifically the questionable inclusion of an FDA-banned ingredient.
This one review seems to be the only that's written by someone without a vested interest in selling the product they're reviewing.

It points out that not only is DMAA, one of the top ingredients in Vaso Blast flat out banned by the FDA due to dangerous side effects and deaths, but any supposedly "legit" reviews from customers are all straight from the Vaso Blast website.
This review also points out that no where can you find a standard ingredient label with a breakdown of the amount of each ingredient included.

So are you getting a safe or effective dose of L-Citruline, for example?

Who knows.
Another review also noted the murkiness around the company supposedly behind this product.

They point out how troubling it is that with no address, phone number, or any contact info to speak of, customers would be hard pressed to actually contact the manufacturers with any question or concerns.
To summarize?

Fake reviews abound, and the less-biased and scammy of the reviews we came across seemed to all hone in on a couple bottom-line troubling things about this product: A total lack of reviews from real human beings, other than those alleged customers probably completely fabricated by the makers of Vaso Blast themselves, the troubling presence of DMAA, and the wild goose chase of pinpointing the manufacturers.
Shark Tank Scam?
Earlier this year, word on the street was that Vaso Blast had been featured on the show Shark Tank, garnering praise from every single judge, and ultimately landing the biggest deal in Shark Tank history.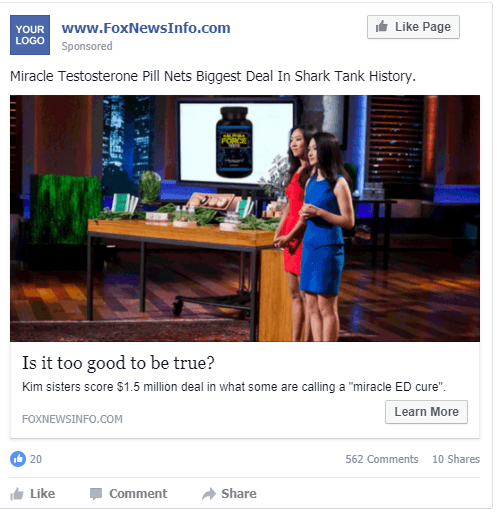 Ultimately, we unpacked this in the following article and found it to be nothing but complete and utter B.S.
Fake "news" articles and photoshopped doctored images were a dime a dozen with this concocted story, which showed completely fictional "Fox News articles," images of investors discussing the miracle product, and the likes.
There's been several others that have done the exact same thing, including a weight loss pill.
They claim that two sisters, sometimes named Yoojin Kim and sometimes Anna and Samantha Martin, landed some huge deal on the show.
Read the above articles for a thorough debunking of this scam story.

Bottom line: Vaso Blast was never featured on Shark Tank, and this was yet another publicity move, designed to mislead and push product.
Conclusion
At first glance, Vaso Blast might appear to be the single greatest male enhancement supplement money can buy.

Glowing "customer testimonies," totally natural ingredients, shocking results—what's not to love?
The simple fact is the supplement industry as a whole is largely unregulated by the FDA, and the male enhancement niche is essentially the wild west—anyone can write any claim, glowing review, or promise, with zero science backing it up.
Vaso Blast is just the latest installment in a parade of snake-oil remedies meant to lure in men who will shell out any money at the promise of extra inches and satisfaction in the bedroom.
Not only will Vaso Blast not make give you a bigger penis—which no product can do—it could spell serious health concerns, due to the inclusion of an FDA-banned ingredient.

No amount of natural herbs and adaptogens ultimately can soften the blow of such a huge misstep—a downright dangerous one.
Bottom line?

Save your money, and your health, by avoiding this product.
Sources
http://vaso-blast.com/vaso-blast-ingredients.html
https://examine.com/supplements/1-3-dimethylamylamine/
https://www.fda.gov/Food/DietarySupplements/ProductsIngredients/ucm346576.ht
https://www.menshealth.com/sex-women/penis-enlargement-products-0
Top 3 Male EnhancementAffiliate Disclosure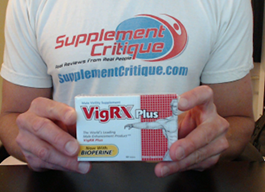 Out of the 100+ male enhancement products Ive tried, Vigrx Plus was the best.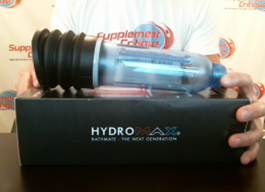 The Bathmate is a proven water-based vacuum pump that can help dramatically increase your size.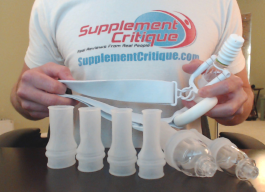 Phallosan Forte is a GREAT option for those looking to grow both length AND girth, permanently.
Honorable Mention/Inexpensive Alternative:Magnum Rings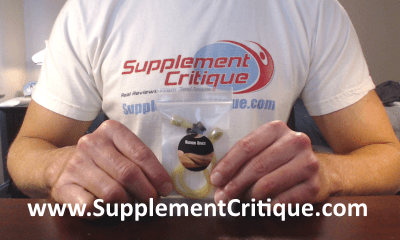 Magnum Rings are a VERY affordable option to getting both girth and length gains, at a fraction of the price of the Bathmate or Phallosan Forte.
Click Here to see our full Magnum Rings review.
Ask A Question
User Questions and Answers
No Questions Have Been Answered For This Article.