Jacked Antler Review – Should You Use It?
By:
Rob Miller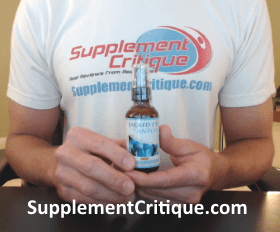 Jump to a topic
What Is Jacked Antler
How Does Jacked Antler Work
Jacked Antler Ingredients
How To Use Jacked Antler
Where to Buy
Free Trial Scam
Pros and Cons
Conclusion
If you haven't at least heard a little buzz about Deer Antler Velvet spray and how it may or may not increase your muscle gains, you're no doubt living under a rock.

But with all the hyped up useless products out there, and all the snake oil salesmen trying to sell them to you, you might want to stay put under your rock.
But if you have heard of deer antler velvet and/or you're curious about it, read on.
Special Note:The makers of Jacked Antler were kind enough to send over a couple bottles of their product for re-testing.
I plan on trying it out in about a week, and will be updating this review in the near future with my re-assessment of its effectiveness.
Be sure to check back soon for updates!
1. What Is Jacked Antler?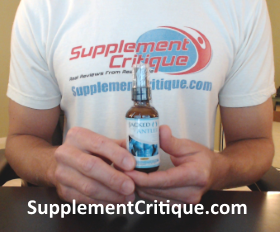 Jacked Antler is a spray containing, among other things, deer antler velvet.

Supposedly, there's a certain chemical found in the fuzzy outer covering of a male deer's antlers when they're growing that when taken by humans can:
Increase strength.
Boost your power and drive.
Improve your post workout recovery.
Promote fat loss.
Bolster your athletic energy and endurance.
2. Who's Using Jacked Antler?
If you believe what you read on the Jacked Antler website, professional athletes and their coaches swear by the stuff, as do both male and female celebrities.

They claim to send care packages containing Jacked Antler to famous athletes and other celebrities, hoping they'll receive a ringing endorsement back.
I don't know if I'd advertise that program.

If they're sending this out for free, and nobody's coming forward to endorse it, that's not a good sign that Jacked Antler is anything to write home about.
3. How Does Jacked Antler Work?
IGF-1 (Insulin Growth Factor-1) is the key component to the success of Jacked Antler.

IGF is found naturally in the human body.

It encourages growth and repair while it controls several cell processes.

The IGF-1 in Jacked Antler is a chain of amino acids that stimulates muscle growth while protecting your organs and regenerating tissue.
Looking To

REALLY

Get Ripped?
Click Here to download my FREE "How To Get Ripped Quickly" eBook!!
It's not exactly HGH, but it's close.

It acts somewhat like a precursor to HGH.
Why Not Just Take HGH?
HGH, or human growth hormone, is becoming all the rage in anti-aging for the rich and famous.

It's naturally secreted by the pituitary gland, but much like Testosterone, your body releases less and less of it as you age.

It's been found that increasing the amount of HGH in your body can smooth wrinkled skin, provide energy, help you get a better night's sleep, quicken the pace of recovery after workouts and injuries, and even improve your mood.
If you have enough money as well as access to the right doctors, you can get daily HGH injections to achieve all the above mentioned benefits.

Last I checked, it can cost upwards of $1000 a month, and it's technically not approved for this kind of use.Most doctors won't prescribe HGH injections for adults trying to stay young.
4. Jacked Antler Ingredients
So ordinary, everyday people turn to a supplement like Jacked Antler to reach that point of increased HGH the safer, less expensive way.
When researching the Jacked Antler formula, we came across a discrepancy, which leaves us unsure of what's actually included.

The official website displays an image of the "Supplement Facts" presumably taken from the bottle label.

But the website separately offers a completely different list as well, leaving us confused about what's really in the formula.
According to the Supplement Facts, Jacked Antlercontains:
Deer Antler Velvet Extract which contains IGF-1 to promote the natural production of IGF and restore lost power.
Rhodiola Rosea which helps the body respond appropriately in times of stress (such as during and after a workout.)
L-Theanine which is an amino acid that helps keep you calm in times of stress.
Green Tea Extract which functions as an antioxidant to help prevent cell damage.

It also provides energy and has fat burning abilities.
Tribulus Terrestris which may boost both energy and testosterone.
That's what's listed on what appears to be the Jacked Antler label.

But as part of the promotional part of the website, several other ingredients are listed alongside their purported benefits.

There's:
Epimedium which they say boosts energy and reduces fatigue.
L-Argninie which they reduces mental and physical stress and improves cognition.
Eurycoma Longifoia which they say improves mental and physical performance and fights against depression.
Stevia which they say in addition to its function as a sweetener, boosts your immune system and protects your heart.
Luckily, I have a bottle here that I had sent to me. Here's a photo of the label: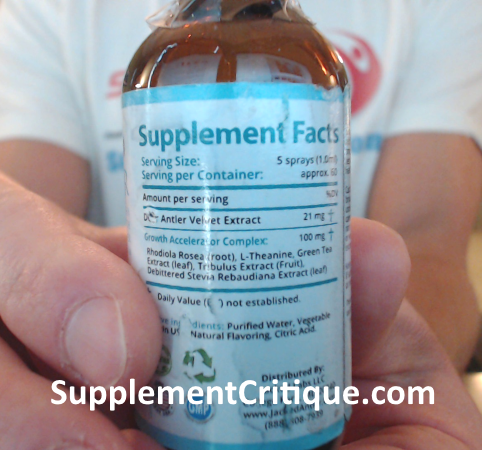 5. How To Use Jacked Antler
The recommended dose is 5 sprays taken both before and after your workout.

It's expected that you see the best results after about 4 weeks, but you'll start seeing some effect in just 3 or 4 days.
6. Where to Buy
At this point, the only way to purchase Jacked Antler is through their official website.

They do, however, offer a few different package options.

You can purchase one bottle (about a month's supply) for $82.45. You can buy 3 bottles for $149.95. That basically works out to getting 3 for about the price of 2.
The third option is the free trial offer.The way it works is that you order a full size bottle and pay only $4.95 in shipping charges.From that moment, you have 20 days to contact Jacked Antler at 1-888-7939 and cancel your subscription.

If you don't cancel, they'll bill you $82.45 for your trial bottle, and they'll automatically enroll you in their VIP Program, meaning that you'll be sent and billed for a new bottle each month.
7. Free Trial Scam
This is commonly known as the "Free Trial Scam." I can't even begin to tell you how many readers I hear from every day who've fallen prey to this kind of scam.Usually, the terms are hidden on a separate web page, or written in superfine print, basically designed to be missed.
Jacked Antler is actually a little better than some others I've seen. At least they offer you options.

If you don't want to get caught up in the free trial madness, you can simply order a one month "Starter Package" bottle, and you won't be on the hook for anything else.
8. Pros and Cons
Advantages of Jacked Antler
It's easy to take.

If you can't take pills or just don't like to, Jacked Antler is great because it's a spray.
The free trial scam isn't as bad as others I've seen.
Disadvantages of Jacked Antler
Deer Antler Velvet has not been proven to do what Jacked Antler says it does.

IGF-1 is the active ingredient, but as far as we know at this point, IGF-1 is very unstable, so it's highly unlikely that you're getting its benefits from this spray.
There's conflicting ingredient information on the website. This is highly unprofessional.

I have to wonder why anyone would choose to do business with a company that leaves such a glaring error up on their website for all to see.
It's expensive.
There are no independent Jacked Antler reviews from customers who've used it and had success.
9. Conclusion
People are excited about deer antler velvet in general because it's an idea that does show some promise.

Unfortunately, at this point, it's not really been shown to be effective, and Jacked Antler doesn't instill confidence as a product.
It seems as though their marketing was yet another case of all bark and no bite, yet I must say that everyone is different and it could potentially be useful for you personally.
Some of the information about Jacked Antler is conflicting and that doesn't do a lot in the way of making me feel okay about recommending it to others, and because of that, I can not.

Trying Jacked Antler would almost certainly be nothing more than a waste of money.
Have You Used Jacked Antler?

Leave Your Review Below!
Top 3 Hgh SupplementsAffiliate Disclosure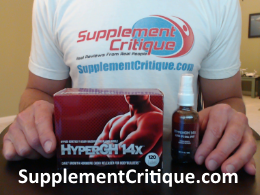 HyperGH 14X is a potent HGH releaser which works to help with recovery.

Read more in our review.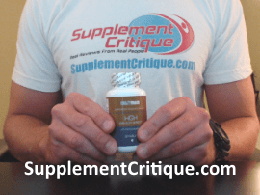 HGH Elite series is another one of the best HGH supplements we've ever tested.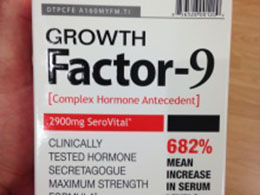 While it is very expensive, Growth Factor 9 has proven that it indeed does WORK.
User Reviews

4.2 out of 5 Stars (5 Reviews)
Have you used this supplement?
I'm a very firm believer
I started from nothing at all. I mean nothing, I was skinny and 6'3 in tall that's it. I was 145 pounds soaking wet. I used Jacked Deer Antler velvet extract for 4 weeks and followed the correct steps. Plus, I added some carbohydrate stimulants to my normal cycle to gain weight as I went along and the two worked together beautifully. I gained 15.6 pounds in 4 weeks and the strength and power I gained is mind-blowing. Two to three days into this I had an extreme amount of energy I wanted to go. Nothing in the gym wore me out. My veins opened up. My thinking was clear. I had hellacious focus and drive to do more and more. 5 sprays before 5 sprays after and you'll be a firm believer. This stuff is crazy good!

Was this review helpful to you?
25 out of 29 people found this review helpful.
---
I've enjoyed it
By
Eric Beattie

,
Jan 4, 2016
I've been using Jacked Antler for a month now and personally I couldn't be more pleased with the product. The main benefit I've noticed is a significant decrease in DOMS. My strength is up because of that, but I haven't seen insane muscle growth yet.

I also think you have it wrong when you talk about HGH. I believe one of the main ways HGH works is actually by increasing IGF-1 and getting straight to the IGF-1 allows for the targeting performance benefits. Regardless of this discrepancy, I will continue to use this product from what I've experienced.

Was this review helpful to you?
17 out of 20 people found this review helpful.
---
2 months and I love it
By
Jason Levi

,
Apr 5, 2016
Jacked Antler is one of those products that really catches you by surprise. I thought at first "do I really just spray this under my tongue twice a day for more strength?" I just finished my second bottle of this stuff, and I've got to say, the results are amazing.

I cut my body fat by over 3%, likely due to the green tea extract in it. My chest and arms are noticeably bigger. The biggest change is my mood in the gym and after. I feel great like my muscles really are feeding off the ingredients in the bottle and growing. Thank you so much to the makers of this product!

Was this review helpful to you?
12 out of 14 people found this review helpful.
---
Don't buy
I used Jacked Antler and I got no results. Then they charged me for over $300 worth of a product I did not receive. They did not refund my money when told about the mistake. Do not do business with this company!

Was this review helpful to you?
8 out of 8 people found this review helpful.
---
I love the energy
By
Armando Rojas

,
Nov 6, 2020


In Short:

I would recommend this to a friend.
I contracted Covid 19 back in July and lost 20lbs. I hadn't worked out for over 3 months. I saw this add and wanted to try something different because I was always feeling tired. So I ordered the product, tried it and felt the extra energy I had lost. My first workout in over three months and I felt a big boost, that my workout lasted for two hrs. I've been taking this for two weeks now and my energies through the roof. My days at work, I no longer feel drain. I look forward to coming home to get my workouts in. My wife right away noticed my gains and also noticed the extra energy. I lost 5 lbs in two weeks and notice my body fat decreasing. I will keep taking this to see if I can see more changes. Great product, I told my brother about it and I would recommend this product to whomever wants more energy

Was this review helpful to you?
1 out of 1 people found this review helpful.
---
Ask A Question
User Questions and Answers
---

I was thinking about buying some of this Jacked Antler Spray and I was just wondering, do you just spray it all over your body? -Korbyn

You spray it into your mouth, 5 sprays before and 5 sprays after your workout.- Rob
Was this question helpful to you?
14 out of 15 people found this question helpful.
ASK A NEW QUESTION
---

If I take Jacked Antler and stop will my body no longer create testosterone? -Tony

Not at all. It's all natural ingredients, none of which shut down your natural hormonal processes.- Rob
Was this question helpful to you?
10 out of 10 people found this question helpful.
ASK A NEW QUESTION
---

Will this show up on a drug test? Since Jacked Antler seems to increase HGH I wasn't sure if it is legal. I'm in the military and just don't want to take any chances. -Jesse

It shouldn't, but it does contain deer antler velvet so you should let them know at the testing site.- Rob
Was this question helpful to you?
3 out of 3 people found this question helpful.
ASK A NEW QUESTION
---

Can you take arginine with Jacked Antler? -Ty

You can, but if you let me know what your goals are, I"ll make a great recommendation for you.- Rob
Was this question helpful to you?
2 out of 2 people found this question helpful.
ASK A NEW QUESTION
---

How to cancel my membership and order of Jacked Antler? -Bobby

Give them a call and let them know you want to cancel your subscription. The number I found on their website is: 1 (888) 224-1567.- Rob
Was this question helpful to you?
2 out of 2 people found this question helpful.
ASK A NEW QUESTION