DSN Pre Workout Review – LeBron's REAL Secret?
By:
Rob Miller
In this business, we come across a ton of mediocre products and just as many scams designed to set unsuspecting customers up for repeat billings without their full knowledge.

But they don't all exist at the same level of scamminess and deception.

Every so often, we see a product that's so over the top with their marketing tricks and lies that it's hard to even believe they can get away with it. DSN Pre Workout and post workout are one of those products.
I was mindlessly scrolling through my Facebook newsfeed a couple days ago, and caught a headline about an investigation into LeBron James.

With the NBA playoff season just around the corner, I thought I'd better check it out to see what kind of effect it might have on the Cavs chances for back to back championships.

It took all of two seconds for me to realize the article was a complete and total fake.
Is LeBron James Really Being Investigated?
According to the headline he is.

They say he's being investigated for using an extremely powerful supplement – DSN (Dyna Storm Nutrition) Pre Workout – that the NBA is considering banning.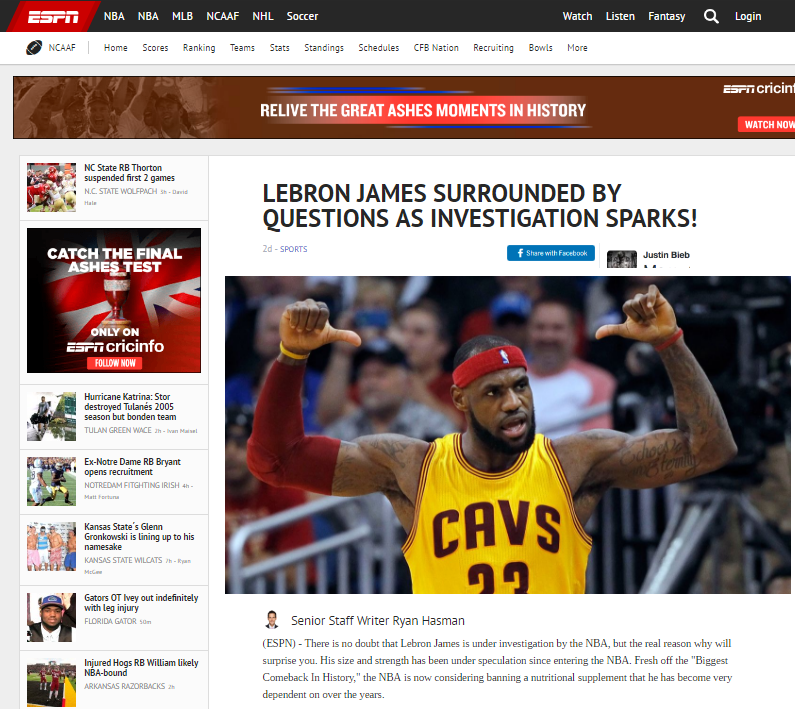 The Very Next Day
I see an ad on yahoo that says "Tom Brady confession shocks the entire NFL", with a link to another ESPN article, which surprisingly looks almost IDENTICAL as the Lebron James article.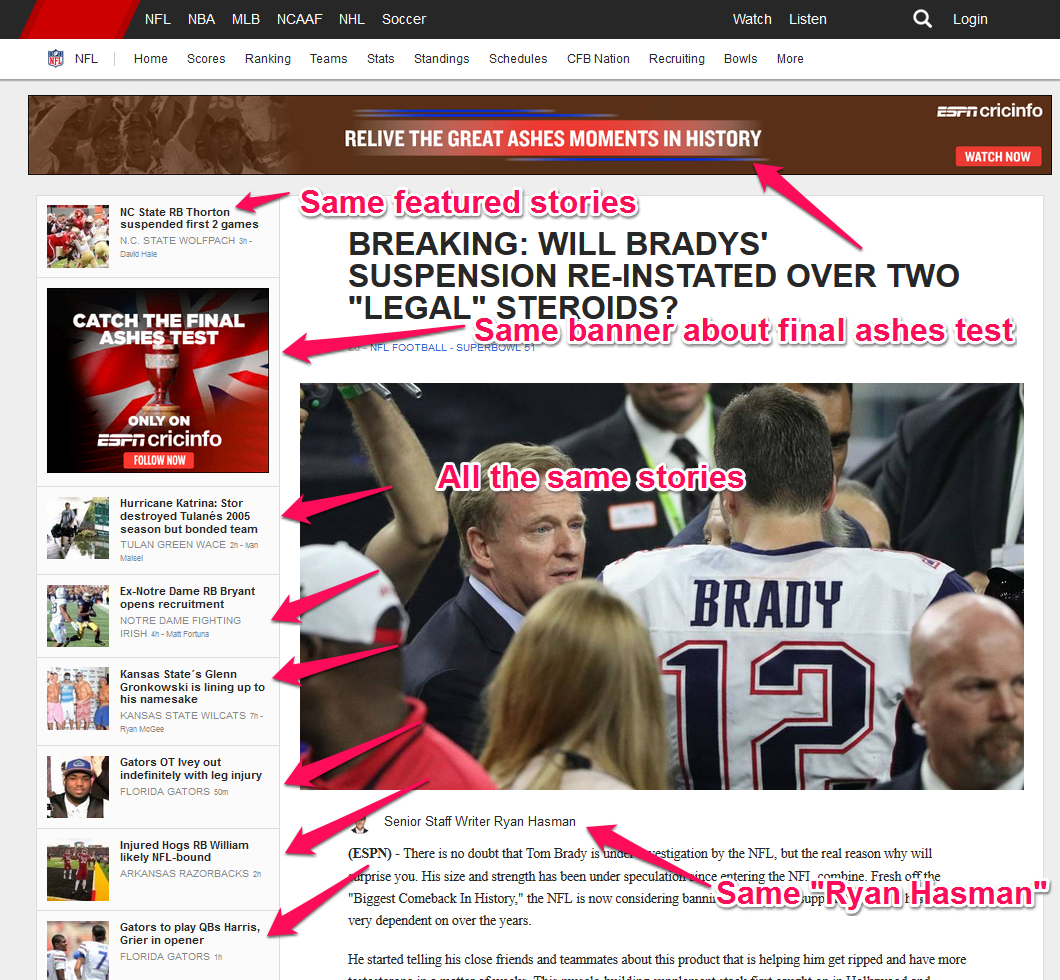 But I checked with several sports news outlets, like Bleacher Report, ESPN, others, and didn't find a single indication that LeBron James (or Tom Brady for that matter) is under investigation for anything.
And by the way, this "article" is on ESPN.com, or so they would have you believe.
It's really a fake front of a website using the ESPN logo, but don't be fooled; the website has no affiliation with ESPN at all.
It's just a front, and the proof is that when you try to click through to another ESPN article, all the links are broken and go nowhere.
Update:

Now It Was Seen On Shark Tank!

Recently I came across a completely different sham article that appeared to be the "Today" website.

In this article, it was more of the same B.S., with a different spin on it.

This time, instead of being featured by "Fox News", DSN pre workout landed a $1 million dollar investment on the popular TV show Shark Tank.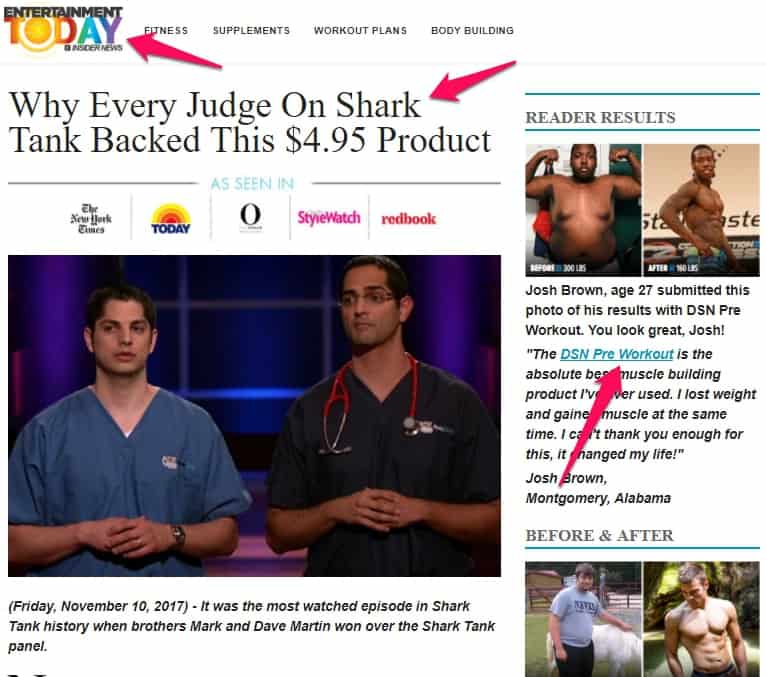 I'm not going to get into it here, but if you check out this article I break down how this whole thing is a complete scam.
They've also done the same thing with weight loss pills.
I know what you're thinking.You're wondering how they can get away with such a blatant lie.

It's so hard to believe they could get away with it that we start to thing it MUST be true.

Otherwise they'd be "in trouble" for making false statements, right?

Wrong.
Companies like these are small and nimble.

They get in and out of the game very quickly, and move on to a new product, with a new name and packaging.

This is how they stay a step ahead of the game.

By the time they've pissed off enough people with their empty promises and worse – scammy billing practices that we'll cover later on in this review – they've moved on.
I know some of you are still skeptics, so let's dig a little deeper.
The Author's Results with DSN Pre Workout
This "Farticle" (Fake + Article = Farticle) is supposedly written by a guy named Ryan Hasman, Senior Staff Writer at ESPN.

He even includes a picture "of himself" showing his before and after results.

But there are a couple of problems here as well:
There is no Ryan Hasman at ESPN.
The image that's supposed to be himself before and after he used Dyna Storm Pre Workout isn't him at all. His name is Gert Louw, and he runs a great website about building your body naturally.
And I guarantee you Gert didn't use DSN Pre Workout OR DSN Post workout to get those results.

He devotes a lot of his website content to exposing scams just like this one.
Here's the image as it appears in the Dyna Storm Pre Workout article:
And here's the same image, onlypulled straight from Gert's website: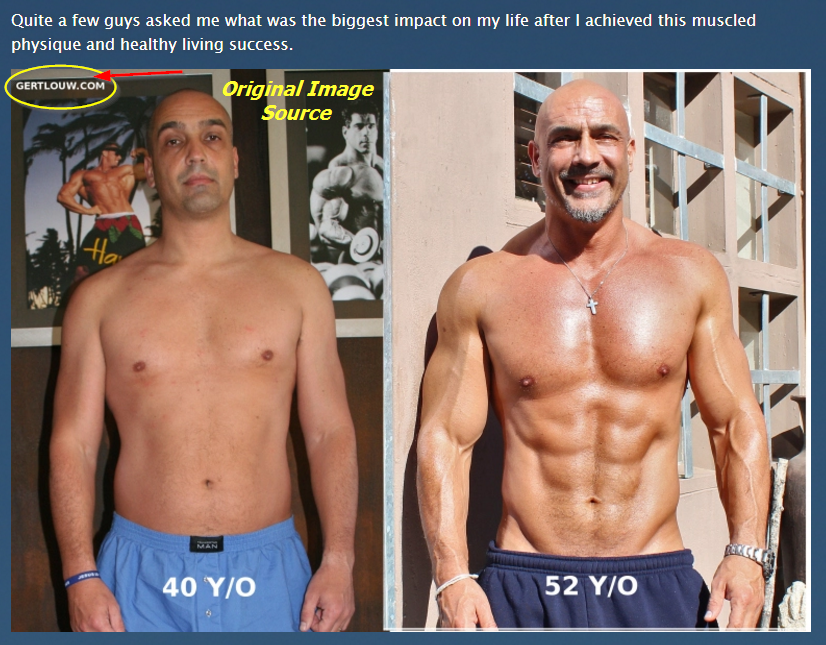 This isn't the firsttime supplement scams have used Gert's image to sell their products without his knowledge or permission. Hypertone Force and Hypertone Excel used it too.
The Comments Section
I'll make one more note here about the article, demonstrating once more its falseness, before moving on to our discussion of the actual product.

This is supposed to be an ESPN article about LeBron James being investigated by the NBA, but not a single reader comment in the comments section even mentions this.

They are all written by people excited to have used Dyna Storm Pre Workout with great results or excited to be trying it soon.
This is clearly an advertisement, people, not a legitimate article.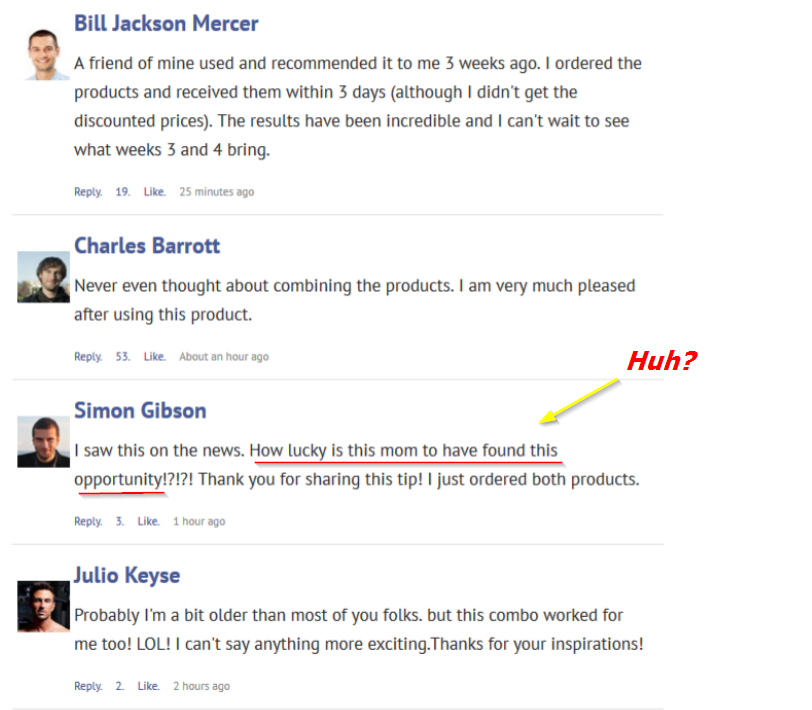 What Is DSN Pre Workout
Now that it's established that the marketing is total BS, let's take a look at the actual product.

It's not that difficult these days to formulate and produce a supplement. Maybe Dyna Storm Pre Workout is a great product in spite of its phony article.

It's a little far-fetched, but it's possible.
DSN Pre Workout comes from DSN (Dyna Storm Nutrition).

They have both Pre and Post workout products.

This one, Dyna Storm Pre Workout, is heavily reliant on Creatine as its main ingredient.
Though that's not all.

We'll go through the whole list in a bit.
The main idea behind Dyna Storm Pre Workout is that it gets you pumped, strong, and ready for your workouts, so the benefits you get from them are through the roof.
DSN Pre Workout Ingredients
The primary ingredient in the Dyna Storm Pre Workout formula is 3 grams of Creatine.
Creatine provides energy directly to your muscles.

More muscle strength means better workouts and better results. 3 grams is a decently effective amount to take on a regular basis.
More is necessary for a loading phase, but daily 3 grams is effective.
Supporting ingredients are:
L-Arginine (75 mg) which is a precursor to nitric oxide, a vasodilator that opens up blood vessels, allowing more oxygen and nutrients to be delivered to muscles for better workouts. 75 mg is very low, especially when you consider a recommendation of 3 grams or more for pre workout purposes from most experts.
Caffeine (100mg) for energy. 100 mg is a decent amount.

Not too much and not too little.
Cayenne Fruit which may increase metabolism.
A complex of B, C, and D vitamins to maintain optimal health, energy, and immune function.
When it comes right down to it, Dyna Storm Pre Workout is a creatine supplement, with a few additional ingredients to back it up.
What is DSN Post Workout?
What good is a pre workout supplement without something to help fuel your muscles after your workout? That's where DSN post workout apparently comes in.
According to them, DSN Post workout is made up of amino acids like L-Carnitine, L-Glutamine, and L-Tyrosine, as well as Niacin, Folic acid, and Vitamin B12.
You'll find these specific ingredients in a TON of other post workout products, including Amplified Wheybolic extreme 60 and BPI sports BCAA.
Finding DSN post workout reviews is nearly impossible, at least real ones.
There's plenty of sites that are pushing you to buy it, but no one is really giving their honest and unbiased results with either the pre workout or post workout formulas.
The only review that had any sort of honesty was the following youtube video:
[youtube https://www.youtube.com/watch?v=BhkBtw3urZo]
He doesn't really talk about his personal results, but rather describes what the ingredients are and how to take it.
This should be pretty obvious, right?
You take the DSN pre workout BEFORE your workout.
And you take the DSN post workout AFTER your workout.
Common sense.
Where to Buy
Dyna Storm Pre Workout and post workout is sold through the Dyna Storm Nutrition website, and they offer a "free trial" which I hope my now raises a red flag or two in your mind.

How it works is that you sign up and pay only a small shipping fee to receive a full "trial bottle".
If you call and cancel "your subscription" within 14 days of the day you first placed the order, you won't be charged anything more for the bottle you already have.

If you don't call and cancel, they will charge you full price ($89.97) for the "trial bottle" and send you a new bottle for $89.97 every month.This will continue until you call them at 1-800-210-7831 to cancel.
It's very common for guys to sign up for trials like this without truly understanding the terms.

Hopefully you're reading this before you order.

That way, you're in time to take the necessary precautions against losing $90 bucks each month.
Here's what the terms say, in case you're having trouble finding them.
Hopefully, you're reading this review as due diligence before ordering Dyna Storm Pre Workout, so that if you choose to go ahead with it, you'll know what you're getting into.Otherwise, read the terms carefully and follow its instructions to minimize the monetary damage as much as possible.
DSN Pre and Post Workout Pros and Cons
Advantages
Creatine is very well studied, and has been shown to help users build muscle very well.
The ingredients are all natural.
Disadvantages

It's marketing includes a big fake article trying to use every trick in the book to make you think Dyna Storm Pre Workout is revolutionary and cutting edge.It's not.
You have to sign up for a free trial in order to use it, and lots of unsuspecting customers get caught up in these free trial scams and end up paying lots more than they bargained for.
It's very expensive for essentially creatine in pill form.
The Bottom Line
When a supplement is presented using one of those ridiculously fake articles and claiming you can put on muscle weight without even needing to work out, it's a pretty sure sign that it's not going to be on our list of products offering real value.
This is not the first time we've seen Dynastorm Nutrition pull this kind of stuff, either.
For example, in October we outed them pushing a new product called DSN Code Black via deceptive marketing practices.
That alone put a bit of a sour taste in my mouth going into this, but the fact is that I made a rule to myself that I would give each and every product a fair shake lest I felt that my health was genuinely at risk, so I try to go into each and every product with a fresh set of eyes and an open heart and mind.
DSN Pre Workout contains a good amount of creatine, but that's about it.

But it costs $90. You can buy pure creatine in powder form at a significant discount to that.The few added ingredients just don't lift the value of this supplement to the level of something you should pay $90 for.For that money, you can get 2 or 3 months of creatine, even at higher doses.

There's just no reason to pay extra for Dyna Storm Pre Workout.You won't be getting anything in return for the additional cash layout.
It would be the equivalent of paying $15 for a bottle of Coke knockoff when you could walk into just about any and every store and buy a bottle of the real deal for $1.25, and the reason why that is wrong is essentially just a no brainer.
Have You Used DSN Pre and Post Workout?Leave Your Review Below!
Top 3 Pre WorkoutAffiliate Disclosure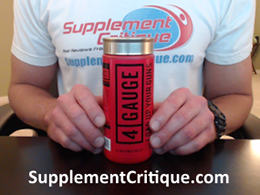 4 Gauge is a brand new pre workout that kicks in FAST and will rev up your workouts.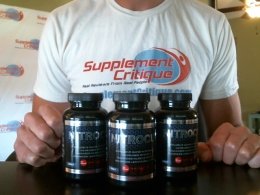 Nitrocut is a VERY effective pre workout supplement for a variety of reasons, see why here.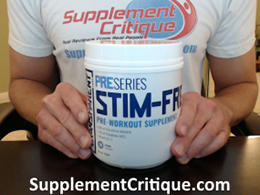 If you're looking for a stim-free pre workout, add Transparent stim-free to your list!
User Reviews

4.0 out of 5 Stars (1 Reviews)
Have you used this supplement?
Works!
I was a little skeptical at first, but I can say freely that this stuff works! However, I do agree the price is out of hand.

Was this review helpful to you?
3 out of 3 people found this review helpful.
---
Want To Really Get Ripped?

Click Here To Download My FREE
Ask A Question
User Questions and Answers
No Questions Have Been Answered For This Article.