DSN Code Black Review
By:
Rob Miller
Fact Checked On: 4-22-2020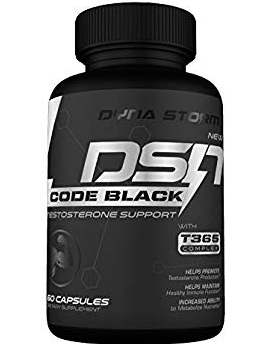 About DSN Code Black
It's no secret that getting old really sucks. For most men, it's usually a lack of testosterone that is the culprit.
When Testosterone Replacement Therapy isn't an option, a fair number of guys turn to over the counter remedies to help "fix" their problem.
I get it, testosterone replacement is expensive and quite frankly, even if it were cheaper, a lot of people would have some hang ups and feel uncomfortable with going ahead and trying it out as it is pretty expensive.
To this extent, DSN Code Black promises to deliver a combination of all natural ingredients that have been shown to be somewhat effective at helping to improve muscle mass, increase sex drive, increase strength, and improve hormone production.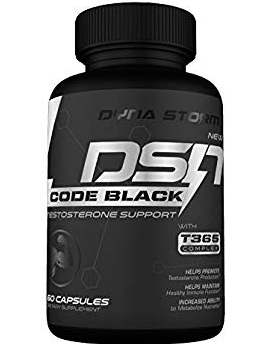 All you have to do is take 2 capsules daily, and within a few weeks your body will be transformed. DSN Code Black claims you may "unleash your inner beast" with their patented blend of all natural ingredients.
But is DSN Code Black really a "safe way to support your body's natural production of testosterone"?
Here's what we found out while researching their pills.
What's The Deal With Testosterone Decline?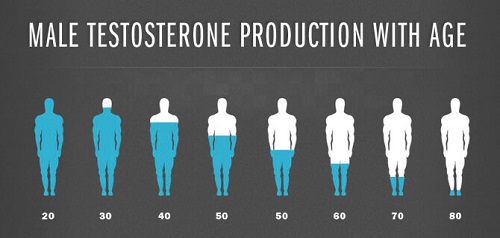 They correctly mention numerous times throughout their site that, as a man ages, his testosterone levels start to decline.
I can attest to this fact.
I'm about to turn 37 this Friday, and I could sense a drop in my testosterone levels right around the age of 35 or so.
For some, this drop can occur much sooner.
According to medical research, most men begin to experience a gradual decline in testosterone levels right around the age of 30.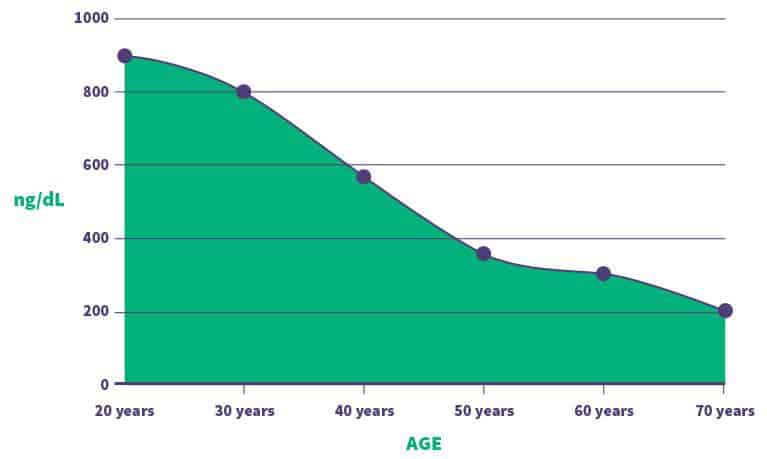 The causes are wide ranging, and include things like:
Primary Hypogonadism: This includes things like undescended testicles, klinefelter's syndrome, and even physical injury to the testicles.
Secondary Hypogonadism: This includes things like pituitary disorders, Kallmann syndrome, obesity, and medications.
You can learn more about the causes of Low Testosterone here.
According to some reports, it's been cited that as much as 1 in 4 men over the age of 30 suffer from low testosterone.
That makes for a big market.
Ingredients In DSN Code Black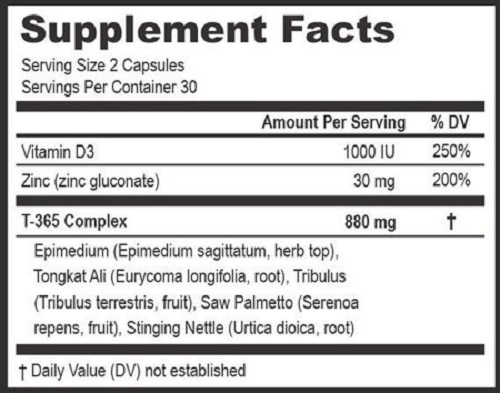 According to the products website, DSN Code Black contains the following ingredients:
Vitamin D3 1000 IU
Zinc 30 mg
T-365 Complex: Which includes epimedium sagittatum, Tongkat Ali, Tribulus Terrestris, Saw Palmetto, and Stinging Nettle 880 mg
What is T-365 Complex?
There's several mentions of T-365 complex throughout both the products official website, as well as their marketing materials.
It appears that T-365 is the proprietary blend of ingredients that DSN Code Black uses to help boost your testosterone.
Despite the marketing claims, most of these ingredients have not been shown effective at helping to increase testosterone in humans.
For example, time and time again, the ingredient Tribulus Terrestris has been proven ineffective at increasing testosterone levels in men.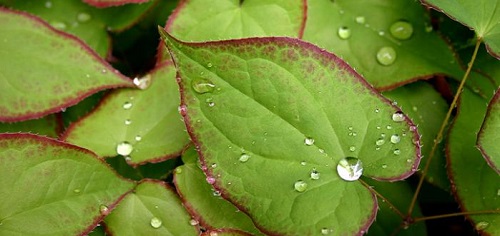 The ingredient Horny Goat Weed has been shown to produce phosphodiesterase type 5 effects. (Source)
With that said, there has been no conclusive evidence supporting the claim that it can help with testosterone function.
If it does at all, the effect is minimal.
One study did show that Horny Goat Weed can mimic the effects you would get with increased testosterone, but no actual serum testosterone level increases were noted.
Similarly, the ingredient Saw Palmetto has been shown to help with symptoms of Benign Prostate Hyperplasia (BPH).
However, it also hasn't been shown to have any noticeable effect on serum testosterone levels in healthy male adults when compared to a placebo.
DSN Code Black Mixed Online Reputation With Consumers
Despite the mixed clinical evidence supporting their claims, there are some consumers that have reported good results.
With that said, positive anecdotal reports are few and far between.
For example, on Amazon the average star rating is 2.3 out of 5 stars.
This is only based on a total of 8 reviews, which is hardly conclusive proof as to whether or not DSN Code Black works.
Some users report that it's a "decent product", while others call it a "huge waste of money and time".
There was one review posted on Youtube, where the user claims that "he feels so much energy" and "is always happy".
[youtube https://www.youtube.com/watch?v=V2WfMNum440]
It's unclear if he's talking about DSN Code Black specifically, but some of the comments seem to dispute that notion.
To be frank, this "review" seems to be a paid endorsement of the product and nothing more.
The reviewer doesn't talk about any other benefits he may have received from the product, apart from the increase in energy.
DSN Code Black Reviews On 3rd Party Sites
Unfortunately, there aren't many other reviews specifically from individuals that have actually tested the product.
A simple search for something like "DSN code black real reviews" turns up a mix of "review sites" who simply posted a research-based review of it.
None of them appear to have actually used the product itself.
DSN Code Black Pricing & Refund Policy
If purchased directly from the manufacturer, a one-time order of DSN Code Black retails at $102 plus $6.95 S&H.
Alternatively, you can enroll in their free trial program, which allows you to try the product for 14 days are a modest cost of $4.95 for shipping.
The official terms and conditions state that the trial period does not begin until 3 days after ordering.
This will allow the product to be shipped to you, and ensure that you have a full 14 days to try it.
Keep in mind that the manufacturer will charge you the full price for the product 18 days after ordering if you do not call to cancel.
This is a common complaint of many users of DSN Code Black.
They incorrectly assume that they are receiving a free sample of the product.
In reality, they will be charged the full price of $89.88 for the pills.
Additional, you will be shipped a fresh bottle of the pills every 30 days until you call to cancel.
Special Note About Free Trials
Based on my personal experience, you should avoid getting involved with free trials.
As mentioned earlier, they usually rely on the consumer thinking that they are just receiving a sample of the product.
Oftentimes, consumers find out the hard way when they go to check their credit card statement and see they've been charged the full price for the product.
We talk about this pretty extensively in our guide to free trials here.
If you or someone you know feels they have been cheated by a free trial, click here to see your best course of action.
Note: You can completely avoid dealing with the potential downfalls to free trials by simply ordering the one-time purchase of DSN Code Black on their official site or on Amazon.
At $102 it's not cheap, but at the very least you won't have to worry about getting charged down the road.
As of this review, it's not sold in stores like GNC, Walmart, Walgreens, or CVS. I will update this review accordingly if that ever changes.
Shady Marketing Behind These Pills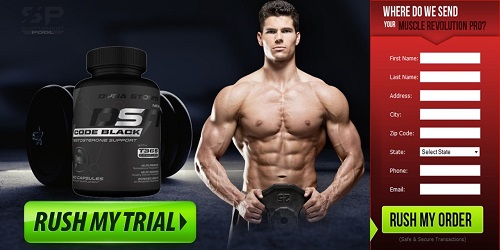 Dyna Storm Nutrition has used deceptive marketing techniques in the past.
In a post we published just a couple of years back, it was asserted that DSN pre workout was used by NBA player Lebron James.
This is not the first time we've seen Lebron James' likeness being used to promote supplements like this.
Throughout our investigation, we noted numerous discrepancies between what DSN was claiming, and what was actually true.
It looks like they are continuing on this trend.
For example, I recently came across an ad that looked like this: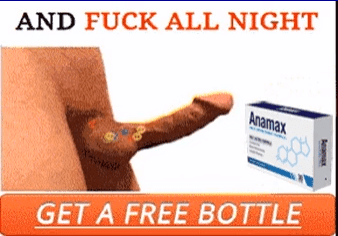 Upon clicking on the ad, we were led to a page which appeared to be posted on the CNN website.
There are numerous claims made on this website, but the most striking one is the claim that DSN Code Black will increase your penis size.

They claim that it does this by making the 2 erectile chambers leading in to the penis (collectively known as the Corpora Cavernosum) longer and wider.
It's also claimed that this increase in size may be achieved in as little as 4 weeks after starting DSN Code Black usage.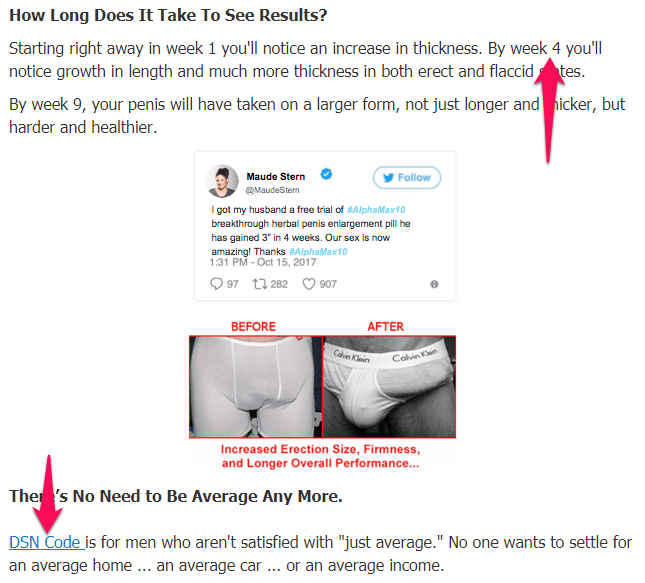 However, the simple truth behind these claims cannot be substantiated.
As we've discussed several times in previous articles, penis size cannot be permanently increased through pills alone.
Additionally, the article in question is a fictitious marketing ploy to try to get you to believe that their product was featured on CNN.
This is simply not the case…
Why Is This DSN Code Black Ad Fake?
First off, there is no "Laura Elassar" that works at CNN.
There's a journalist named Alaa Elassarwho contributes to CNN, but this is not the same person.
Second, this is not the CNN website.
You can verify this by simply looking at the url address.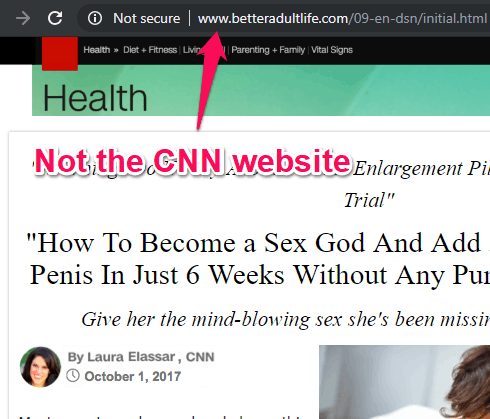 Additionally, you'll see that Dr. Oz is quoted as saying "anybody can last 2 hours in bed with this pill".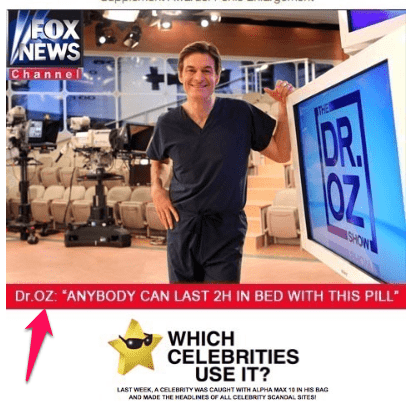 Yet, if you search for this exact quote, it's nowhere to be found.
Does DSN Code Black Really Work?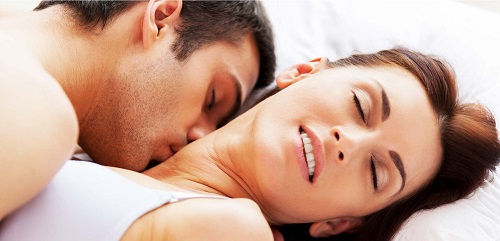 I actually ordered a bottle and will be testing it out soon.
However, despite the fancy marketing, it's hard to believe that DSN Code Black will do what the manufacturer claims.
There is some evidence that certain ingredients may help with your overall sex drive.
But the claim that it will grow you any significant size is just downright ludicrous.
Never in a million years could any supplement like this one provide you with actual big size gains because it just does not work that way, so try not to get your hopes up when you see claims like that.
Couple this with the fact that the vast majority of real reviews don't paint a very good picture, the product is severely over-priced, and they use deceptive marketing to sell their product, we say take a pass.
Have You Used DSN Code Black?Leave Your Review Below!
Top 3 Testosterone BoostersAffiliate Disclosure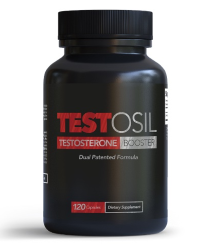 Testosil is the most effective testosterone boosting supplement on the market that I've tested.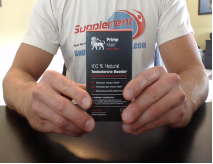 Prime Male is another very effective testosterone booster that uses clinically proven ingredients.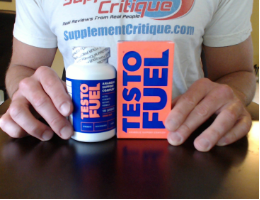 Testofuel is a VERY popular testosterone booster that contains ingredients to help older men.
Ask A Question
User Questions and Answers
No Questions Have Been Answered For This Article.