Amplified Wheybolic Extreme 60 Review
By:
Rob Miller
Fact Checked On: 4-5-2018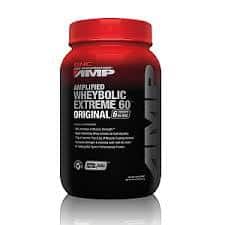 ---
Amplified Wheybolic Extreme 60 Overview
For a lot of people, the post workout supplement of choice is a simple protein shake.

For the most part, I agree with that philosophy, but when you're pushing your limits trying to make it to a new level, you may need something a little more reparative.

That's when you may want to look at something like Amplified Wheybolic Extreme 60.

It comes from GNC, and it claims to be their top choice for making real gains.

Using a Whey-Leucine base, Amplified Wheybolic Extreme 60 absorbs fast and creates the perfect environment for muscle protein synthesis.

Let's break it down and see how it stacks up.
Amplified Wheybolic Extreme 60 Ingredients and How They Work
You may be thinking that protein is protein, but there are actually several potential differences.

One is the size of the molecules. Amplified Wheybolic Extreme 60uses Micronized Amino Acids so they can be absorbed much faster and closer to when they can be best utilized.

They go a step further by adding an Amino Acceleration System which is a digestive enzyme blend that increases the absorption speed even further.
The particular amino acids added are Leucine, Glutamine, Carnitine, and Arginine, all big contributors to muscle building, muscle repair, fat burning, and muscle nutrition.

Not to mention that a 3 scoop serving contains a whopping 60 grams of protein.
The recommended use is 3 scoops mixed with water and taken directly after your workout.
Amplified Wheybolic Extreme 60 Pros and Cons
Advantages of Amplified Wheybolic Extreme 60
It's available at GNC which means it's easy to find.
An in-house study showed a 30% increase in muscle strength after 8 weeks of use.
Amplified Wheybolic Extreme 60 reviews are overwhelmingly positive, with most users commenting on it's low fat and low carb content.
Disadvantages of Amplified Wheybolic Extreme 60
3 scoops and 60 grams of protein is a lot for one serving.
It's expensive if you use as directed.
The artificial sweeteners are not ideal.
Where to Buy
You can purchase Amplified Wheybolic Extreme 60 at GNC or online. The 3 lb tub contains 17 servings if used as directed, and costs $60. That's certainly a lot, coming in at more than $3 per serving.
Conclusion
Amplified Wheybolic Extreme 60 gets great reviews for taste, mixability, and perf My only hesitation is the price.

But you can get around this by using only 1 or 1 and a half scoops per serving.

That way, you'll get more than a month out of your $60 outlay.
Have You Used Amplified Wheybolic Ext Leave Your Review Below!
Ask A Question
User Questions and Answers
---

Can the use of amplified wheybolic extreme 60, be detrimental if you are on hormone therapy for prostate cancer? Or can its use help. -Lou

Because of your medical condition and treatment, you'll have to check with your doctor about what supplements are safe to use.- Rob
Was this question helpful to you?

ASK A NEW QUESTION
---

By taking this amp will I test dirty for a drug test? -James

No, not at all. It's pretty much protein.- Rob
Was this question helpful to you?

ASK A NEW QUESTION