Synagen IQ Review – Smart Pill or Scam?
Rob Miller | April 18, 2017
---
Product Reviewed:
Synagen IQ
|
OUT OF 5 | Review by:
Rob Miller
Last Fact Checked On:
---
REVIEWS
QUESTIONS
COMMENTS
---
Home » Nootropics » Synagen IQ Review – Smart Pill or Scam?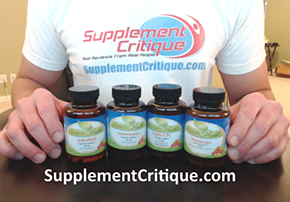 The Nootropics All Star Pack is a GREAT combo of supplements that will improve focus, concentration, and mood.
Admit it…If there was an over the counter supplement that would give you mind blowing motivation, confidence, focus / concentration, and an improved mood, you would probably take it, right?Of course you would, and it would be at the top of your "things to buy" list for every college student across the country this coming fall semester.
Recently I wrote about a supplement called Cogniq, which is an all natural cognitive enhancer that is designed to help you focus / concentrate, improve your mood, and help enhance short and long term memory.  One of my readers pointed out the fact that this supplement was being touted in combination with another one called Synagen IQ (not to be confused with Brainplus iq, a completely different product), which is the focus of this review.
What they're are essentially saying is that by taking this supplement, you will experience laser like focus, enhanced short and long term memory, and help to synergize your brain.  They're even calling saying it was the inspiration behind the movie "Limitless", starring bradley cooper.
But does it really work?Let's find out…
Contents
What is Synagen IQ?
The Fake Marketing Behind This Pill
Where Can I Buy It?
My Personal Results
Recommendation
What is Synagen IQ
On their official website, Synagen IQ starts off by pointing out a disturbing (but not uncommon) fact about cognitive performance.  Starting as early as age 30, most people start to notice loss of "brain power" or "cognitive performance", and that it gets worse and worse as the years pass by.
Anyone over the age of 30 can probably relate to this, and it can be quite depressing.  Well, Synagen IQ "says" that it has the answer to this with it's all new revolutionary formula.  Unsurprisingly, they don't actually disclose what that "revolutionary" formula is, but they do make a few lofty claims as to how it's supposed to work.
By using their supplement daily, you will experience:
Increased energy levels
Enhanced cognitive performance
Increased motivation / concentration
Laser like focus
Indeed, you'll find that the claims (and even the official websites) are strikingly similar to that of Cogniq, which is a supplement they say you should combine with Synagen IQ.  What's also interesting is the claim that they have been featured on major media news outlets like USA Today, Fox News, and CNBC.
Well, I searched through each one of those websites and could not find ONE SINGLE MENTION of Synagen IQ.  The same could be said about Cogniq, and some of the COUNTLESS other "smart pills" I've written about in the past, including Intellux, Geniux, and Addium.
All of these supplements are basically being promoted as Adderall alternatives, claiming they can help mimic the effects of Adderall while being completely free of side effects and legal for sale over the counter.
So what's in it that apparently makes it so effective?  Well, just like with Cogniq, Synagen IQ doesn't seem to want to release their ingredients list on their website.  We can speculate all we want about what might be in it though.  Ginseng / Gingko biloba is very common in nootropic supplements like this one, as well as anxiety relieving extracts like L-Theanine and valerian root.
It's also common to find vital amino acids and nutrients in nootropic supplements like this, including L-Tyrosine, Vinpocetine, Vitamins B6 and B 12, and probably a few stimulants like caffeine and bitter orange extract.
Luckily for you, I ordered a bottle, and here's a quick snapshot of the label: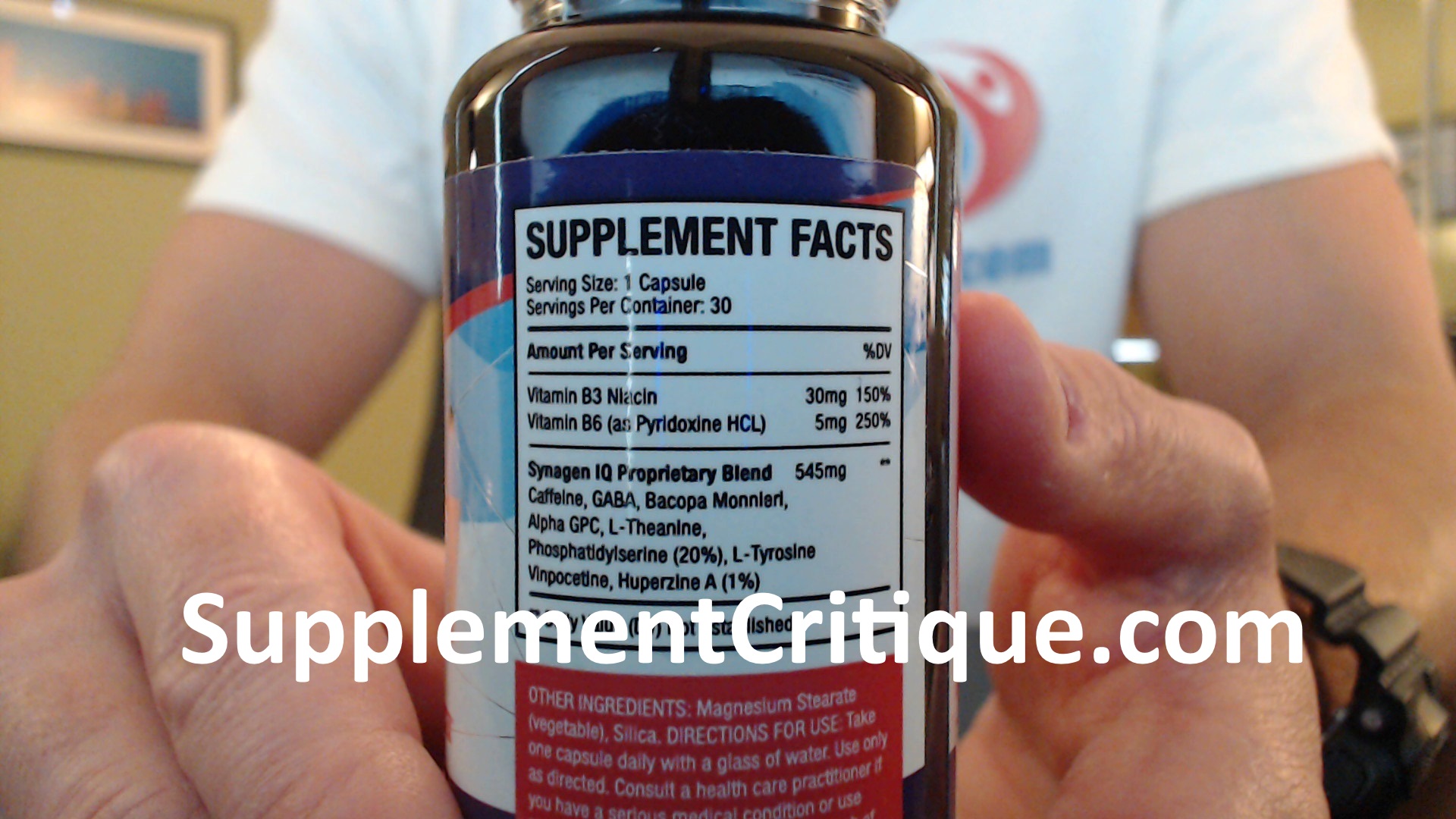 As you can see, it contains many of the ingredients we thought it would, with the addition of an ingredient called Huperzine A.
Not surprisingly, I've been seeing this particular ingredient being added to countless other nootropic supplements the last several months.  Huperzine A has actually been shown to help people suffering from Alzheimers disease, as well as helping to improve memory and learning enhancement.
Are There Any Side Effects?
As with any supplement, side effects are always possible.  The most common may be increased bowel movements, stomach cramps, nausea, dry mouth and fatigue, which would be the result of the Bacopa Monnieri content. (1)
Due to the caffeine content in Synagen IQ, other potential side effects may include insomnia, anxiety, nervousness, stomach irritation, and increased heart rate and respiration. (2)
This of course is not indicative of the supplement in question, but certainly a possibility.

The Marketing Behind Synagen IQ
So your probably visiting my review of Synagen IQ after visiting a page on CNN, or at least a page that LOOKS like the CNN website.  In that article there was probably some mention that in an interview of Stephen Hawking conducted by Anderson Cooper or Wolf Blitzer, Hawking revealed that he "secretly" takes Synagen IQ to help him "access 100% of his brain".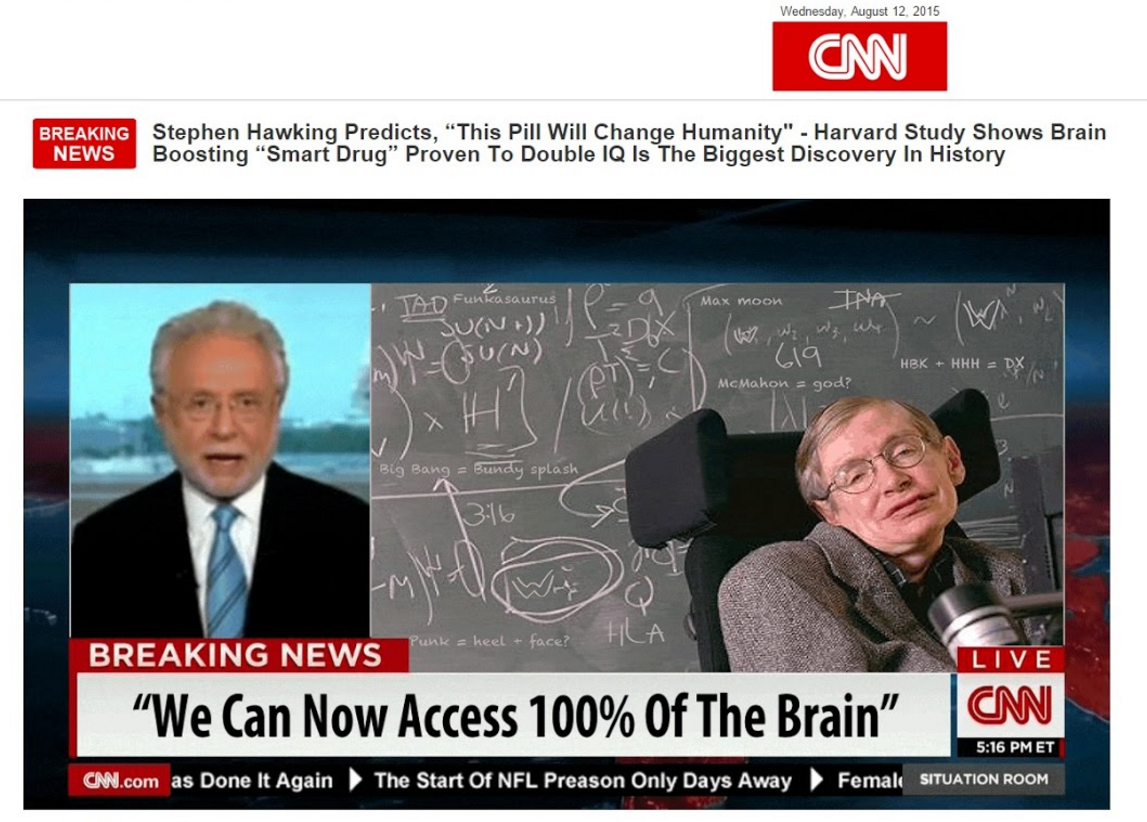 You'll read mentions of dozens of other celebrities who are apparently taking this pill, ranging from Denzel Washington, Bill Gates, and even Ashton Kutcher.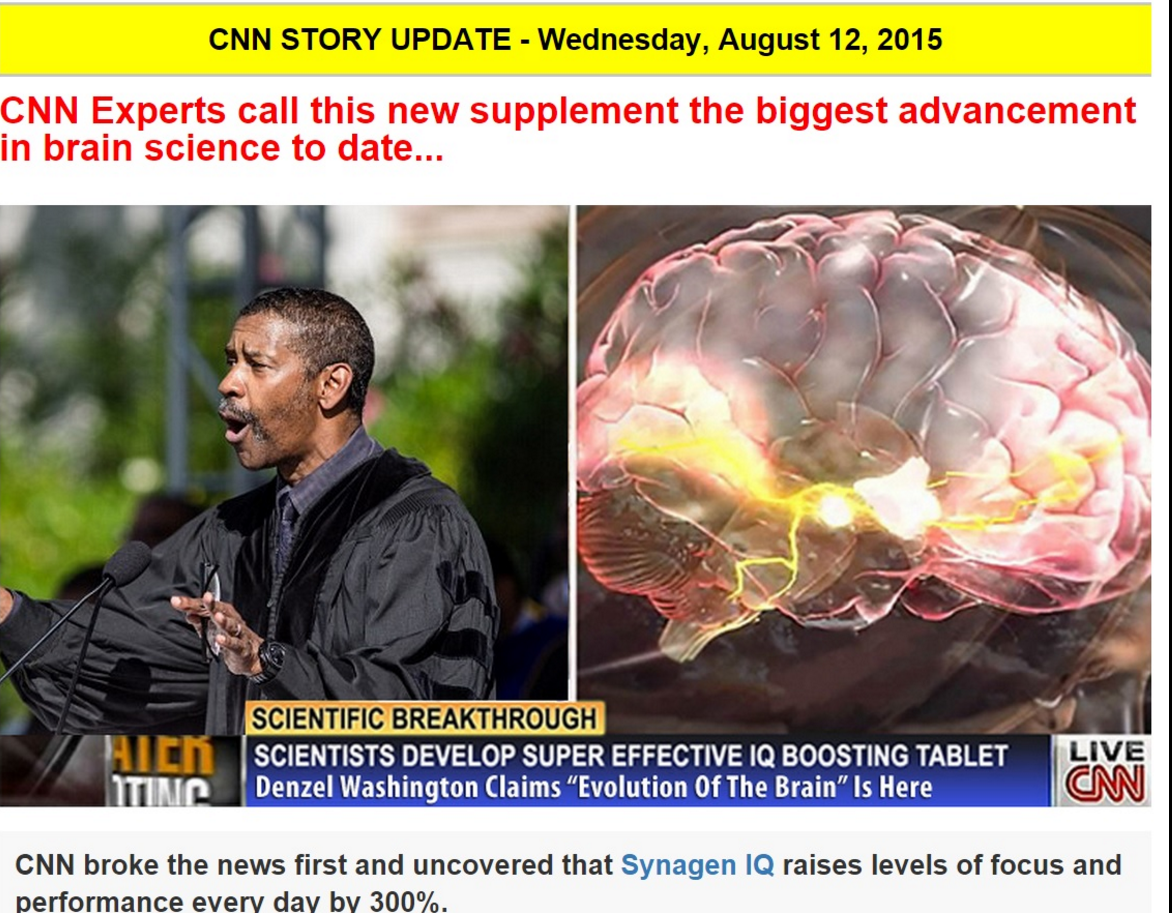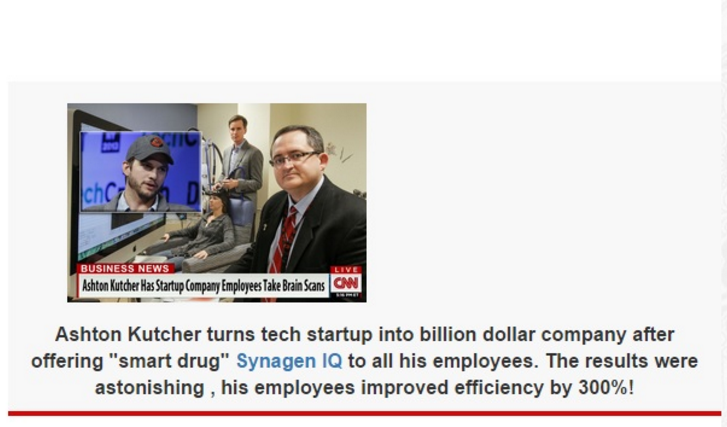 Well, I'm here to tell you that it's ALL complete B.S.  I wrote about this extensively in another article, but I will touch on a few points here.
For one, this is a VERY clever marketing technique that dozens of other companies have been using to try and promote their pill as being the next "real limitless pill".
Supplements like Addium, Alpha ZXT, and Intellux hire professional marketers to craft these fake articles, which seemingly look like they are published on reputable sites like CNN, Discover Magazine, MSNBC, and others.
If you click on any of the above reviews, you'll see that they ALL look very legit.  They ALL call themselves the inspiration behind the movie "Limitless":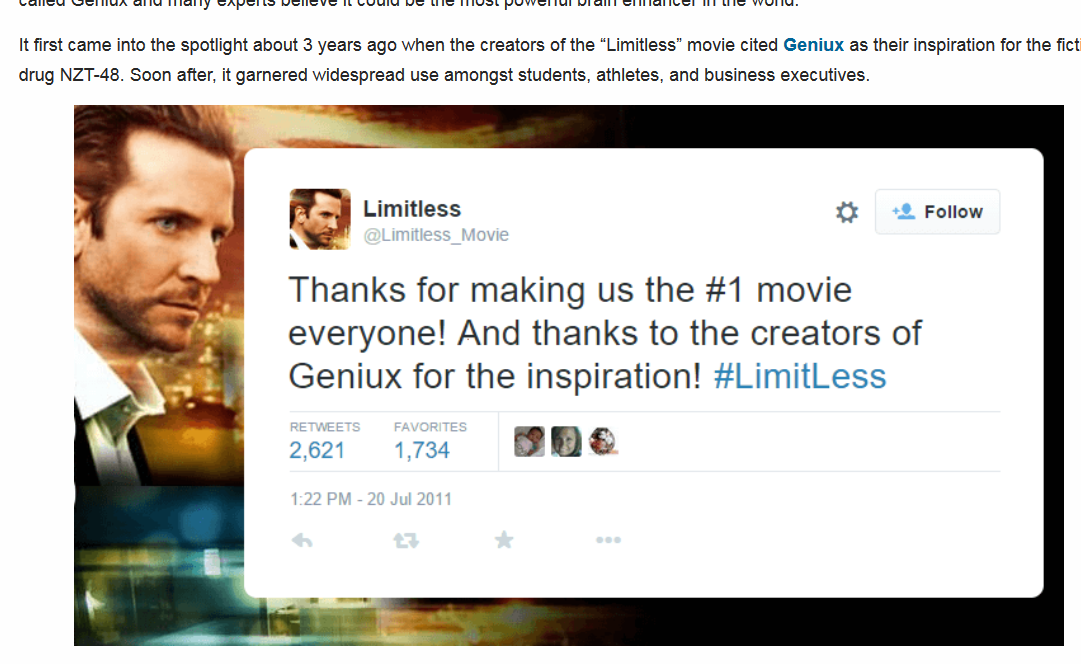 they ALL say they were featured in Forbes as being "Viagra for the brain":
and practically ALL of them say that Stephen Hawking is using it: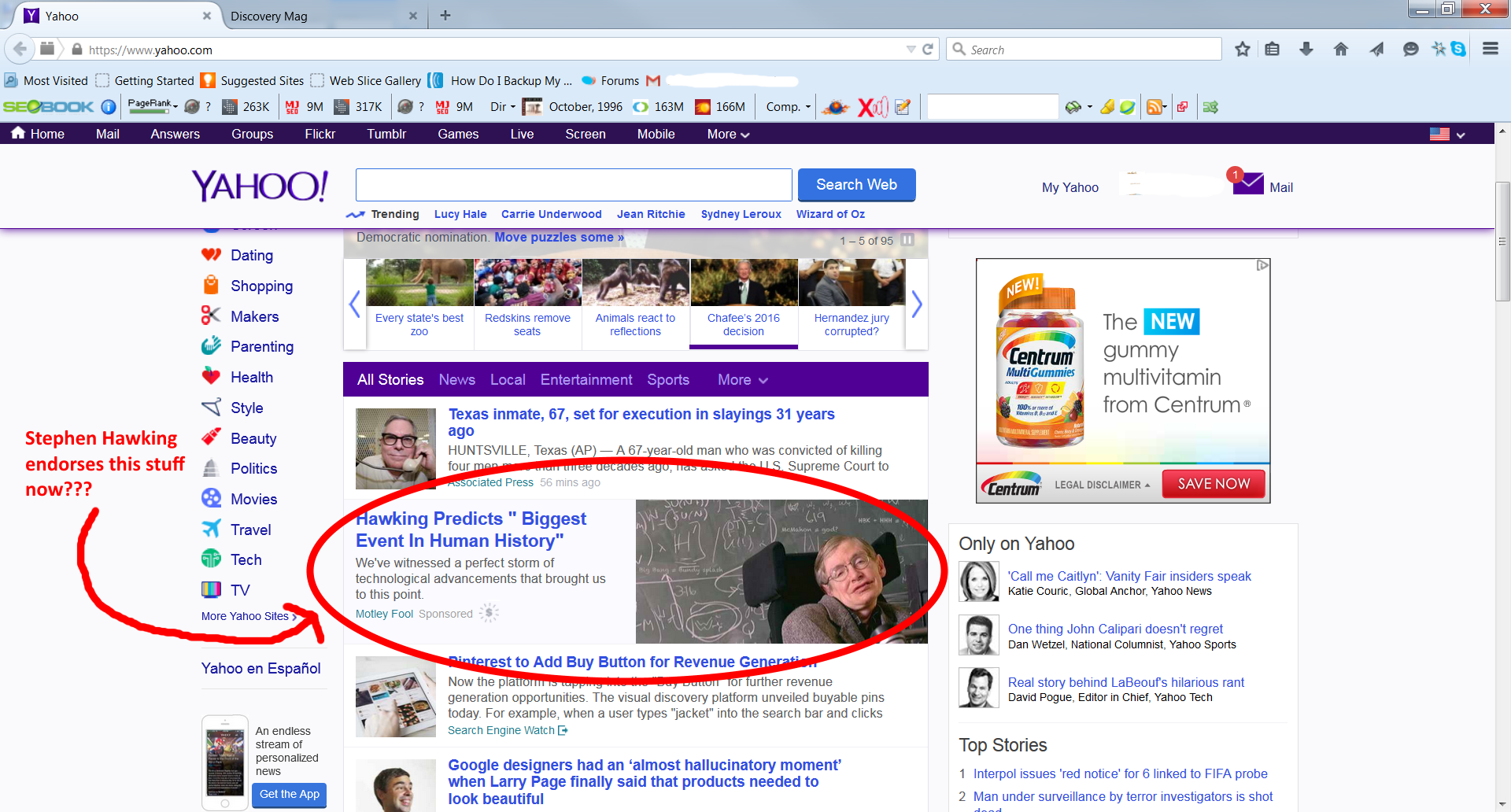 So whats the recurring theme here??
Well, how could they ALL be the next limitless pill?Well, it's pretty clear that these are ads, and if you look close enough you'll see just that at the bottom or top of these articles.
I've seen so many of these "brain pills" being advertised in this fashion that it's getting pretty tough to keep up with them.

How much does it cost
A one month supply of Synagen IQ will run you about $50 per bottle.  You can take advantage of discounted pricing by ordering larger quantities, with a "Buy 2 Months and Get 1 Bottle Free" deal which lowers the price per bottle to $37.99.
Alternatively, you can buy  a 3 months supply and they will give you 2 bottles free of charge.  All orders are shipped free of charge by the US postal service.
They do offer a refund for orders placed within 30 days, HOWEVER, you have to call their customer support phone number and request a "return merchandise authorization" (RMA) number from them in order to qualify.
Essentially what this means is you have to send the product back, at your own expense, before they will even consider giving you a refund.
Can I buy it anywhere else?
As far as I can tell, the only place you can buy Synagen IQ is on their official website.  Stores like GNC, Vitamin Shoppe, Walmart, Walgreens / CVS don't typically carry nootropic supplements like this one, mainly because they are too new to the market to be proven.

My Results With Synagen IQ
So I got a chance to personally buy a bottle of Synagen IQ to test out.  A bottle of the stuff cost about $50, which is about average for most cognitive enhancement supplements like this one.
The first day I took it on an empty stomach and was expected to feel some "mind-blowing" cognitive effects within an hour.  The result?  Nothing…Other than a very brief spurt of energy (which was more likely a placebo effect more than anything) I didn't feel any difference whatsoever.
I decided to up the ante the next day and take a double dose of Synagen IQ, and the results were the same.  No crazy focus or concentration.  No huge increase in memory function.  And no increase in mood whatsoever.
Pros
You can order conveniently online
They have a refund policy
The more you order the cheaper it gets
Cons
No reviews posted
No ingredients list given
No idea how long it takes to start working
Not available in stores
False advertising regarding media mentions
Recommendation
Since I posted my initial review, literally DOZENS of websites have popped up overnight talking about the supposed benefits of using this supplement.If you actually start reading through these sites, you'll clearly see that they didn't actually try Synagen IQ.
On top of that, the grammar and sentence construction of these sites is downright atrocious, and clearly not written by someone who speaks english as a first language.

The SOLE PURPOSE of these websites is to bury websites like SupplementCritique.com WAY down in the rankings in google, so that you don't reveal the TRUTH about what a garbage supplement it is.

The best thing you can do to help me stay towards the top is to Share This Post on Facebook, Tweet It, Post on Google +, or email it to a friend.
Every little bit helps…
Do I think Synagen IQ works like some magic, miracle cognitive enhancer??  From personal testing, No.

The fact that they don't disclose their ingredients is a HUGE red flag in my opinion, and only reinforces the notion that it's probably just some fly by night company looking to make a quick buck.
Can it work for you?  Maybe.  But with too many question marks / red flags I would say take a pass on this one.
Have You Used Synagen IQ?  Leave Your Review Below!
Our Top Choice For Nootropics – Optimind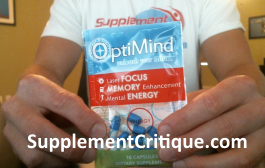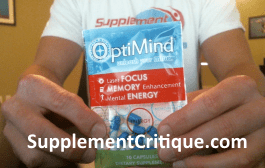 Optimind is the closest thing to Aderall that I've tested, and I've tested ALOT of these supplements.
It's made up of a high quality combination of all natural ingredients that are designed to promote laser focus, increase memory, cognition, and energy, and help to improve overall concentration.
Click Here to learn more in my official review.
How People Found This Review:
and synagen iq, and synagen iq scam, and brain plus iq review, and brain plus iq, and synagen iq reviews, and synagen
User Reviews
I'm sorry to say, This was a "Big Disappointment" I wasn't expecting miracles but after 2 months, I can honestly say there was No change in concentration, memory or overall function. I personally cannot recommend this product.

Big thumbs down ?

Was this review helpful to you?
311 out of 325 people found this review helpful.
---
Frank nichols's Review

By

Frank nichols

Feb 1, 2017

So, forget the "wonder pill" ingredients, the way to tell it's a scam is to try to cancel your trial. They make run run through a series of phone messages, each giving instructions on where to return and the address to do so.

Then they use a computer generated "voice" message to place a code on the return envelope. The code is hardly understandable, so they offer a next step to speak to a "live" representative.

Once connected, they try to sell you on keeping the trial for the regular single bottle price which is outrageously high. After some back-and-forth, I was able to get a valid return code, so I'll be sending my trial back.

Why? It doesn't work.

You can get the same ingredients in an enhanced vitamin pill. This is nothing more than Dr. Feel Good's Snake Oil.


Was this review helpful to you?
133 out of 138 people found this review helpful.
---
Scam Product
The only thing this product did was give me gas. No benefit whatsoever.

Was this review helpful to you?
130 out of 137 people found this review helpful.
---
Didn't work
Didn't work for me. Didn't notice any changes.
Was this review helpful to you?
101 out of 107 people found this review helpful.
Rob Miller:
How long did you take it?
---
Flavia's Review
It was great...gave me headaches and weird state of mind and confussion!
Don't take it!!!!
Total SCAM

Was this review helpful to you?
96 out of 102 people found this review helpful.
---
Want To See What Supplements
Work Like Adderall?

Click Here To Find Out!
Ask A Question
User Questions and Answers
---

What are the ingredients (active and no active) in Synagen IQ? -Krzysztof Kasinski

According to the label, it contains the following: Vitamin B3 (Niacin) 30 mg, Vitamin B6, Caffeine, GABA, Bacopa Monnieri, Alpha GPC, L-Theanine, Phosphatidylserine, L-Tyrosine, Vinpocetine, and Huperzine A. It should be noted that this EXACT same ingredients list with the exact same ratios can be found in two other competing products called Addium and Adderin.- Rob
Was this question helpful to you?
131

out of 137 people found this question helpful.
ASK A NEW QUESTION
---

I have tried synagen iq for 5 days. I felt no different. I called for a RMA number. They refused to give it to me, they said because I did not take their special. but just ordered one bottle for $50.00. Do I have any recourse? -Harold

Sorry to hear that. Go back and read the terms and conditions very carefully. If what they're saying is true, there's nothing you can do. If not, keep fighting, and tell them you'll go to the Attorney General if they don't abide by their listed terms.- Rob
Was this question helpful to you?
104

out of 109 people found this question helpful.
ASK A NEW QUESTION
---

I need the contact information to cancel my order placed today for Synagen IQ. Please send asap. -Carol

Here's the contact info I found on their official website: support@synageniq.com 844-465-0024- Rob
Was this question helpful to you?
79

out of 91 people found this question helpful.
ASK A NEW QUESTION
---

Why did you only do two days? That is hardly a fair test. -Kim

Given the insincere advertising, the promises of instant results, and the fact that I've tried many of these types of supplements before, the two days was enough to get a good idea of how well it will work. If you take it for longer, send us your review and I'll post it.- Rob
Was this question helpful to you?
48

out of 59 people found this question helpful.
ASK A NEW QUESTION
---

Why does the internet site says free shipping for today only, then turn around at check out and charge you $4.95 for shipping? -Reginald

SupplementCritique.com is a review website. We don't have any affiliation with Synagen IQ. You'll have to ask them directly about shipping costs and discrepancies in their marketing. If you check out the review above, you'll see we don't have a very high opinion of the stuff.- Rob
Was this question helpful to you?
26

out of 26 people found this question helpful.
ASK A NEW QUESTION
---