Brainfire Review – Miracle Nootropic or Dud?
Rob Miller | August 14, 2015
---
Product Reviewed:
Brainfire
|
OUT OF 5 | Review by:
Rob Miller
Last Fact Checked On:
---
REVIEWS
QUESTIONS
COMMENTS
---
Home » Nootropics » Brainfire Review – Miracle Nootropic or Dud?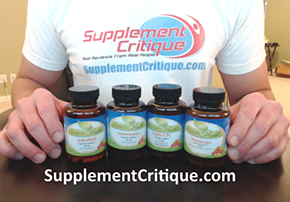 The Nootropics All Star Pack is a GREAT combo of supplements that will improve focus, concentration, and mood.
"What if you could boost brain power?  Increase your memory recall, reaction time, and be noticeably more focused?

Be in a happier mood and enjoy better overall improved health?"
These are the statements made none other then by a supplement that gos by the name of Brainfire, the most recent nootropic supplement we've come across.  This pill promises a wide variety of health benefits, including the ability to think faster, increase your motivation to get work done, and improve you're overall mood.
But does it really work?  We set out to learn the truth about this supplement, and dug through all of the marketing hype to give you a clear answer about how it works.
What is Brainfire?
Brainfire calls itself a "super brain supplement" that is designed to make you more efficient by increasing your mental alertness, energy, and cognition.  It does this through a supposedly unique blend of all natural ingredients that work to help increase blood flow to the brain, as well as decrease anxiety levels to produce a calm sort of laser focus.
The ingredients list on their website includes Ginkgo Biloba, St. Johns Wort, Phosphatidylserine, and Bacopin, and apparently that's it.
However, if you look on the label, NONE of these ingredients are listed.  Instead we find that it contains an assortment of B vitamins, including B1 (thiamine mononitrate), B2 (riboflavin), B3 (Niacin), B6, and B9 (Niacin).  It also contains, quite surprisingly, Creatine….Why a focus / memory supplement contains creating I have no idea.
Brainfire also contains 2 other ingredients I've never heard of before, AlphaSize and SerinAid.  Both are registered trademarks, and when I looked them up it sounds like AlphaSize is simply a choline derivative and SerinAid is a phospholipid.
There's no mention of any stimulants like caffeine, yohimbe, or ephedrine, so I'm not quite sure where you're going to get this "massive energy boost" they keep talking about.
Warning – Deceptive Marketing and Advertising Ahead…
So, you probably got to this page after reading about some warning Stephen Hawking made about things he strongly believe will be the demise of the Human civilization…I've seen the ad on Yahoo several times before, and it's definitely intriguing enough to click on.
When you click on the page, you are led to a supposed magazine article on Discover Mag that shows Anderson Cooper interviewing Stephen Hawking about "Technology overtaking humanity, and a certain 'smart pill' that will likely save us".  He also credits his $20 Million net worth to it…
If you already closed the article out, here's a quick snapshot I took: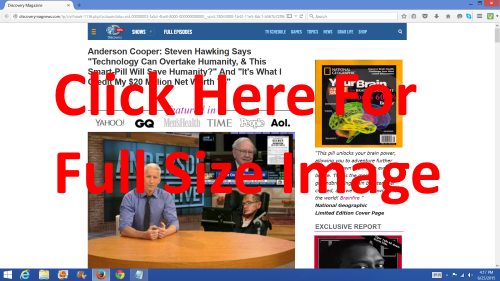 Look familiar??  Yeah, I thought so…
Within the article, Stephen Hawking talks about how he fears that Aliens may very likely one day visit Earth and that they likely would try and conquer and colonize us.
It finally gets to the point when they say the Mr. Hawking credits his ability to function and maintain focus on such a high level thanks to the effects of Brainfire.
It also go's on to say that many other celebrities, including the likes of Denzel Washington, who apparently said in a recent science convention that " I would not be able to have the energy I have, the focus and ability to memorize my movie lines after reading them just once, if it wasn't for Bainfire.
If you don't smell the B.S. yet, read on…you will soon, trust me 🙂
The article gos on to state that, in a recent Forbes article Brainfire was recently given an honorary mention as being the "pill that can turn you into the quickest thinker on the planet".
Here's a screenshot in case you missed it: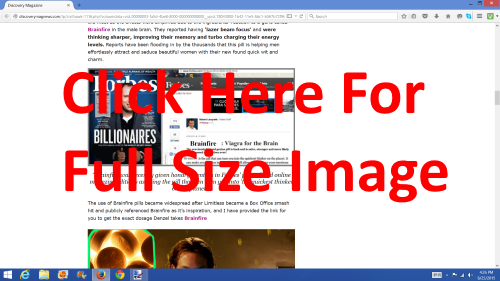 So, What's The Problem Rob?  All these celebrities are using it, it must work, right???
Well, what you probably don't realize (or realized too late) is that this entire magazine article is FALSE…All the information and content in it is completely FAKE.  And here's the proof:
1.)  This is NOT the real Discovery Magazine website
It might look like it, but this site is NOT the real Discovery Magazine news site.  How do I know this?  Well, look at the URL in the address bar.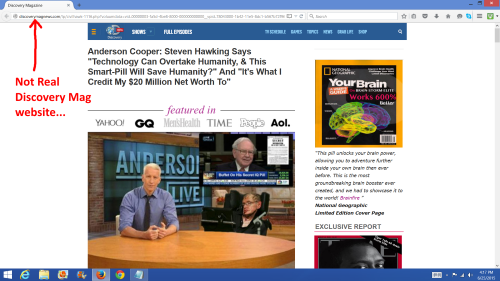 Discovery Mag US DOT com is NOT the real one…that would be discoverymagazine.com.
2.)  Stephen Hawking was NOT Interviewed By Anderson Cooper
I searched literally everywhere, and could not find one single piece of evidence that Anderson Cooper interviewed Stephen Hawking.  There were a few mentions of him talking about how Aliens might take over the planet one day, but none of them were on Anderson Cooper 360.
In fact, if you look at the image above, you'll see that SOMEHOW they cleverly photo shopped Stephen Hawking into the image sitting next to Anderson Cooper.
3.)  That Forbes Article on Brainfire?? Doesn't exist…At Least Not The Way they want you to believe
Remember that Forbes article that mentioned that Brainfire was the new "Viagra for the brain"?  Well, here's the REAL forbes article.  As you can see, there is clearly NO mention of Brainfire, and it is simply talking about a completely different pharmaceutical drug that is still in clinical trials.
This is not the first time that I've seen these ads.  As you'll see in my reviews of some other nootropic supplements like Addium, Alpha ZXT, and Brainstorm Elite, this practice has been going on for quite sometime now.
Reviews of Brainfire
Finding a credible review of Brainfire was downright impossible.  The vast majority of "blogs" out there that talk up the product appear to be paid for by the manufacturer to post positive testimonials about their product.
As a matter of fact, most of the sites populating the top results in Google aren't even really "reviews" of the supplement, but rather a series of rambling nonsensical statements that are clearly written by someone from another country, most likely India or Pakistan.
For example, check out this paragraph from the website "diabacor does it work DT com" under the title "Customer Reviews About Brainfire"…
Justin says: "It is exceptional supplement that make a point to convey all the fundamental vitamins and ingredients to your cerebrum cells.  This formula helps you to stay persuaded with the goal that you can lead a healthier and less demanding life.  Take its daily dose to enhance all the zones of your cognitive development that likewise incorporates vitality and also short as well as long haul memory."
I don't know about you, but to me, that entire statement makes absolutely no sense whatsoever…Is it going to help me think better, or "keep me persuaded" to help me maybe think better???
I searched around for legit reviews of Brain Fire on Youtube, and came up short.  The only "review" I could find was this jumbled mess of a video:
As you can see, that video is equally as worthless as most of the "reviews" written on these supposed other blogs.
My Results With Brainfire
I went into my experiment with Brainfire with very low expectations.  I've heard many of the claims before, and the fact that they are deliberately using fictitious marketing to try and sell their supplement leads me to believe it's probably nothing more then a sugar pill.
Alas, I received my order of Brainfire about a month ago, but went on an extended working vacation so didn't get a chance to try it out until last week.  My results???Not a damn thing…
I followed the directions on the label, which called for 2 capsules daily.  I tried it on an empty stomach, a full stomach, I even broke open the capsule and mixed it in a glass of water thinking it would make it work quicker.
I can honestly say that I didn't feel any effects from brainfire, not even a rush of energy you might get with a heavy dose caffeine pill.
Frequently Asked Questions About Brainfire
How do I take it?
According to the instructions on the label, you should take 2 capsules daily, or as directed by your health practitioner.  As usual, the typical warnings are present.  It shouldn't be take be pregnant women or nursing mothers, as well as anyone under the age of 18.
Are there any side effects?
Well, Brainfire will tell you that there supplement is completely safe and side effect free.  But the reality is ANY supplement can produce side effects, it really depends on the individual.
For example, while the ingredient St. Johns Wort has been shown to help with depression and symptoms that go along with depression, it ALSO has shown a wide range of side effects including trouble sleeping, vivid dreams, restlessness, anxiety, irritability, stomach upset, and even fatigue. (Source: 1)
However, since we can clearly see that it doesn't in fact contain St. Johns Wort, I guess you don't have to worry about that. 🙂  Niacin, on the other hand, is present in Brainfire, and is well known to cause a range of side effects including nausea / vomiting, skin flushing, dizziness, light headedness, skin itching / rash, and stomach pain and / or discomfort.
That's actually a very common complaint I get about another competing nootropic supplement called Addium.
Does it work like Adderall / Vyvanse?
Most likely not…ADD / ADHD drugs like those are the most powerful on the market.  So powerful, in fact, that not only do they require a doctors visit to obtain one, their distribution is VERY tightly regulated by the FDA and DEA.
A powerful all natural supplement that can mimic the effects of those drugs?? Highly unlikely…
Is it REALLY a clinically studied supplement?
No…despite the claims that Brainfire has clinical studies supporting the use of their supplement, that make no reference to an ACTUAL clinical study involving their supplement.
What they are alluding to, intentionally or unintentionally, is that SOME of the ingredients in their formula have been clinically studied.
However, if you do the research, you'll find that many of the clinical studies of these ingredients were not very favorable.  For instance, the ingredient Phosphatidylserine was given a "qualified health claim" by the FDA to allow labels to state "consumption of Phosphatidylserine may reduce the risk of cognitive dysfunction in the elderly."
However, the FDA ALSO mentioned that there is "very limited and preliminary scientific evidence that suggests that Phosphatidylserine may reduce the risk of cognitive dysfunction in the elderly".  They also concluded that these is little scientific evidence supporting this claim. (Source: 2)
Where can I buy it?
The only place I could find it for sale was on their official website.  They have several ordering options available…a 1 bottle starter package will run you about $53.98, with standard shipping.
If you buy larger quantities, you qualify for some pretty hefty discounts.  For example, if your order 3 bottles you get 2 free, which is an average savings of about $249 in total.  They also offer a "buy 2 bottles get 1 free" deal that knocks the price down to $34.99 per bottle, apparently saving you $129.
As far as I can tell, you cannot buy Brainfire in stores like GNC, Vitamin Shoppe, Walmart, Walgreens or CVS.  Amazon also does not list the product for sale, and I couldn't find anyone selling it on eBay.
Do they have a guarantee / refund policy?
They do, but it's not a very good one…For starters, you only have 30 days to try the supplement out.  Not a terribly long amount of time, but I guess it's better then nothing.This, by the way, is 30 days from the date which you PURCHASED the Brainfire, NOT 30 Days after you receive it.
Considering it takes about 3 – 4 business days to ship, this REALLY ends up leaving you with only about 22 days to try the supplement out.  "Fair enough, that's still enough time to tell if it's working for me anyway", you're probably telling yourself right now.
Well, not so fast…
Should you decide to try and get a refund, you actually have to send back the UNOPENED / UNUSED bottle to receive a refund.  So essentially what that means is you really DON'T get a chance to try it out, you ONLY have the option to send it back without ever even opening it up.
On top of that to make matters worse, YOU'RE responsible for the return shipping…so, inevitably you're basically paying for them to send the product to you and then send it back…essentially putting you in the red.
Recommendation
The idea that a company like Brainfire would have to resort to using the deceptive marketing tactics to advertise their product doesn't bother me.  If it works as great as it does and they have to tell a few white lies, then so be it…
But this blatant attempt to fool the public into thinking their supplement is some miracle pill that will change you're life, and especially a pill that turns out probably doesn't even work better then a caffeine pill, is completely and utterly preposterous.
Save your money and go with proven and all natural supplements that REALLY do work, and don't have to lie to prove it to you.
Have You Used Brainfire?  Leave Your Review Below!
References
1.) St Johns Wort Side Effects – http://www.webmd.com/vitamins-supplements/ingredientmono-329-st%20john's%20wort.aspx?activeingredientid=329&activeingredientname=st%20john%27s%20wort
2.)  https://en.wikipedia.org/wiki/Phosphatidylserine#Memory_and_cognition
Our Top Choice For Nootropics – Optimind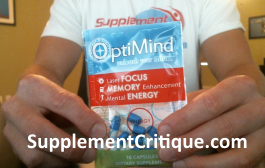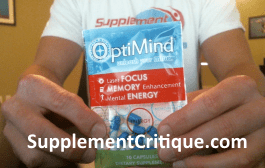 Optimind is the closest thing to Aderall that I've tested, and I've tested ALOT of these supplements.
It's made up of a high quality combination of all natural ingredients that are designed to promote laser focus, increase memory, cognition, and energy, and help to improve overall concentration.
Click Here to learn more in my official review.
How People Found This Review:
and Stephen Hawking Smart Pill, and CNN Stephen Hawking Smart Pill, and super brain pill reviews, and neurocell scam
Want To See What Supplements
Work Like Adderall?

Click Here To Find Out!
Ask A Question
User Questions and Answers
---

Sure, I have a question. How could anyone go for this con? Since when were Anderson Cooper and Denzel Washington qualified to offer opinions in this are even if they really did endorse it? And how could anyone possibly imagine that Stephen Hawking would have anything to do with it? -Mark

It's hard to believe, but as far as I know, their advertising works!- Rob
Was this question helpful to you?
5

out of 5 people found this question helpful.
ASK A NEW QUESTION
---

I have been reading your stuff for awhile now and I would like to try OptiMind but I have a strong sensitivity to caffeine is there something else I can try that isn't a scam? Thanks Mike -Mike

Give MindBoost a try. It's got both a day and a night formula, and neither has any caffeine. It used to be my top pick, till I realized most people were actually looking for something with stimulants, so I'm sure you'll be happy with it.- Rob
Was this question helpful to you?
4

out of 4 people found this question helpful.
ASK A NEW QUESTION
---

Hi. I already have a prescription for Adderall. So other than an all-natural solution, do these pills do anything different than my Adderall (which I take infrequently now that it causes me such insomnia). -Cj

Not really, no.  They are natural substitutes for Adderall.  In my experience, some can come pretty close, but they can't beat Adderall.- Rob
Was this question helpful to you?
3

out of 3 people found this question helpful.
ASK A NEW QUESTION
---

how do i return bottles of brainfire for a refund as it gives me a headache? -william

You'd have to call their customer service number, which I found on the label.  Here it is:  1-888-316-3321- Rob
Was this question helpful to you?
1

out of 1 people found this question helpful.
ASK A NEW QUESTION
---