Brainstorm Elite Review – Does It Really Work?
By:
Rob Miller
A couple of months ago I reviewed a product called Neuro 3x, which was being advertised on major media outlets like Yahoo and Facebook as being a new "wonder drug" for the brain. We ordered it, tested it, and reviewed it, and it didn't work…Now it seems that either the makers of Neuro3x have changed up the label of their product and are now calling it Brainstorm Elite. All the marketing is relatively the same, the whole sales page is the same, but there are a few catches to this that make it a bit different. This review will attempt to clarify those changes.
What is Brainstorm Elite?
According to the manufacturer, Brainstorm Elite is a once daily supplement that is used to help improve focus, memory, and energy. It does this through the use of an all natural and proprietary formula that was apparently designed by top researchers. That formula includes the likes of Panax Ginseng (400mg), Vinpocetine (10 mg), and Vitamin B-6 (10 mg), as well as some fillers like gelatin, rice flour, magnesium, and dextrin.
There has been research on the ingredients Ginseng and Vinpocetine regarding their cognitive enhancing effects, but the research is still limited. I actually used to take Ginseng (along with Ginkgo Biloba) quite regularly back in the day and it did seem to help a bit with short and long term memory as well as cognitive performance.
The dosing schedule on the label calls for one capsule daily between meals with at least 8 ounces of water, or as directed by a physician.
Lies and Deception
The marketing approach to Brainstorm Elite is a bit different then the approach used with Neuro 3x. Instead of Will Smith apparently using this supplement, now it's Leonardo Dicaprio.

It says so right in the ad, quoting him as saying "Nothing expands your mind and gets you in the zone like Brainstorm Elite". I searched the interview with Leo, which happened to be an interview about his experience on the set of "The Wolf of Wall Street), and listened to the entire 16:40 clip. Check it out below:

Did you hear him say anything about Brainstorm Elite? I didn't hear him once talk about taking some brain enhancing pill to give him extreme mental clarity and ambition. Clearly they are using his name and likeness illegally, and of course, deceptively.
Deceptive advertising aside, does Brainstorm Elite even really work? Well, the ad clearly states that it does, and chronicles the experience of a senior chief editor at Discovery Magazine who go's by the name of Alan Frasier. He tested it, and he says it worked great. The problem is this…there is no chief editor at Discovery Magazine named Alan Frasier. We looked it up, and even contacted them. In fact, if you look very carefully, this isn't even the real Discovery Magazine site. The site is intended to "look" like Discovery Mag, but try to click around on the navigation bar and see if you can go to another page. I've provided a screencast below in case you don't have the page open any longer…
That's right…every single link redirects to the Brainstorm Elite website. It doesn't matter what you click on, you ALWAYS end up on their site. Even if you try to click the social sharing icons, like the facebook, twitter, youtube, or google+ icons, they don't even work. It even clearly states "Advertorial" right underneath the Discover logo if you look very carefully. Red Flag #1…
Red Flag #2 is the fact that they say that their supplement has been seen on CNNHealth.com, ABC News, and Men's Health. Well, I reached out to the editors at these media outlets and none of them had ever heard of Brainstorm Elite. They even contacted their advertising departments to see if they placed ads in their publications, and they too said they never heard of it.
Red Flag #3 is the reference to an apparent tweet by the movie limitless, who called Brainstorm Elite the inspiration for the movie. In case you haven't already seen the movie, Bradley Cooper plays a disheveled writer who can't focus or concentrate on anything. He is introduced this pill called NZT, which can make you rich and powerful beyond your wildest dreams. It works to enhance your perception, cognition, memory, focus, drive, everything you need to perform at beyond ordinary levels.
You can see that reference below: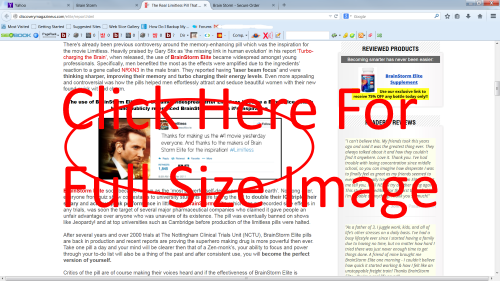 And then, here's the real Limitless movie tweet that was posted that day…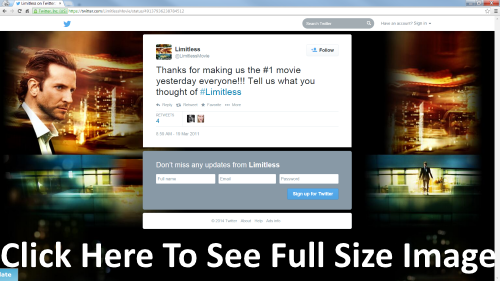 Big Surprise, right??? You can see the real tweet here. Not once does it mention that Brainstorm Elite was the inspiration behind their movie. And even if it was, that movie was made well before Brainstorm Elite ever even existed, so how could it be the inspiration??
This is not the first time I've seen this, as you will see in this related article here.
My Results With Brainstorm Elite
In order to give the most fair and impartial review of Brainstorm Elite, it makes sense that we should probably test it. I ordered a one month supply and decided to give it a try recently.
Now keep in mind, as mentioned previously the marketing behind the supplement says that it works very quickly and gives a "600% increase in IQ in minutes". Well, If that's the case then I must straight up be a moron, because I didn't feel ANYTHING like that.
Did it give me a boost in focus and concentration? Maybe. I felt a tiny bit of increase in focus like 2 hours after taking it, but it wasn't some miracle "eye opening" experience. It certainly didn't feel anything like taking Aderral or Vyvans, and the effects didn't seem to linger for very long (assuming it wasn't a placebo in the first case).
I kept taking it for about a week and literally noticed no difference at all. On the upside, I didn't experience any side effects, which I didn't really expect anyway due to the small ingredient list.
Frequently Asked Questions about Brainstorm Elite
How Do I Take It?
This appears to be a once a day supplement that has a cumulative effect over time. The serving size is 1 capsule, and it is not recommended to exceed 2 capsules per day. It's also not recommended to take Brainstorm Elite if you rare pregnant, nursing, have hypertension, or are taking and prescription medications.
Are There Any Side Effects?
At this point it's a bit unknown. Side effects are always possible with supplements, so it's best to check with your doctor to see if you are healthy enough to take it. However, some of the ingredients do have the potential for side effects. For example, the primary ingredient Panax Ginseng lists a common side effect as insomnia, although I have never experienced insomnia from it.
WebMD lists the long term side effects of Panax Ginseng as creating possible hormone-like effects that could be harmful with longer then 6 months of use.
Who Makes It?
This is a bit of a mystery as well. I looked up the address that was provided on their contact us page, and it shows a UPS store in Las Vegas. It's obviously a small operation intending to look like a big one, and I searched around on the governments trademark search pages and came up short.
Does Brainstorm Elite Work Like Adderall?
If you read through their claims, it might be tempting to think that this supplement works very similarly to prescription medications like Adderall, Vyvanse, and Ritalin. However, since there are no known all natural herbs that COMPLETELY mimic the effects of these drugs, it's highly unlikely that Brainstorm Elite could be classified as an adderall substitute.
Are There Any Clinical Studies on This?
As far as I can tell, this supplement has not been clinically studied. Some of the ingredients have been included in studies, but not the proprietary formula itself.
Where To Buy?
The only place Brainstorm Elite is apparently available for sale is on their official website. A one month supply will run you $53.98 a piece, and they do offer discounts for larger orders. I looked through their site to see if there was some sort of money back guarantee, and it looks like they offer a 30 day refund policy from the date of order. However, it does appear that you have to send the bottle back (and it cannot be empty) to them in order for them to honor this guarantee.
I checked with Amazon, GNC, Walmart, CVS, and many of the other physical retailers out there, and none of them appear to sell Brainstorm Elite. However, Amazon DOES sell a similar sounding supplement which is also called Braintstorm, which is sold by a completely different company called Allergy Research Group.
Are There Any "Real" Reviews or Testimonials?
If your looking for honest and credible reviews of this supplement, you likely wont find any…there are a few "salesy" type sites that talk the product up, but noone has appeared to use it. A quick search on youtube and yahoo answers also turned up nothing, other then people asking whether or not it really works.
Does Leonardo Dicaprio Really Take It?
Very unlikely…I reached out to his pr rep and even tweeted Leo himself (not that I'm expecting a reply :), but so far no response. I would consider it HIGHLY UNLIKELY that he in fact did use Brain Storm Elite, but I guess anything is possible…
Recommendation
The marketing behind this product is clearly deceptive, and they are erroneously using Leonardo DiCaprios name to promote it.
He undoubtedly is probably not aware of it, but I'm pretty sure it's safe to say he doesn't support it.
You will likely even see other false advertisements saying that Dr. Oz recommends it, it was featured on Ellen, Tony Robbins uses it, or even "The Rock" used it for peak mental function.
Don't believe it…
It's all a clever deceptive marketing campaign to separate you from your wallet.
How do I know this?
Because I have seen this EXACT type of deception used to market several other products, including Addium, Cogniflex, Brain Plus IQ, Intelligex, and many others.
I could literally go on and on with the sheer amount of supplements making these claims.
Everyone says they have the "real limitless pill", but the vast majority are complete junk.
In fact, I would say they are nothing more than a caffeine pill mixed with L-Theanine, which in an of itself is a mildly powerful nootropic stack.
And I would know because I've personally tested DOZENS of these supplements.
From my personal experience taking Brainstorm Elite, it didn't really seem to have any effect on cognitive performance. However, it must be noted that everyone responds differently to supplements like this, so in your case it may be completely different.
Click Here to sign up for my FREE "Complete Guide To Nootropics" ebook, which reveals POWERFUL supplements that really do work.
Have You Used Brainstorm Elite? Leave Your Review Below!
references:
1. Hypericum Perforatum – http://en.wikipedia.org/wiki/Hypericum_perforatum
2. Acetyl L-Carnitine – http://www.webmd.com/vitamins-supplements/ingredientmono-834-acetyl-l-carnitine.aspx?activeingredientid=834&activeingredientname=acetyl-l-carnitine
3. DMAE Bitartrate – http://wholehealthchicago.com/3378/dmae-dimethylaminoethanol/
Top 3 NootropicsAffiliate Disclosure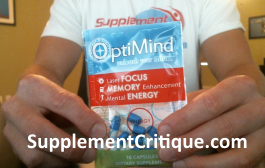 Optimind is the closest thing to Aderall that Ive tested, and Ive tested ALOT of Nootropics.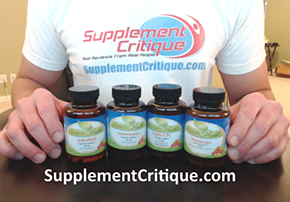 The Nootropics All Star Pack is a GREAT combo of supplements that will improve focus, concentration, and mood.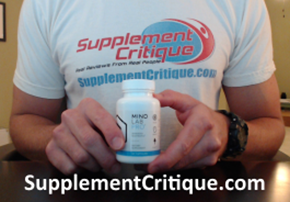 Mind Lab Pro takes a longer, but equally as effective, approach to increasing focus.
How People Found This Review:
and brain storm elite, and brain storm elite scam, and brainstorm elite, and brainstorm pills, and brainstorm elite reviews, and brainstorm pill
User Reviews

2.7 out of 5 Stars (7 Reviews)
Have you used this supplement?
Miranda's Review
The purchase experience alone was awful! They charged my card 48, 28, and 18$.. after I put my card info in it kept asking me to add more for a discounted price....

I clicked NO THANKS it charged me anyways... the next day I spent 38min on hold before even speaking to a customer representative. After getting my money back for the two extra bottles I did not want a week and half later I got my bottel.

This is seriously the biggest scam ever!! The pills don't even compare to a stacker.. the good reviews are obviously fake!! Save your money and try your local GNC store!!!!!

Was this review helpful to you?
4 out of 4 people found this review helpful.
---
Jan's Review
Addium sounded awesome so I went for it. Tried it with food and without food.

It was like I was very calm but alert. I wanted to sit down but my mind wouldn't let me.

Always burning up like I had a fever. No rash, no headaches, no crash.

But the upset stomach,was absolutely horrible. Always felt hungry but nothing ever sounded good.

Just weird. It was like all my signals were mixed.

A little energetic but not really worth the uncomfortable feeling it gave me.

Was this review helpful to you?
4 out of 4 people found this review helpful.
---
SNAKE OIL
By
charlie E.

,
Nov 29, 2014
Bullshit. I spent $60.00 usd on a one month supply bottle.

I took one last week and within 2 hours I fell asleep. Its not their fault, of course, there will always be the art of scamming, it is ubiquitous and timeless, I am the sucker that gave in.

Was this review helpful to you?
2 out of 2 people found this review helpful.
---
Brainstorm Elite
Now they are using Tom Cruise
http://discoverypresentsonline.com/tom/report.html

Was this review helpful to you?
1 out of 2 people found this review helpful.
---
Sora's Review
I have tried addium for a week. Have not had a problem with it.
It gives you a heck alot of energy for a long time.
For people who do tedious tasks with there hands you may not want to take it will make you jittery .
I got sharp focus from it.

It claims to make your memory better but i tryed to rembering things that i did a few days ago didnt happen, (i dont have good memory in the first place.)
I have not gotten a rash unlike others.

For those who smoke pot. It takes away the effect of the energy.
Had slight stomach pain once, but i didnt eat much that day.
I do belive it helps with learning.
It helps you form words without stumbling over your words witch i do alot.

Was this review helpful to you?

---
Want To See What Supplements
Work Like Adderall?

Click Here To Find Out!
Ask A Question
User Questions and Answers
---

Does this product have fish oils -Peter

I can't find an ingredients label online, and I'm not home to check my bottle. Call or send them an email directly, they'll be able to tell you.  Phone:    1-855-509-5718 Email:     support@brainstormelite.com.- Rob
Was this question helpful to you?

ASK A NEW QUESTION
---

I just ordered a free trial of neurolit after reading a review from health an science editor alan frashier about how well it worked i know to cancel the subscription before the 14th day to avoid the $95 a month charge but i now read that maybe there is no alan Frasier so im feeling a little stupid lol so either way ima try the 30 day supply an i guess ill be the only person to ever put a real review about it i was just wondering if this neurolit is what you all call neuro 3x? -Robert

You should be fine, just make sure you cancel in time, and ask them for an email confirmation. Neurolit and Neuro 3X are two different products, but they're both examples of the free trial scam that's so popular these days. Here are my reviews for each: Neurolit and Neuro 3X- Rob
Was this question helpful to you?

ASK A NEW QUESTION